We arrived in Bolivia, La Paz, from Galapagos Islands. We had an overnight flight and spent a few days in La Paz before heading to Cochabamba. More about La Paz a little later, first we jump straight to Cochabamba.
Getting in
We took a night bus from La Paz for Cochabamba. Having heard about the condition of buses in Bolivia, I asked a few companies about the bus types and eventually settled on El Dorado for a Cama bus, which meant bed bus. We paid 30 Bolivianos each, approx. USD 4.4, and though the bus was a little shaky, it wasn't bad at all.
Cold showers
Hostels or hotels in Bolivia are overpriced and when they are not overpriced they lack basic necessities. We found a room in a 'residencial' which are basic rooms for 120 Bolivianos, USD 17.3, with wifi and hot water. Wow that's a bargain we thought! It was all going great until I started showering and realised there was electric current in the tap. Therefore, you can turn the hot shower on but that may be the last time you have a shower. We turned off the electric supply to hot water and had cold showers the whole time. Welcome to Bolivia!
Highlights of Cochabamba
Cochabamba is a beautiful city in the chapare region of Bolivia. It's altitude is around 2000 metres making it much warmer than other cities in Bolivia. The city is surrounded by mountains of the cordillera real range making the city look like a Swiss or Austrian city.
The city has several parks in the centre as well as in the suburbs. The centre of the city was a grid which is quite unusual in South America. The cathedral and the main square of the town were absolutely stunning. The best thing about Cochabamba was its weather. The night temperature was around 14 degrees but the day could really get to 26 degrees.

Moreover, some places like Prado and Calle Salamanca with their tree lined wide avenues resembled streets in much more developed places. Prado had a ton of restaurants which was great for us as we had to go looking for vegetarian options for Shruti. On a positive note, Bolivia has really cheap food. You can't have it all I guess!
Cristo De La Concordia
Cochabamba has the first or second biggest Jesus Statue in the World depending on how you measure it. Another one in Poland is bigger but it has a crown. We kept seeing it from different parts of the city so we decided to go visit it one day.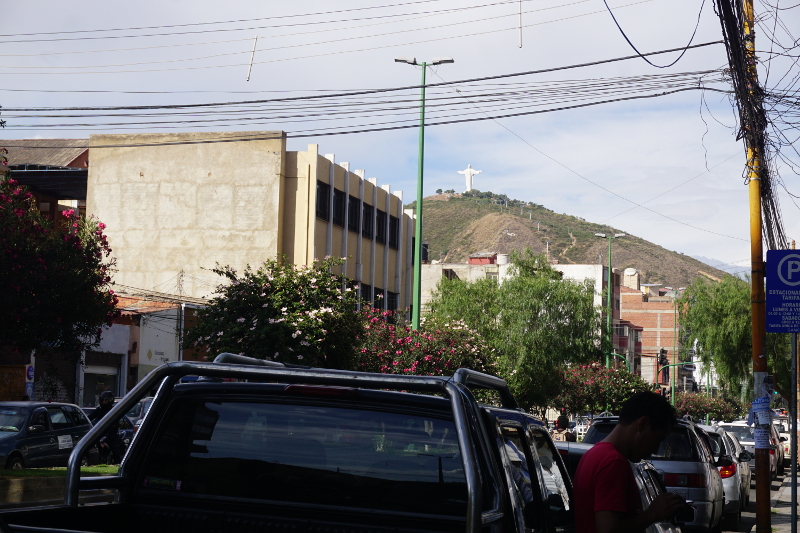 A cable car took us up the hill where it is located. The ride costed us 10.50 Bolivianos per person, USD 1.5, for two way ride. Upon arriving, our first thought was that the idol wasn't that big but certainly beautiful. The Buddha in Hong Kong was certainly much bigger.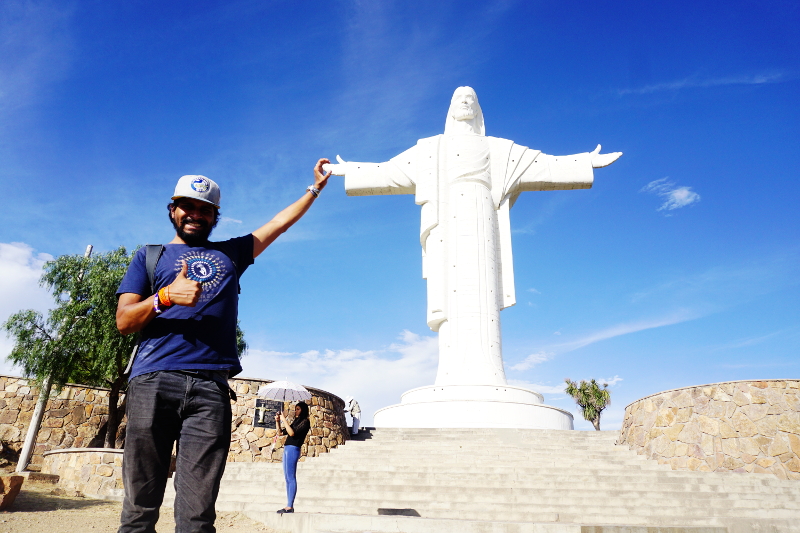 In any case, the hill on which it is located overlooks the city of Cochabamba. The view incredible on all sides as you saw different parts of Cochabamba. We ended up spending sometime here and just taking in the incredible view of Cochabamba.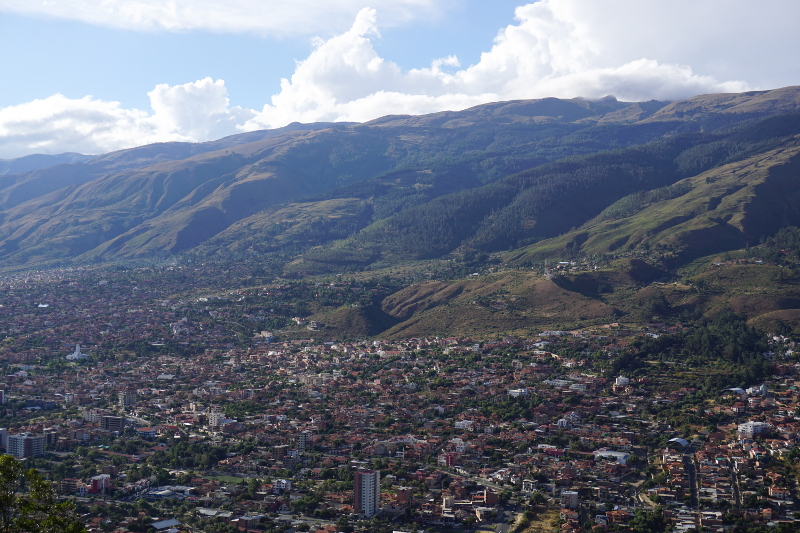 Museum
Cochabamba is a big university town and there are public and private universities here. The University of Cochabamba had a museum in its campus and we thought we would take a look. Google uncle directed us to the location but there was nothing there. After looking around and being unsuccessful, we asked some students where the museum was. A nice student working on the computer in a student centre told us that the museum may be 3 blocks from there.
After walking those 3 blocks, we came to a market but nothing more. We asked a chemist and he pointed us to the next block. Finally, we found the museum and there was an English tour in half an hour which we waited for. We realised that the museum wasn't very big. After sitting around for Hhlf an hour, a short round man walk towards us and we had a funny conversation:
Guide(Spanish): Are you guys waiting for the tour.
Mani (Spanish): Yes but in English
Guide (Spanish): but you are speaking to me in Spanish.
Shruti (Spanish): Sí No español!
Guide(English): Ah ok!
After that, Señor Renée gave us a wonderful tour of the museum. It started with the prehistoric fossils, animals from the dinosaur period, arrival of man in South America and cultures in South America. In particular, he gave personal accounts of the beliefs and rituals of Bolivian natives of the Antiplano, Quechua and Aymara people. It was wonderful hearing the stories about how the indigenous people still respect Pachamama or Mother Earth. Finally, we saw some amazing artefacts relating to Inca and Tiwanaku cultures whose effect can still be seen on the culture of Bolivia today.
Pico Tunari
We saw the things to do in Cochabamba and climbing Cerro Tunari was one of them. We checked with a few agencies and booked the one with the best rate. Our guide Gemello, met us outside our hotel and we started driving towards Quillacollo. Our journey would start from 4000 metres and we would hike upto 5100 metres.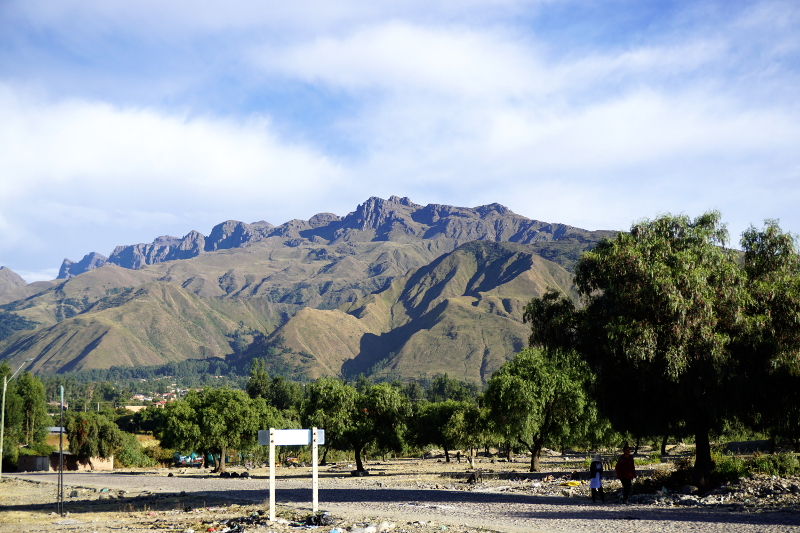 Gemello was a chatty guy and his accent in Spanish was very clear. He told us about the history of Cochabamba, its villages and about Bolivia in general. After we reached Quillacollo, the road up was cobblestone and though the scenery was great, Shruti and I both feel asleep. After 15 minutes of nap, Shruti woke me up with a tap on the shoulder. There were llamas in the valley below. Gemello stopped the car the first time for photos and told us there will be more above.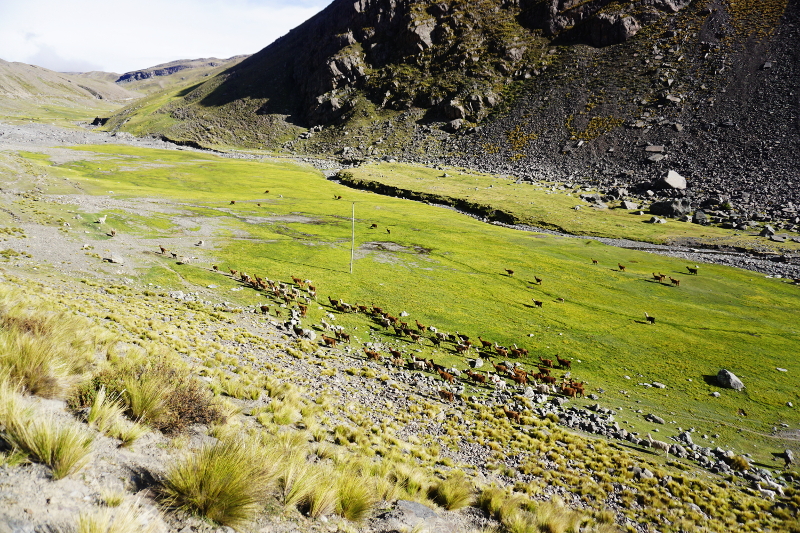 We parked the car at a stream and started our hike up. The guide showed us a house made of rocks which was home to nomad llama herders. They leave the llamas in the mountains for the winter and return in the spring. As we started hiking, we felt the altitude but we didn't have any issues as Gemello had given us sickness pills before. Just to be sure, we had coca leaves as well.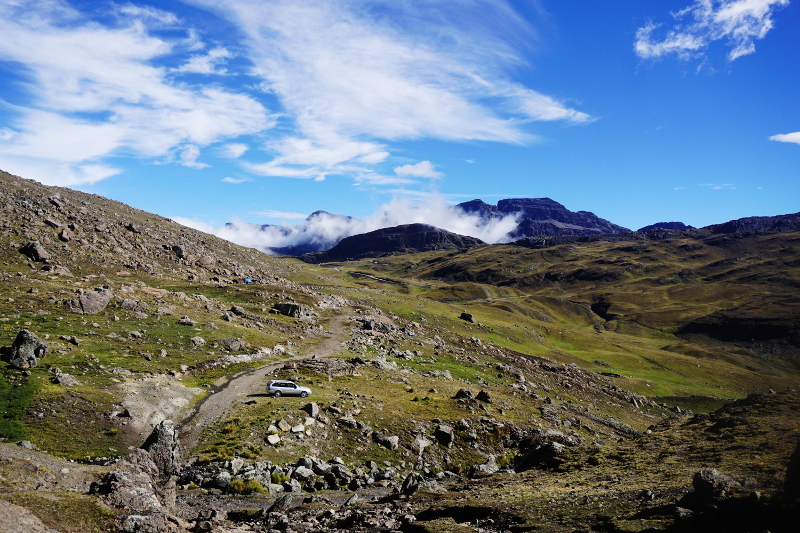 The view got better with mountains on all sides and llamas eating grass. After 45 minutes of hiking, we arrived at the "llama valley", a high valley surrounded by mountains and atleast 100 llamas grazing. I couldn't think of anything better to do except walk towards them and film while Shruti took photos. In total, it took us 1 hour to the base of the mountain.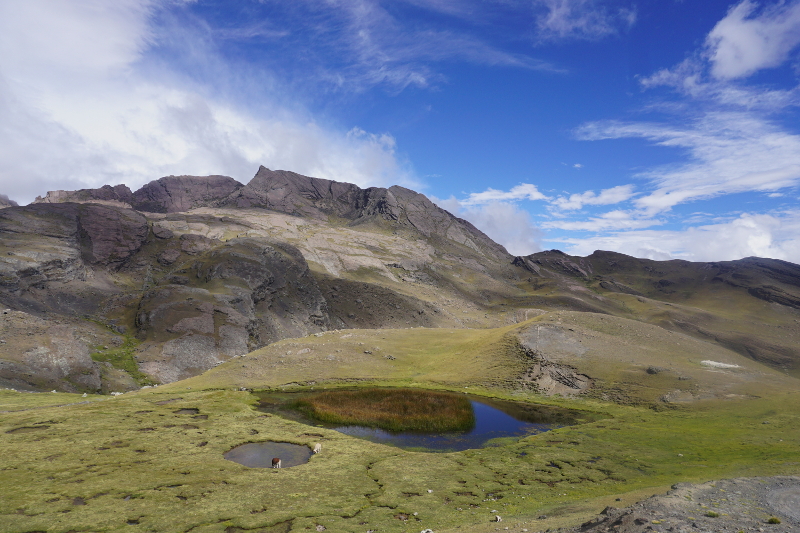 We had a break for water before walking up an incline and the sheer rocks of the mountains around us. The Cordillera range was all around us and the view was fantastic. A bit further up, we started seeing the peak but more clearly we could see the second peak, Pico Negro. The mountains here were all volcanic and all dark rock. The hiking was tough due to the altitude and the incline but it was the constant appearance and disappearance of sun behind clouds and cold wind which were more annoying.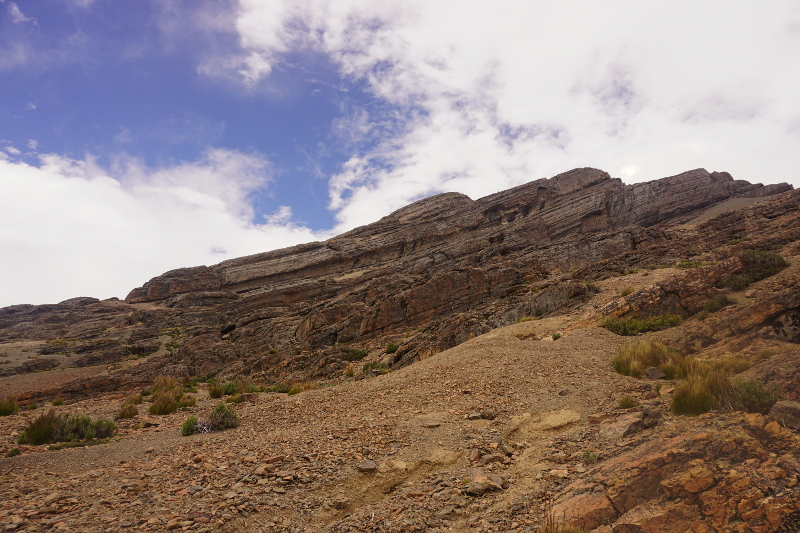 After 2 hours, we reached the base of the peak. We were in high mountains now close to 5000 metres of altitude. All around us were rocks and small lagoons of water. We stopped for a snack here and I washed our apples in the freezing water and nearly froze my hands.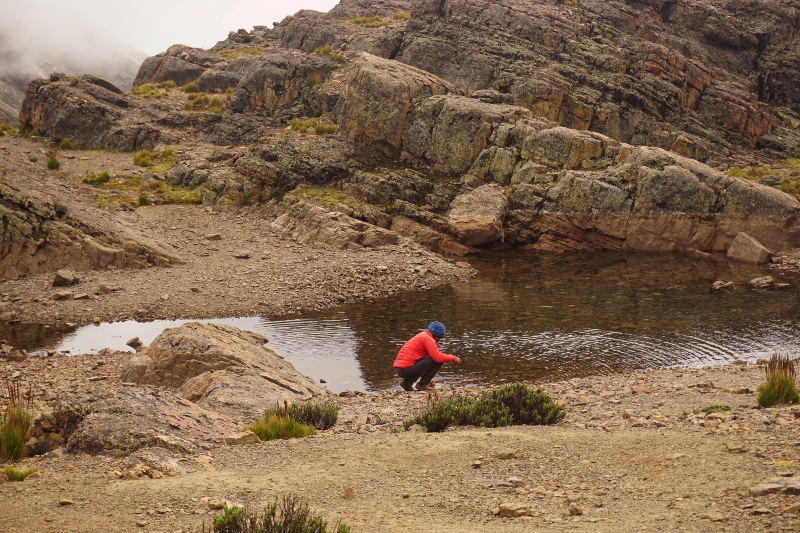 The hike up to the peak was tough because 1) the altitude was getting to 5000 metres 2) we were hiking on solid rock and shards and 3) the wind was very fast.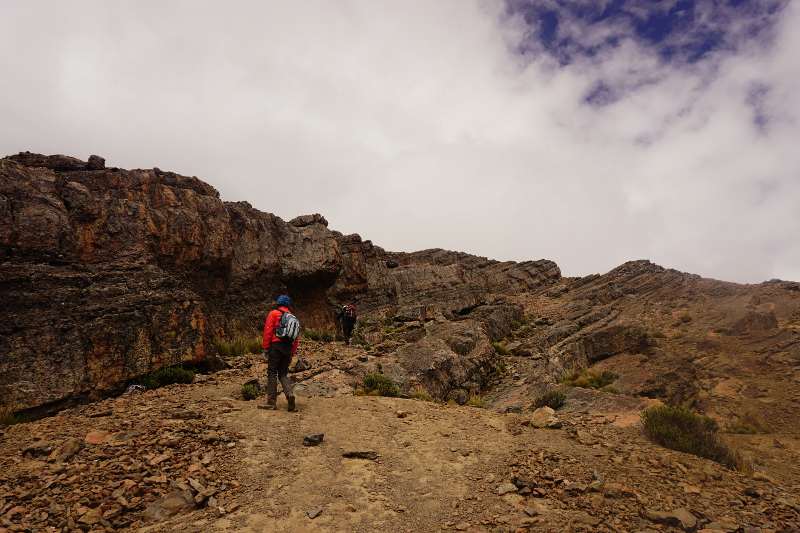 We stopped for 5 minutes to photograph the view of Cochabamba. We had seen the peak from the city and now we were seeing the city from near the peak.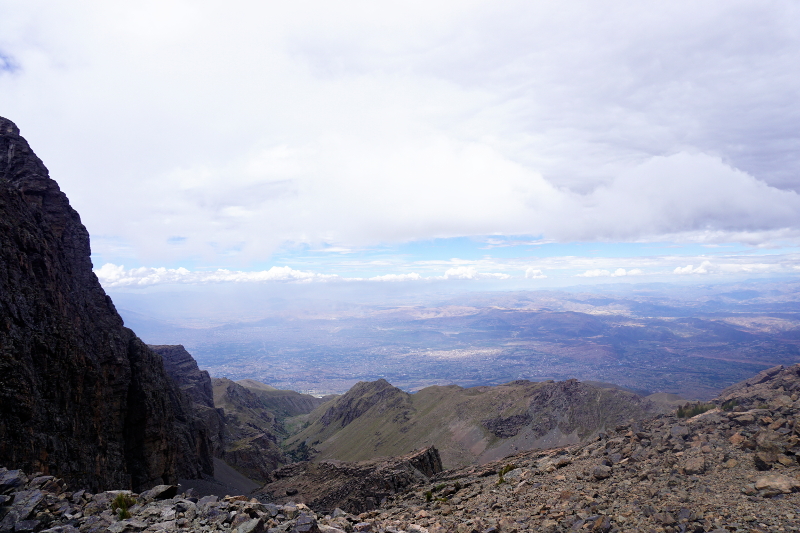 The final hike was the toughest but the reward was spectacular. We could see the city on one side and the mountains on all others. On a clear day, you are able to see the mountains of La Paz but that wasn't for us.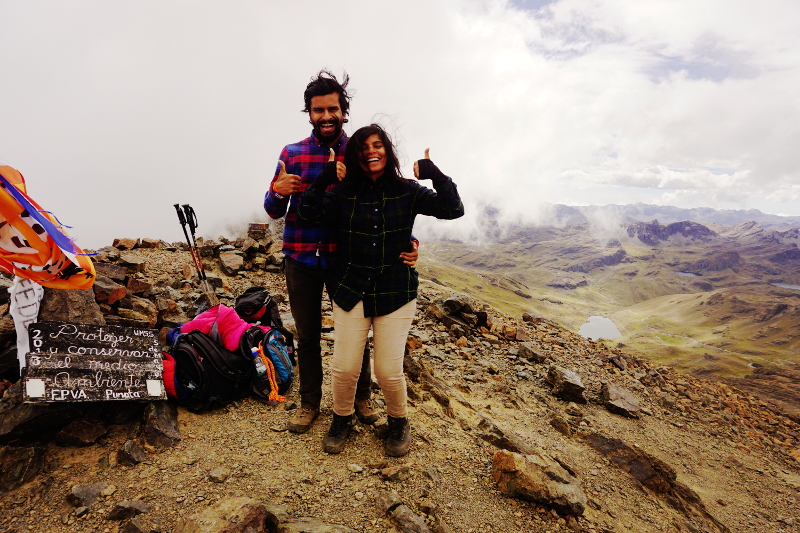 The view below us of the lakes, streams and valleys was unbelievable. We stayed at the top for 10 minutes, took a few photos and then went down. The first part of the descent was uneventful except that Shruti and I had a few tumbles due to the terrain being unstable and us having cheap Colombian hiking shoes which have started to wear out now.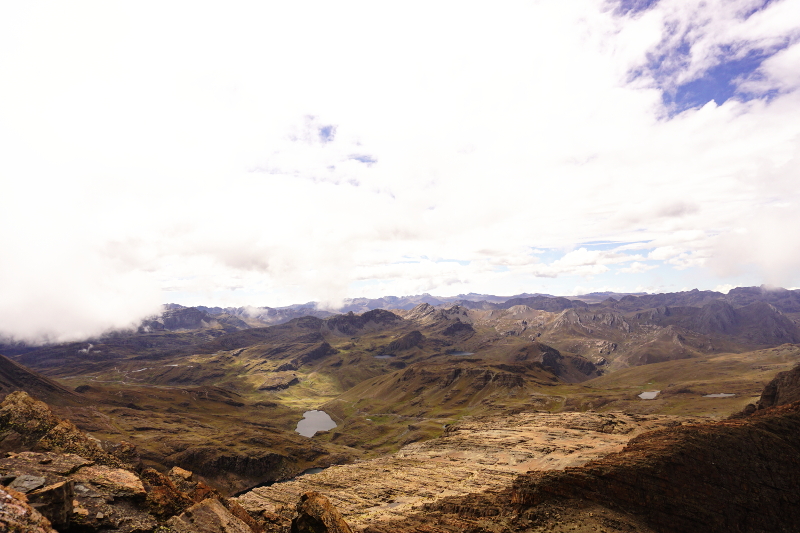 We made a stop at a beautiful aquamarine colored lake for a few minutes for photos. Shruti got me to pose but it was incredibly tough. Aside from being at the edge of a mountain, the wind was incredibly strong and pushing me over. We had lunch at this lake. Gemello told us about the quechua rituals still performed on the lake as well as how people trout fish in the lake.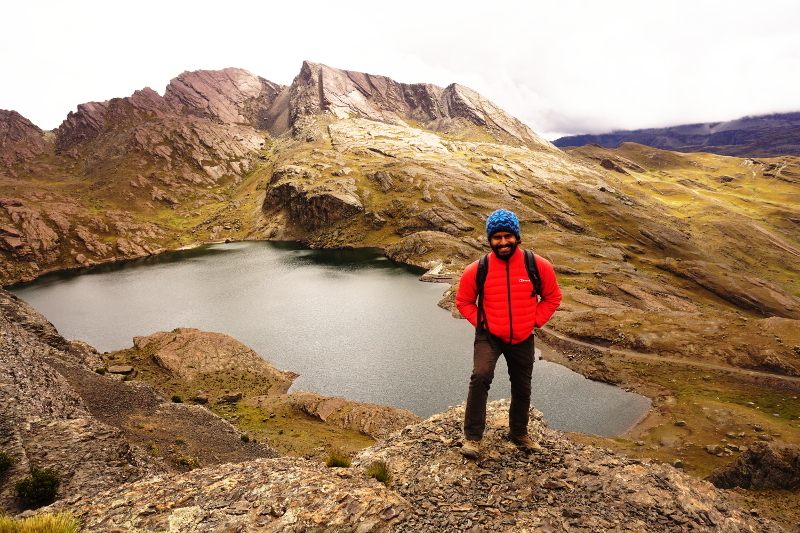 As we descended from the lake, we saw more and more llamas with different markings indicating different owners. Some were scared and others are curious. We saw 1 llama in Colombia and Ecuador each but in Bolivia we saw them to our hearts content. There were adult males, mums and babies!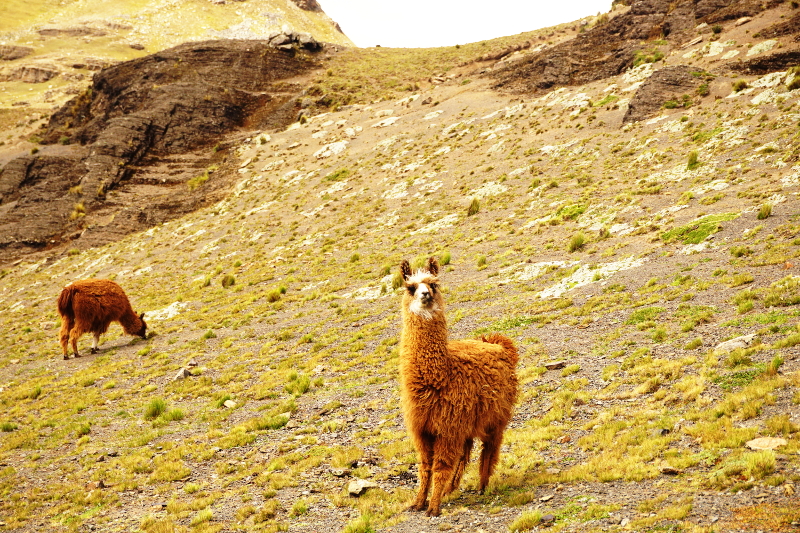 As we descended further, the view of the mountain behind us was remarkable. In fact, as we walked through a small wetland, the clouds cleared and the mountains were clearly visible all over. After walking on the side of another lake, we reached back to the car.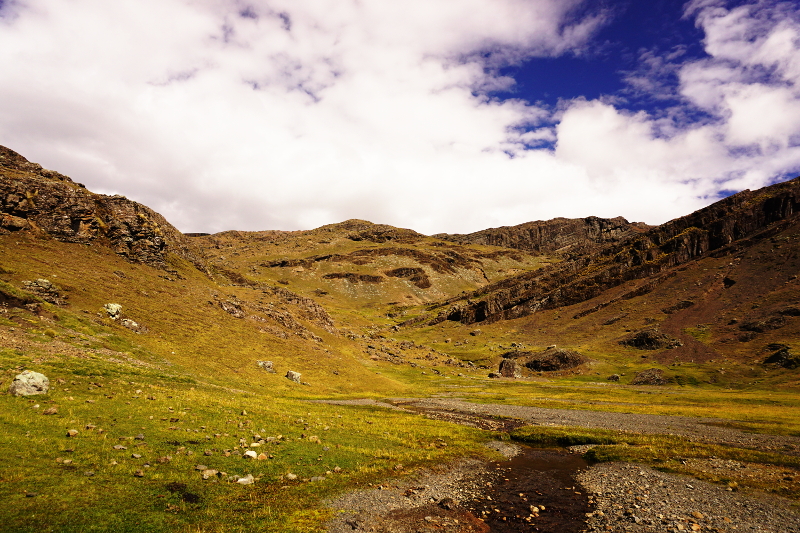 We had met a dog probably owned by the herders before we left. As we returned, he was still sitting next to the car waiting for us. We patted him and saw a huge herd of sheep next to a herd of llamas. What an end to a great day!
Food & Drinks
Cochabamba is famous for its food. However, Shruti being vegetarian made it tough to eat here. In fact, we ended up eating twice at a Hare Krishna Restaurant. Gopal restaurant has 4 branches in Cochabamba and we also ate at Tulasi vegetarian restaurant which was full of images of Hindu Gods and Goddesses. Something that amazed us. South America has a rich culture and plenty of traditions they follow, but somehow interest and curiosity of Hinduism has converted plenty to Hare Krishnas.

We also ate at Paprika which is meant to be one of the best restaurants in Cochabamba. I even got to try medallion of llama while Shruti had Thai noodles. In fact, it was the first time I had medallion and llama. The bill was only 165 Bolivianos which was huge for a normal meal in Bolivia but it was about USD 24. A bargain!
Finally, I tried the fried pastry which the Cochabambinos have for breakfast and snack. We also had some Huari beer which tasted like Singa beer. A disappointment!