Heading out of Huacachina, we could go to Lima, the Capital of Peru or head further north to the mountains in Peru. We soon realised we didn't have much time remaining before our flight to USA and so deciding our next destination wasn't that difficult.
Getting to Lima
We arrived in Lima from Ica on a bus. Getting a bus was a pain but even worse was getting to the suburb Miraflores in Lima. The bus wasn't going to a terminal so it dropped us on a highway with a road leading straight to Miraflores. Unfortunately, the taxi drivers were keen on ripping off tourists and asked for ridiculous prices. It helped that we went up a pedestrian bridge and asked a policeman who guided us better. We eventually took a taxi which dropped us right outside our Airbnb house. We had finally arrived in Lima, the last leg of our trip in South America!
Long Term AirBnB
Until now, we had used hostels and hotels in South America. We didn't use AirBnB due to communication issues and safety. However, Lima looked like an expensive city, even when we looked at backpacker hostel charges. Suburbs around Miraflores seemed safe but were too expensive. Airbnb seemed like a reasonable option. We found a flat shared with one other guy for a decent price for a week. To be honest, we only saw him once when he came around one morning. We used the apartment like our own except his room and had no issues other than an inquisitive concierge attendant.
Miraflores
Miraflores and its surrounding suburbs are the tourist, expats and elite hub of Lima. The old city was considered dangerous and unsafe so tourists usually don't live there. At first glance, you realise that the suburb is huge. It starts from the beach and keeps going quite a way inland. On our first night, craving Indian food we decided to walk to an Indian restaurant while doing our shopping along the way. The food turned out to be good but we had walked way too much.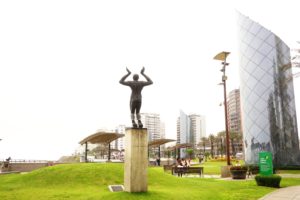 The next day we walked to Larcomar Mall and the boardwalk which was recommended by our host. The mall is built right along the cliff edge overlooking the Pacific Ocean. The building architecture is very open, providing views of the sea from the food court, restaurants and break out areas within the mall. Some restaurants charge top money for a meal with the view. Moreover, despite the grey weather in Lima the Malecon area (boardwalk) of Miraflores was a safe place and great area to hand around.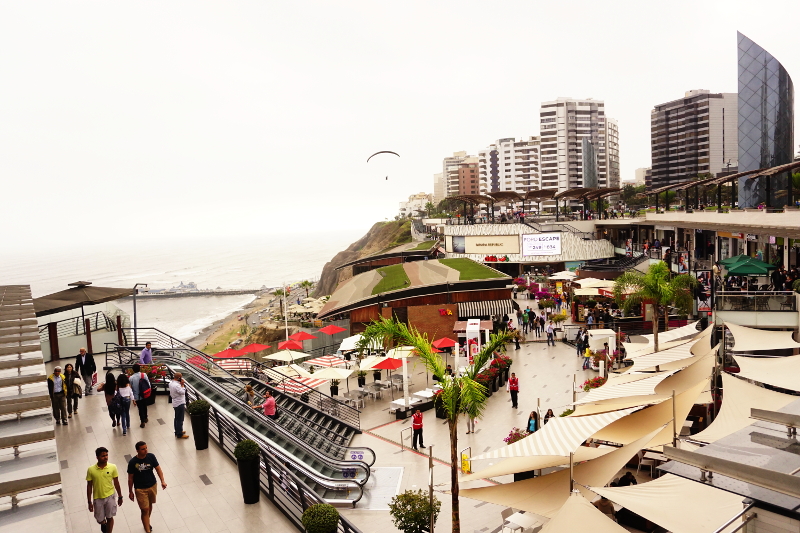 Shopping
Since Peru was the last stop in our South America trip, we decided to do some shopping for our USA trip. However, being backpackers, we couldn't afford things from Larcomar. Therefore, we found a Peruvian version of Paddy's Market closer to the centre of the city.
Polvos Azules complex was very similar to Flemington markets or Paddy's Markets in Sydney. It was several levels of clothes, footwear, luggage and anything else you can think of. The catch was that it was all fake branding for a fraction of the cost. You could find Nike, Adidas, VANS, Gstar shoes that were not real but only an expert could tell them apart. In terms of clothes, you could get the copy of any of the popular soccer jerseys. I bought a Ripcurl Singlet almost the same as any in an Aussie surf shop for 15 soles, $5USD. Shruti managed to get a few A&F looking tops for 50 soles, $15USD. We knew we would be using them a lot in US so could use and throw. A great place to shop for fakes!
Lima's Transport System
As with any big city there are traffic problems in Lima. However, from what we heard it was worse there. Therefore, the government decided to build a metro style BRT System. Buses run in the middle of the highway and each cross road is a terminal. The pass cost us 15 Soles each with 10 soles to spend. Each journey costs 2.5 Soles and as long as you are going along the highway the BRT is pretty good. We were able to get from old city to Miraflores with relative ease except the peak hour. We can't comment on how good it is for the entire city but it certainly works well in some sections.
Old City
Lima is old, period! Along with Caracas, Cartagena, Mexico City and possibly Santiago de Chile, it is one of the oldest cities in Latin America. Therefore, although we were living in the posh, new and hip part of town, we had to visit the dodgy, old and preserved part of town. Getting there was relatively easy. Line A, B and C go to different parts of the Old City. We arrived close to the main square of the old city which had a Sunday market going on.
The great thing about South America is that small business is everywhere on the streets. There were book sellers, food stalls, artists and other people trying to sell things to the huge Sunday crowd. As we arrived at the Cathedral, we were completely blown away by the preserved buildings. The wooden balconies of Lima were unique and we had not seen them anywhere in South America.

Lima has gone through since big earthquakes and the current buildings are preserved since the last earthquake but the colors and the condition of the buildings were a sight to behold. We had a late lunch in the old city with one of the girls we met in Puno. The old city is famous for being dangerous but especially on a crowded Sunday, we felt no danger. It was incredible!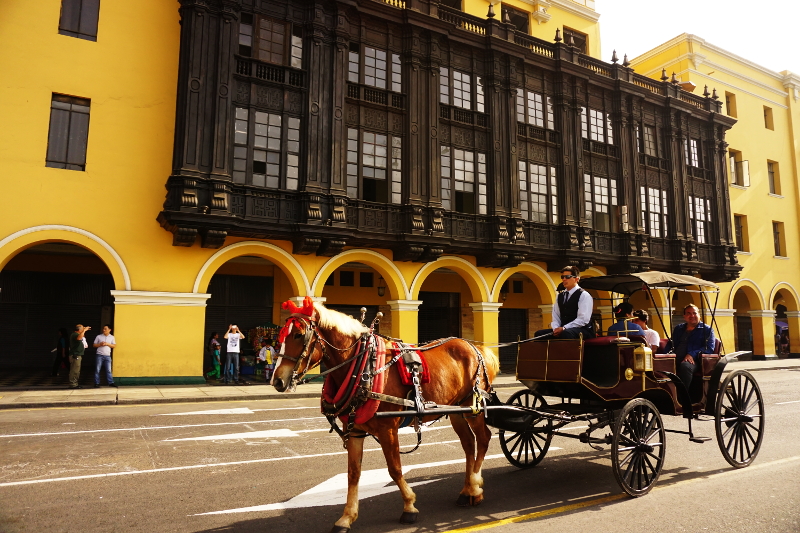 Party
We had a weekend in Lima and thought we make the most of it. Our host recommended a few places but they were too far so we went to the Parque Area of Miraflores. We had a great kebab for dinner, did some gambling and drank some expensive beer. Guess what? Shruti managed to double the money. Not a bad result!
The clubs were average with the usual music and crowds. We changed clubs a few times but then went to a pub to play pool and drink some Happy Hour Pisco Sour at 1:30am. The scene wasn't for us but we were happy to say goodbye to South America and Latin music with it!
Paragliding
While walking around the malecon (boardwalk) and Larcomar Shopping Centre, we had seen people paragliding above us. It seemed breathtaking as people crisscrossed above us while enjoying that view of the ocean. Shruti and I decided to do this as our last hurrah to South America. The cost was USD 80 or 220 Soles. We decided to pay in Dollars as were trying to avoid getting Soles from the bank.
The paragliding association was close to Larcomar on a cliff overlooking the sea. We had to get weighed to choose the right guide, get the gear on and fly. It seemed as if Shruti would go first but my guide was ready first and before I knew what was happening, I was above the Pacific Ocean with a quiet guide.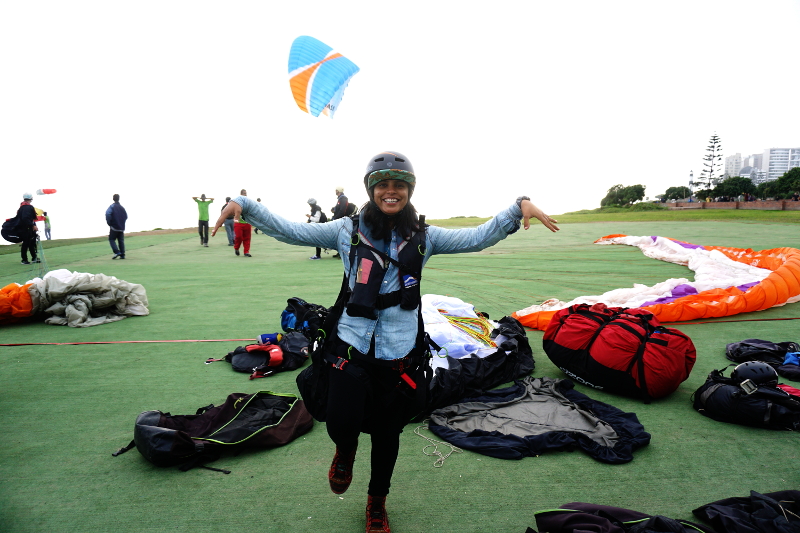 I had a smile on my face as we went over Larcomar and the sea walk. People would wave and I would wave back. It was a very happy moment for me to be over the buildings on the last day in South America.

The problem was that I couldn't see Shruti in the air. The guide and I had a rough landing as he told me to lift my legs as high as possible. We came very close to not making it according to Shruti. She was standing there waiting for her turn but the winds were just not strong. After I returned, we waited and waited but no luck. Shruti's initial guide, a tall middle aged guy even passed her on to my guide as he was lighter to help with the wind but to no avail. It wasn't Shruti's day and she wasn't able to fly. Bummer!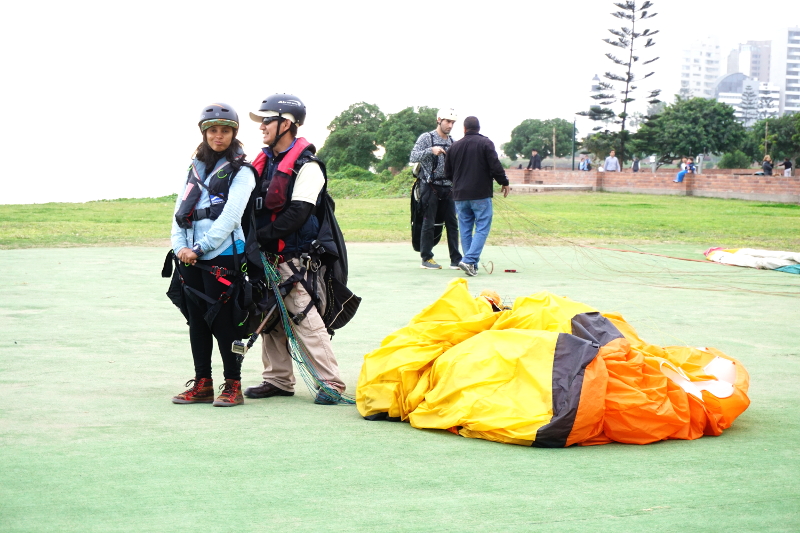 Goodbye South America
We took an Uber from Miraflores to the airport. On the way, the Uber driver took the Malecon Road between the cliffs and the beach passing by the Larcomar Mall. We passed through Lima's famous traffic, checked in our luggage, had a subway for dinner and flew to Washington DC, USA. With that, our 4.5 months in South Améis came to an end. Hasta Luego!
Final Thoughts
We spent a week in Lima but to be honest we didn't do all that much. We rested a lot, posted on our blog and chilled in Miraflores. It was a time of contemplation and rest. We saw enough in the city to entertain us but despite that Lima has a lot more to offer.