Background
Shruti's dad has had several postings around Western India due to his job in the Department of Shipping. The in-laws were posted near Kandla, Gujarat this year and we were keen to see this area while they are here.
We got the opportunity later in our travels in India. However, one could say that in some ways we left the best to last!
Land of textiles
Gandhidham where Shruti's parents currently are is in the Kutch area of Gujarat. It has its own language, culture and unique geography. On our trip to Bhuj, the city that was devastated in 2001 due to the massive earthquake, we noticed the colors of the clothing of women in the area. They ranged from bright green to red and even darker colors like brown and black. Interestingly, the colors they wore depended on the caste, age and marital status of the women.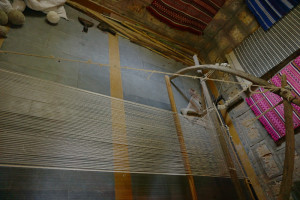 Shruti's mum and Shruti got down to buying some local clothes. We also visited Bhujodi village, which is basically a craftmen's village where the traditional people of the region created cloth, paintings and accessories. It was a great effort by the local govt to keep traditions alive!
We saw more of the textiles and culture in the Bhuj museum. For a town that was nearly flattened 14 years ago, Bhuj has transformed itself into a textile centre and a gateway to Rann of Kutch. It was only the beginning of getting to know about it.
Road trip
Other than Kutch, Gujarat is famous for its temples. Our driver, Jaisukhbhai (in Gujarat, all males are addressed as bhai, which means brother, and all women add ben, means sister, after their first name) drove all of us from Gandhidham to Jamnagar and then to Dwarka, 150km away.
Dwarka area was the Hindu God Krishna's capital which apparently now lies under the sea due to the sea levels rising and earthquakes in the region (nature doesn't even spare the Gods!).
We visited Bet Dwarka or Dwarka Island which houses an ancient temple. It is a beautiful boat ride away from the mainland and the island has the population of Hindus and Muslims. Somehow they all live in peace and the sea is amazingly clean which is strange for an Indian port.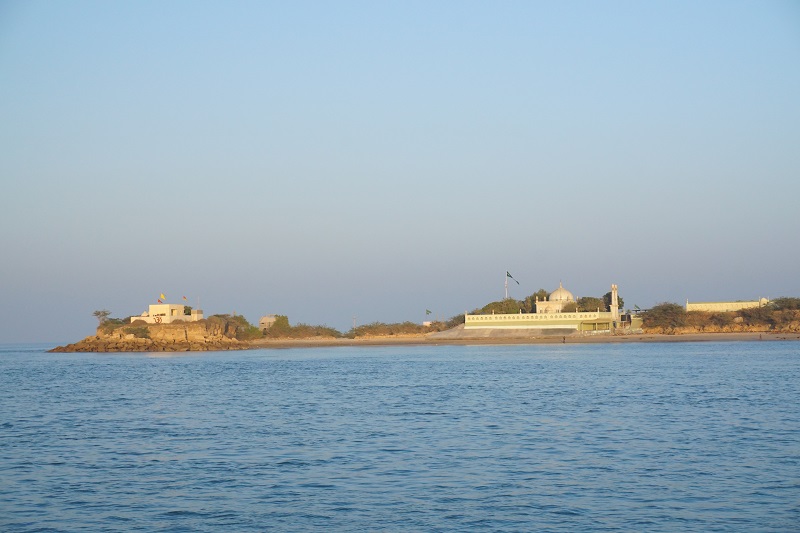 Our next stop was Nageshwar Temple which is one of the 12 Jyotirling, power centers of Shaivite Hinduism. The temple itself was quiet and peaceful, though the highlight was a huge Shiva statue with live peacocks sitting on top. Nag in Sanskrit means Cobra and on a certain festival, a male and a female cobras are brought to the temple. Sad that we couldn't see a Cobra party!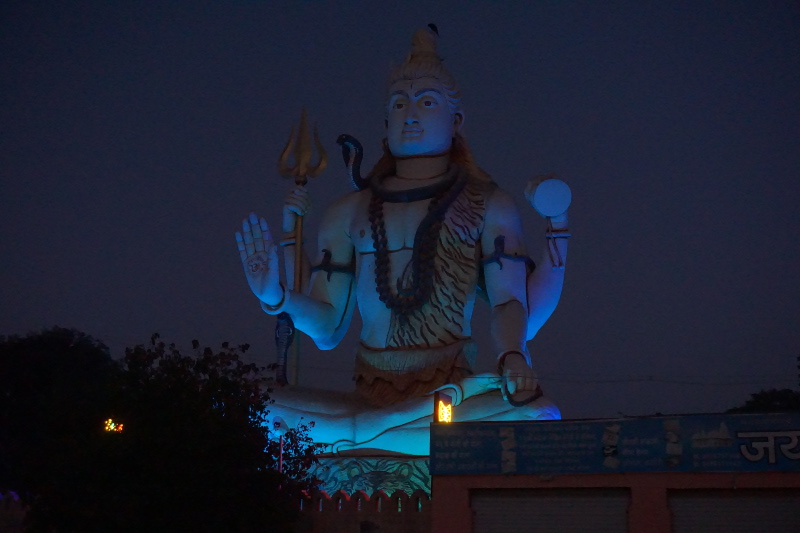 Finally, we reached the main Dwarkadhish (Lord of Dwarka) temple, which is built next to the sea. The building itself was carved in sandstone and built in 16th century. However, the original temple at this spot is dated around 2000 years old. The carvings on the temple are beautiful but nature spares no one and the salty breeze is slowly damaging the temple. There was a huge crowd near the idol which unlike other Krishna idols, is adorned with jewellery. A king needs his bling after all!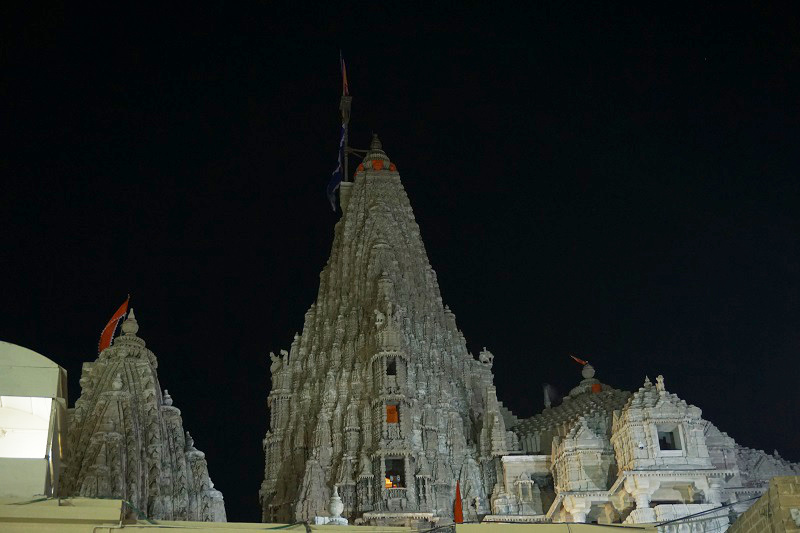 The next day we drove for a long distance and reached the Somnath Temple. This temple is one of the biggest jyotirling temples in India. Moreover, no other temple has felt the wrath of Islamic invasions like this one. Somnath was looted and destroyed many times over the years by Afghan invaders. It was rebuilt by the efforts of Sardar Patel after Indian independence. It is an amazing view from the coast seeing this beautiful temple. However, this temple is also high on the hit list of terrorists for historic reasons and the security is very tight. It was so tight that males are not allowed to wear belts even if the belts are not made of leather (cows are sacred and belts may have bovine leather).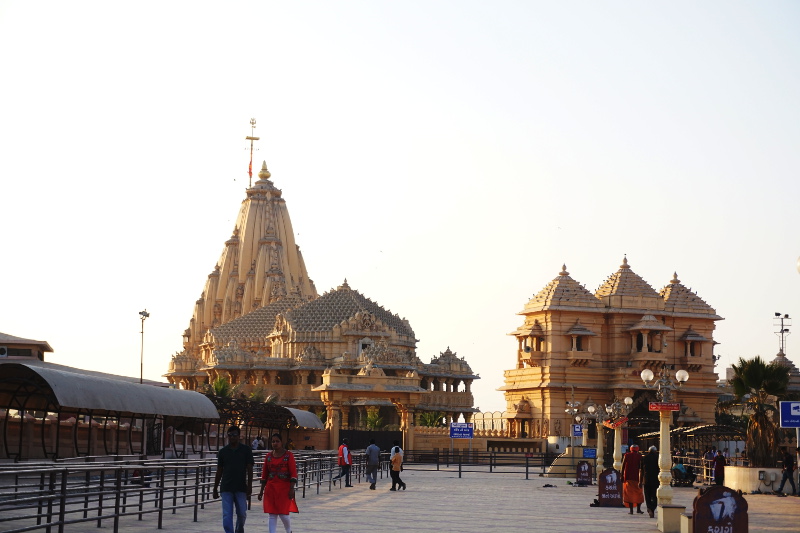 While on the way home from Gir Forest, we had a chance to visit Jaisukhbhai's maternal village. We met his aunt, cousin and cousin's wife who all talked to us in Gujarati and we could only do the universal nod as we didn't understand a thing they spoke! However, their house was the old style village house with an open area, a storage room, huge kitchen and shaded areas to escape from the sun. I was served water in a steel pot, instead of a glass, and I had to drink water from it and pass it on. It was a different experience.
Jaisukhbhai picked fresh lemons from the backyard, showed us the kitchen with neatly stacked steel plates and a storage room full of virgin cotton. We had never seen so much cotton from a farm. Jaisukhbhai explained that in older times the storage room used to be full of mangoes from the family farm. Oh how we wish we had come back then!
Driving through the village, we realised how clean and developed the villages in Gujarat are. The entire village had concreted roads and rubbish bins something that is unheard of in India. Finally, we reached the family farm which was once an orchard. The buffaloes, cows, mango, chikoo & guava trees and a well. It was a highlight of the trip when we jumped on a mango tree and took photos.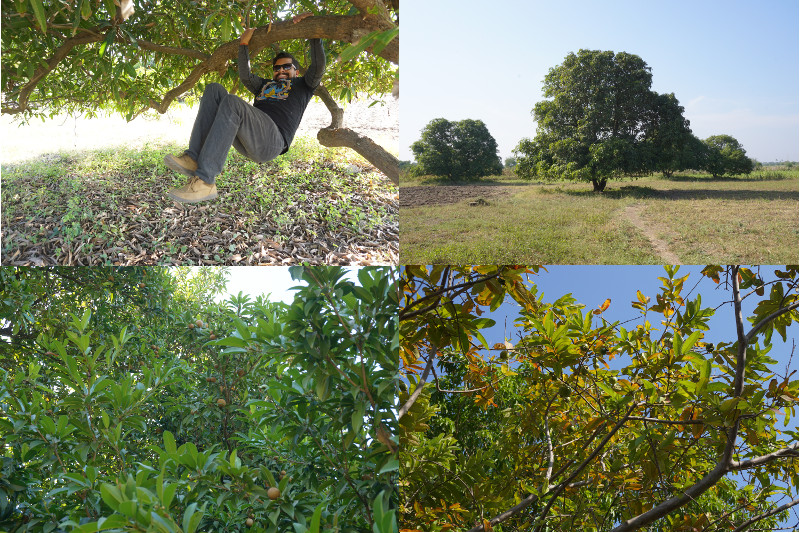 Beautiful Coast
The terrorist attack in Mumbai in 2008 was initiated by terrorists who entered the city by boat. This prompted the Indian Government to make the coast secure. We visited the radar systems on a family visit to see how the government keeps a track of the ships that come in.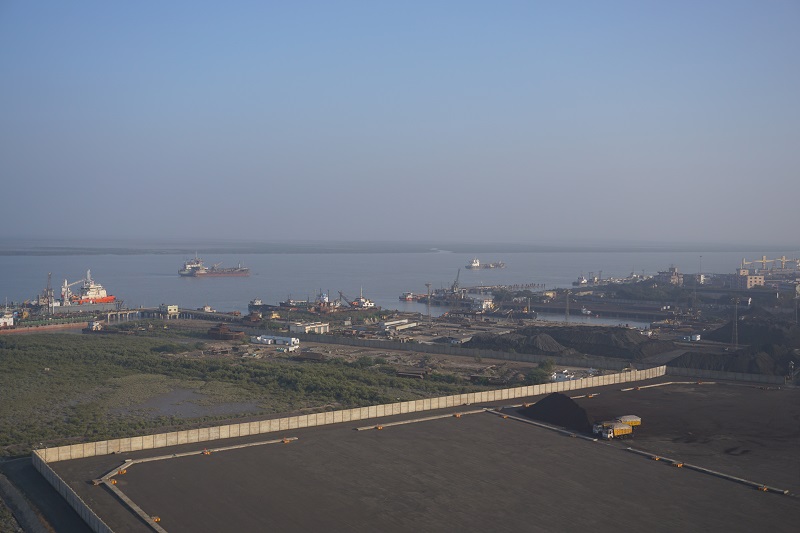 Other than this, we were also able to visit a ship with chemicals as cargo. The size of the ship was magnificent. The deck of the ship and the engine room certainly had me impressed as it was the first time I had been inside a ship. It was an engineering marvel though I am no engineering fan.
Finally, our tryst with the coast had its pinnacle when we lived next to a light house for a night near Dwarka. It was no moon night and with our not-so-good-camera, we tried to capture the stars (those white tiny dots).
The coast of Saurashtra has several lighthouses and we were lucky enough to get a view from the top. While we were on a holiday, we saw how tough life can be even in the most beautiful places. Women from the cattle herding caste were pulling out seaweed from the water to dry and feed their cattle.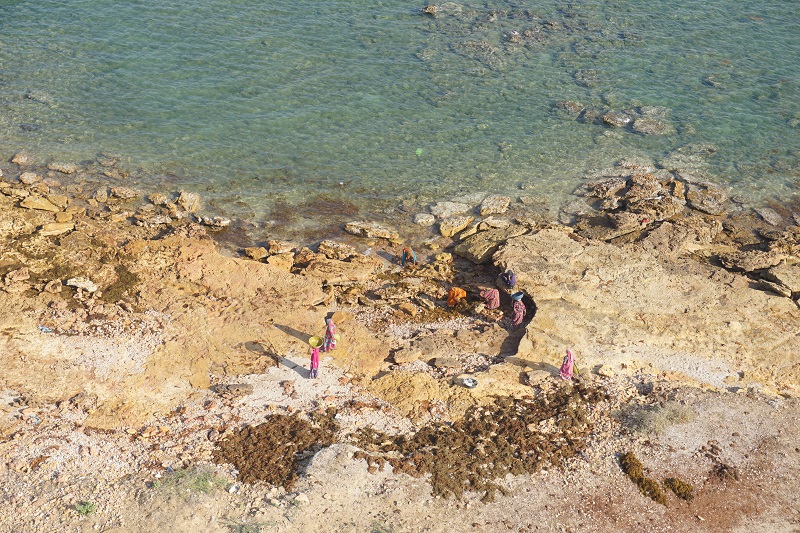 We also stopped at a stretch of road which had a beautiful beach adjacent to it. The beach was clean, the water was cool and the sand was fine. I never thought I'll be seeing a beach in Gujarat, let alone a pretty one. Having said that, people were not recommended to swim in it due to very strong currents.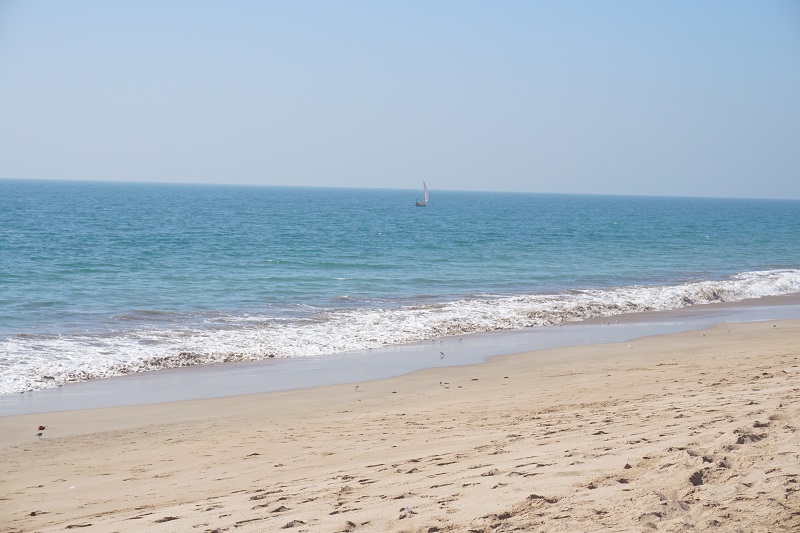 Industrial visit
There's not a lot for unemployed travelers to do in Gandhidham. That can only be a good thing as the city is full of industry especially transportation, shipping, cement and salt. Having said that, it left us bored and looking for things to do.
Seeing our boredom, my father-in-law sent us on a industrial visit. Initially, I wasn't too keen on it as I couldn't see a point of seeing machines and that we were swapping one boredom for another. How wrong I was!
We were met by the Head of Security of the fertilizer factory plant at the gate. We put on our construction place hats, face masks and boarded the jeep. On our way, we saw large mounds of ammonia which is one of the base products. Once inside, we saw the huge machines and the computer systems controlling the machines and their output.
Later on, we moved onto the ammonia storage tanks. The temperature is kept at minus 30 and the ammonia is received directly from the ships that dock at port. This combined with the chemical ship completed our tour of two industries of Kandla/Gandhidham. It may not have been the factory or the ship so much but we were awed by the industrial scale in Gujarat.
Invisible lions
Gujarat is the last home of Asiatic Lions in the world. We had an opportunity to visit the Gir forest which is spread across four districts of Saurashtra. Our safari was at 9am and we were excited to see a Lion roar.
Tip: Don't forget to book your permit online here. There are limited number of safaris everyday and the officials are very strict about the number of people visiting the forest.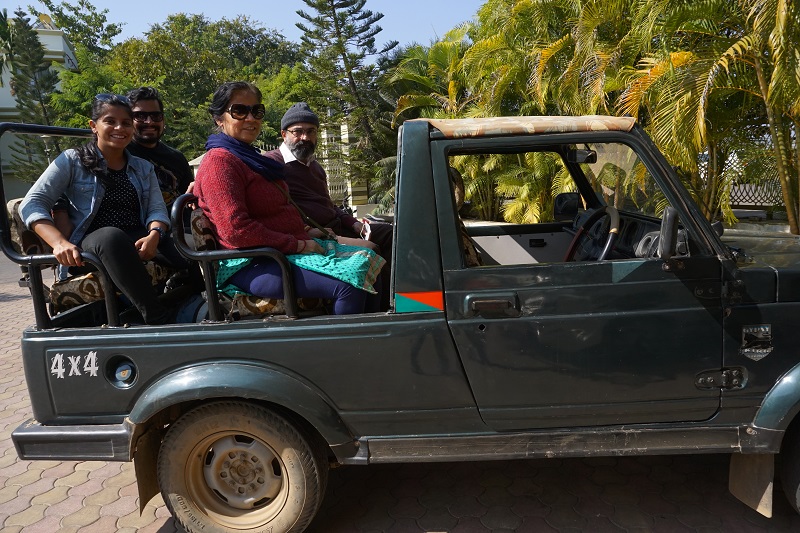 The driver and guide however were not so optimistic. Lions are extremely lazy and they rest for up to 20 hours a day. Their most active times are dawn and dusk. Unfortunately, having no prior experience we had picked the 9am – 12pm slot.
As soon as we got into the jeep, we had picked out directions to spot the lions. The guide was sometimes out of the jeep to view the tracks left by the lion. The forest itself was amazing. Lions live in dry forests or savannah. The dry forest provides the lion with enough cover and open areas to hunt.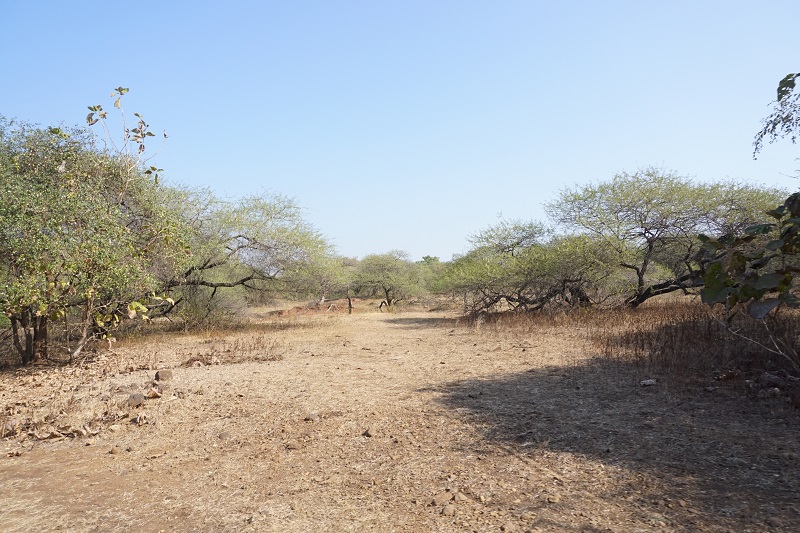 We tried several routes, saw deer and blue bulls but no lion. Unfortunately, the jeep can only go on marked tracks and the lions only come out there in the mornings and evenings. During our time, they were somewhere deep in the forest. The guide made us feel better by telling us stories of Amitabh Bachchan and Shankarsinh Vaghela, former Chief Minister, who had to try for several days before seeing a lion.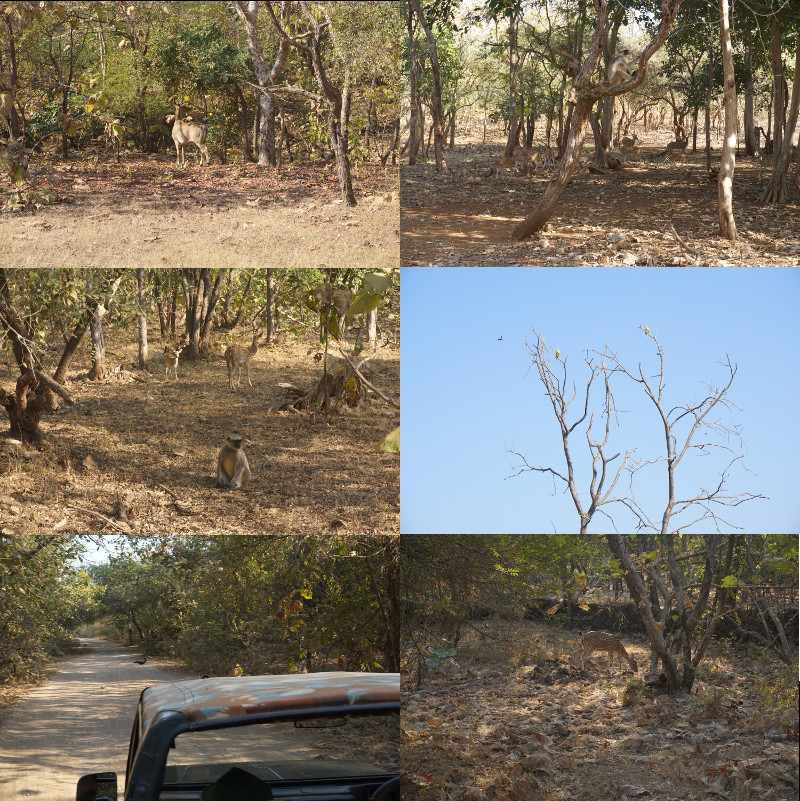 Personally, it was not such a disappointment though. We learnt a good lesson this time in terms of wildlife. India has several national parks with big cats, rhinos, elephants and other exotic animals. Due to the strong Indian sun, most of them come out only at dawn, dusk and night. We will take better care next time!
But for now, see this picture: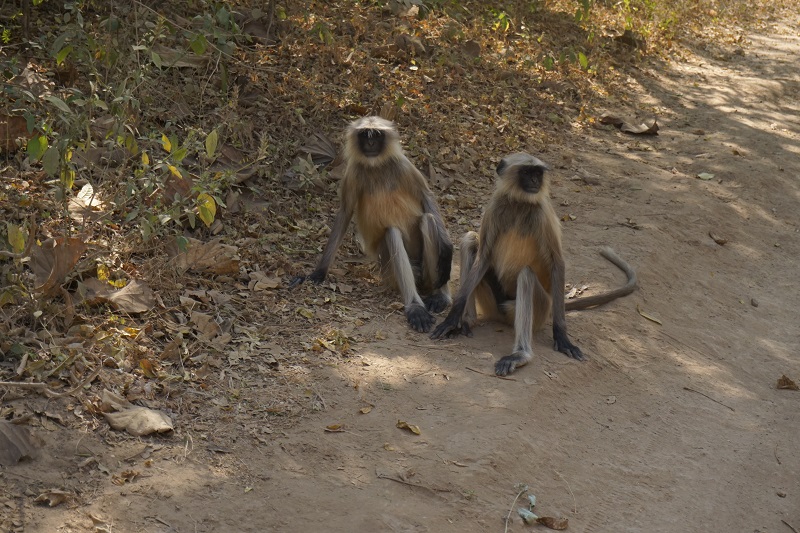 Dholavira
Indus Valley Civilization is the ancient civilization of India. It existed from 3000 B.C. and helped created the modern Indian civilization as well as had a significant effect on Pakistan. Most excavated sites of this civilization were found between Indus river and the Thar desert, most of which now lies in Pakistan.
Gujarat has several sites relating to this civilization. For us, the closest was Dholavira situated on an island in the Great Rann of Kutch. The drive took around 3-3.5 hours, half an hour too long because I was learning the manual transmission driving.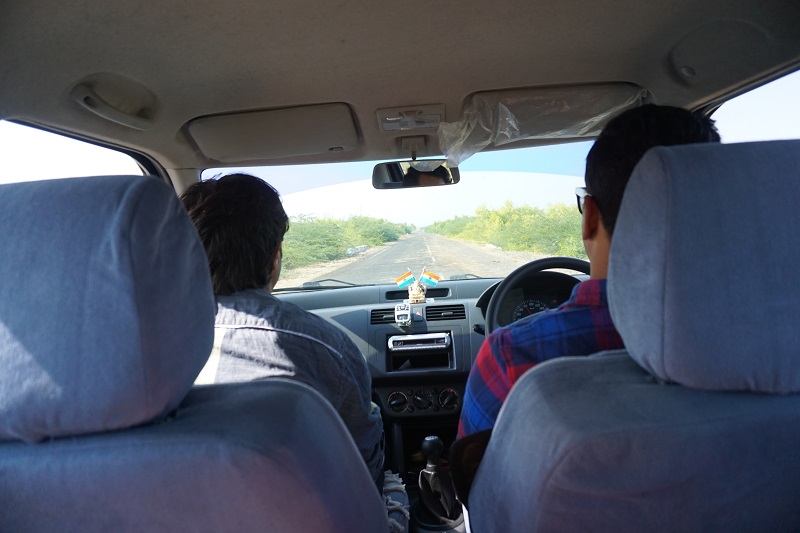 Once we reached there, the ruins were on one side and the museum on the other. As we walked up to the museum, the guard asked us to see the ruins first and if we wanted a guide. We declined and were left alone. The ruins were huge with the royal area, middle area, lower area, 2 stadiums and 2 rock cut reservoirs.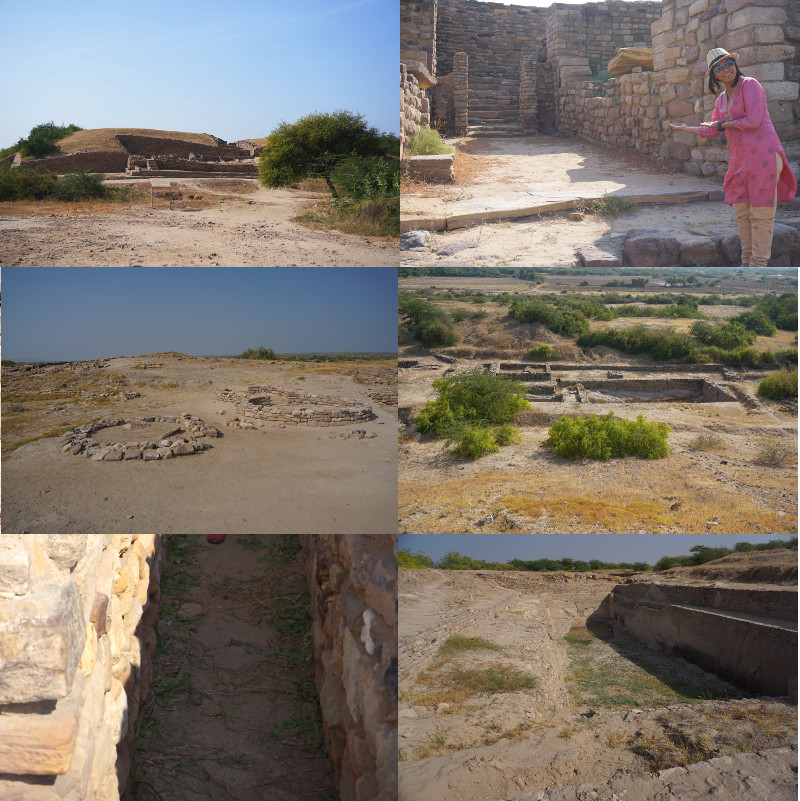 The build of the walls was so strong that they survived thousands of years before being excavated. Nothing is known about the language of the harrapan civilization and why it dissapeared. However, it was a civilization on par with the greatest civilization in the world for its time.

Great Rann of Kutch
Dholavira is situated on an island which is in the middle of a huge salty lake which fills up during the monsoon and then starts drying up leaving a layer of salt layer which is only found in a few places in the world.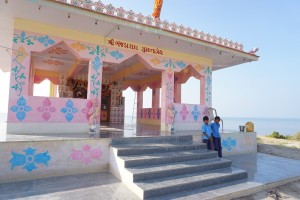 We were able to see the Great Rann of Kutch lake which resembled an inland sea complete with several islands and sea birds in it. The lake had a temple and a BSF check post near it. It was really close to Pakistan, basically on the other side of the lake. A perfect location for a photo shoot. As it happened some Hindu religious guru turned up there with his entourage just as we were leaving. Strange place for a prayer though!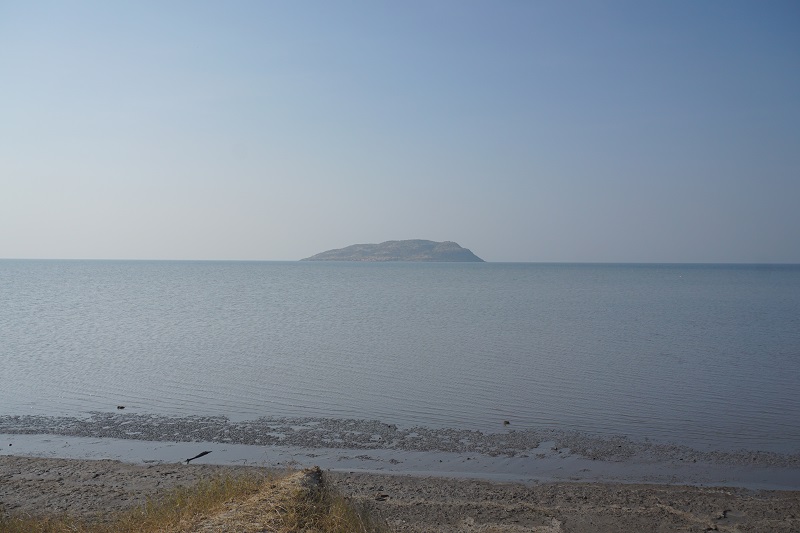 We couldn't leave without trying a few perspective shots in the salt pan. We stopped the car on the causeway and decided to walk down. We found that the salt was on the surface but underneath it was still muddy but strong enough to support our weight. We should have left it there.
However, if we did that we would normal in the head. Therefore, I went to the other side of the causeway to try my luck. At first it appeared to be working but one step forward and both my shoes were in mud. I pulled out as quickly as possible while Shruti and the driver stood on the causeway laughing. I walked back like a batsman who got out on a duck, folded up my pants, put the shoes in a bag and told the driver to drive home with an angry face.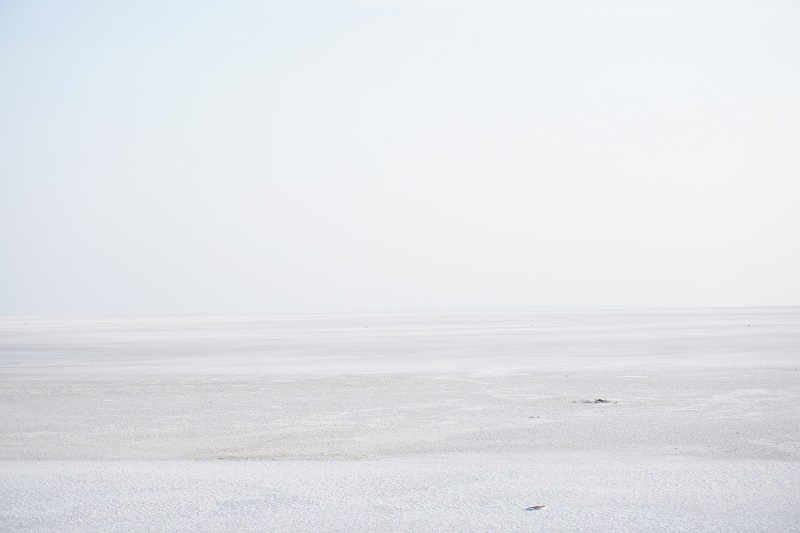 Little Rann of Kutch
When we were looking at the map of Gujarat, we saw a green area at the edge of Kutch named the 'Wild Ass Sanctuary'. The name itself made us want to explore it. Shruti and her dad were in conversations with a few tour guides for it.
In the end, we selected eco camp at Jogad with two safaris. Once we arrived at the camp, we realized it was right in front of a huge field where some animals were walking. As we looked closer, we realized that it was the beginning of the Little Rann of Kutch and those animals were wild asses :)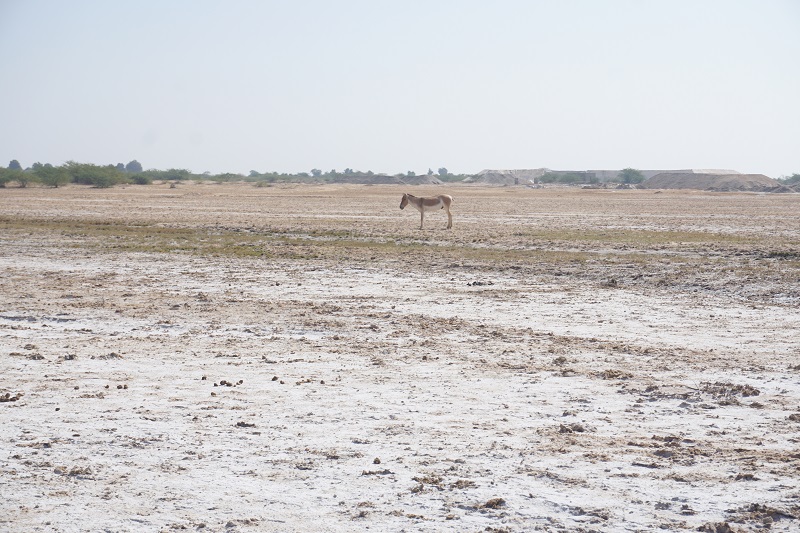 The camp was an amazing spot in open. Traditional mud huts with paintings and basic needs. We loved it!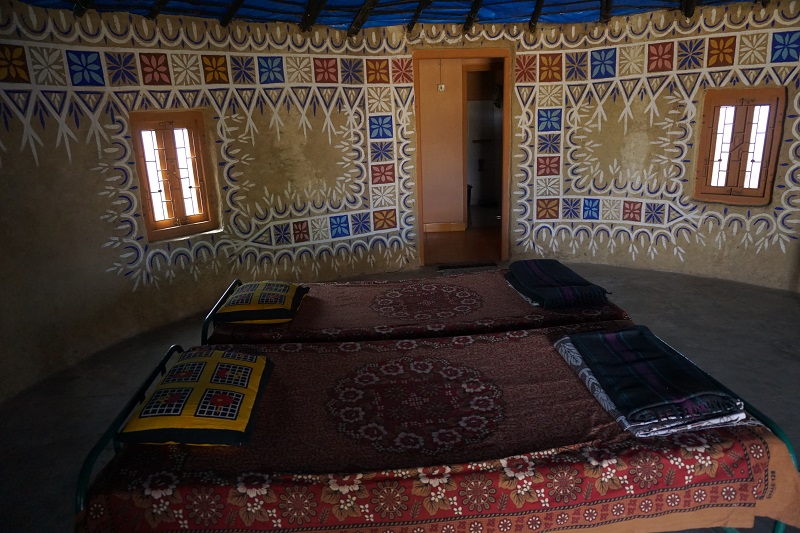 After we checked in, we grabbed quick lunch and napped for 30 mins below heading out in the safari jeep. The field was actually part of the rann where the water in the monsoon moved through. There were grasslands, small trees and lots of animals. Donkeys, blue bulls, black bucks and foxes are quite common in the area. In addition, we saw a few migratory birds and eagles scanning the grasslands for their next prey.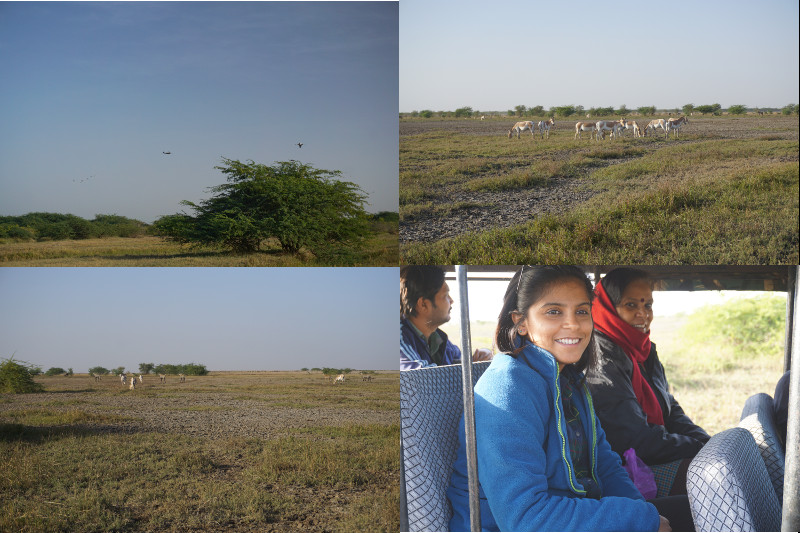 Next, we moved to a unique landscape. Further in the rann, the water fills up during the monsoon from the great rann of kutch and then slowly dries up. However, despite this, the land is parched and cracked due to the brackish water. The land is a desert with no trees, no birds once it dries, no grass, no people and no sound as far as anyone can see.

In addition, we then saw the salt making areas within this desert. Pools of water were stored next to each other. However, our guide, Mr. Devjibhai, explained that the pools were connected and the heavy (salt heavy) water moves to the end and crystalizes. It was beautiful to be there at sunset.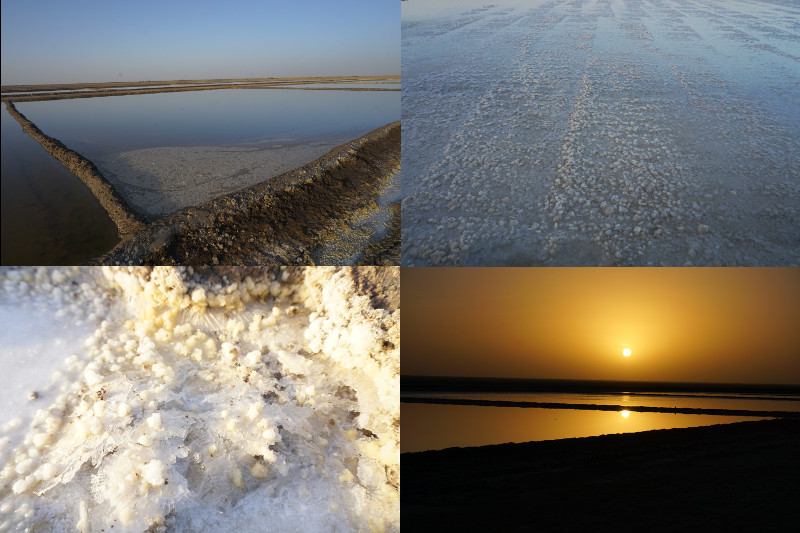 Finally, we were able to see what we had wanted all along. We saw the white desert in the Little Rann of Kutch and walked on it! Our guide drove us to it after driving through dusty mud flat desert and we couldn't believe that we were walking on a salt pan. In fact, it was the surprise which made it so much better. We had given up on walking on salt pans in India as they were not dry enough (read my accident above).
Initially, the in laws were a bit concerned about walking on the salt pan as it was still muddy in places. However, seeing our enthusiasm, they also got into the photos and enjoying the rann. Somehow late but it was one of the best experiences that we had in India.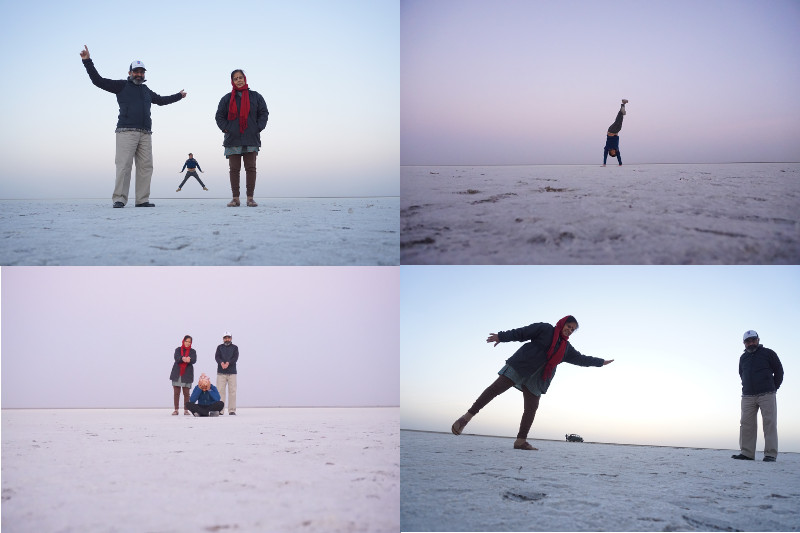 Though we were tired, we spent half an hour star gazing and the sky at this place was amazing. We walked a little away from the camp and gosh the stars were everywhere. Our guide told us that they do star gazing expeditions for western tourists which generally involves giving the tourists a bed, some warm clothes and leaving then out there for the night. Scary and beautiful at the same time!
The next morning, we had another safari to see flamingos. We all got up very early and got in the jeep. However, none of us had imagined how cold it would be and to be honest, I was shivering because I thought one sweater works be enough. In addition, we had to drive 50 kms through villages and farms which left us coughing due to the dust.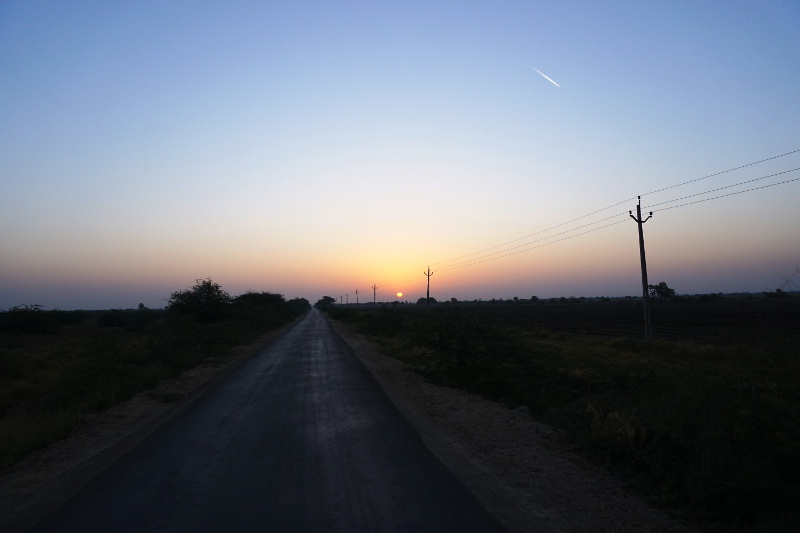 The end result however was magical. Once we arrived at the wetlands of the little rann of kutch, we could not believe our eyes. There were hundreds of flamingoes flying around and thousands sitting in the lake. The blue lake, blue sky and the pink flamingos made the sight picture perfect.
Here is a short video (sorry about my thumb) –
We walked closer to the lake carefully and observed the birds closely with a binocular. Our guide told us that all the birds were migratory and after monsoons hundreds of thousands come for nesting. We even saw some pelicans and seagulls. It was almost unbelievable that this is a yearly event.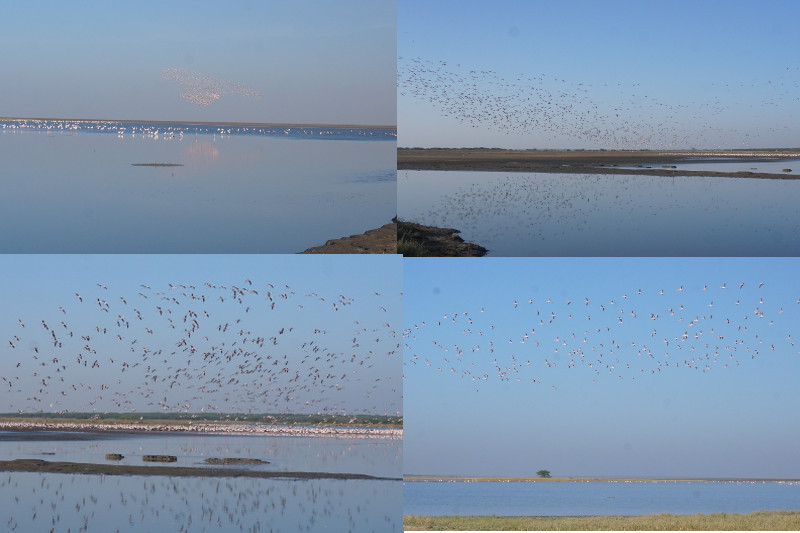 Staying with parents
It was kind of unrelated to our travel but Shruti wanted to spend some time with her parents. However, the fact that we were able to combine our time with the parents with a little travel around Gujarat made it perfect.
In addition, not only did we recharge our batteries but even I got to spend time with the in laws. It was a great time listening to the shipping stories of father-in-law while enjoying mother-in-law's cooking and views on everything from the present generation, financial investments and mostly Indian politics.
Finally, it was good to see our relationship change from a formal one to one like parents and kids.
P.S. – Shruti's mum was bang on about Gandhidham's food being terrible.
Summary
Final thoughts
What to say about Gujarat? Firstly, Gujarat was never one area. Saurashtra, Junagadh and Kutch were always different to Ahmedabad and surrounding areas. This difference was obvious in our road trip. Kutch is mostly dry and industrial while Saurashtra was fertile and traditional. From our small time in Ahmedabad, it resembled Delhi. The buildings, roads, bridges and the riverfront made it look like a well developed city.
Whatever be the history, today Gujarat has developed tremendously while still keeping its culture and traditions alive. Providing good highways, Gujarat has made its religious and natural sites into a tourist hub.
While it may have had instances of sectarian violence in the past, everything now seems peaceful mainly due to having jobs and industry. It's pretty hard for working people to be rioting with each other and its also economically bad for all communities.
While people may claim that Gujarati food is sweet and inedible, we found this statement to be false. All through our road trip, we found gujarati food to be spicy and different especially the breads of millet and sorghum.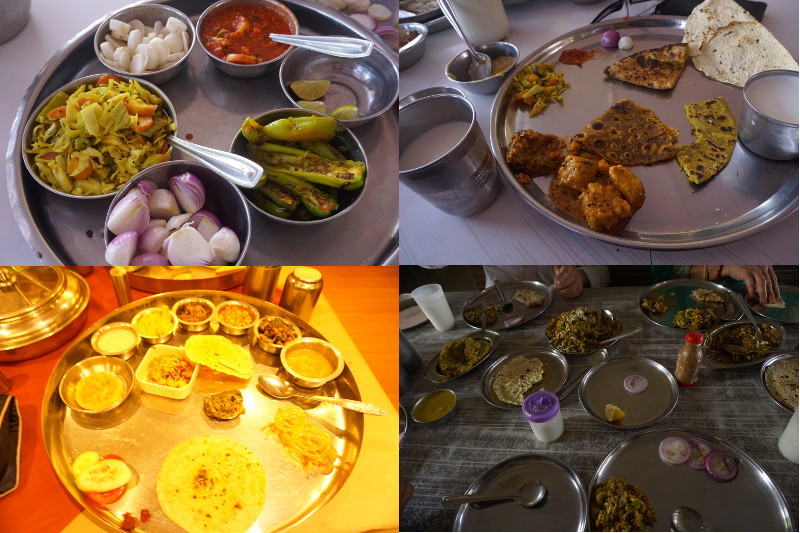 In all, we were glad we spent time in Gujarat. Amitabh Bachchan is right in both his sayings "kuch din to guzairye Gujarat mein"(Try and spend some time in Gujarat) and "Kutch nahi dekha to kuch nahi dekha"(If you didn't see Kutch, you didn't see anything). While these lines may have been created to rhyme in Hindi, they are essentially right. Even we recommend staying in Gujarat and seeing the place while you should not miss out on Kutch. Many places in the world gave mountains and deserts but the salt pans and animal safaris together in one area are rare in the world. Do check it out!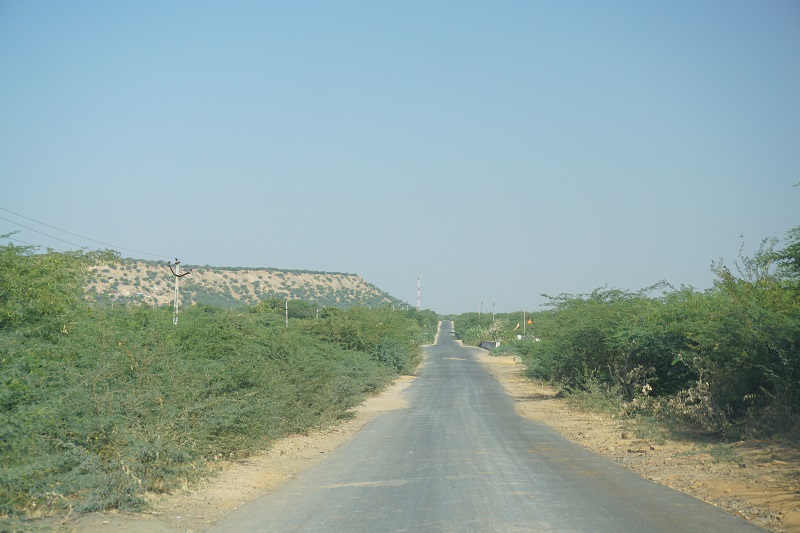 The only negatives to the entire trip are that there is no alcohol in Gujarat officially and that the accommodation at tourist spots is not cheap. Firstly, I say officially because there is plenty of alcohol and deaths from alcohol but the government banned it due to Mahatama Gandhi's beliefs. It didn't work and there is plenty of corruption over it. Secondly, this may only apply to natural sights as they are either far from cities or are extremely popular. You get what you pay for!
Accommodation
We stayed mostly at home but when on the road we stayed in hotels and government guest houses.
Transport
We used mostly Shruti's dad's car.
Gujarat Gallery