We finished our Sri Lanka site seeing in Galle and decided to spend the final 2 days in Colombo before flying off.
We booked our stay in Colombo through Airbnb. This was our maiden attempt and we are impressed. The home-stay was with an older couple while their son, living in London, handled all Airbnb communications. The room setup was like a hotel, in fact, even better than hotel. Apart from having basic amenities, such as tea/coffee with an electric kettle, linen, they provided fruits and had a tiny notebook with necessary details such as, closest restaurant, Domino's Delivery number and Wifi password.
Day 1
We chilled for a while before stepping out to see Colombo. Based on the research we had done, there wasn't much to do in Colombo so we decided to take a bus to Fort and walk around the old central area of the city. The local bus was an experience to say the least, I have neither sweat so much in a bus nor seen so many people packed into a bus. We survived the bus ride and walked around Pettah area. The area has different markets in each street. At one point, we had a sense of dejavu when we thought we had been to a particular main road before. We then quickly realized that we had been there on our first day in Sri Lanka. However, as there were elections going on, the street was deserted at the time but was now full of people.
Being on a budget and backpacking is tough and we realize this each time we are in a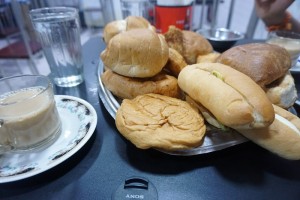 market. Pettah was no different and we could only look at things without buying. All the walking made us a little hungry and we ended up in a tea & bread house. The waiter gave us a whole tray of bread though we asked for only 2 with our tea. We were billed correctly but it was an interesting cultural experience as this is how Sri Lankans serve bread in tea houses.
After night fall, we walked aro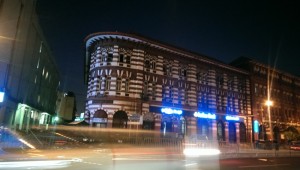 und some colonial parts of the city and took a tuk tuk to Galle Road. It is the sea facing road of Colombo and we saw kids flying kites and people enjoying the cool breeze at night. We then met Manuja, Shruti's poly mate from Singapore. We had sheesha and a couple of drinks with him and his friends. It was nice catching up/meeting him and he took us around to a Sri Lankan Chinese takeaway.
Day 2
The next morning, we left a little late from the house. We took a tuk tuk to Arcade Independence Square. We didn't know anything about it except that Manuja recommended it and there was a Burger King there. I say this because by now, we were done with the spicy local food and wanted to avoid a bad tummy before the flight. So for the first time since leaving Sydney, we had a big chain fast food for brunch.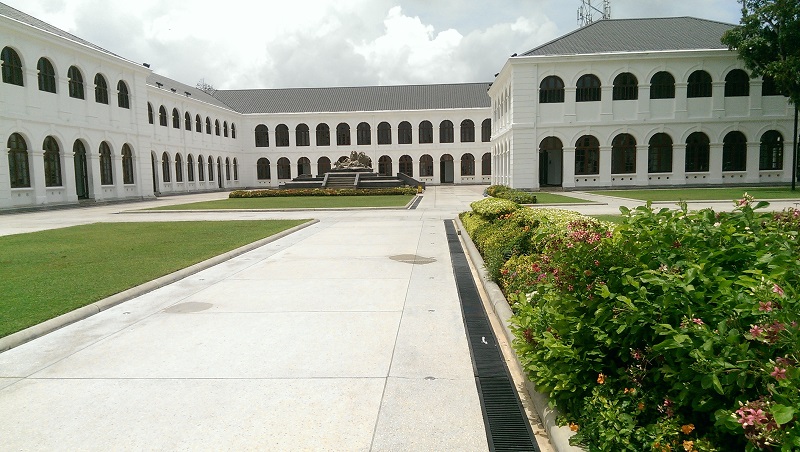 The arcade itself was of British colonial style originally designed as a mental asylum. From there, we walked to the Independence Memorial Hall. Don Senanayake, whose statue was at the location, was the first Prime Minister of Independent Sri Lanka and the memorial is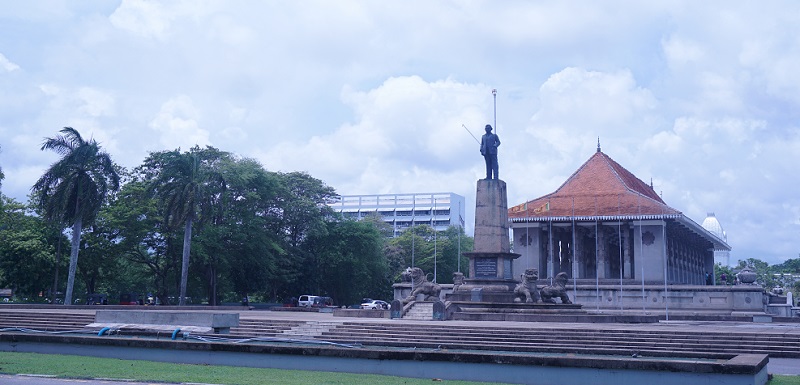 grand and beautiful. Our next stop was the National Museum of Sri Lanka. The building was again colonial and we realised that all buildings in this part of Colombo were from British era. In addition, the streets were wide and full of trees.
The museum was full of knowledge of traditional agriculture, religion, warfare, architecture and art. The issue was though that the place had no airconditioning and the fans were not great. I can tell you, its not a lot of fun looking at history while sweating from humidity. We had to end the walk around the museum quickly and go to the museum cafe for some iced coffee.
O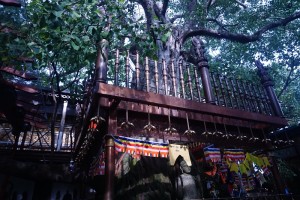 ur next stop was the Gangaramaya Buddhist temple. The temple itself is large with some amazing Buddha statues and Elephant tusks. There was a large Bodhi tree with a quiet stop for the Buddhists to pray and people to meditate. It was certainly a special experience feeling the quietness and devotion of the local population. A added extra was that this temple was the stop over point for the wedding parties. We saw brides and grooms in traditional and European attire and they were dressed beautifully.
This was also the case for the Seem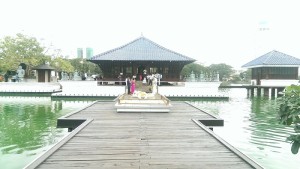 a Malaka buddhist temple close by. This temple is in the middle of a lake and is incredibly picturesque. Surrounded by green water, you can see some of the Colombo skyline behind the temple. After this, we basically walked back the way we came to the Arcade.
As we walked around the arcade again, we saw the Kaema Sutra Restaurant by Jacqueline Fernandez. Jacqueline is a Sri Lankan model who is now a Bollywood diva. Though we knew it was expensive, we couldn't resist the charm of eating in her restaurant. In reality, I am glad we did as the food was beautiful. We tried the Tuna, Jack fruit and Potato curries with string hoppers, hoppers and rotis. We had a desert of Curd with palm syrup which was healthy and tasty. We caught a tuk tuk home and called it a night.
Tip: Always load Google Maps for the area you will exploring during the day. This way, even if you don't have internet connection, you can never be lost. Also, always have your GPS on with Google Maps when using tuk tuks. Though the drivers are generally very good, sometimes there could be a miscommunication.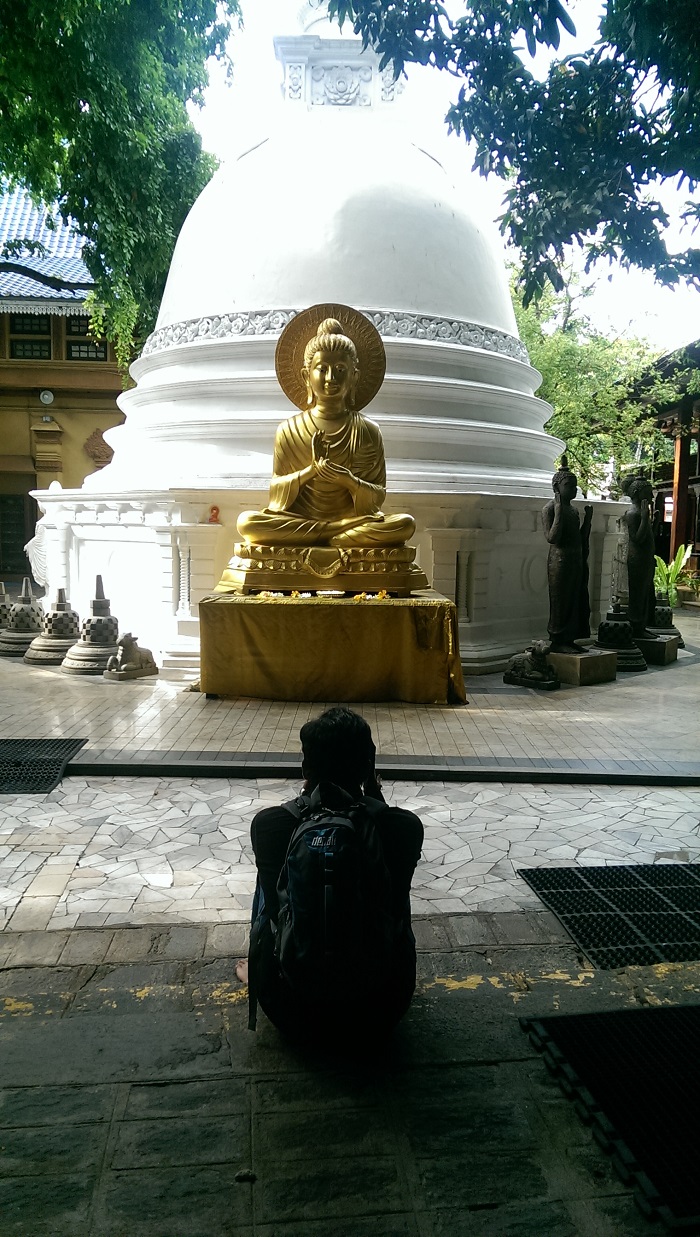 In Summary
This leg of the tour started after Trincomalee and ended in Colombo. We crossed the entire breadth of Sri Lanka in 5 days. It was a whirlwind tour but it was definitely worth it. We experienced the food, culture, religion and the history of Sri Lanka. Sri Lanka has so much to offer to people and the tourism is starting to pick up after the war ended in 2009.
However, the best thing about Sri Lanka are its people. Everywhere we went, people were very nice to us. When they looked at us, they were very curious and asked if we were Indian. A lot of people then tried a few words of Hindi to make us smile. In addition, Sri Lanka is generally quite safe. We never felt threatened and unsafe even while dark.
Finally, Sri Lanka is quite cheap too. As long as you stay away from 5-star hotels and resorts catered for European tourists, you can have a decent holiday for small cash. Read about accommodation, transport and food costs in our previous post about Trincomalee.
Final Thoughts
In our time here, we only have one regret that we should have climbed Sigiriya rock. We gambled it for Adam's Peak, which, though wasn't completely disappointing, we didn't enjoy the climb or the sunrise from up above. The drive from Trinco to Galle in two days was also a bad idea. When we reached Unawantuna beach, we were so tired that we couldn't enjoy what it had to offer.
Though we didn't visit them, Sri Lanka also has some amazing national parks with exotic animals. When we come back (and we definitely will!), we are sure to visit them. Likewise, we heard of Sri Lankans love for Cricket but never saw it. It would be a dream to watch a day of a test match in Galle!
I have high hopes for Sri Lanka. It now has a popular government, booming economy and increasing tourism. Sri Lankans are quite a disciplined and hard working people. The driving and zebra crossings showed us that Sri Lankans are happy to follow rules. Unlike India, we rarely heard the car horns in Sri Lanka. Our driver Asanga who happened to be from a less well off family, repeatedly asked us:
Driver: Do you think Sri Lanka can develop?
ArrangedTravelers: Hell Yea!
It also helps India. Most of the common vehicles in Sri Lanka are Indian ;)
Sri Lanka has lot of raw, untouched, natural beauty and while I hope for development,  I also wish the landscape does not get altered much and locals can maintain their warm hearts and welcoming nature.
Colombo Gallery