As part of our Must Do in India post, we mentioned "fresh food" under "must experience". So we thought we should expand on that a little. Having traveled quite a bit in India, we picked up a pattern for food. Somehow cheaper food at local outlets tastes better than most mid-high end restaurants.
Ideal Indian Food
Shruti and I have been eating North Indian home food since we were able to eat solid food. While we can't claim to be experts, we know when we get a good Indian meal. After all our 'most' favourite dish is a North Indian dish, dal chawal being Shruti's fav while paratha & rajma is mine. We can eat that day in day out.
Ideally, food should be light, hot (in temperature not spice), flavourful, cooked fresh (not reheated) and not too oily. While each dish may vary in taste, these are the must characteristics for all Indian food.
Problem with Restaurants
The oil
Firstly, restaurant food is rarely light. Even the humble daal is full of oil or butter amongst other spices. This of course also means that the food is incredibly oily as well. This makes you bloated when you finish your meal. Add in a desert and its calories central!
Expensive
The restaurant food is quite expensive comparatively. An average vegetarian curry is around Rs 250-300. If you add in the service charge, a meal for 2 people will easily go over Rs 1000. While this may not be an issue for many middle class Indians, it certainly was a problem for us as backpackers. We can't afford that food economically everyday.
Oh My Paneer
Many parts of India have a large number of vegetarians. Understandably, restaurants cater to their audiences but for some odd reason there is an oversupply of paneer (cottage cheese) dishes. Shruti and I aren't particularly fond of paneer which means we had to look for non-paneer dishes which would almost certainly be too oily. Bummer!
Same ol' Food
There is a peculiar problem with Indian restaurants almost everywhere in North India as well as other big cities. Due to overwhelming number of North Indian tourists, the menu in most restaurants is quite similar. The general menu of every Indian restaurant is: 4 daal dishes, 10 paneer dishes, 1 eggplant dish, 1 okra dish, Indian Chinese food, idli and dosa to represent the South Indian cuisine.
Other than this, we found that now mock Italian had started to enter the menu as well. Unfortunately, by catering to all audiences, they don't get any of those right.
What are Local Outlets?
Basically where the locals eat on regular basis. It can be the dhabas in North India, small home food joints or 'fast food' outlets.
Dhabas started as truck stops on the highways around India. The number of Dhabas are higher in Haryana and Punjab due to GT Road being one of the oldest highways in India. Dhabas cater to truck drivers and families traveling in buses and cars.
Home food joints are usually found in South India and North East India. They are small outlets run by a family. The board outside will say "home food" or something similar. Usually they are only open for lunch but if you are lucky, you could find some open for dinner too. The food cooked by the family is as they would eat at home.
'Fast food' outlets are usually found in bigger cities. They focus on time efficiency – quick seating, quick order, quick service  and quick payment. They are very popular during lunch hours, especially around office areas. Generally speaking, a person maybe seated in the outlet for 25 mins top.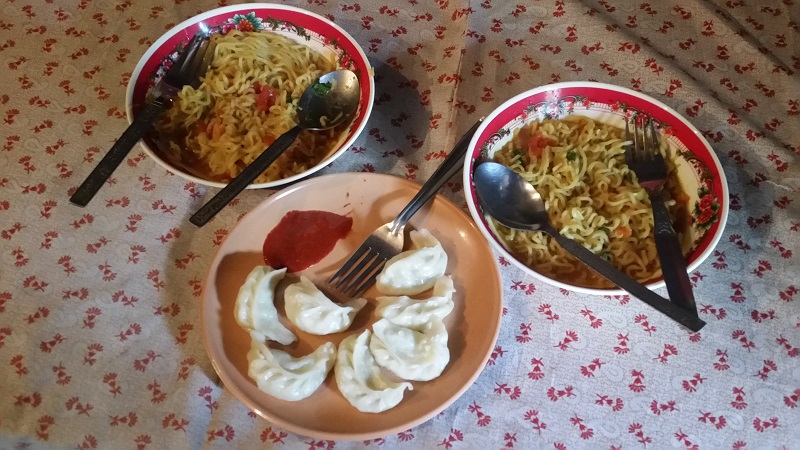 Why Local Outlets?
The food at local outlets is cheap, simple and earthy. Generally the amount of food cooked is based on the traffic of people visiting and so it tends to be fresh and flavoursome.
The curries at local outlets on average cost between Rs 100-150. Thali, a combination of various curries, served with rice and bread is pretty common as well. Usually, a good thali could range between Rs 100-150 too. Very economical.
Oh wait, there is still the best part – local outlets generally serve local area cuisine. That means, you are eating like a local. Dishes like sarson ka saag and makki ki roti in Punjab, rotla with jaggery in Gujarat, meal on banana leaf in Kerala or thukpa in Sikkim.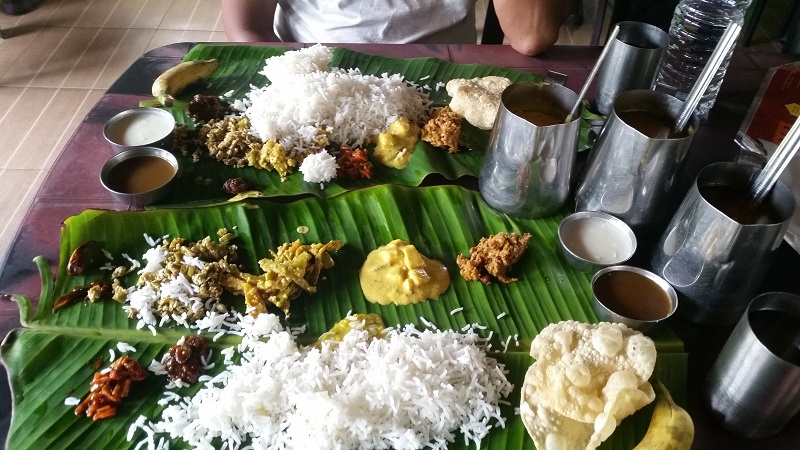 Which Local Outlet?
If you go looking for them, there are plenty of local outlets around. While most of them maintain a certain level of hygiene, it doesn't mean there aren't any not-so-clean ones. We recommend asking a local, they will have the best answer to it.
So next time do check out local food outlets in India.