As part of traveling around India, we made sure we didn't miss the North East Region. Based on North Indians, India has been split into three parts – North India, which is up to Goa, South India, everything below Goa and the North East part of India, which brings an exotic feel about it.
We initially wanted to travel around the region by ourselves but as we researched we figured we needed guidance in transport, bookings and places we can visit. So we decided to book a tour that covered Gangtok in Sikkim, Darjeeling in West Bengal, Shillong in Meghalaya and Guwahati in Assam. In a series of 3 posts, we will share our experience of discovering the 'exotic' North East Region of India.
This post is all about Sikkim, the do's, don'ts and what you can't do!
Crossing the border
Yes, getting into another state in India was almost like crossing the border for Manish. We will give you the dirt in a bit. But first, getting to Gangtok, Sikkim's Capital.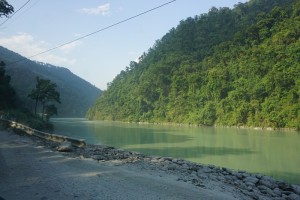 Being a mountainous state, there are no airports. We flew into Bagdogra airport in the neighboring state of West Bengal. The drive to Sikkim was beautiful as we drove around the hills along the Teesta river. The blue of the river contrasted the green of the hills and the light green of the paddy fields making it picture perfect welcome into Sikkim.
So now about the border – Sikkim is a protected state which shares border with China and as I am an Australian Citizen, the Govt. needs to be aware about my presence in their state for my own safety. As such, a foreigner needs to get an ILP (Inner Line Permit) and sign in and out during entry and exit of the state at the border post of Rangpo. It was a strange experience taking a permit for an area within India though I am identified as an Overseas Citizen of India. The experience with the officials was like any other Indian Government Office – slow and tedious, but in the end I got a stamp and entered Sikkim.
TIP: Usually tour operators are aware of this requirement but the drivers may or may not be to alert. If you are non-Indian by citizenship, make sure you stop by Rangpo and get the permit, otherwise it may cause issues while site-seeing. Also, carry photocopy of your passport and Indian Visa otherwise you will be asked to go find one in the middle of new place!
Misty Lake
When we researched into Sikkim, a few places stood out,  Gurudongmar Lake, Tsongo Lake, Baba Mandir and Nathula Pass. All these places are up in the mountain range of Himalayas and along the highway to China, which means added border security. Visitors need to get additional permits to visit these places but unfortunately, non-Indians are only allowed up to Tsongo Lake! It was definitely a huge disappointing but we made sure we visit it at least.
Our North East tour operator functions off West Bengal and because Sikkim is so restricted, we got in touch with a local Sikkim tour operator who could help us get permits to Tsongo Lake. But there was a bureaucratic problem – we needed two foreigners to travel together in order to get the permit. For safety reasons, one foreigner and one Indian, which is the case with us, isn't an ideal match. While we were started to get even more disappointed, our Sikkim tour operator said they will "manage" it. And, trust me, they did!
Tip: When traveling to Sikkim, make sure you book your car and tour package with a local Sikkim operator. Tour operators from other states will have issues arranging visits to places along the border. Additionally, if the car is not registered in Sikkim, they could have unnecessary issues with the police and border personnel.
Thanks to Sikkim Travel Info (Tara, Suman and Tara's husband), we were able to go up to Tsongo Lake which is around 13,000 feet high up in the mountain. There was a lot of Military presence past the check post and we couldn't help but salute the soldiers as they live in rough weather all year round.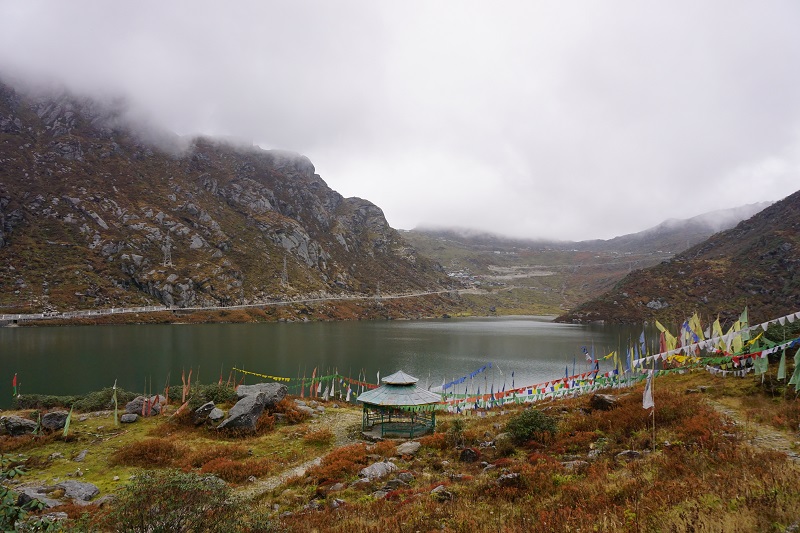 The lake itself was beautiful beyond belief despite the bad weather, fog, in the area. We enjoyed it nevertheless – we have never been so high up in the mountains before!
Another highlight for us were the yaks. Yaks are known as the wagon of the Himalayas and are one of the cutest animals. We bargained with the yak herders and rode them around the lake. The animals were sure-footed and very calm but it was scary for us nonetheless. We highly recommend riding them – it is nothing like a camel or elephant ride! We talked to the herders about the training and how they live with the yaks. The yaks start being trained from age 1 and work till 18. The best thing was the decorations on their horns and bodies.
Before heading back down to Gangtok, we decided to have lunch at 13,000 feet. We headed to a tiny shop next to the lake and munched on momos and maggi. Delicious and very satisfying! Do try momos and thukpa while you are in Sikkim – these are the traditional dishes from Tibet.
The Weather
It was already around 10 degrees at the lake, and as we left,  the rain came in. The driver was an expert at high mountain driving but we freaked out when the clouds rolled in and the visibility dropped to 2 metres. The driver however couldn't care less and drove at 50 km/hr along winding roads with a bit of honking. We survived!
Tip: Please bring along a jacket at least. Depending on the month of the year and the altitude you are visiting, the weather may range from 20 C to -15 C. Don't forget to do your research and gear up accordingly.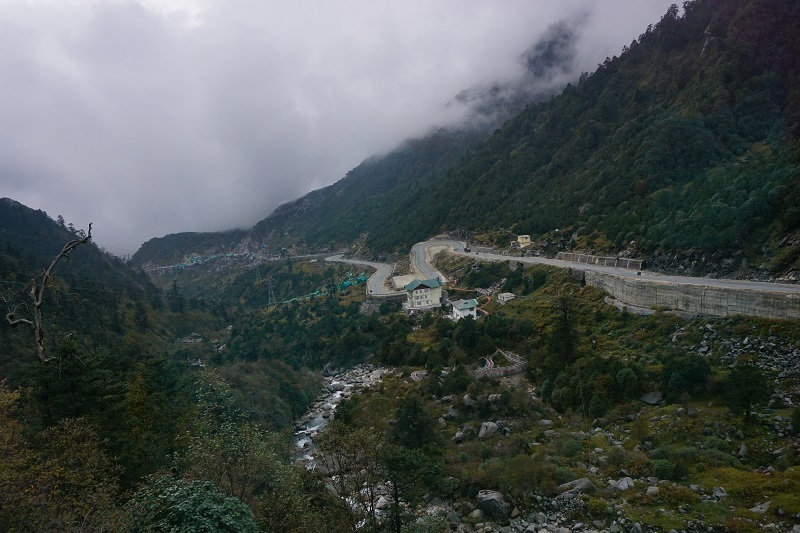 A small bite of Gangtok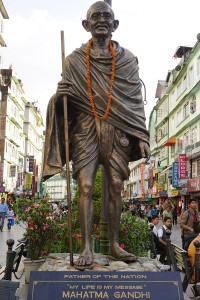 Though we didn't have many days to explore Gangtok, we visited quite a few places. Gangtok is a well built city over several levels on the mountain. We visited MG road which is the street shopping mall. One could see the mix of cultures of Gangtok with Tibetan, Nepalese and plain Indians living side by side.
The cleanliness of the city and the traffic etiquette in Gangtok was immaculate. The city was a great tourist destination with pubs, casinos, and restaurants as well as well known sights.
In addition,  we had a funny experience related to getting beer. On our first night in Gangtok, we decided to get a local beer. Upon wandering out,  we noticed everything was closed so we asked a local young man about a bottle shop. He told us that as it was an election day, the usual bottle shops were closed though he was also looking for a beer and we should follow him.
Next thing we knew, we followed him a few metres down a descending alley, waited outside a house and then followed him through a series of doors into an alcohol storage area. The air was musty, lots of wooden shelves with alcohol everywhere and an old local lady constantly reminding us to stay quite. We bought two beers which Shruti kept in her jacket, paid and were about to run out when we saw a policewoman doing her rounds. Somehow we avoided attention and went to the hotel. The taste of the beer: absolutely criminal!
We saw the Gangtok valley from the Hanuman Tok which was the hindu temple of God Hanuman run by the Indian Army. It was awkward seeing an Hindu priest dressed in khaki uniform! We also visited Ganesh Tok – another hindu temple with a great view of the city. Though both these temples were hindu, Tibetan influence to the building and decor was very evident. Everything at the temple was very colourful and prayer flags could be seen everywhere!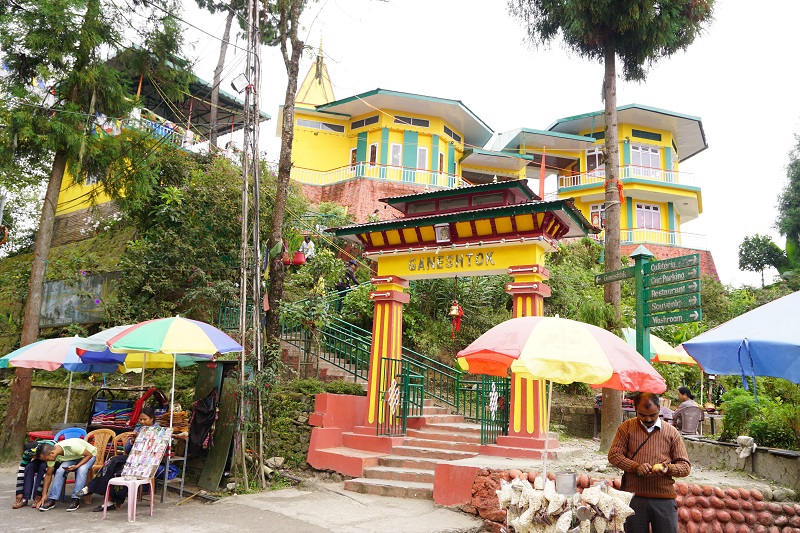 Tibetan Buddhist Experience
Padmasambhava or Guru Rinpoche, a famous Mahayana Monk and an extremely important personnel for Tibetan Buddhism, visited Sikkim a long time ago. Since then, Sikkim has been an important centre of Tibetan Buddhism or Vajrayana. And as such, throughout Sikkim, prayer flags flew alongside mountains, roads, waterfalls, houses and shops. Shruti absolutely loved them and, I must say, she managed to get LOADS of photographs.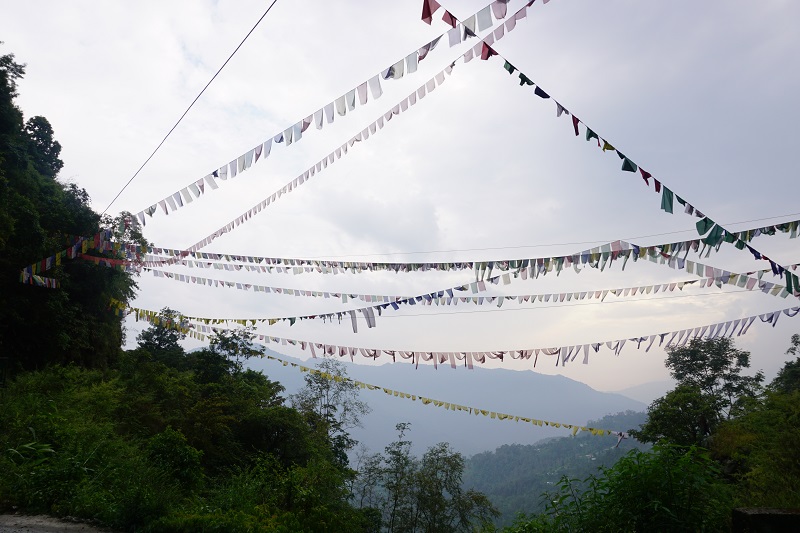 While we were exploring Sikkim, we visited a few key monasteries. At Enchey Monastery, we saw little monks just initiated in the religion as well as senior monks doing their daily practice. Shruti insisted we buy prayer flags, which we took to a monk to bless. It was a spiritual experience as the monk read Tibetan mantras while throwing rice on the flags.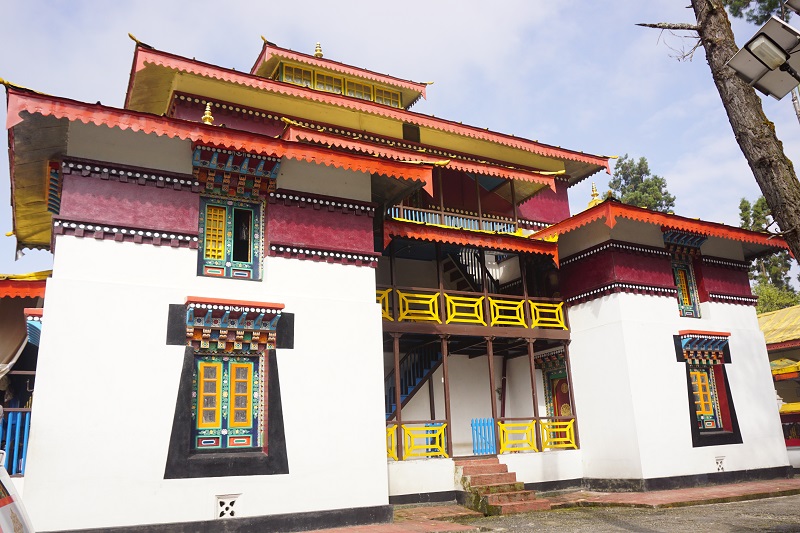 We also visited Rumtek Monastery which is on a mountain opposite the Gangtok city. This monastery was made by the Karmapa who is second only to His Holiness Dalai Lama. There was a big pooja going on at the time and the monastery was jam packed. We saw monks of all ranks and ordinary Sikkimese chanting mantras and doing meditations.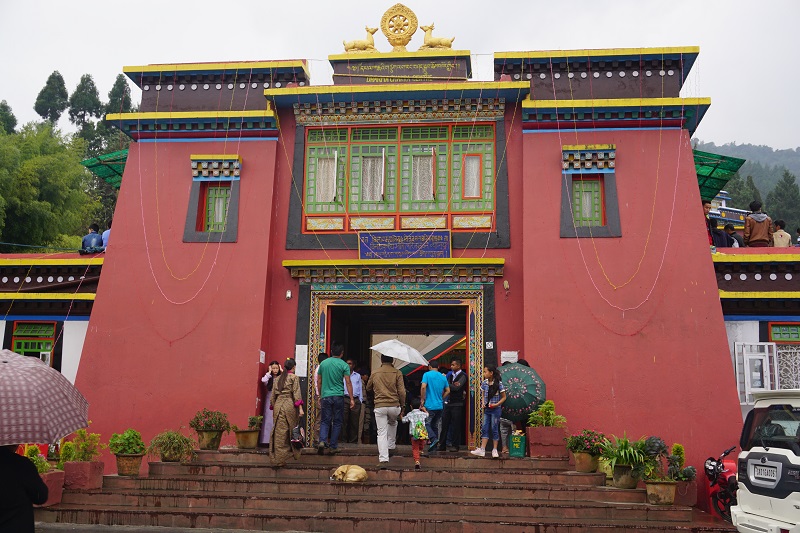 Lastly, we visited the Tibetology Institute which had art, history and the deities of Buddhism as well as the history of Buddhism in Sikkim. We definitely learned a thing or two there about Buddhism.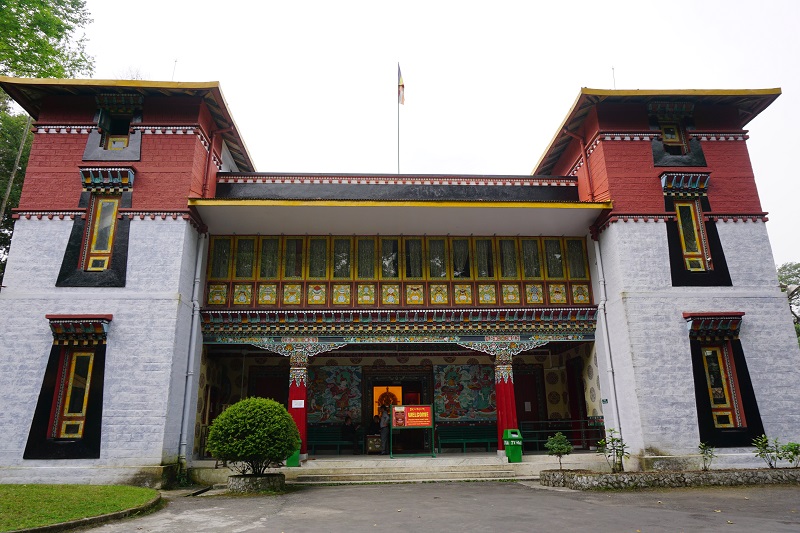 Summary
Accommodation
We stayed at the White Conch residency which was a decent budget hotel. There are plenty of hotels options of all budgets and home stays in Sikkim.
Transport
As we were part of a tour,  we had a driver available the entire day.  However, staying near MG road means you don't need a driver and there are plenty of local taxis available to take you around the city. Having said that, traveling to the tourist spots is easier done with a pre-booked driver.
Final thoughts
Sikkim was truly exotic to us! The people, the food, the culture, the roads and the geography of the place made every second of our trip astonishing and memorable. The place was unique – something we haven't seen anywhere in India or even overseas. The mix of Tibetans, Nepalese and Indians added to a wonderful mix of culture.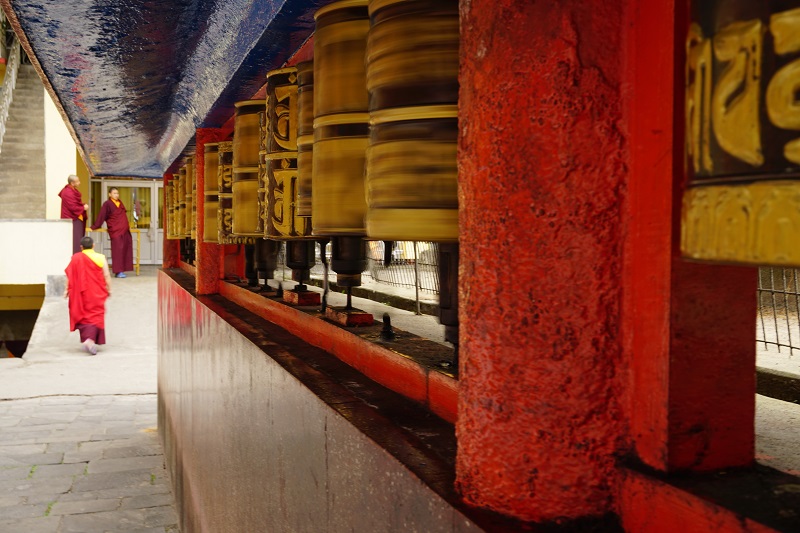 Neither of us had been to Sikkim before and we are sure we will be visiting again. Occasionally, you meet someone who lives his/her job and is very passionate about what they do. We met Suman, the local tour guide you accompanied us to Tsongo Lake, and he inspired us to come back and further explore other aspects of Sikkim. He was so passionate about everything Sikkim has to offer, from the mountains to food to culture, we definitely felt the urge to visit again. And this time, we will be contacting him to plan an outdoor focused trip to Sikkim that may range from treks to camping. Aaah, can't wait!
Exploring Sikkim Gallery