We left Gangtok and headed towards Darjeeling, famous for it's tea. Instead of taking the main highway, we traveled on a village road. The drive was stunning as we saw terrace rice fields in full bloom facing the Teesta river which itself had a deep jade colour. As we were entering the city way past sunset, we saw thousands of stars above us and the lights of Darjeeling all across the mountains. It was a great start!
Tiger Hill
Since it was a clear night, we decided to see the sunrise from Tiger Hill. It lies just outside the city and is must see. The issue though is that the crowd is too big so you need to get there by 4am to get a good spot to see the sunrise.
Therefore, we woke up at 3am and were ready by 3:30am but the driver was nowhere to be seen. He turned up at 3:50am after a wake up call from us and drove crazy to get us to the hill by 4:30am.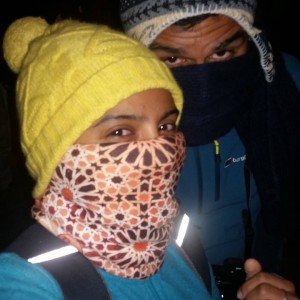 Once there, we realised that we hadn't rugged up enough and it was absolutely freezing. After a couple of coffees and wearing our scarves on our faces, we grabbed a spot on the balcony in the cold. Although we had a expensive ticket, the seats were full by the time we arrived.
Tip: If you don't want to stand outside in open balcony, we recommend getting to Tiger Hill by 3am. Hopefully then you would get a seat at level 2.
The sunrise time was 5:30am and we were clicking pictures of the sky till 5:15am. The crowd came in by this time and the viewing area was packed like a Mumbai local train. There was tension in the air about the clouds and whether we will see the mountains. At 5:20am, someone shouted "Look! The Mountain", heads turned to the west, people started whistling and we saw the first rays of the sun hit the Kanchenjunga and other mountains in the Himalayan range.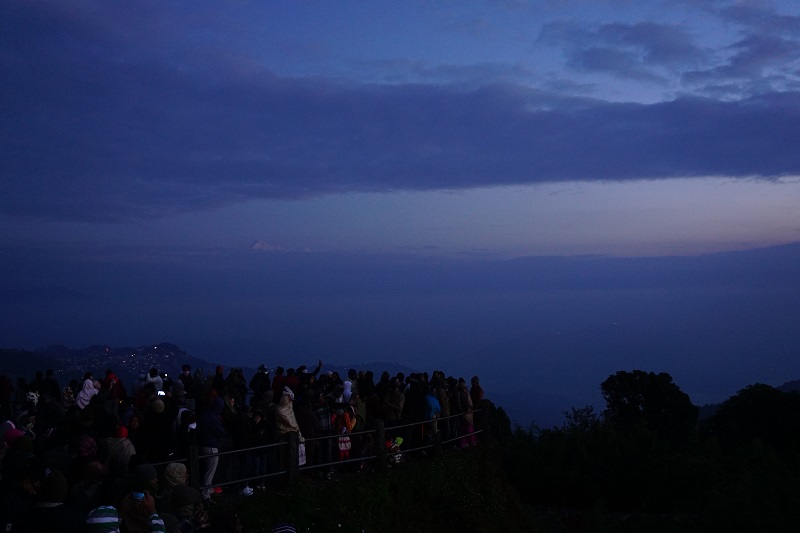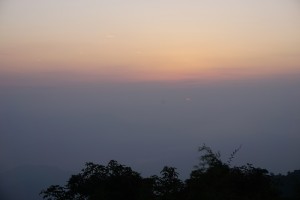 It was the first time, I had seen something beat the sun and the sky – no one was interested in the sunrise anymore. A faint sun showed up at the horizon  and although there were clouds, nothing matter because the white snow covered peaks were now golden. Being sleep deprived and cold was the last thing on our minds and we were glad we decided to see it that first morning.
Darjeeling Sightseeing
Tours by car run on stop-off point system. Darjeeling has 7 points, i.e, tourist stops. We first visited the Zoo and the Mountaineering Institute. Now, Shruti and I aren't particularly keen on zoos and parks. We feel that zoos are generally the same everywhere and parks are mostly boring. We would rather walk in a National Park which provides both these things.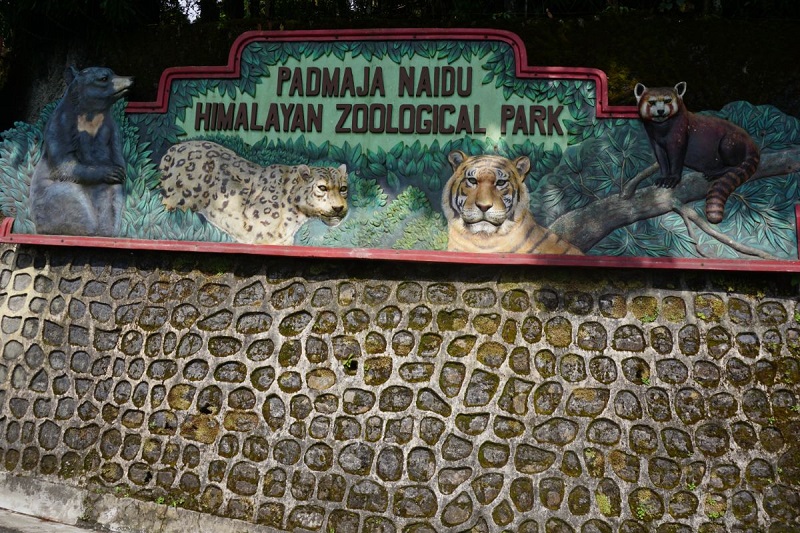 However, the Zoo and the Institute were a combined ticket and the Zoo had Red Panda. If you grew up in India in the early 90s, the 'Jungle Book' animation was on TV every Sunday morning. As kids, you just couldn't miss it. The main character Mowgli had been raised by animals and had friends like wolves, bears and a cute Red Panda. Since then, I had wanted to see a Red Panda. To see one in the wild is tough as they are endangered and live in trees in thick forests.
We finally saw two of them sitting on branches of trees looking rather cute but a bit sad. Once done with getting our panda on, we saw Himalyan birds, bear, deer, sheep, wolves and several cat species. The mountaineering institute was interesting as it showed the history of mountaineering in the Himalayas and several attempts on Mt Everest made by mountaineers from the Institute.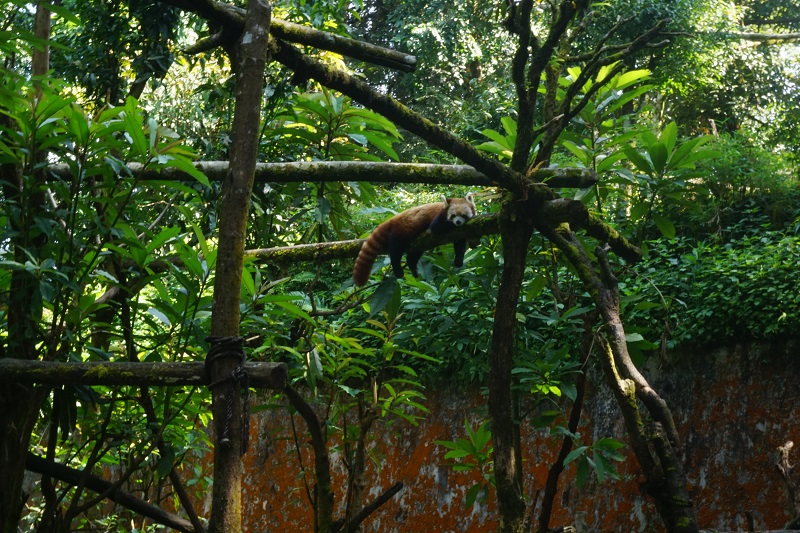 We saw the Tea Garden, Rock Climbing, Japanese Pagoda and Ghoom Monastery before heading back to the hotel. We left some of the flower garden and parks – can't be bothered!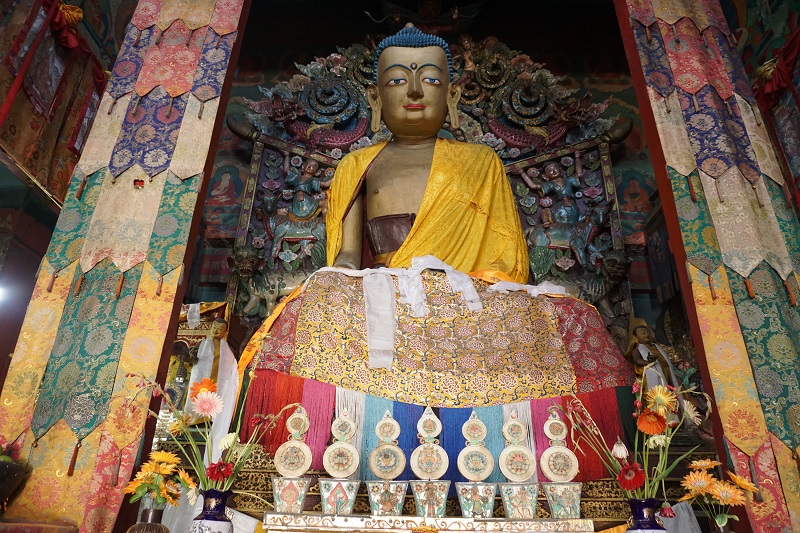 We also had the opportunity to try a traditional Nepali Thali for lunch. The food is served in brazz utensils and a chilli is must. Yum!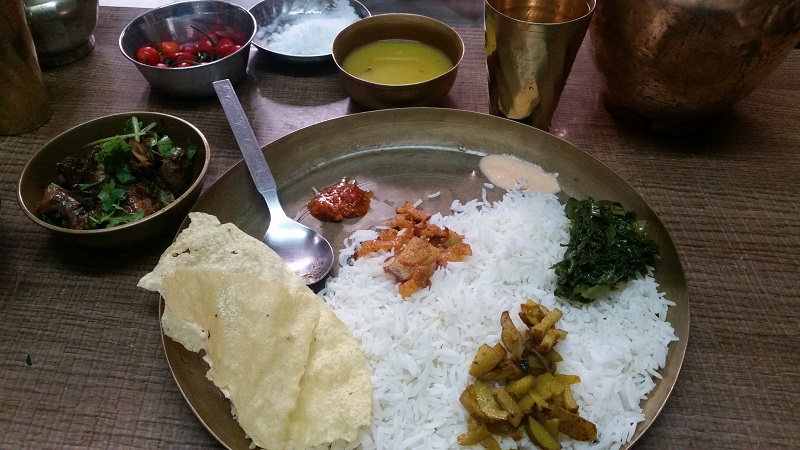 Temple of Unity
Mall road is the main shopping area of Darjeeling and we walked around it after lunch one day. We found a sign pointing to a Hindu Temple there and decided to follow the trail up a hill.
Other than the mighty pine trees, we noticed Buddhist Prayer Flag on the trees and temple itself. While we noticed this, we heard temple bells, a sure sign of a Hindu Temple. This left us confused and our confusion increased as we saw prayer wheels outside the main complex.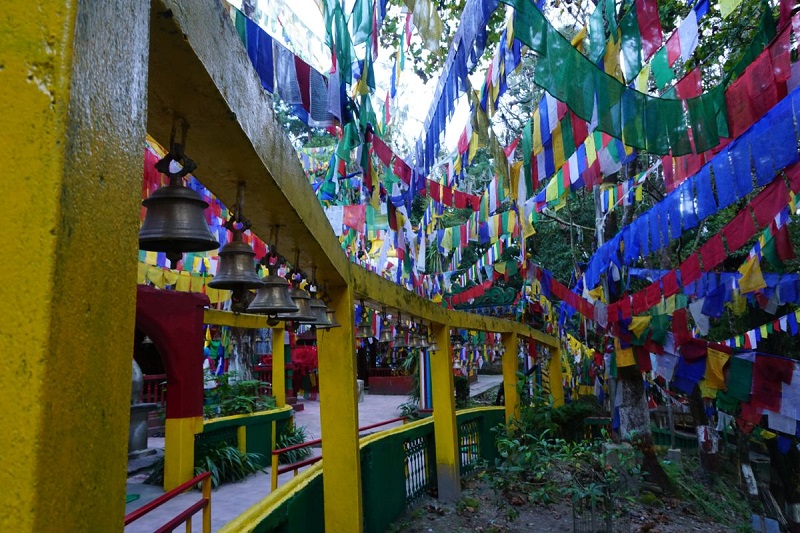 As we took off our shoes, we noticed a trident and 2 deers with a wheel. Both these signs are of Shaivite Hinduism and Vajrayana Buddhism respectively. As we entered, we saw a Hindu priest to the left and a Buddhist monk to the right. We paid our respects and spoke to the Hindu Priest to calm our curiosity. He confirmed that the temple has always been for both religions, perhaps a sign of the mixed Gorkha Nepalese community.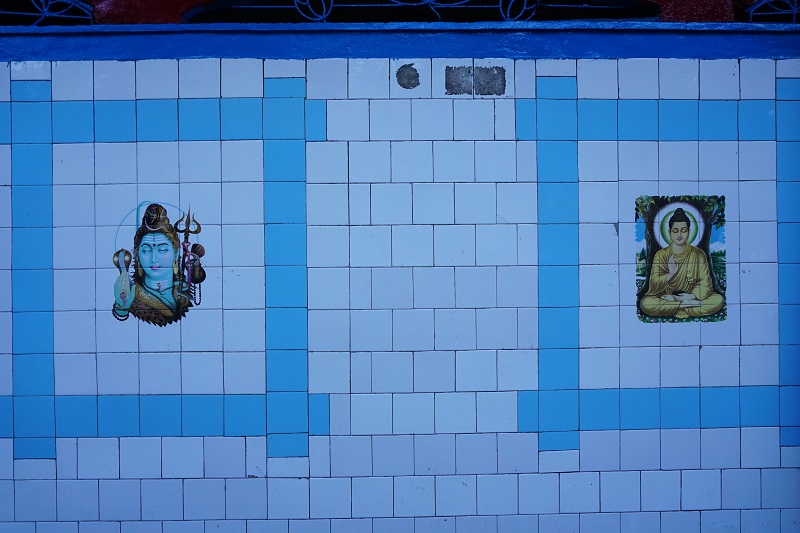 We left quite happy after ringing all the bells and spinning the prayer wheels. Maybe India needs more of these religious places to avoid confrontation.
Please take note Mr Modi!
Reliving the good ol days
As we finished from the temple, we walked back to Mall Road area and noticed a lot of people looking at a screen. We thought they were watching a film when we noticed it was just songs. It was then that we realised that Darjeeling Govt had put up a screen to show songs that were filmed in Darjeeling. We grabbed a seat, ordered some tea from a hawker and sat watching songs.
We sat watching for over an hour in the cold. Bollywood songs had been shot in Darjeeling for over 40 years and there were a lot of songs to go through. In addition, there were some classics like Mere Sapno Ki Rani which showcases the Famous Darjeeling Train and recent ones like Barfi which anyone seriously into Bollywood will remember.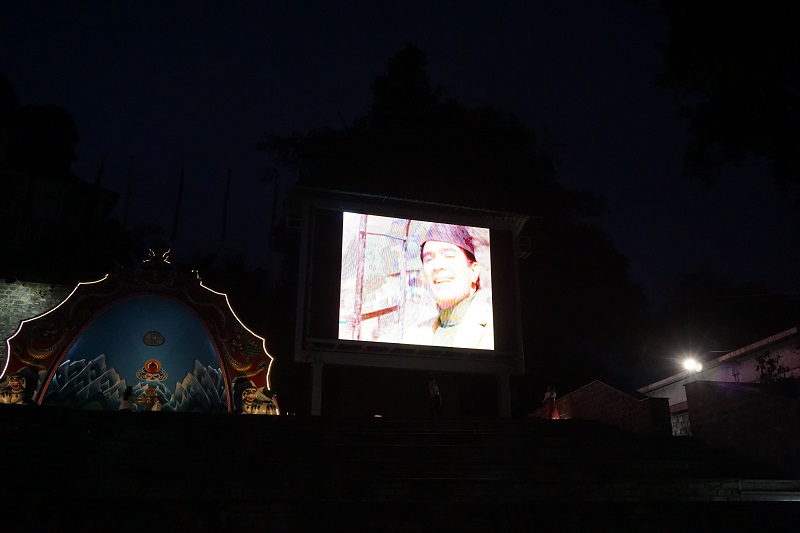 Mirik & Nepal Border
In the initial research, I had been reluctant to go to Mirik as they was not a lot to do. In addition, at the time we had planned to go to Nepal so going to Nepal border again would be useless. We told the driver in Darjeeling that we didn't think we had enough to do on the day and he combined a few things within Darjeeling with it. We visited the Batasia loop on the way and it was beautiful.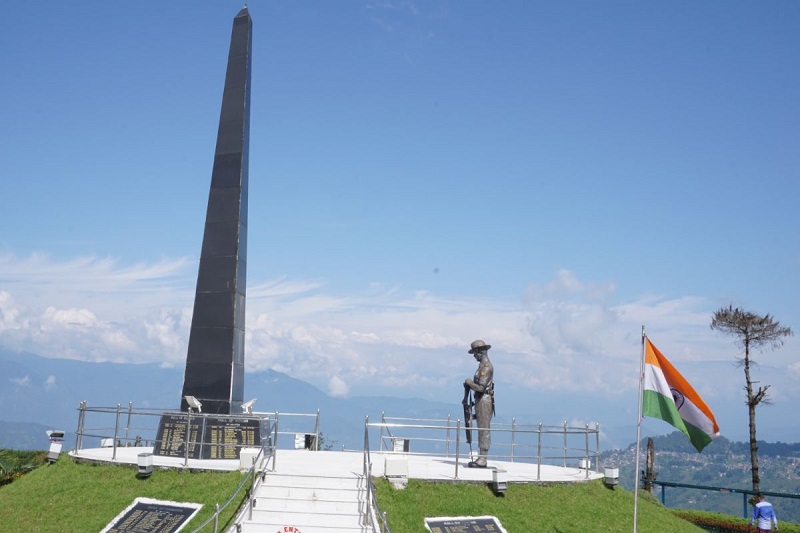 Once on the road for Mirik, we stopped at Seemana View Point which was a mountainside which divided India and Nepal. The people were Nepalese on both sides but their nationality was different depending on the side of the road which they lived on. We stopped again on the same viewpoint for sunset and we were glad we did. The colours were absolutely amazing and there was a thick cloud drifting through the valley which was a first for us.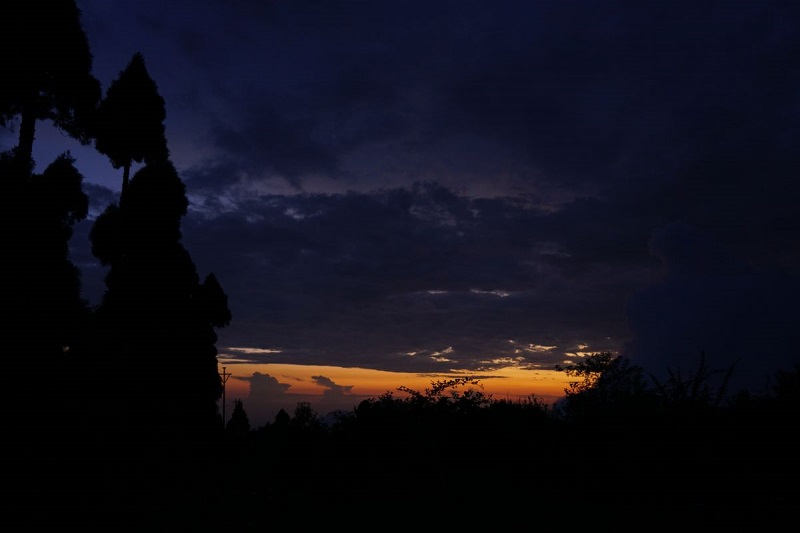 Pashupatinagar is a town on the border of Nepal and India but most famous for the market which is in Nepal. Shruti signed up with her Indian ID and we were able to get in to Nepal without a visa. The market itself had a lot of winter clothes with fashion similar to western countries. Most importantly, we had been looking for winter pants to wear in 0 C and lower weather in Europe or US and we found it in this market. Thankfully, we had enough money for it and grabbed a bargain!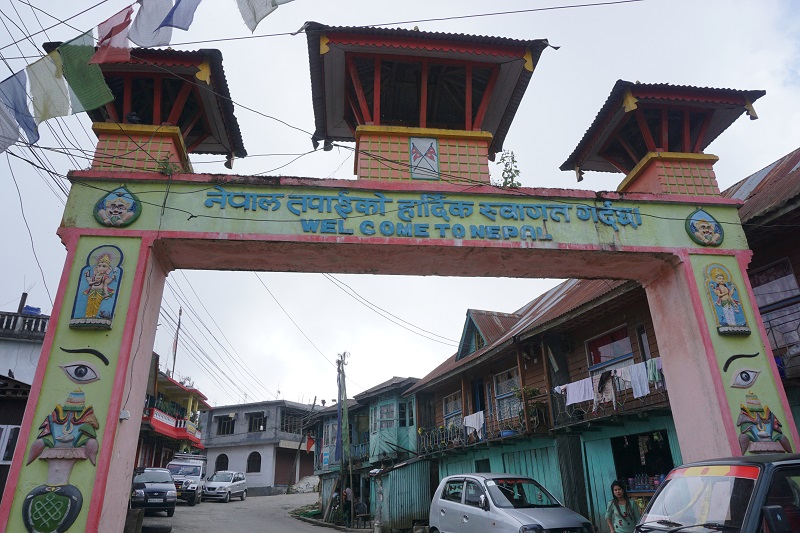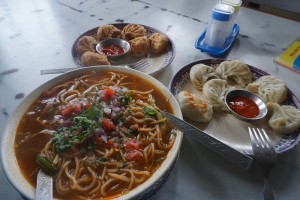 The rest of the journey passed through tea gardens so beautiful that words cannot describe them. Mirik itself is a small town with not a lot to do. We grabbed some Nepalese lunch and walked around Mirik lake. The view across the lake was beautiful and we took lots of photos. At the end, we though the day was a success at least for the shopping.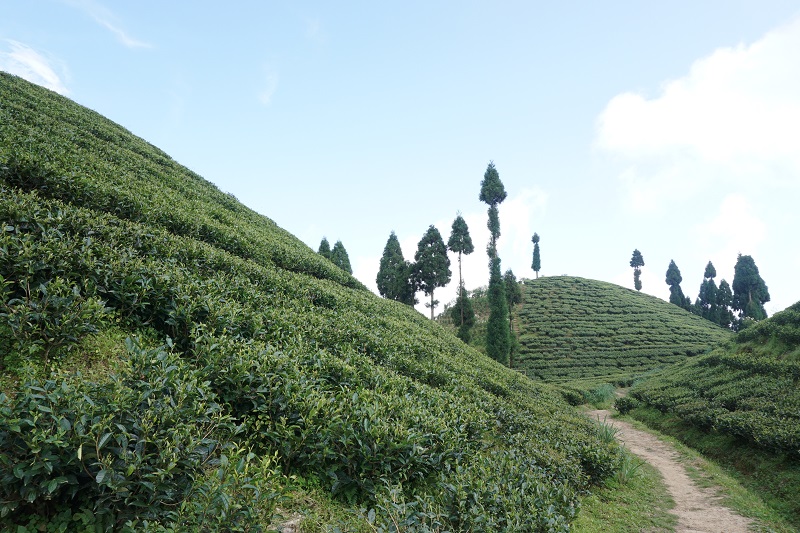 Summary
Transport
As part of the tour, we had Dheeraj, our driver driving us everywhere. However, taxis are readily available from NJP train station or Bagdogra airport to Darjeeling and within darjeeling itself.
Accommodation
We stayed in Seven Seventeen which was a boutique Tibetan hotel. Staying close to Mall road but far enough to the main road as there is a traffic problem in Darjeeling.
Final thoughts
We had a great time in Darjeeling seeing the main attractions. However, it appeared that the city was a bit dated. Its hayday was probably in the 1980s and it now suffered from traffic problems and fake clothing in the market. However, there are still enough places in the city and nearby to give a great 2-3 days of activities.
Darjeeling Gallery