Our trip in Colombia finally came to an end in Salento. The rest of the way involved heading South, sleeping in small towns and doing the Colombia to Ecuador land crossing. In all, this leg was an adventure upon itself.
First Stop – Popayan
We left Salento at 11am to arrive in Armenia, the nearest city and take a bus to Popayan. We reached Popayan at 7pm without any issues and the bus cost was 44,500 pesos (about USD 14.60) per person. Our hotel, Hotel Alcala was a stone's throwaway from Popayan's colonial white city. The cab ride from the terminal was about 10 mins.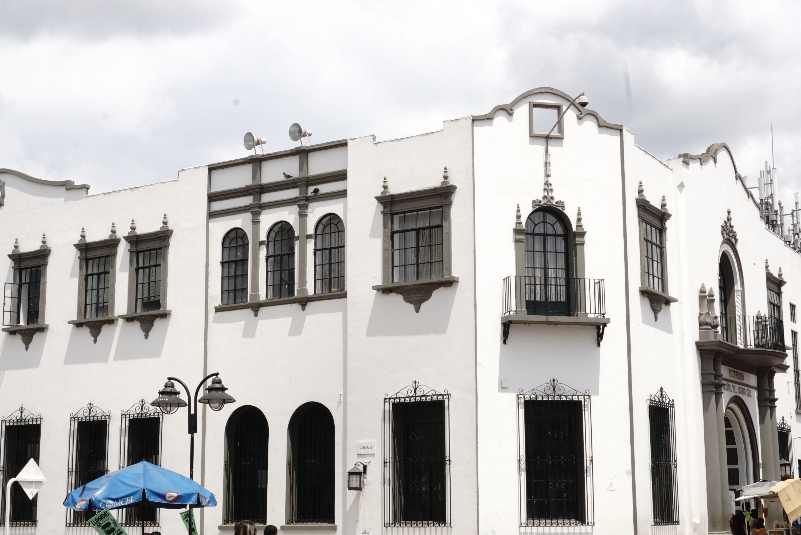 To be honest, we knew little about the city and only used it as a stopover. However, the centre of the city, the white colonial buildings were beautiful. There are plenty of churches around as well. Though we never spent much time there, the city had amazing food and was unique due to its colour and architecture. There are some good day trips in the area as well.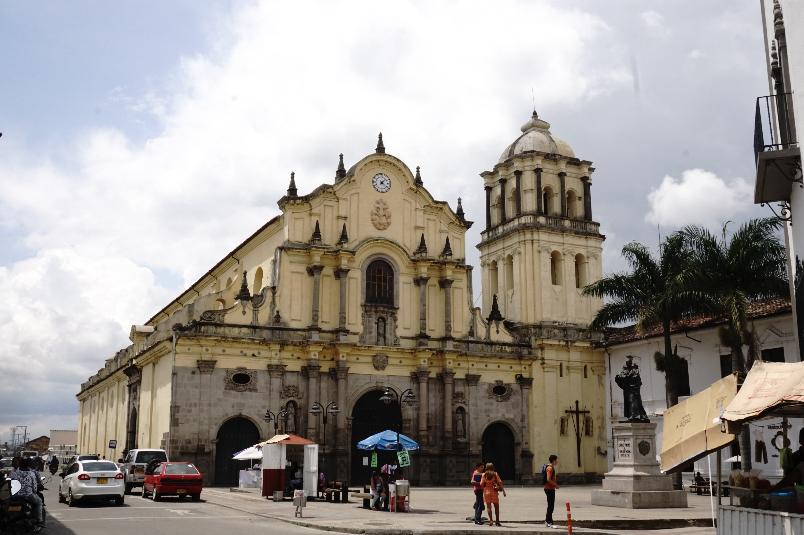 First Bus Blues
We called up various bus companies to find out what time was the first bus to Ipiales. One company told us the earliest at 5:30am. When we got to the terminal at 5:00am, the bus company failed to recognize any such bus.
Another group of travelers talked to another company and they were quoted 30,000 pesos (USD 10) per person for a bus that may arrive between 5:30am and 6am. We opted for the safer option of using a bigger company with a confirmed bus at 6:30am for 35,000 pesos (USD 12) per person. As it turned out, we were shoved in the same bus but I managed to recovered our 10,000 pesos after protesting. The ride was crazy as we went through several high mountains, foggy roads and tunnels. It was also some of the most beautiful bus rides in Colombia.
Pit Stop – Ipiales
We arrived at Ipiales at 3pm. There is not much there except the most beautiful church, Las Lojas Sanctuary Church. Virgin de Las Lojas is popular in Colombia, Ecuador and many other parts of the world for helping people in need. We thought of doing a quick trip to the church before crossing the border.
There are collectivos from the bus terminal that drive people for 2500 pesos (less than USD 1) to the sanctuary. Upon getting there we left our backpacks at a shop for 2000 pesos each as we had to walk down to the valley.
The church is incredibly beautiful. Not only is it built on a ravine between two mountains, the glasses, the bricks and the architecture of the church is remarkable. We saw lots of churches and cathedrals in Colombia and this was by far the prettiest. A must do in Colombia!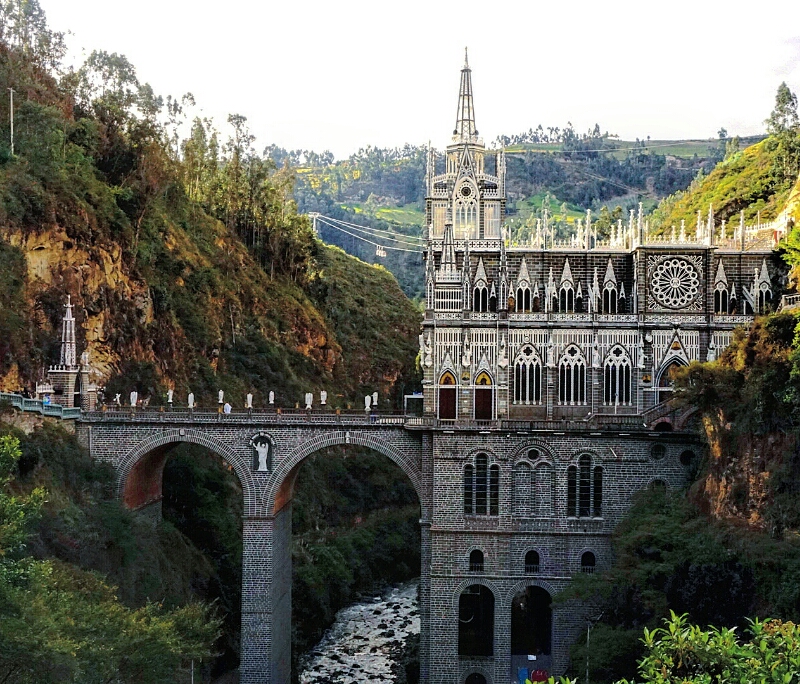 We took another collectivo back to the terminal for same price. Now, we were ready to cross the border.
At the border
We changed our leftover Colombian money into USD, yes USD is used in Ecuador, at the bus terminal itself. We then hopped into a collectivo from the terminal to the border along with our locals.
Unfortunately, the driver never asked and we never told him that we needed an exit stamp from Colombia. He drove across the border and rest of the locals hopped into another collectivo. Clearly they didn't need any stamps! We had to walk back over the bridge to the Colombian side and get an exit stamp. A great waste of time.
Tip: The border is open and it is very easy to make this mistake. Remember to get your exit stamp before going to Ecuador immigration. Get off the taxi before the bridge.
Entering Ecuador
Due to the confusion about the immigration, the long queue and Shruti's Indian Passport took us around an hour to get the entry stamp for Ecuador. While we knew that Indians get Visa On Arrival for Ecuador, the officee in charge took longer than usual around 15 minutes. As a comparison, it took me less than 5 minutes.
We took a collectivo to Tulcan Terminal from Ecuador border for 75 cents each. The ride took about 15 minutes. While the border is open, many tourists visit Ecuador from Colombia making it busy. Please allow enough time to cross.
Tulcan to Otavalo
We took a bus as soon as we arrived in Tulcan at 7pm. The bus ticket was USD 3.50 per person. Our hostel had a check in till 10pm and we emailed them to not lock us out. The bus started at 7pm and it usually takes 3 hours to Otavalo. We thought we will get there just in time.
Unfortunately, the Ecuador police work opposite to Colombia. The bus was stopped twice, once closer to the terminal and second somewhere half way. The first police check involved going through our bags thoughroughly, every zip, every pocket. They made Australian customs look like amateurs. Strangely though, only we were checked. In Colombia, before the bus left the terminal, police officers would check IDs of most locals.
This of course delayed us and we didn't get to Otavalo until 11pm. Luckily, the hostel received our email and a guy checked us in. Phew!
Long Day
In total, it took us 18.5 hours from Popayan, Colombia to Otavalo, Ecuador. Around an hour of that time in Colombia and at the border was avoidable. We are sure there are better ways of doing the land crossing and below is our suggestion so you do not exert yourself as we did.
Recommended Way for Colombia to Ecuador Land Crossing
We realized later that staying 2 nights in Popayan was a mistake. The highlights of Popayan can be done in couple of hours during the day.
Pasto should have been our second stopover. Ipiales is only 2 hours away from Pasto making the journey to Otavalo 5.5 hours and Quito 7.5 hours. Much better way for bus rides!
Summary
We practically crossed the border in two days.
Day 1 – Arrive at Popayan with plan to spend night there.
Day 2 – Leave at 5am in morning from Popayan and get to Otavalo by 11pm. Long day!
We recommend spanning the journey to three days if you have the time.
Day 1 – Arrive at Popayan with plan to spend night there.
Day 2 – Explore Popayan in the morning and catch bus to Pasto around 1pm. Spend the night in Pasto.
Day 3 – Leave from Pasto in the morning towards Ipiales. Spend 2 hours at Ipiales visiting the Sanctuary. Then cross border to Ecuador. You are likely to arrive in the evening at Otavalo or Quito, without exerti g yourself.