It was time to say good bye to the California Coast and head inland to the wineries and National Parks in California. We were definitely devo to say good bye to the coast, but we couldn't wait to get to Yosemite either!
Pinnacles National Park
We headed to Pinnacles National Park from Big Sur. After a long drive, we finally got to Pinnacles late afternoon. It was our first National Park and it happened to be the newest National Park. We were at the youngest National Park in USA!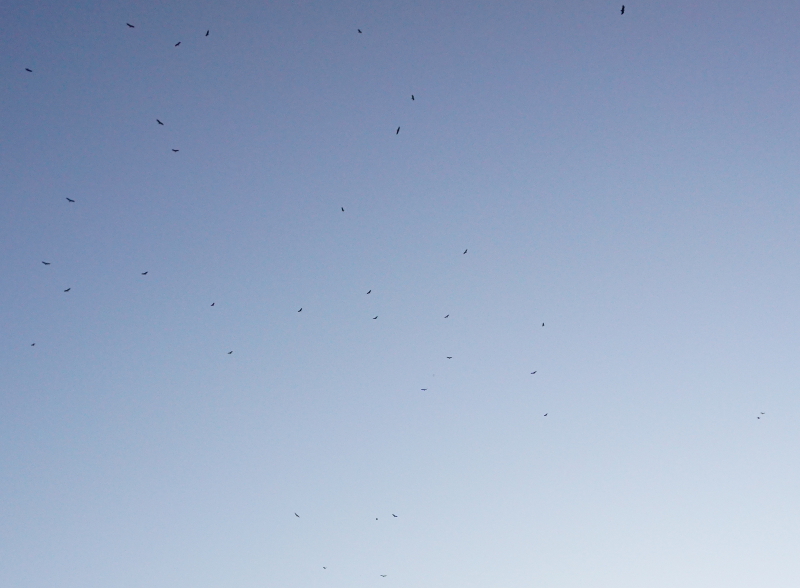 We arrived at our campsite to see boxes. We thought out loud – bears? After spotting a ranger doing his rounds, we waved at him and quizzed him. He alerted us that there were no bears but mean and scary raccoons. He warned us that they usually creep out at dark and we were instructed to store everything inside the car or the box.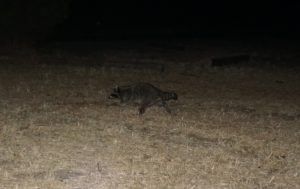 Not to long after sun down, the raccoons were out and doing their rounds. They were attempting to enter every campsite for food. The ranger caught a few for relocation but he said, "they will soon be back". The next morning we did a few hikes in the park and headed towards Napa Valley.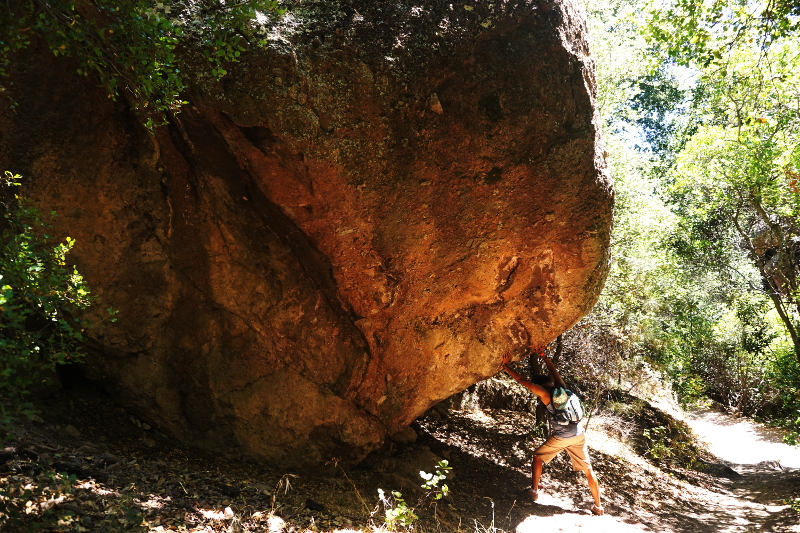 Napa Valley
Napa Valley is a famous wine region near San Fransisco. We should have loved this area and enjoyed the wine but we were stung by the wine tasting and wine prices in Saint Ynez Valley. We never stepped inside a winery. Instead we spent the night at the state park, did a hike and drove out.
Central Valley
Driving from Napa to Lake Tahoe, we passed through the food bowl of California. And I must say, it was incredibly beautiful. We stayed in a town called Lodi and had a crazy encounter with the locals. We walked into a bar to have a drink before dinner. As soon as we stepped in, we were a little sacred and I won't lie, the thought of walking out alive did go through my mind! The people hanging around were rough looking. We ordered our drinks and appeared to be enjoying the moment when a lady walked out and walked back in with a cobra! WTF, cobra! Well, at least she was nice about it – she let us pet her cobra!!!! We walked out laughing and promising we were never doing this again.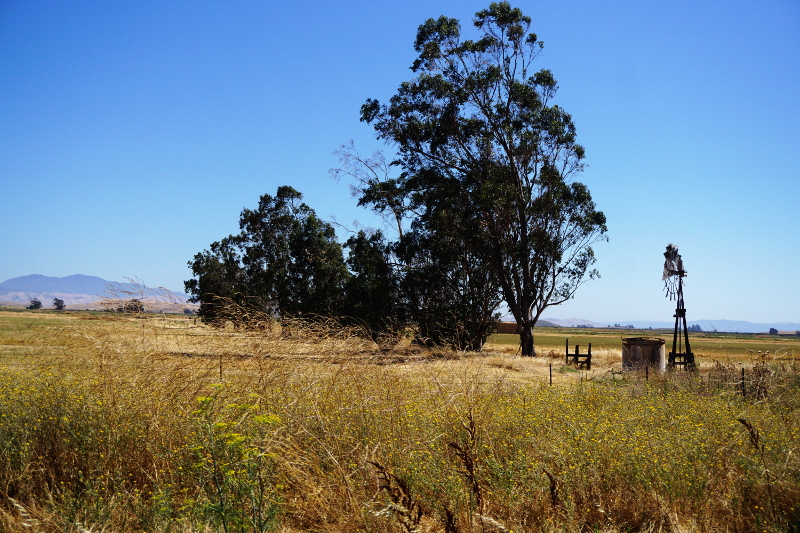 Lake Tahoe
Lake Tahoe is an American institution. It is where a lot of people take their kids for summer. We drove from the town of Lodi to Tahoe early in the morning. Luckily, we were able to get a campsite at the campground by the Lake.
There was a summer festival going on the lake with music, bands and "no beer" even though everyone was drinking their own. We took a drive out away from the crowds and ended up in a state park on the beach of Lake Tahoe. Kids were swimming but for us the water and the wind was too cold. Therefore, we put up chairs and had a couple of beers with our feet in the sand. We were in the middle of the Sierra Nevada Mountains. Paradise.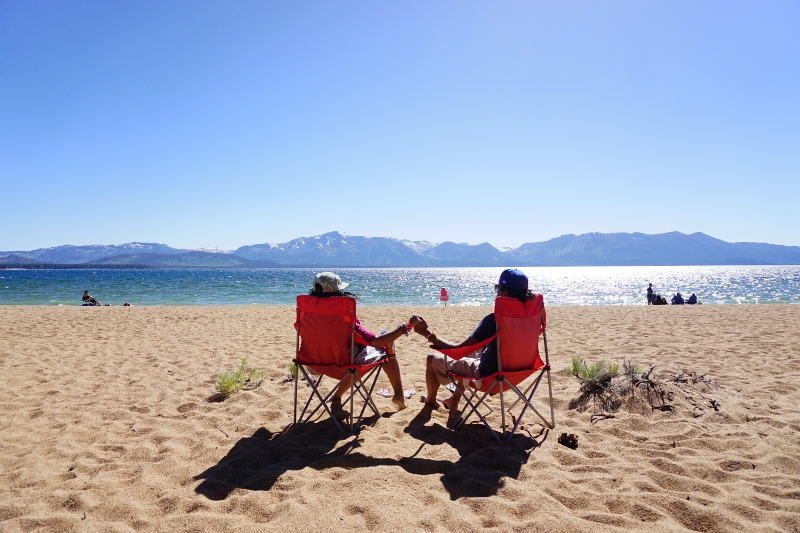 Yosemite National Park
It was finally time to drive to Yosemite. We didn't have any bookings because everything gets booked 3 months prior! And, 3 months earlier we weren't even sure if we were going USA. So to secure a campsite in Yosemite, we left Tahoe at 6am. We were making good time curving and winding through the mountains when we noticed fire in the distance. Getting closer we learnt it was a bush fire and the road was blocked. We waited for almost an hour before we were allowed to go through.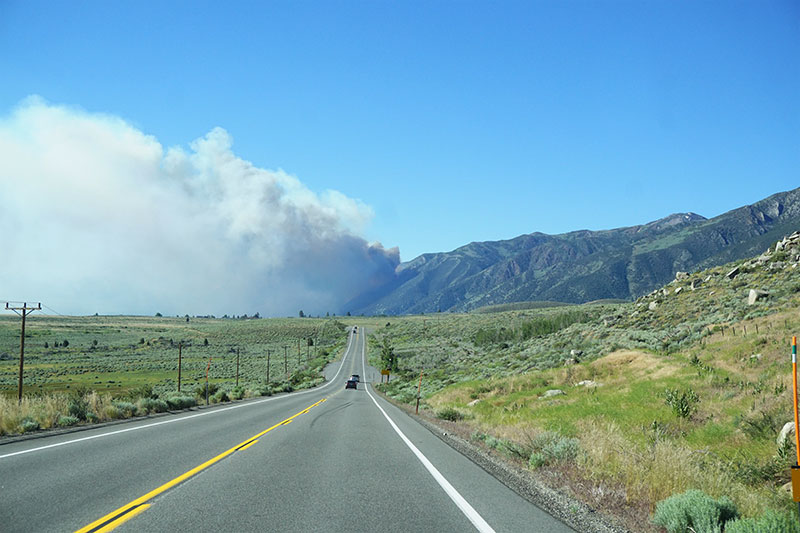 The drive to the park entrance was already breath taking! We wished we didn't have to rush for a campsite as every bend was a magnificent view of the mountains and valley. But we had to keep going and upon finally reaching, we were told that the campsites were all full. It was not even 10am. Disaster!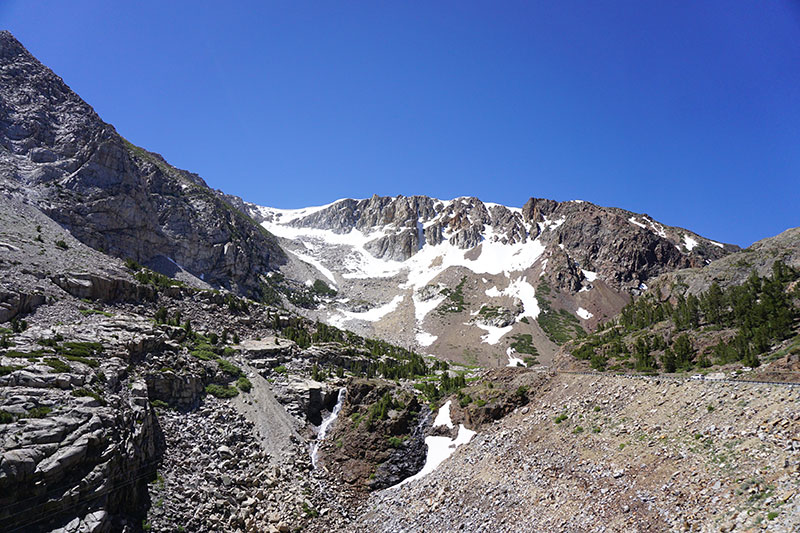 After thinking through our options quickly, we decided to turn around and get back on the Tioga Pass to find a campsite in the National Forest. After wasting some time at two campgrounds, we finally came across one that had some campsites available! Praise the Lord we said and booked it for next 3 nights. Below is the photo of the clear starry sky we watched from our campsite.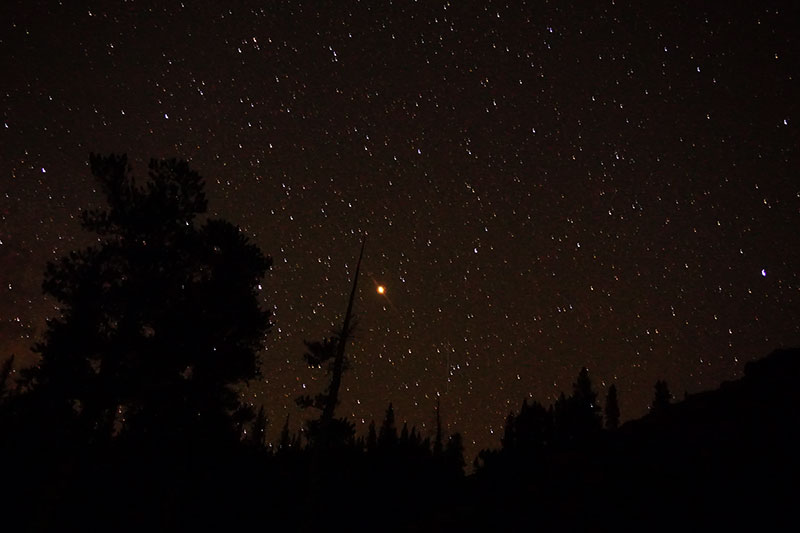 Because of our campsite location and mileage restriction of the campervan, we spent most of our time in Toulmne Meadows. Very quickly we learnt that it was impossible to see the entire park in one trip, so we planned the next 3 days and focused on areas within our reach.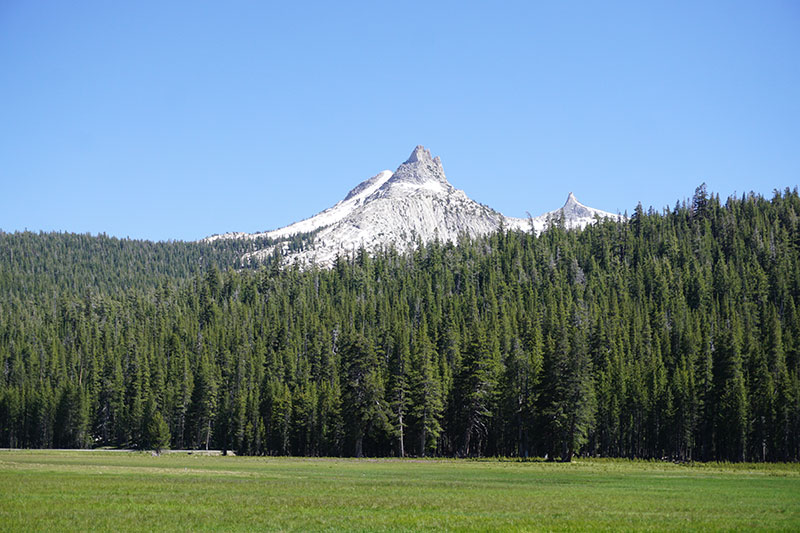 We trekked to Cathedral Lake, Elizabeth Lake and Dog Lakes and were constantly wowed by the amazing view. The sight of domes and peaks were just so common in the park but oh so spectacular.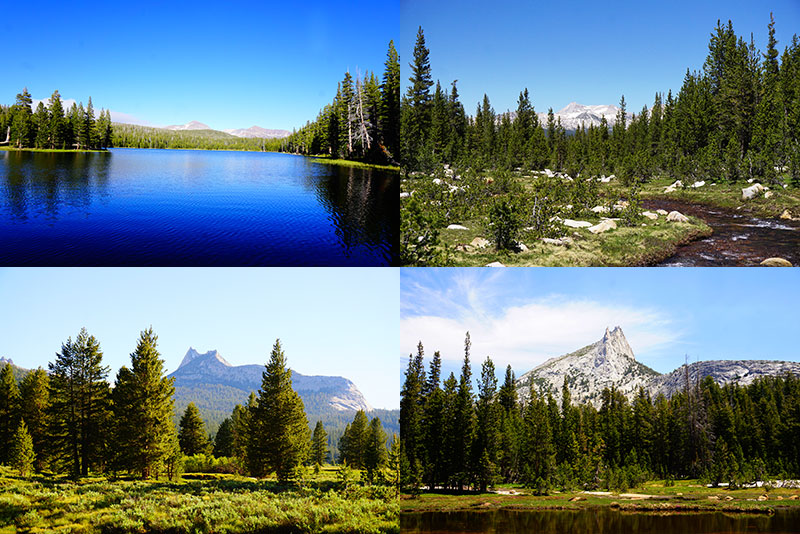 Wildlife in Yosemite
At first we failed to see any wildlife in Yosemite though there was always signs of it. While walking up to Dog Lake, Shruti noticed something on a rock. It was a marmot one of the cuter animals we saw. Another time, we were walking to Soda Springs when we saw an entire family of deer. We were busy taking photos from a distance and just then a deer came only 20 yards away. The prize was obviously a black bear and we were lucky enough to see one across the stream!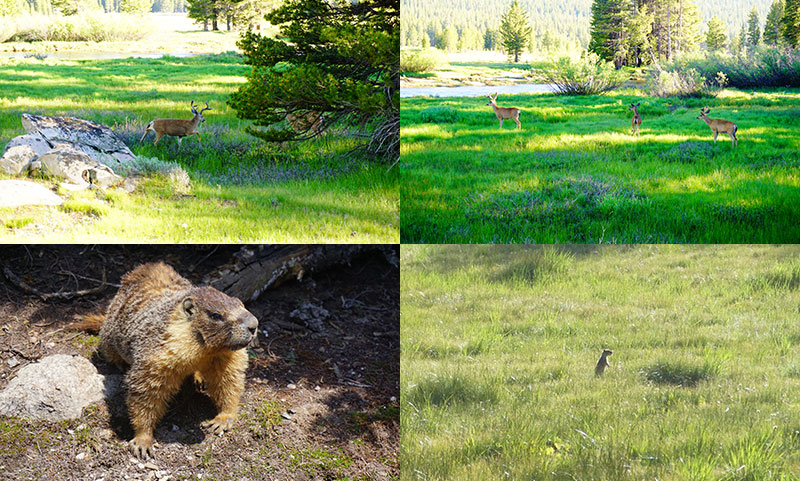 Yosemite Valley
While driving to the valley, we saw a group of cars stopped, more or less in the middle of nowhere. This is called an animal jam and Shruti was quick to scream out that there was a bear. We parked at the next pullout and Shruti ran down to the previous pullout to see the bear. Sure enough, there was a cinnamon colored black bear on the other side of the river searching for and eating mostly bulbs and berries. It was a big bear with a huge bum, pretty much the same as all the bear films. We were glad to photograph it and glad it was on the other side!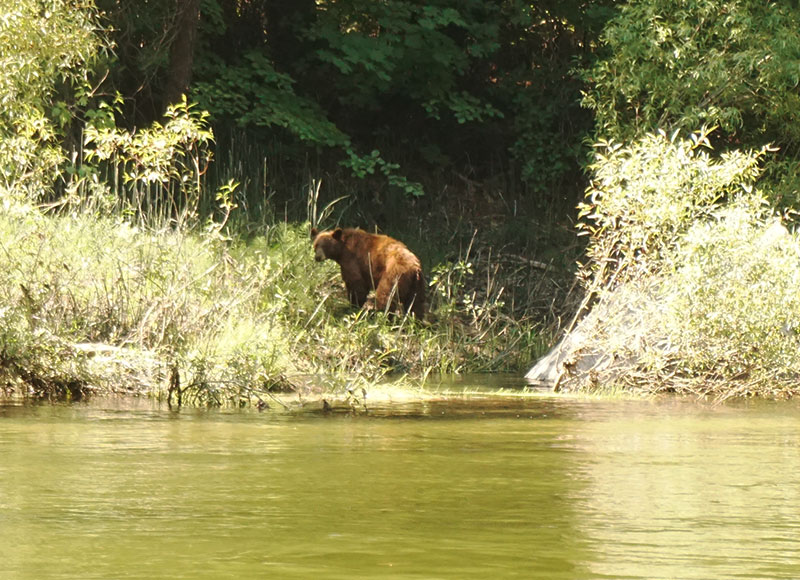 On our final day in Yosemite, we headed to the valley and spent the entire day walking around and exploring another part of the park. The valley was equally stunning. The granite peak of El Capitan, Half Dome and other tall mountains were mighty and breathtaking. We hiked to the Yosemite Falls and it looked outstanding. Somehow the Yosemite Upper Falls reminded me of the falls in Telugu film Bahubali!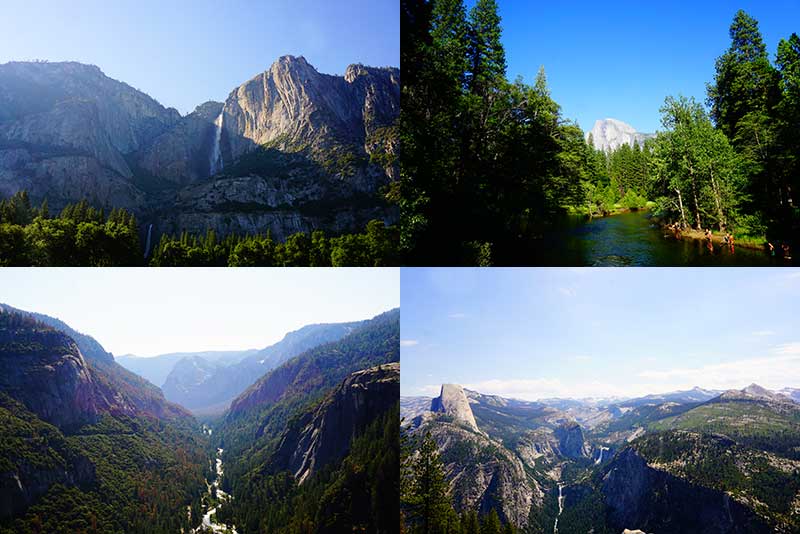 On our day out of the park, we saw the Bridalveil Falls and the Tunnel View of the Yosemite Valley. The falls really did look like a bridal veil but the tunnel view was sublime. I can imagine the people in 1800s coming to this area for fur trapping and being blown away by the beauty of the valley. Yosemite is a must visit if you were in California!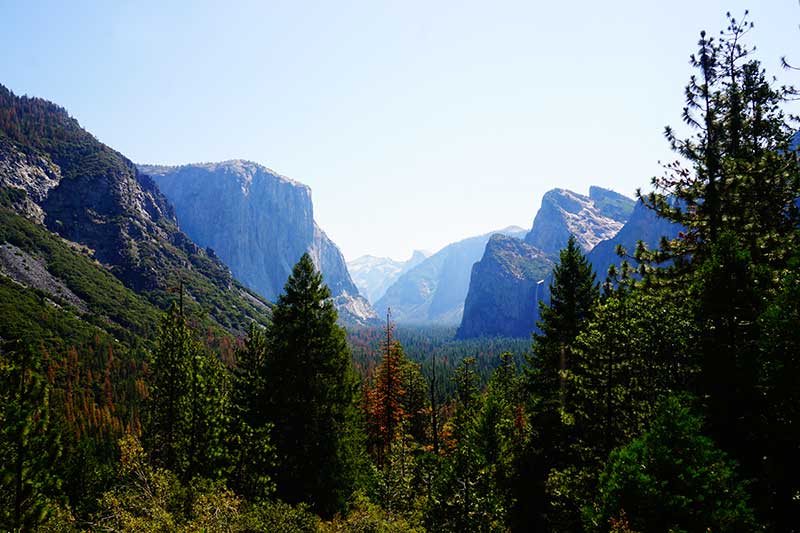 Kings Canyon National Park
Our next stop after Yosemite was Kings Canyon National Park. Our plan was to head to Sequoia National Park but the ranger at Yosemite recommended us to spend at least a night in Kings Canyon. So here we were!
We never imagined what the next day would be. It totally blew our minds. The Sequoia trees were magnificent! We never thought we would be so blown away by trees. Sequoias grow to almost 300 feet tall, 100 feet in circumference, can protect themselves from fire and diseases and can live up to 3000 years. No wonder they are the National Trees of USA. Even in death, their wood doesn't decompose for hundreds of years which provide shelter for animals, plants and humans. Blown away of the mind!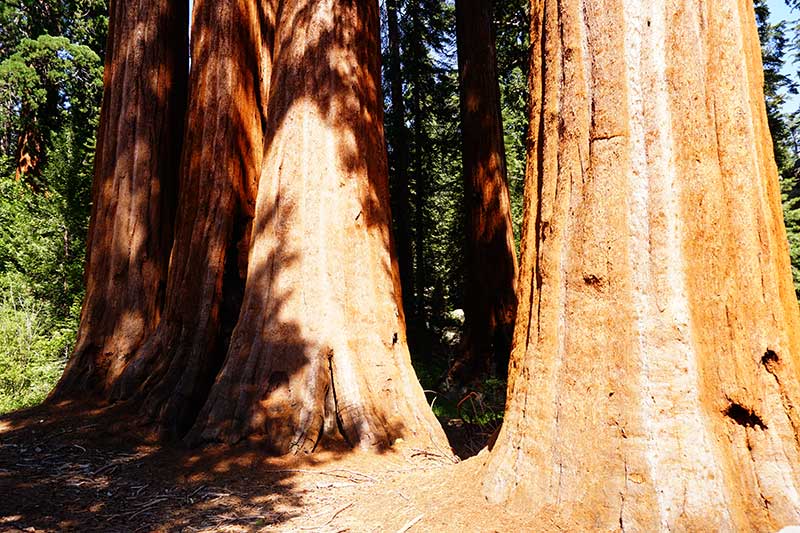 We went to see 'General Grant', the third biggest tree in the world. We parked at the Grant Grove and started seeing the biggest trees of our lives. We were wowed already! But when we got to the Grant Tree, we couldn't believe our eyes. It was the biggest thing in that area. It was over 250 feet tall, 100 feet round at the base and 1600 years old. It was so big that Shruti had to shoot it vertically panoramic.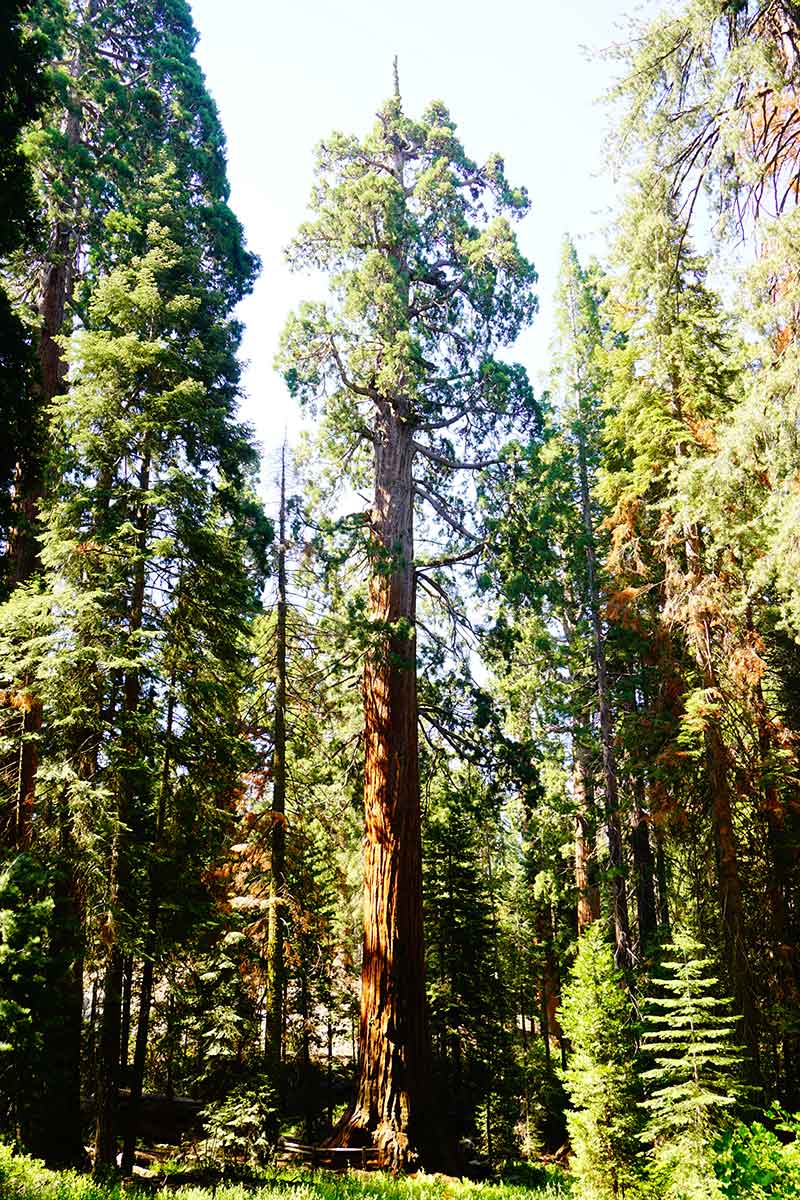 Our next stop was the Cut Grove. Without Science and much awareness, the ignorant and money hungry people cut down many of the big Sequioa's. It was a sad sight seeing the bases of huge trees some thousands of years old. The saddest though was the Mark Twain Tree. It was the biggest tree of the time, and if it lived, it would have been the biggest tree of our time. The base still exists and could easily fit 30 people on it. However, it was a great sacrifice as its portions were taken to New York and London where people couldn't believe it was real and that led to the protection of these mighty trees.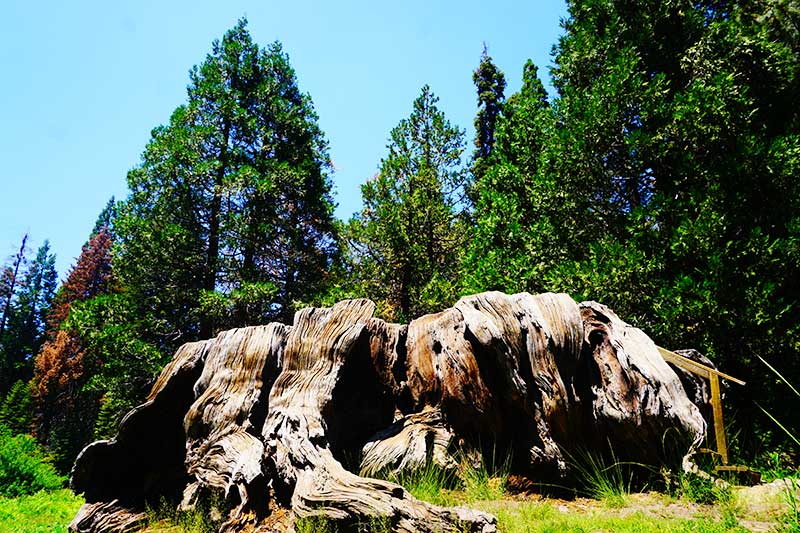 Sequoia National Park
Later that day, we drove 30 minutes to the Sequoia National Park. We used the park shuttle the next day to visit some of the attractions. The Sequoia Museum was definitely worth the trip but General Sherman Tree took our breathe away. Standing tall among other tall trees, General Sherman was a reminder that humans are just a speck of dust in this universe.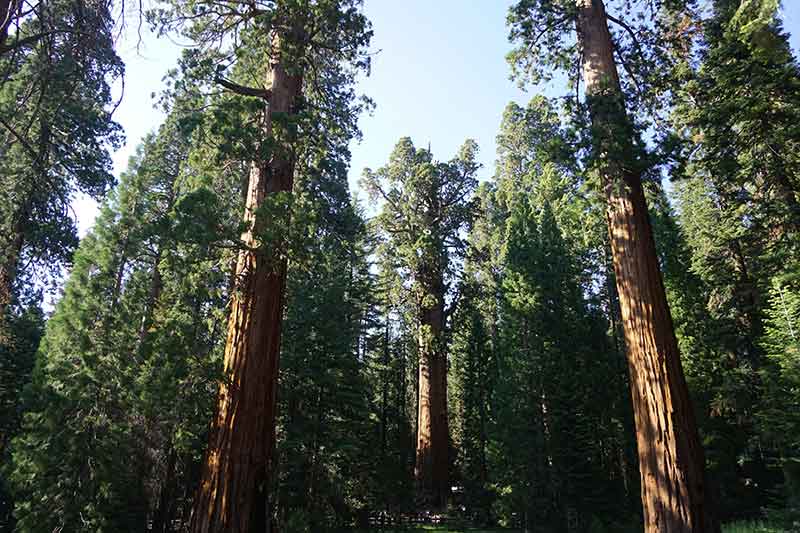 We decided to hike a little and we ended up reaching Moro Rock. What. A. View! Walking up the steps along the edge of the balancing rock, we got to the top for a 360 degree view of the National Park and Central Valley. I'm sure we are not going to forget that never.

Los Angeles
The drive from Sequoia to LA was a short 3 hours but a tricky one. The park warns people not to use the D gear in automatic cars while descending as you can lose your breaks and land in the cliff. Therefore, I drove the descent and Shruti drove until the traffic started getting heavy before LA.
We met Suyash again in LA and stayed with him. Our first stop together in LA was of course Hollywood Blvd. At first, we didn't think it was much and then we encountered the crowd after 2 blocks. The place was as touristy as Cusco, Peru because "you have to see it". There was the Hollywood sign in the distance, some people dressed up as characters from films talking pictures for tips. Shruti and I felt claustrophobic but Suyash was over the moon to get his Facebook profile pic.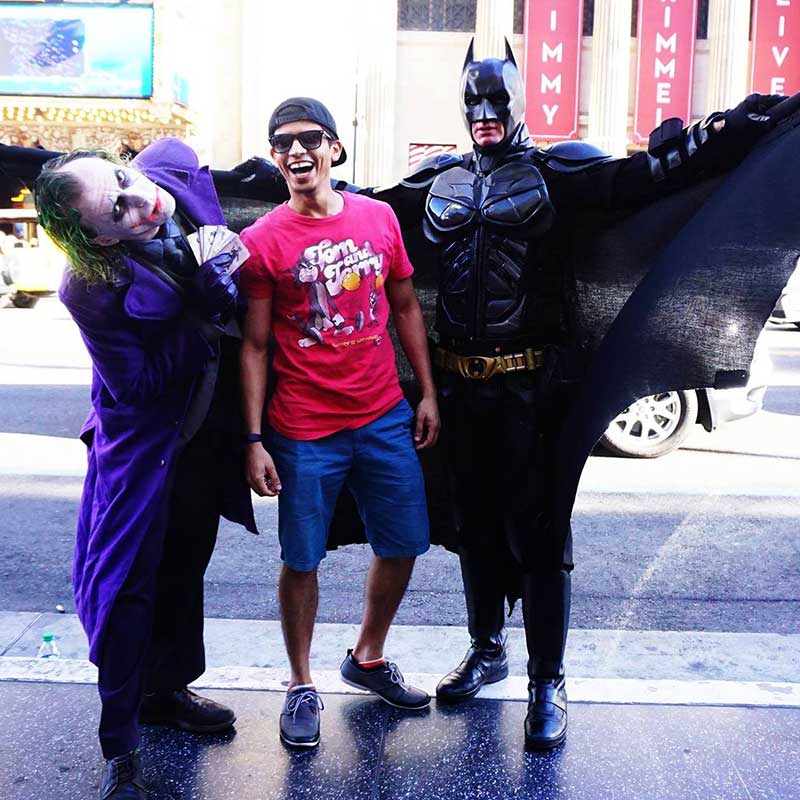 We next walked down Hollywood Blvd into Hollywood Hills in search of Ari Gold's house. Suyash followed Entourage religiously and was way to excited but Shruti and I were worried that someone would call the cops on us.
We then walked down Sunset Blvd which is another iconic road in LA. It was lively with bars and restaurants all over the place. Suyash took us to a bar named Whisky A Go Go. This is the place where some of the most famous bands in rock history started or played. We were at a place where The Doors and Led Zeppelin had jammed! We bought tickets to go inside and watch some young rock bands. The vibe was amazing and we could only imagine when Jim Morrison came on stage or Led Zep played Kashmir. After a lot of rock music and drinking we took an uber back to the hotel while we heard the sad story of the driver not having health insurance and her daughter having cancer. Not all is right in USA!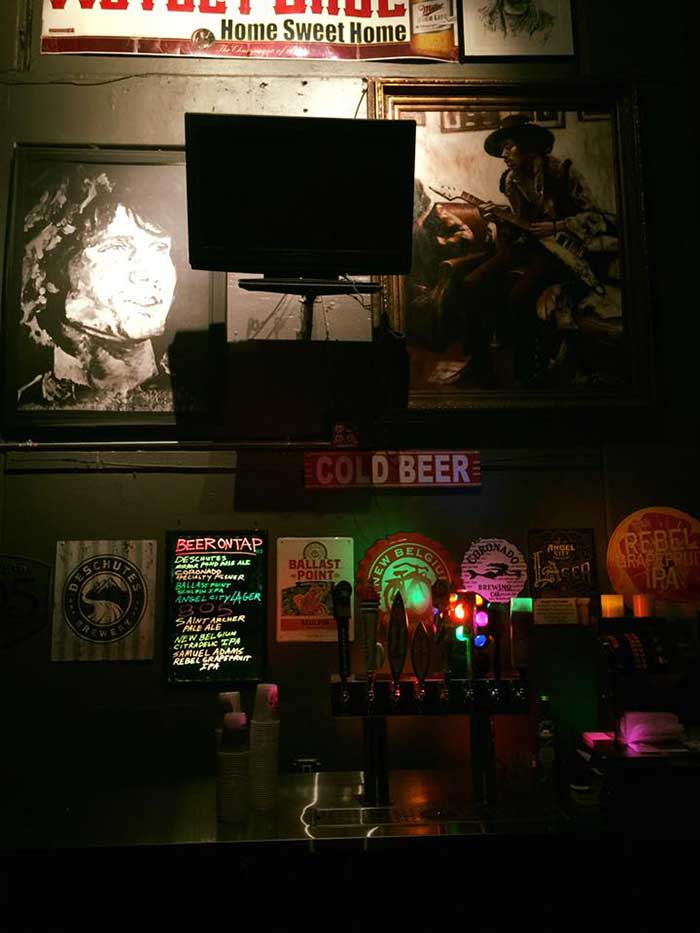 The next day was shopping day. We drove out from LA for an hour to arrive at a huge shopping complex which was a factory outlet. All the brands were there and the markdowns were unbelievable. If we weren't backpacking and took an empty bag to USA, we would have filled it up with a quarter of the cost of Australia. On the way back, Suyash got to see the Malibu beach, albeit in dark.
On our final day in LA area, we went with Suyash to San Diego. We visited a lake in the region and chilled with beers along its shore while Americans celebrated 4th July Independence Day. It capped off a great trip in LA and a great time with Suyash again.
Joshua Tree National Park
We left San Diego and headed towards the desert. Along the way, the scenery became drier and drier and we stopped at a native American petrol "complex" built on native land. Calling it a petrol station would be wrong as it had space for poker machines, car wash and a super market. The taxes were less and it was one of the cheapest fuel stops in USA for us.
As we reached Joshua Tree National Park, we walked into the visitors center. We only wanted to know how we could get the awesome sunset shots and a campsite. We were assured not to worry about either. Our only worry would be to avoid thirsty bees. If they see water or sweat, they will attack. Oh, scary!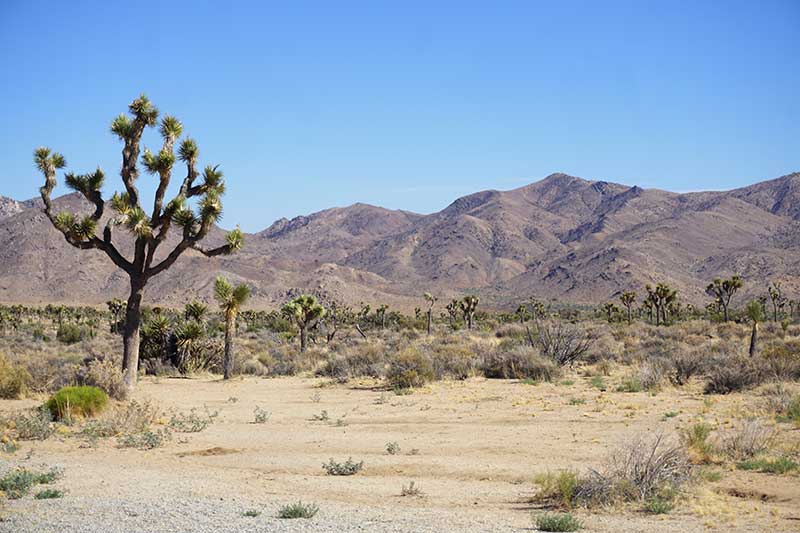 The park is famous for another amazing tree. Joshua tree grows only in the Mojave and Colorado deserts in USA. It looks like a cactus has grown into a tree, kinda similar one being in Galapagos. Its shape and features made it look remarkable against a setting sun. As the sunset came close, we took photos from a great vista point on top of a mountain overlooking palm springs town.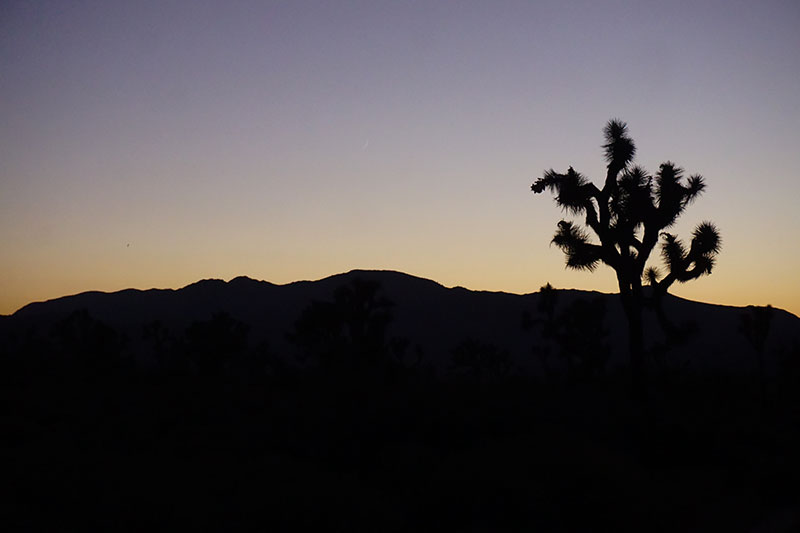 Our next destination was the tallest Joshua Tree in the world. After the sun had set, we finally reached this tree. Though we weren't quite sure where to find it, the ranger assured us that we won't miss it. It looked like a funy power pole in the middle of the desert! Shruti finally got the perfect shot with it. The colors in this park were unbelievable, it really was like nature at play. The conditions were just right but the colors – we never saw those colors anywhere again!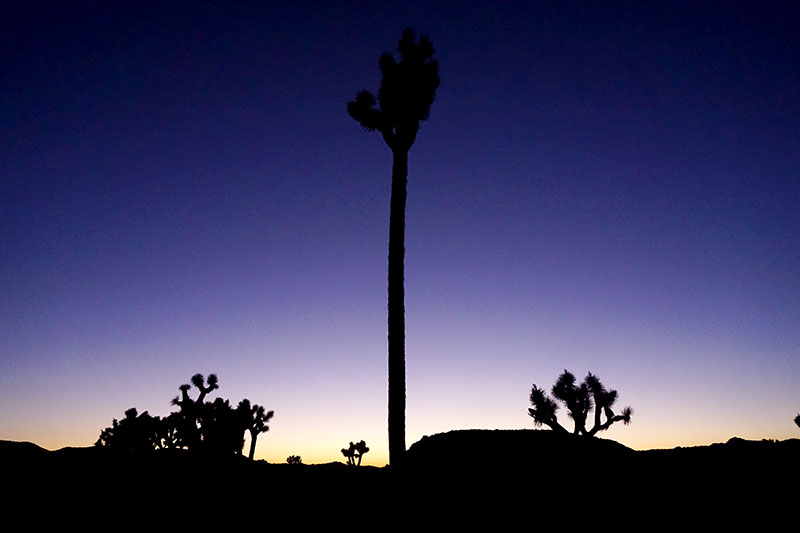 We heard noises outside as we prepared to sleep. A bike, a truck and two voices. It seemed weird. Shruti wanted to wake up later to photograph the sky so we had to sleep. But when we woke up, we realised that the two voices were sky gazing with a huge telescope in the truck. Despite their rough looks, they were awesome people. We had a great time watching stars, planets and galaxies with them.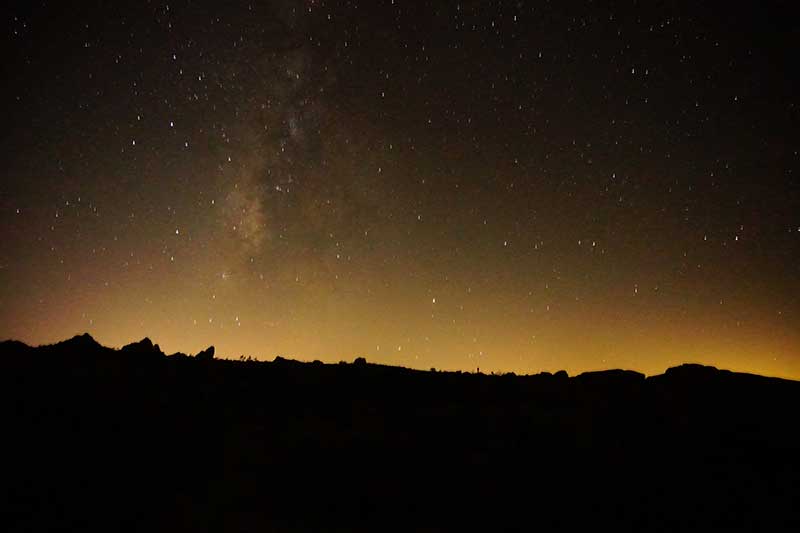 The next morning we drove to Skull Rock and climbed over some rocks in the park before it got too hot. At another place, the rocks had many shapes and it was up to each person's imagination on what they looked like. It was an amazing experience being in this park and a great entry to the Wild Wild West! We were now prepared to leave behind California and head to Nevada.