We finally arrived at Yellowstone! After first learning about it in December 2015, in one of the museums in New York, we were determined to visit the oldest National Park. But we never thought it would happen so soon!
After leaving Grand Tetons at 5:00am in the morning, we crossed the Yellowstone National Park checkpoint at 5:30am. There was no one at the point so we grabbed a map and drove in. We noticed the landscape had changed, it was flatter now. And although there was some light at dawn, we could see steam rising in the distance. We were in hot springs country.  We were in the place where we can see, hear and feel the Earth breathe!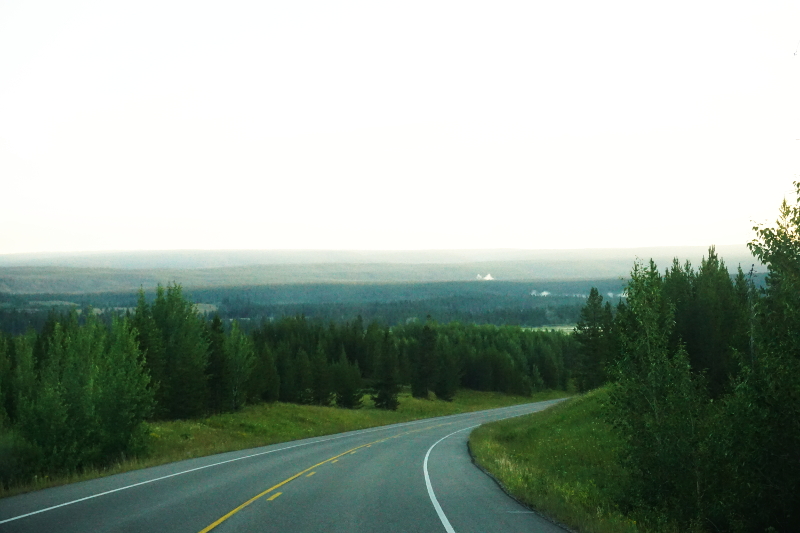 The Mighty Yellowstone
Yellowstone is officially America's oldest national park. In fact, it is the oldest national park in the world! It is a massive 2 million square miles area and spreads over two states. Having been to Yosemite already, we knew we wouldn't be able to see it all. But we decided to spend 5 days and see as much as we could!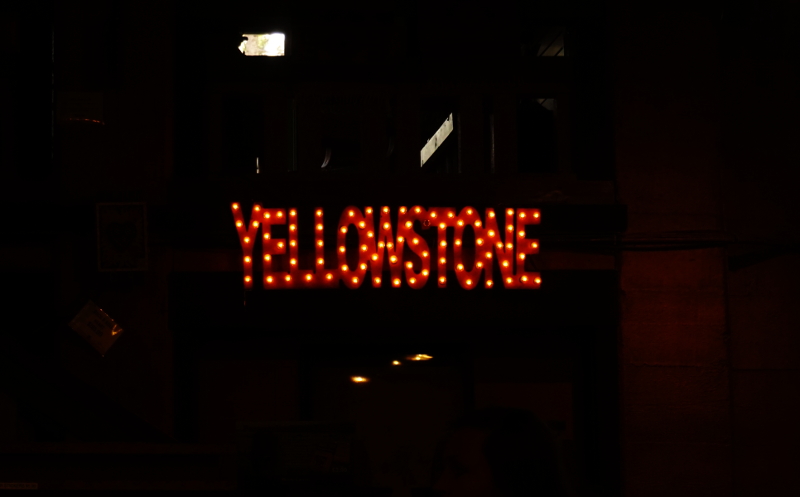 Entry and West Thumb
Considering the distance between campgrounds within Yellowstone, we decided to stay at first come first serve Lewis Lake campground, which was close to the south entry. After reviewing the map of the park, we come up with a plan. We decided to split our excursions within the park based on our campground.
West Thumb was the closest geyser basin and further east was the Fishing Bridge. We decided to cover these spots while we camped at Lewis Lake. As we parked at West Thumb parking, we realised there was steam escaping from protected holes within the car park itself. Of course that got us excited! Moving on, as we got to the basin area, it smelled like rotten egg. Of course it was foul smell but what lied ahead of us was just amazing. There were colourful hot springs, small geysers and other volcanic plumbings!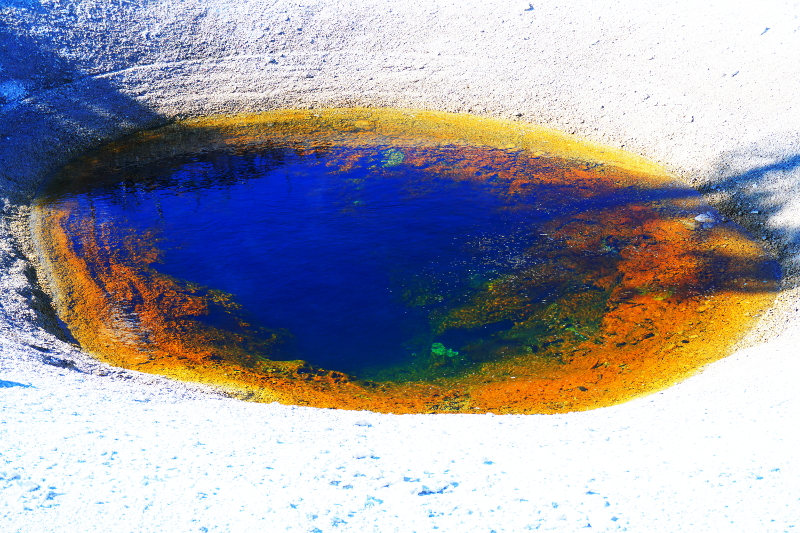 The temperature of the steam was extreme and could burn us. Luckily it was still cool weather and we quite enjoyed the hot air touching against our skins. This was nature's beating heart and it was there to see.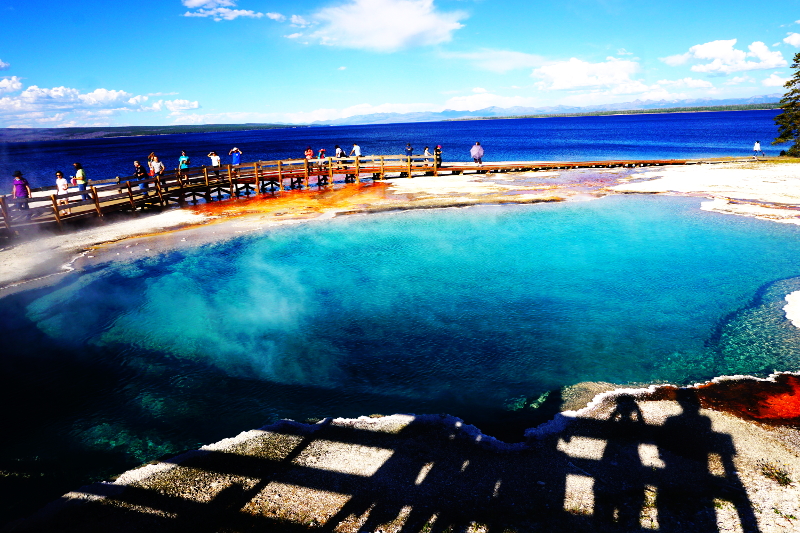 The basin was adjacent to Yellowstone Lake and water from the hot springs was flowing straight into it. We spotted a small heart shaped geyser within the edges of the lake. It look like it had popped out of the ground which actually is not uncommon in Yellowstone! What a start!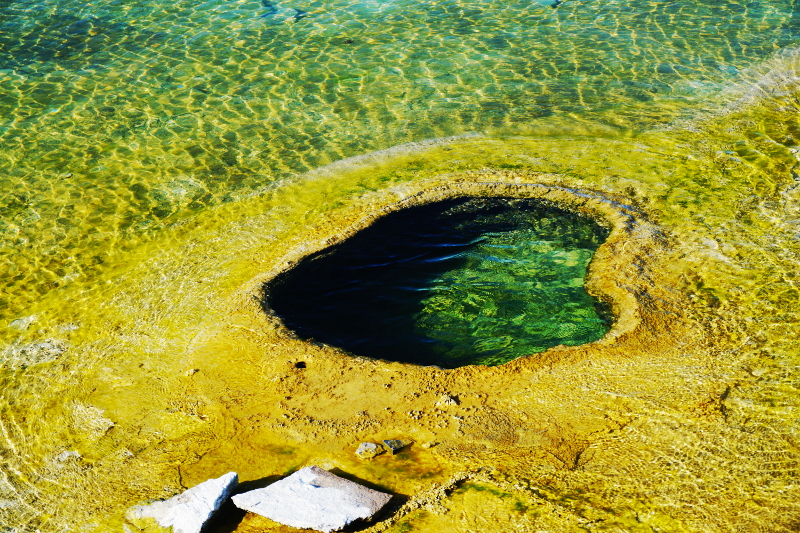 Fishing Bridge
We drove from West Thumb to Fishing Bridge area for a few walks. Shruti was sound asleep and I took a wrong turn for the camping area. Good thing I did as there was a big male Bison standing 20 yards away. He was busy eating grass and didn't care. We managed to get a nice photobomb photo with him. Having said that, this was not the closest we came to a Bison in Yellowstone! Read on for another epic encounter!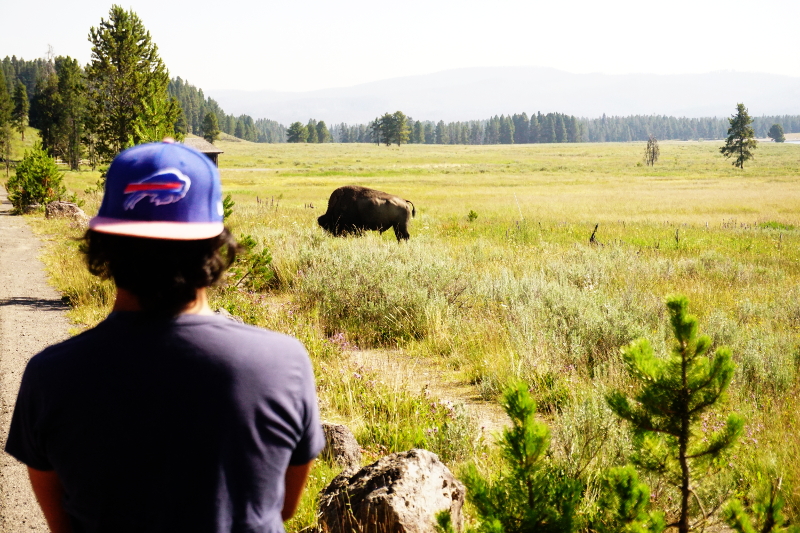 At the Fishing Bridge, there was a traffic jam of Chinese tourists but the bridge was spectacular over the Yellowstone river. We parked at the visitors center, bought a junior rangers book for me and managed to catch a "animals in Yellowstone" talk. Shruti went to the bathroom while I waited near the car and upon returning she told me this:
Ladies queuing for restroom
Lady 1: oh look! Buffaloes walkin past.
Lady 2: *African American accent* Thats a buffalo!! Where ma man? Stevennnnnnn! Come quick take a photo! Grab your camera! There is another one coming. I ain't never seen one! Ermaghard!
Failed Hike
We then decided to walk to a trail head instead of driving. We had miles to watch and Shruti wanted to walk. We walked around 8km up and down a road and a little through a forest but never made it to the trail head. Fortunately, never saw any bears but we did see a walking trail of Bisons. Their hoof tracks were everywhere and so were there rubbing pits.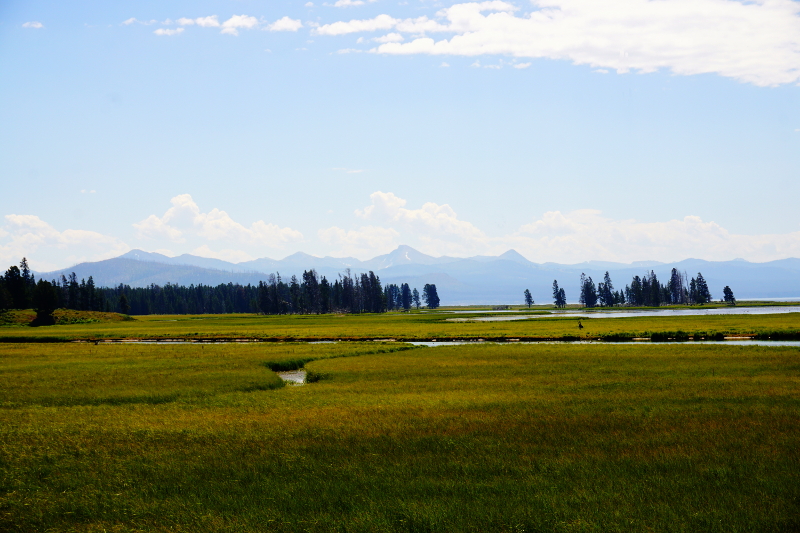 On return to the campsite, we got stuck in an animal jam! This is basically like normal traffic jam but caused by an animal. This time it was elk stags with beautiful antlers just grazing along. They were definitely loving the attention. The issue was getting out but we eventually managed and saw more elks. This was just day 1 – hard to believe!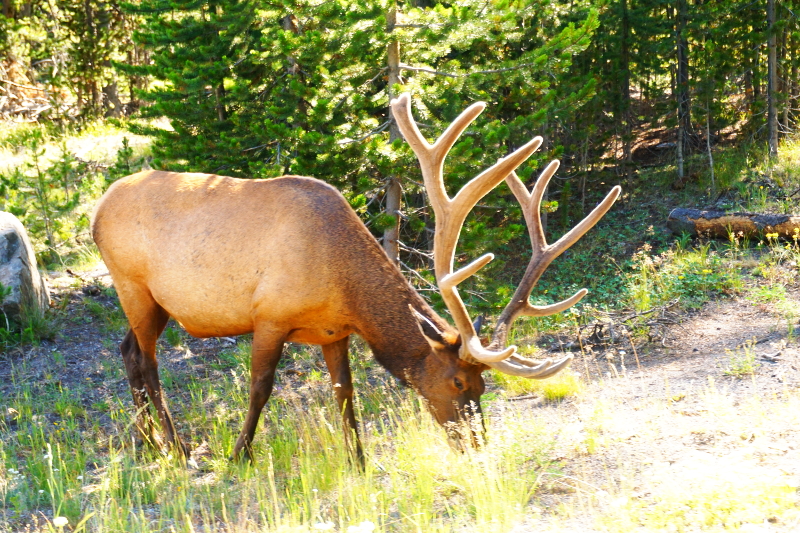 Old Faithful
The most famous Geyser in the entire world is Old Faithful. It's has been so consistent that it is named accordingly. We arrived to the basin, and the enormity, and the popularity dawned upon us. The carpark was the size of a Walmart carpark, there were 6-7 strong wooden buildings, and even hurts for glamping.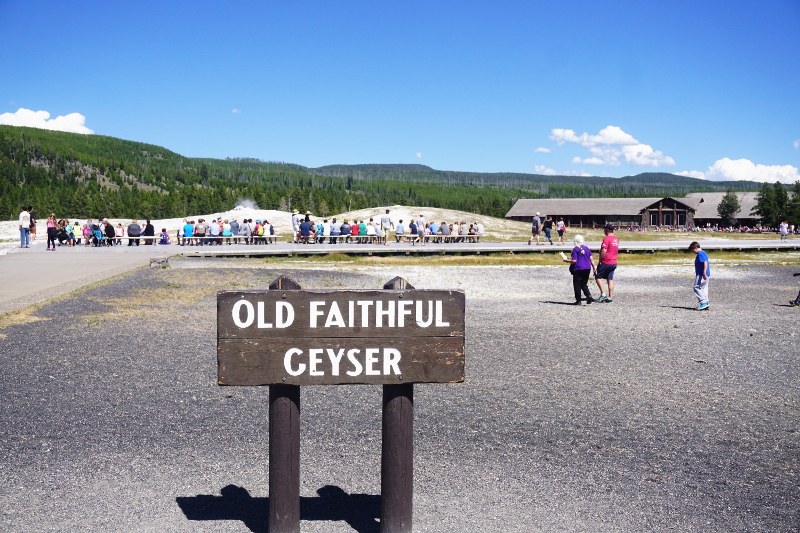 We visited the visitors center where we learnt a little about why Yellowstone is the way it is. There were huge volcanic explosions millions of years ago and a supervolcano still exists underneath the surface at Yellowstone. The heat from the magma coupled with rain and snow melt causes geysers, hot springs, fumaroles and mudpots. As we finished, we realised that the time for the next Old Faithful eruption was almost there. Bring it on!
The old faithful geyser is the most consistent of the big geysers. It is so popular that there tables for hundreds of people to watch it erupted. Like others, we grab a spot and waited. The eruption time had 10 minutes buffer however we waited past 10 minutes and nothing happened. People around us were assuring the kids that it will happen.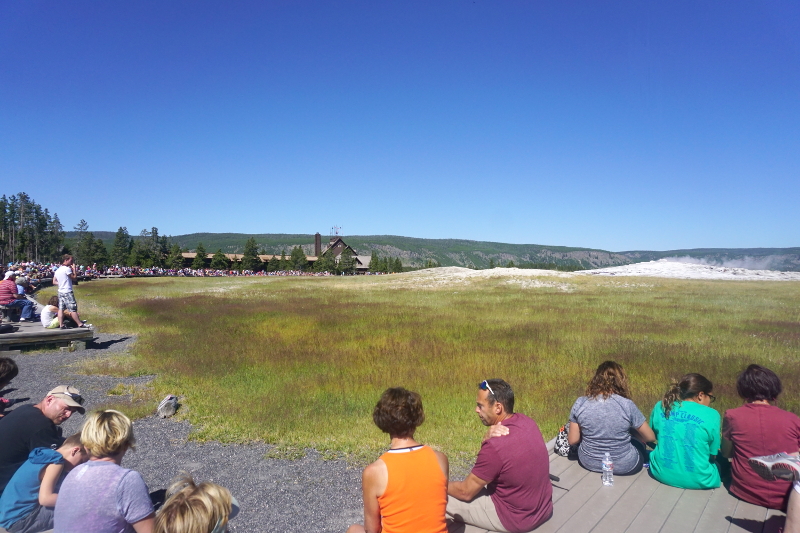 Occasionally, there were spurts of water and we would think "is that it?". Finally, it erupted! It went on for 10 minutes and as high as 100 feet. We could see, hear and smell it! Exactly what we were told in the documentary we watched.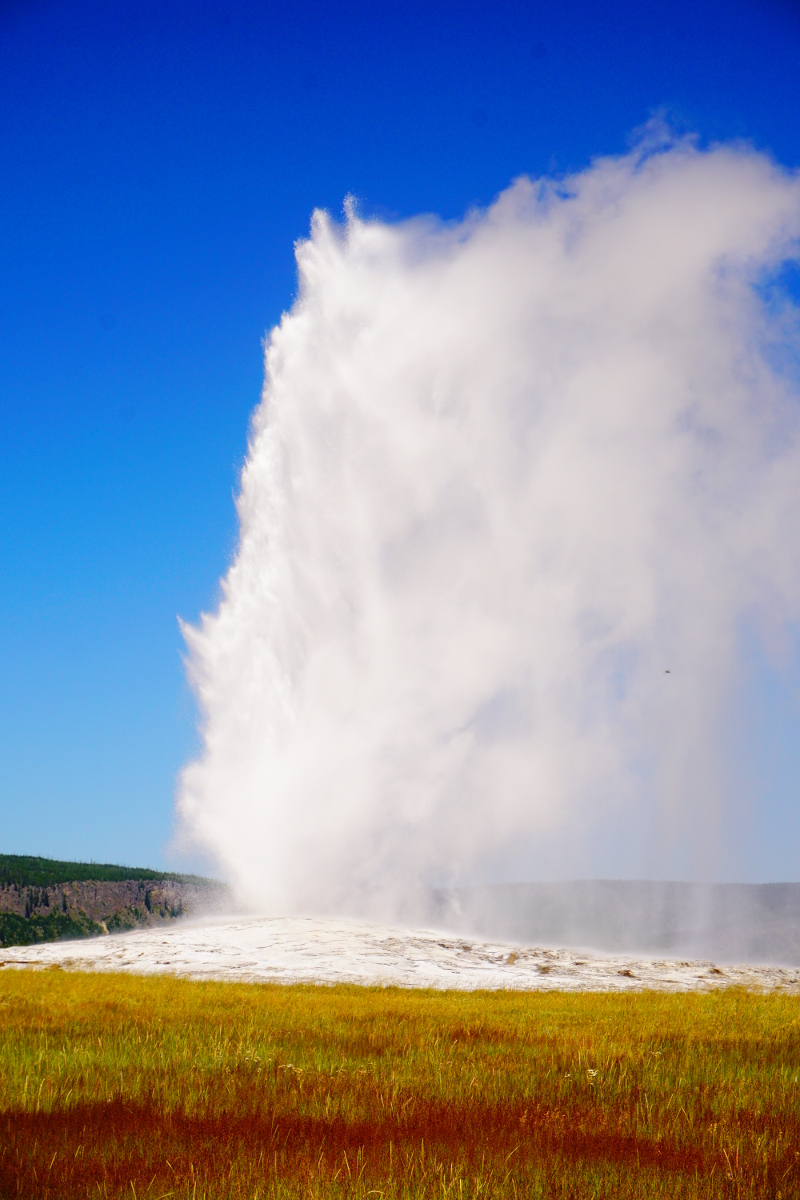 There were many other geysers and hot springs in the area. Castle geyser was going off when we saw it while Grotto geyser looks like its about to pop anytime.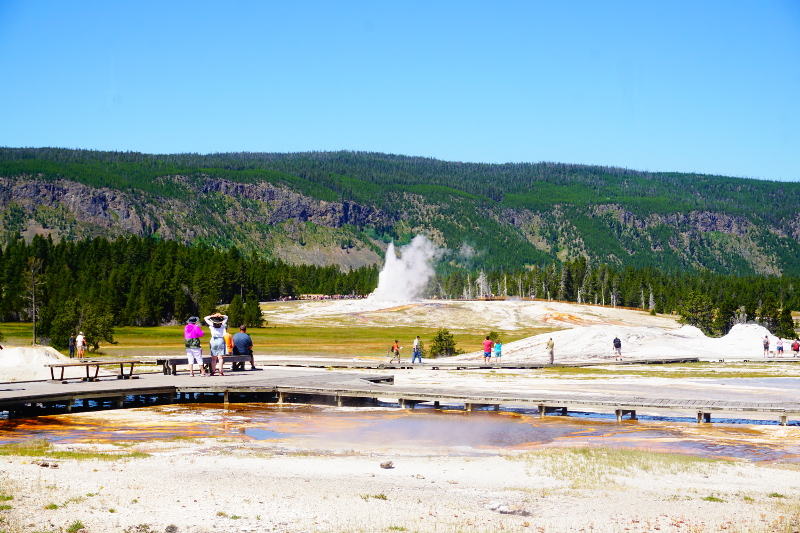 There were some famous springs like the Morning Glory, which sadly is turning green from a cool blue. There were many other springs in the basin and its hard to remember all of them. Each of them were magical in their own way and represented the power of nature.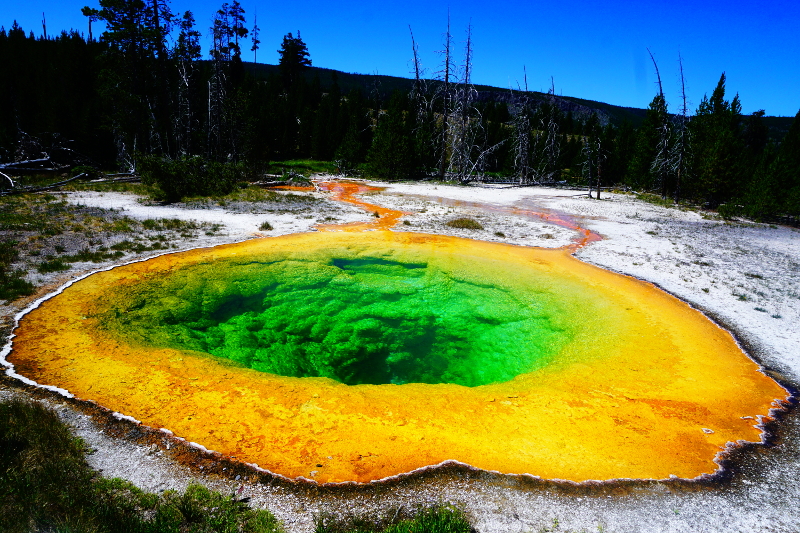 Biscuit Basin
Biscuit Basin, a 15 minute walk, from Upper Geyser Basin was another unbelievable area. There were only 5-6 geysers and springs but the amazing things were the colours. Some were bright orange, aquamarine and steel blue.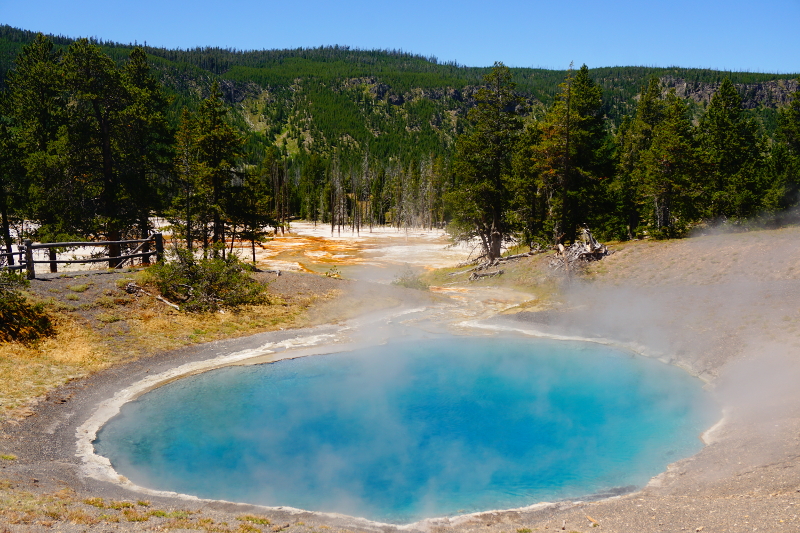 Another great thing was we spotted a in the area! At first, we thought it was a wolf but a ranger corrected us. It was a coyote. They are the poor cousins of the wolf and have taken over many areas. Afterwards, we walked back, grabbed some American fast food and headed to see Mother Earth.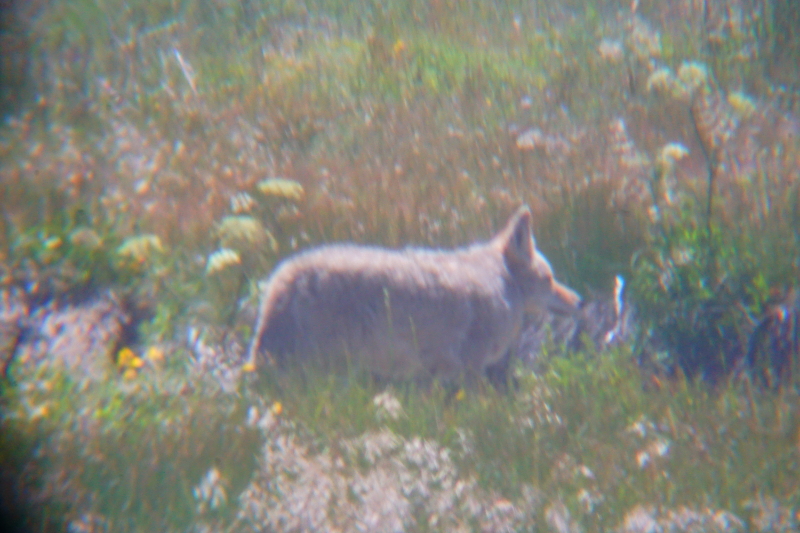 Eye of the Earth
Midway Basin is a collection of several springs not far from Upper Basin. The most famous of these is the Grand Prismatic Spring also known as the Eye of the Earth. The spring was the biggest we saw in Yellowstone around 379 feet in diameter. It is popular due to its colors. Blue in the middle, yellow, orange, and green at the edges. Being on the boardwalk around it, we were hit by the warm steam. It was a pity we couldn't see the entire spring as a whole from the top but it definitely was our favourite volcanic lake.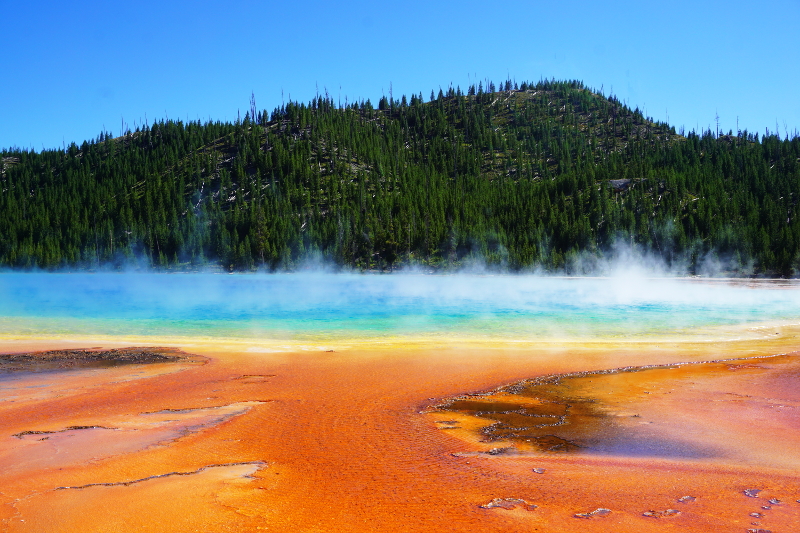 Walking back to our van, we spotted a couple of massive birds in the sky. Hoping they were bald eagles, we watched them for a while. After taking a few photos through the binocular, we went to the rangers and asked them to name the bird. Turns out we were watching ospreys!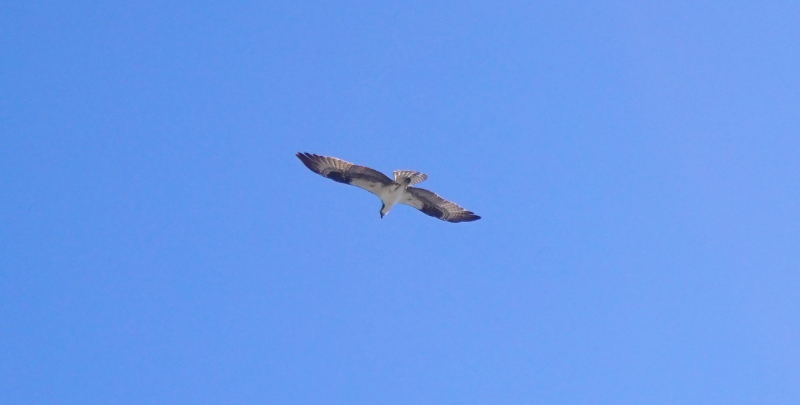 We even managed to squeeze in a hike to the top of a hill! Though it was only 2 hours hike, it was mostly up the hill. Such a strenuous hike but the view was rewarding!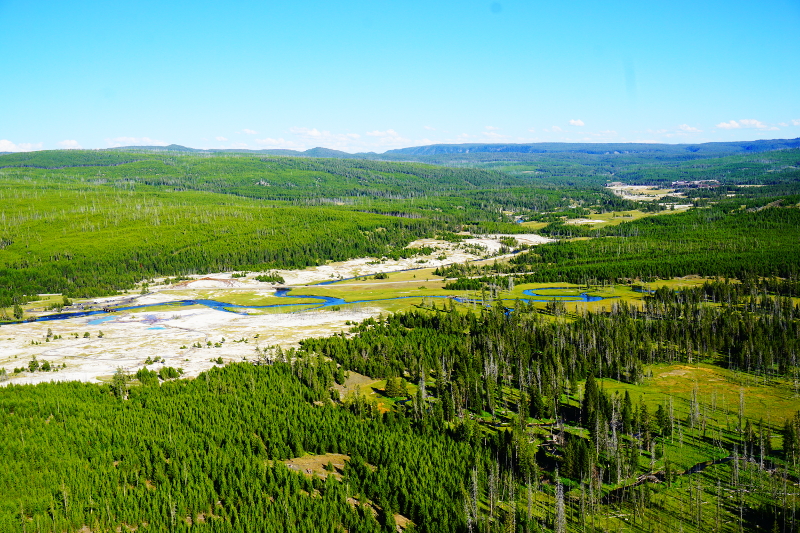 Norris Campground
Our two days in Lewis Lake campground were coming to an end and we had to move so we could explore other parts of Yellowstone. We picked Norris Campground, another first come first serve spot. We knew Yellowstone is very popular during the summer so the only way to get a spot would be to get in early! We found our how long it would take us to drive and prepared for an early morning next day. We left our campsite at 4:30am and were on the road for 1.5 hours before we got to Norris. Driving in the National Park at night / dawn is scary. We didn't want to hit any animal of course. I had my lights on high beam while Shruti had a close watch on the side of the roads.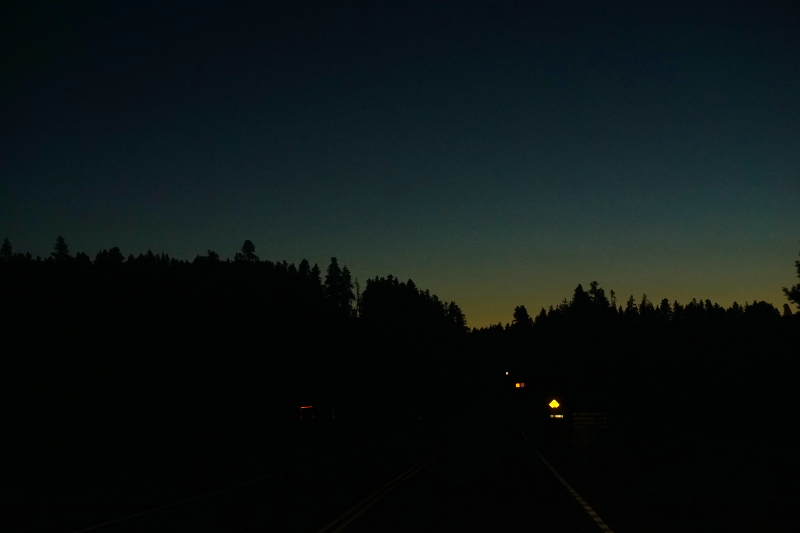 Arriving at the campground, we noticed some people sitting in front at the ranger station. There were already 3 people with their sleeping bags and quilts waiting to get a campsite from 5:15am! It seemed like a line to buy an iPhone honestly. We sat along with them on our chairs with our blanket and waited. The queue got longer and people from different backgrounds, places and of different age waited patiently while chatting away. Cars started driving out of the campground from 6:30am and we were getting excited. It felt like winning food during rationing but that shows how popular camping is in Yellowstone!
At 7:50am the camp host got to the station. We were explained how the allocation worked. Luckily we were 3rd in queue and had our campsite by 8:30am! Planning ahead and waking up early definitely worked in our favour.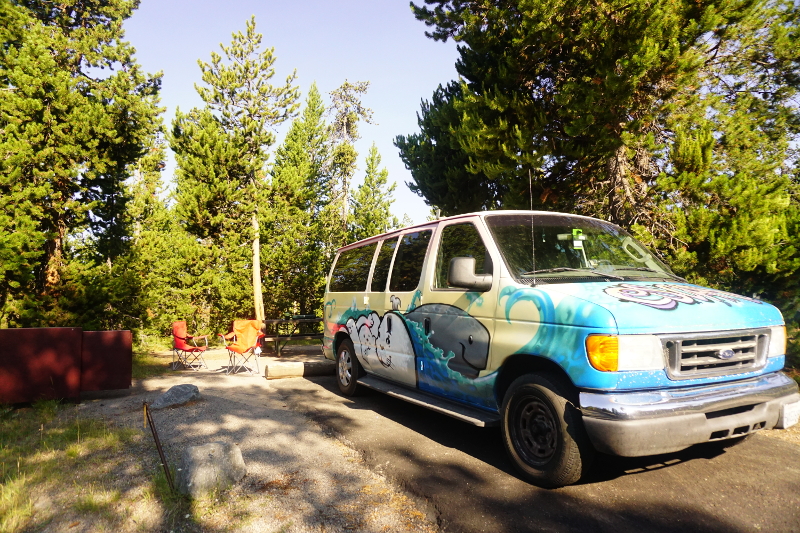 Norris Basin
Norris Basin was around the corner from our campground. After parking at our spot, we relaxed a little. Post breakfast, we slowly got ready to walk to Norris Basin. As we entered, we first thought we had stumbled upon a desert in the middle of a forest. The sand was all white but the springs were blue, saffron and green colours. The water was spilling out into the ground and it made for a great start!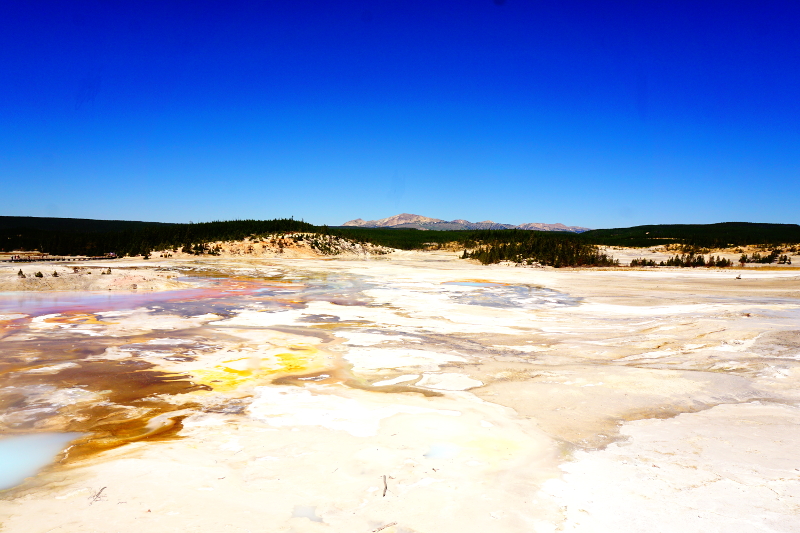 The basin is so toxic that the colors in the springs are stunning. Some colours, quite rare in other basins, were prominent here. We walked along the boardwalk and stopped to occasionally to watch and observe the springs.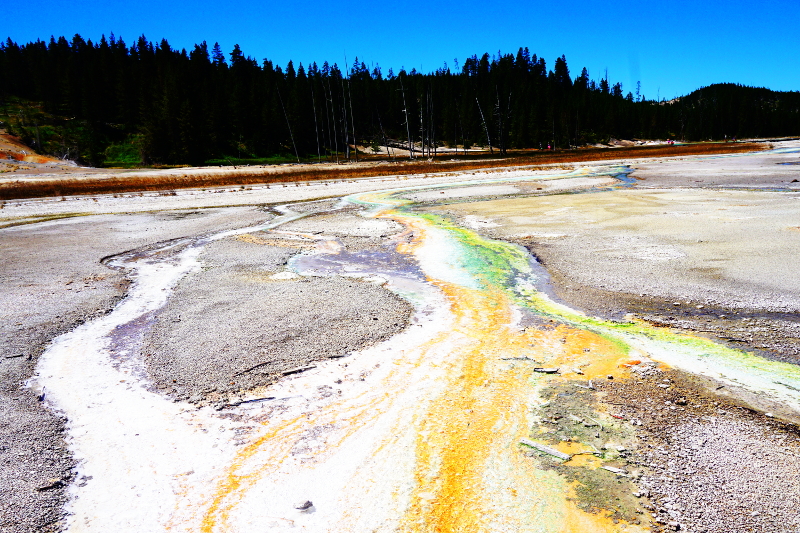 The tallest geyser in Yellowstone, steamboat, is also in this basin but it didn't go off on the day we were there. Well that was alright with us. In all, we spent a few hours walking around Norris Basin and were just overwhelmed at nature's game play.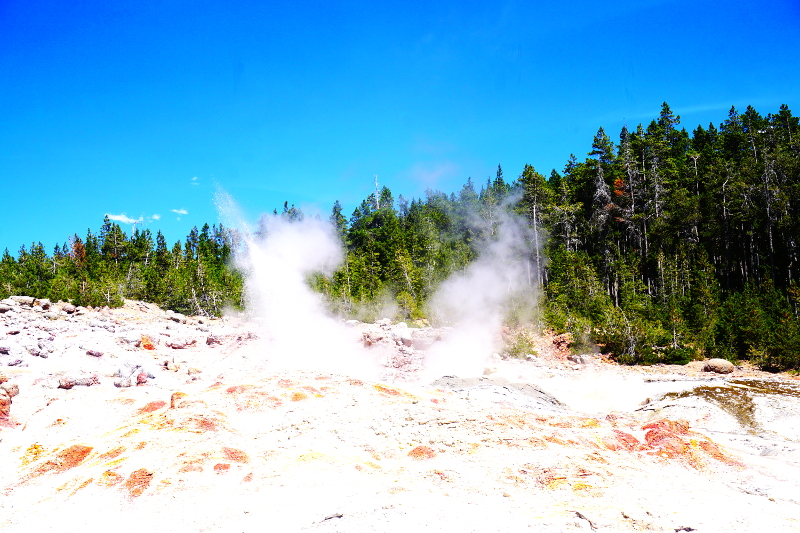 Mudpots Basin
30 mins drive from Norris Basin was the mudpots basin. A unique geothermal feature that exists in the Hayden Valley. Here the water from the springs mixes with mud and forms mudpot. Over time and depending on the season, it looks like mud boiling. As it hadn't rain and snow had already melted, most of the pots were dry. Having said that, we did see the Mud Volcano which was a scary boiling natural vat of mud boiling. If the Grand Prismatic Spring was the beautiful spring, mud volcano was the scary spring.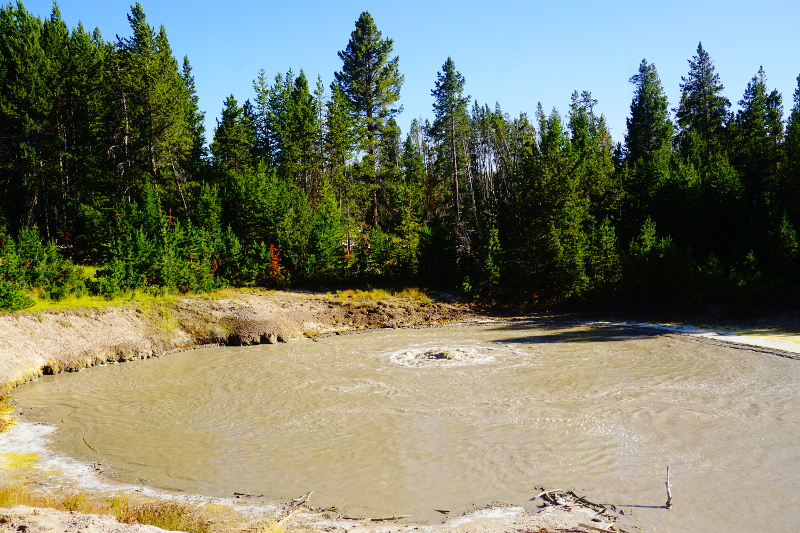 The best thing though was a Bull Bison sitting next to a hot spring. It was so close that we could have touched it. But of course we didnt! And just across the basin was Hayden Valley, a meadow home to plenty of animals.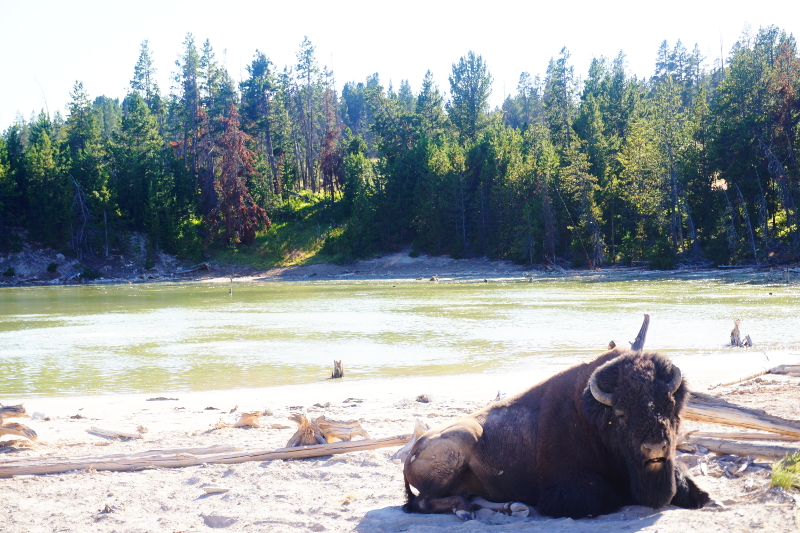 Wildlife Spotting in Hayden Valley
We made it a habit to visit the Hayden Valley early in the morning and late in the evening from Norris Campground. Wildlife watchers with hi-tech equipment sat for hours watching wildlife activities.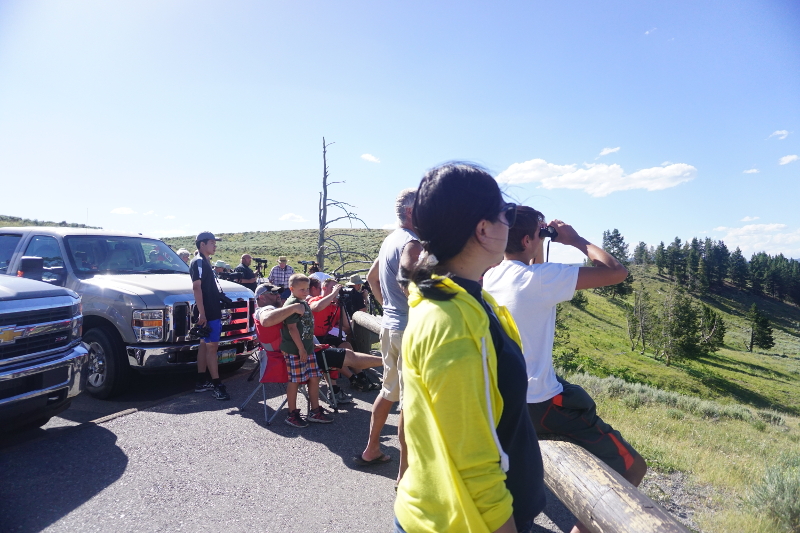 One morning, we parked near an animal jam and next thing we knew, we were watching a grizzly bear walking around. Luckily we were a 50 meters away from him!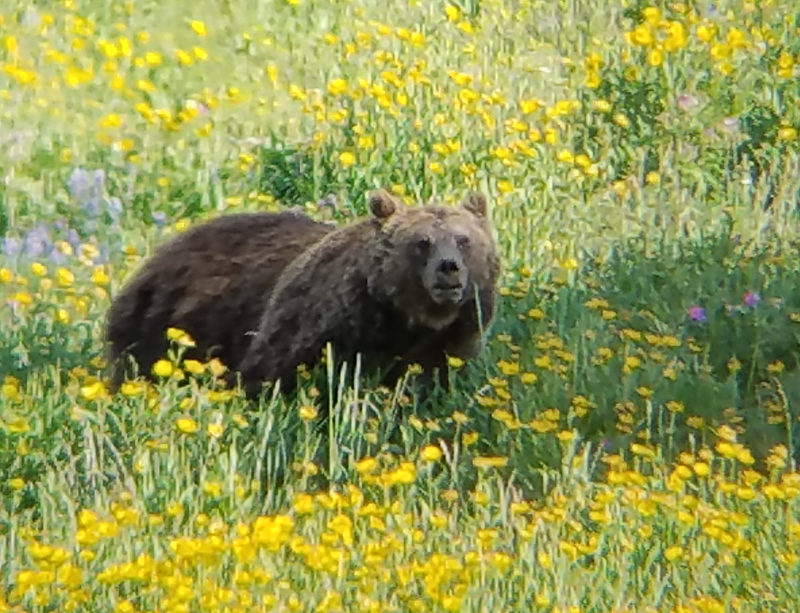 Another morning, we were photographing a huge bull Bison when he decided to walk towards us. It was getting close and for our safety we ran inside the van!
Our favourite moment in the Hayden Valley, though, was when we were watching wolves with a family from Utah. Yes, you read that right! Wolves! The family had a hi-tech monocular and had attached their phone onto it. This meant, more than one person could watch at the same time! As it was getting dark, we spotted plenty of wolves jumping around and a grizzly bear walking around a hill! It truly was an amazing experience. We had seen quite a few exotic animals of the lower 48 USA!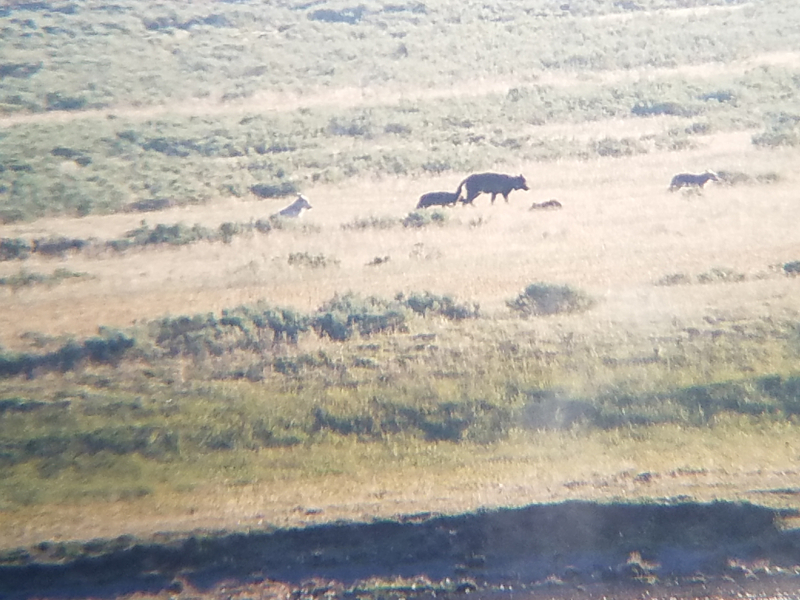 Gooodbye
Sadly, all good things come to an end, and so did our time in the Yellowstone. We decided to leave from the western entrance. On the way, we picked up a Slovakian hitchhiker who we dropped to the nearest town outside. We drove along the meadows and could see Grand Tetons in the distance. We knew just then that we would never forget this place and our experience.