After spending 2 weeks in Guatape, we decided to slowly make our way to Ecuador. This meant, we had to travel south. We had read and heard about Salento a lot so we decided to stop there for a few days.
Salento is a small town in the Zona Cafetera area of Colombia. It is famous for Colombian coffee, Valle del Cocora and the Colombian sport, Tejo. The village was home to coffee and milk farms until backpackers discovered it. Now, Salento is home to many hostels, tour operators and restaurants. Many backpackers have liked the place enough to stay back and open a business.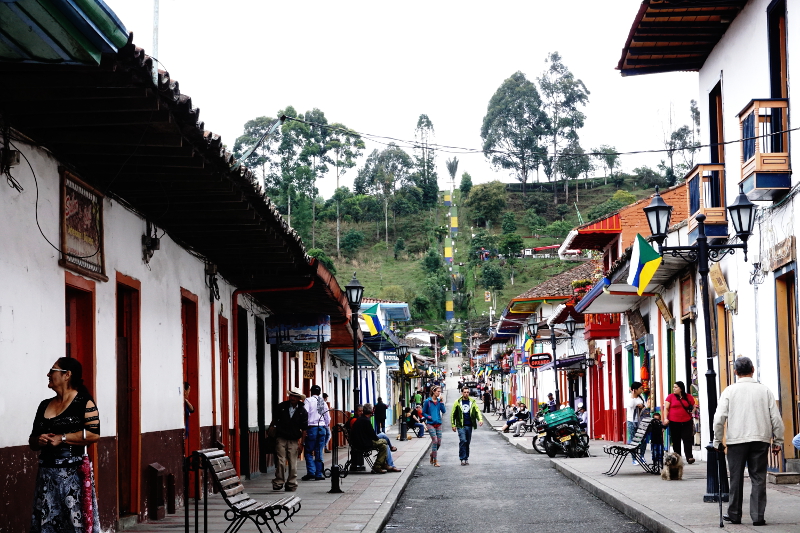 Getting to Salento
We left at 8am from Guatape to get to Medellin. The bus from Guatape gets to Transporte Terminal de Norte in Medellin, while the bus to Salento leaves from Transporte Terminal de Sur. We jumped in a cab and in 15 mins, we were in Terminal de Sur.
We had researched about getting to Salento from Medellin and most posts said we will have to change bus either at Pereira or Armenia, the bigger cities close by. After checking with a few bus companies, we learnt that there was a direct bus to Salento! Firstly, we were surprised and secondly, we loved the idea of just sitting in the bus without having to change constantly.
The direct bus from Medellin to Salento leaves at 9am and 12pm everyday. The ticket was 43,000 pesos (USD 14) per head and the journey takes 6 hours. The scenery along the way is beautiful so maybe sure you are awake for some bits of the drive.
First Bad Weather
Although we had an amazing time in Salento, it will always be remembered for the bad weather during our trip. Apparently, Salenteños had been crying for rain which hadn't been showing itself lately. Well, the Rain Gods answered the day we arrived and blessed the town heavily every single day we were there.
Luckily, the view, especially from the Mirador (viewing point) and the temperature of the rain meant that we didn't quite hate it. We carried a rain jacket around and bought a pair of waterproof hiking shoes. No bad weather only bad clothes as they say in England!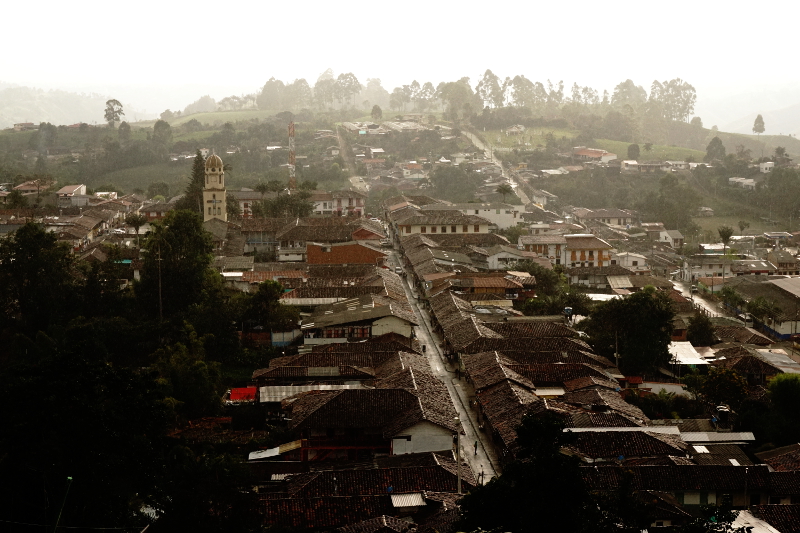 Coffee Finca
One of the things we wanted to do in Colombia was get a fresh cup of Colombian coffee. However, most Colombians don't drink the best coffee, read about it in your Drinks in Colombia post. They drink it as a shot in the morning and it tastes horrible. 70% of the best coffee is exported to richer countries. The other 30% is kept by the coffee farms and sold in their shops.
Well, our first task in Salento was to walk down to a coffee farm and enjoy the coffee. As it happened, the coffee farms were around 4-5 kms away from main town. Since we were already on the path, we decided to just walk down. The path was all downhill and there were signs for the coffee farms with the distance remaining. However, the view of the valley below was incredible and we were glad to have walked.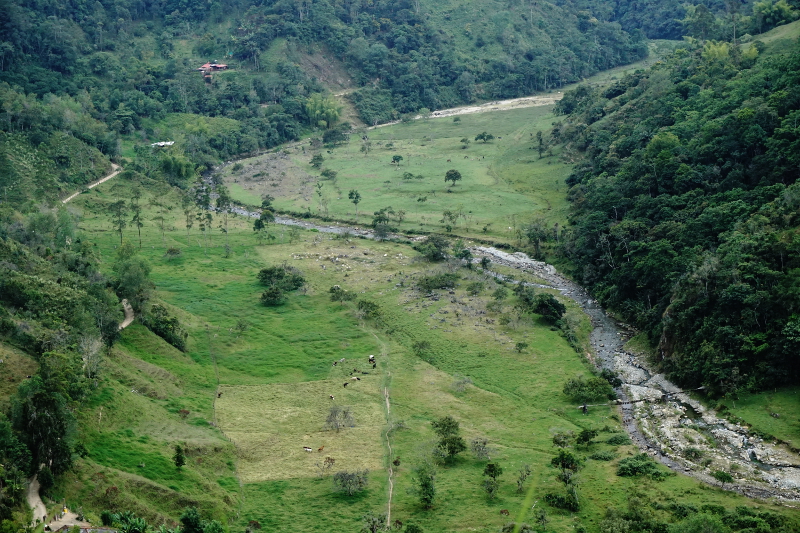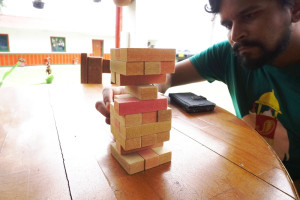 We chose Finca Ocaso as it has some nice signs, offered an English tour and also because we reached it before any other fincas. The property was huge and it took us 10 minutes to walk from the door to the reception. Once inside we asked for the English language tour which was scheduled to begin an hour. We rested and killed some time in the game room.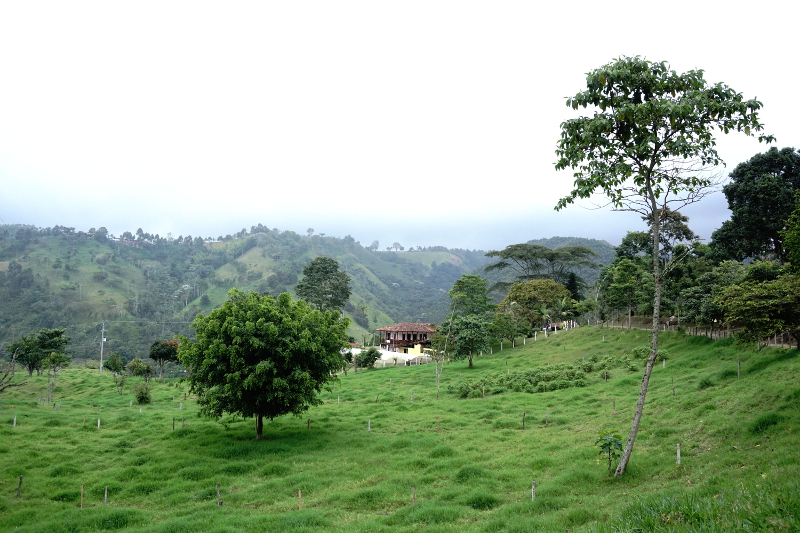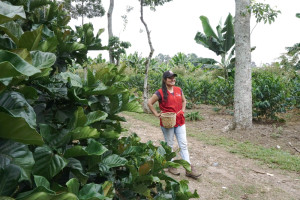 When our turn came, we joined Paula, our guide and 15 other people. Our first job was to tie little baskets around our waists for coffee picking. Paula explained the basics of the coffee plant, its types, plantation, issues with various coffee species and Colombia's place in the code world. Colombia is the 3rd largest producer of coffee in the world and its coffee fetches some of the best prices in the world.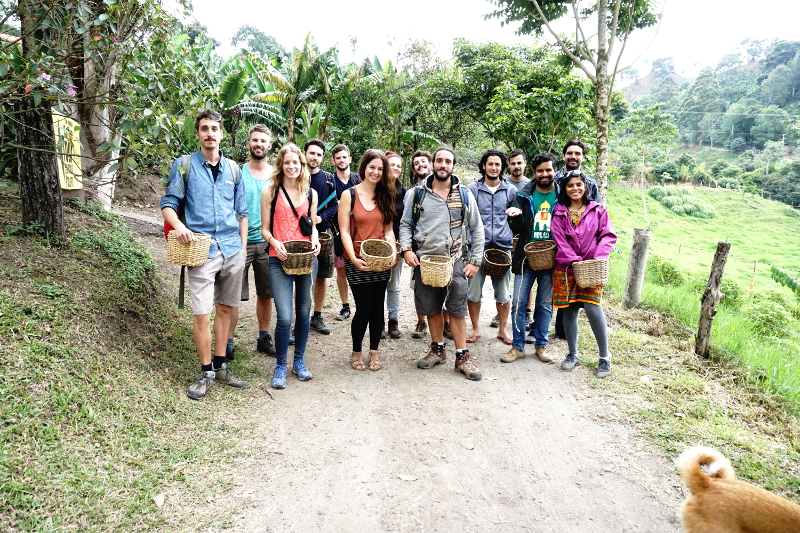 The next part was picking coffee. We all actually got into the coffee bushes and looked for red coffee beans. Mind you, Finca Ocaso is rain forest certified which meant there was a lot of trees in the area. I really got serious about it and headed deep into the bushes. It only occurred to me later that I never checked with Paula if there are snakes in the bushes. Eeek! After 15 minutes, we compared our coffee cherries and some people had more red than others.
We then took our cherries to the peeling machine. This was a manual machine used in yesteryears. Following this process was the drying, sorting, roasting and packing. In this farm, everything from the tree was used – the cover of the cherries, the dry husk of the cherries and the cherries which are not of the highest quality. Those are sold to local coffee companies to be consumed by Colombians.
Finally, after learning the process, some volunteers ground the coffee beans produced from the farms. Shruti then volunteered to put hot water into the coffee infuser to create the brew. Cups of the best Colombian coffee was then passed to each person in the tour. How did it taste? Not bitter at all, a little sour and easy to drink. It was quite refreshing and possibly one of the only cups of non-milk coffees that I loved.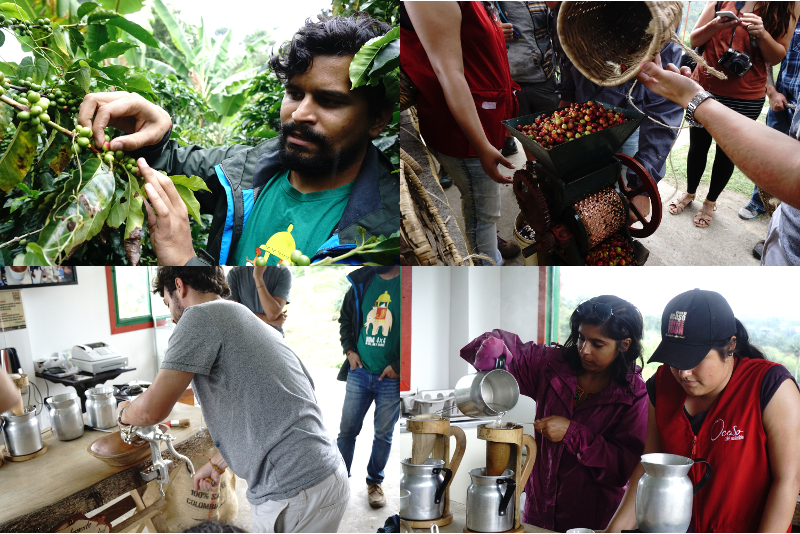 To remember our time, we bought a 250gm packet of coffee beans. As we hadn't eaten all day, we ordered two bandejas with rice, soup, veges, meat (in my case) and a fresh glass of lemonade. A great meal in a beautiful location.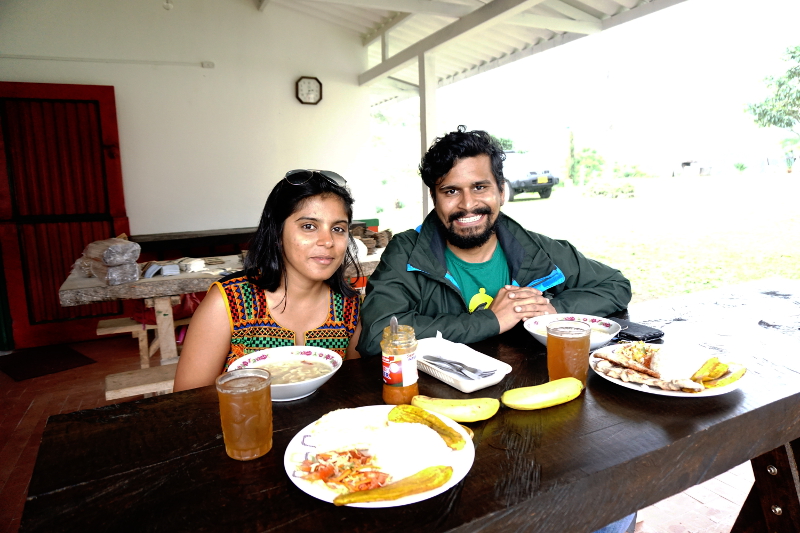 The return journey was not so fun though. It had been drizzling through the day but as soon as we left after our meal, it started pouring. There was no shelter or a taxi and we were forced to walk. The walk uphill combined with the rain was no fun. We tried waiting in the shelters but to no avail. Although the view of the valley was phenomenal, we couldn't wait there forever. We ended up walking the whole way back in the rain, sometimes getting splashed by passing vehicles. Although it wasn't the best walk, we still had fun and best of all we didn't get sick!
Shopping in Armenia
After the coffee farm, our shoes were soaked to the point of no return. In addition, we had to hike the Valle Del Cocora. It would be impossible without good shoes. Moreover, we realised that our next destination, Ecuador was currently in the wet season which meant our current shoes were bad for this area.
Therefore, we decided to spend a day in Armenia looking for shoes. Getting transportation to it was easy. One way ride costs 3,400pesos (USD 1) per person. When we arrived in Armenia, we realised that the town was similar to small Indian towns. It had a market for bikes and bike parts, a market only for clothes, a market for shoes and other one for electronics.
With our limited Spanish in hand, we headed into shoe shops. We tried a few but the quality just wasn't right. As we walked from one shop to another, the lady from the previous shop followed us in. It seemed that she owned a few shoe shops. She patiently helped us both try many shoes. We had to make sure we get shoes which would be waterproof but the shoes had no specific mention of this. In the end, we paid 85,000 pesos (under USD 30) which seemed a bargain.
Since it was one of our last times shopping in Colombia, I must take a moment to commend the shop keepers in Colombia. They were always welcoming with their "a la orden", helped us as much as possible and were never pushy. Thanks Colombianos!
Tejo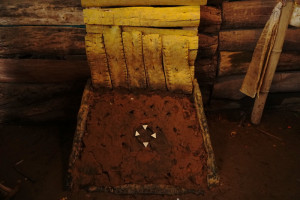 Tejo is a Colombian sport which involves throwing a metal object from a distance onto a clay pit which has a metal ring with some triangles full of gunpowder. As the metal object hits the gunpowder triangle over the metal ring, there is an explosion. It requires some skill, patience and a lot of alcohol. There is a point system and the closest metal object to ring gets 1 point, blowing a triangle gets 3 points, getting in between the metal ring gets 6 points and blowing more than one triangle gets 9 points. Simple!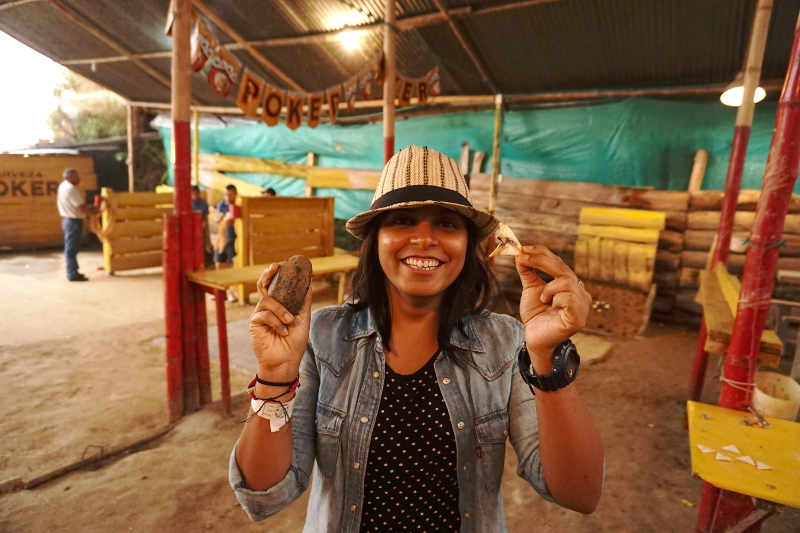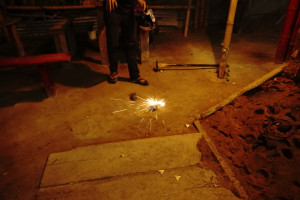 We visited Los Amigos in Salento which is the most well known place to play Tejo. The cost to play was 1000 pesos (33 cents) and you had to order alcohol. While there, we met David and Sylvia from UK who were tourists like us. All of us realised that we sucked real bad at this game. However, we persisted and the final score was 21-20 to the POMS due to a late surge. It was all in fun and we had some great laughs later bursting the triangles from close proximity.
Tattoo
Shruti had wanted to extend her tattoo for a while. While in Salento, we saw a tattoo shop, Eternal Present Tattoo, and talked to the artist about it. The price was good but we couldn't get it done that day as we had to hike the Cocora Valley next day. At this point, even I decided to get my first tattoo. We went home, decided on our fonts and the designs.
Finally, after the hike and some rest, we arrived at the tattoo parlour around 6pm. The tattoo artist heard us out individually on what we wanted, designed the tattoos and when we were happy, he started with the work.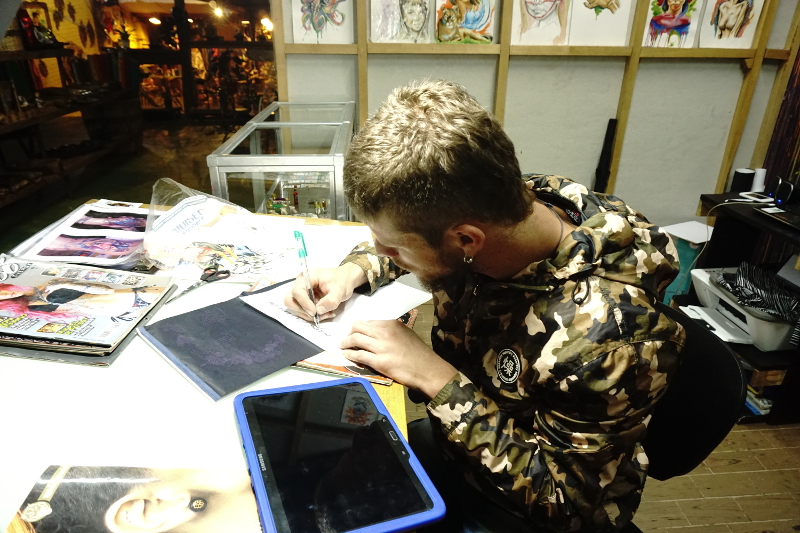 Shruti was first and she nearly cried in pain as it was on her foot. Her current tattoo depicts a place she loves – somewhere with sun, water and peace. For about 3 years now she has wanted to extend the tattoo with the word "wanderlust" across her foot. Of course that would hurt, but she says it is worth the pain! And now she is even more happier, she has an aeroplane on her ankle.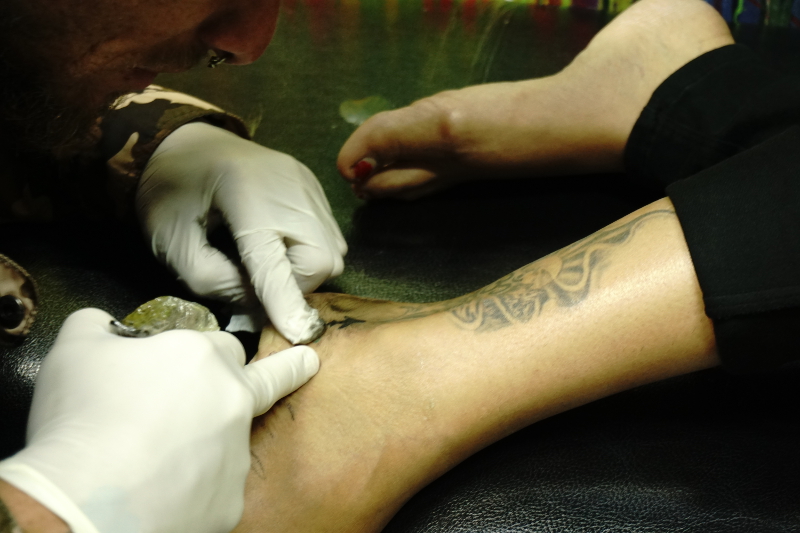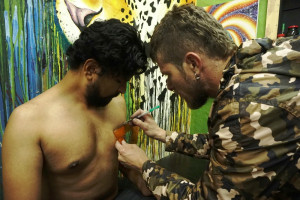 For my first tattoo, I was surprisingly calm. I guess I had wanted to get the words – Prajna, Sila and Samadhi from Buddhism tattooed for a long time but had never gone through with it. As the artist started his work, I realized why I hadn't! The pain was not unbearable but it was difficult to stay still. It was like a needle being pulled through my skin. I could not even imagine how people do it all over their bodies.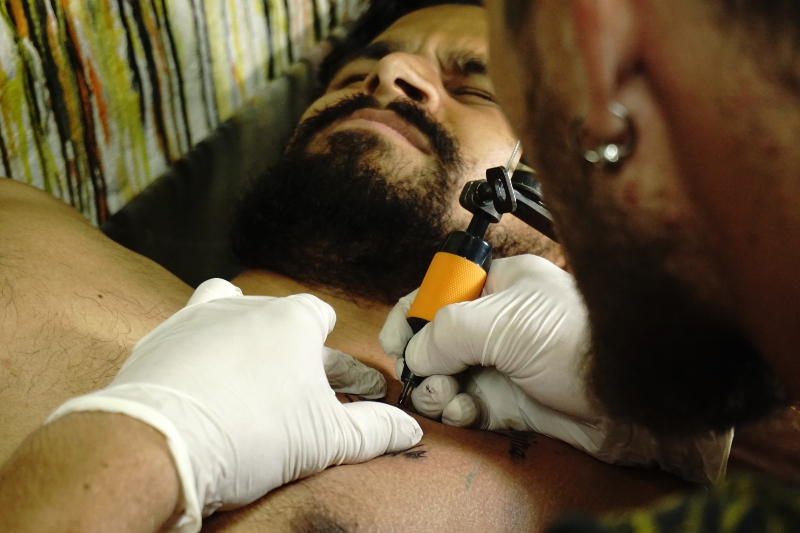 Anyway, it was over and the result for both of us looked good. It turns out the artist was also influenced by Buddhism and the name of his shop was also Buddhist-influenced. The total cost of both tattoos was 220,000 pesos (around USD 70). Meaningful tattoo for a great price, Thanks Salento!

Food
There are plenty of great food options in Salento due to the backpacker influence. Our hotel, Casa La Eliana provided fresh baked pita bread with hummus. I also enjoyed a great trucha (trout) with patacon (flat fried banana) at a local shop.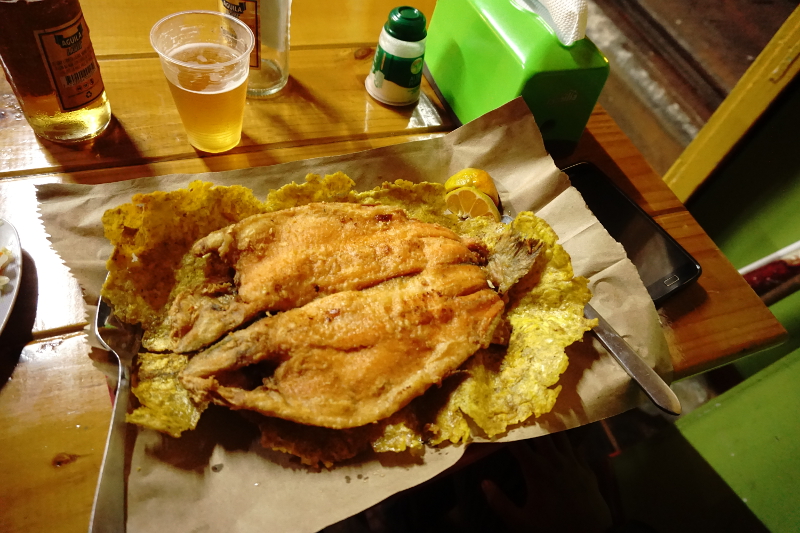 We visited Brunch Place which was a backpackers favourite. The breakfast was great and cheap. We also encountered Beta Town which was a restaurant with soccer field, tejo spot, darts and plenty of place to chill. We ended up getting massive burgers for dinner and massive breakfast as well.