We met only two kinds of travelers on the road – ones who wished they were going to Galapagos Islands and ones who visited Galapagos Islands. While it is expensive, we found out it doesn't have to cost an arm and a leg! We enjoyed the archipelago nevertheless.
A little intro
The Galápagos Archipelago are a group of volcanic islands lying in the Pacific Ocean about 1000 km off the coast of Ecuador. The archipelago is surrounded by the ocean currents which have made its flora and fauna some of the most unique in the world. It is also famous for being one of main places which inspired Charles Darwin's Evolution Theory.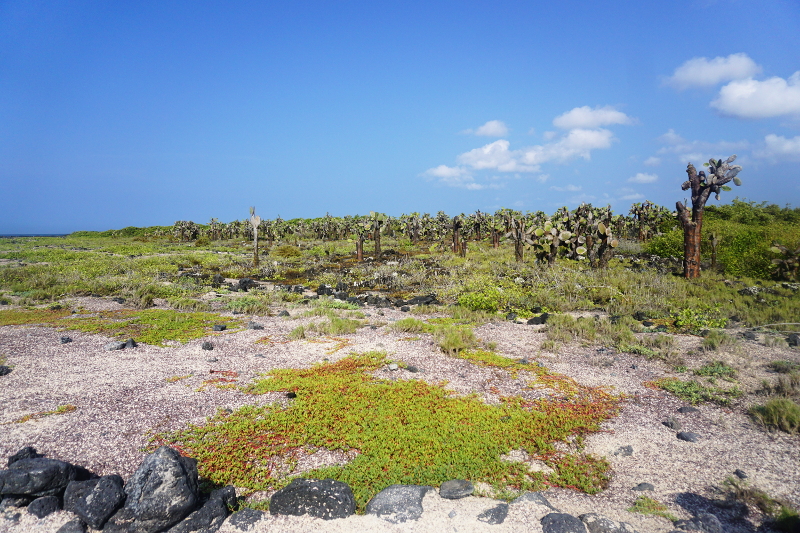 Galapagos Islands are an Ecuadorian Province and in 1959 were made into a National Park. It is isolation from the mainland and as it is the primary tourist destination in Ecuador, it is expensive. However, we learnt that the money spent in Galapagos is well-spent.
Getting there
We took a flight from Guayaquil instead of Quito. This saved us around USD 100 on the tickets. There are two airports in Galapagos Islands – Baltra and San Cristobal. As an advice, we would say its best to get to Baltra and from there to Santa Cruz. San Cristobal is on the eastern end of the archipelago while Santa Cruz is more central. It's easier to see more islands from Santa Cruz.
At Guayaquil airport, our luggage was scanned and we had to pay USD 20 per person tourist fee. Once we got to Baltra airport, we had to pay USD 100 per person as National Park fee for entering Galapagos Islands. In addition, there was a cost of USD 10 per person for to and fro bus journey from the airport to Baltra channel. That was the end of the official costs.
The journey from Baltra airport to Santa Cruz takes around an hour fifteen minutes – 15 min bus ride to the channel, a 90 seconds ferry across to Santa Cruz and a 45 minutes bus ride to Puerto Ayora, Santa Cruz. The ferry was USD 1 per person while the bus was USD 2 per person. We stayed at Hotel Francis Drake for USD 30 a night for a room without aircon.
Shopping for tours
There are several ways to explore Galapagos Islands. You have the options of doing a cruise around islands or staying on inhabited island and doing day trips. Option 1 was too expensive for us even with the last minute prices. The cheapest and best cruise we found while at Galapagos was for USD 1550 per person for 8 days. Though this cruise had the best itinerary for the price, we couldn't afford it as we are backpacking. We had to go with option 2.
We visited around 5 tour agencies to check prices for day trips and picked day trips on different islands. We even managed to spend 2 days and 1 night on Isabela island!
The day trips from Santa Cruz ranged from USD 90 to USD 200 depending on the distance. We highly recommend getting to Galapagos and dedicating a day to shop and plan your activities. Booking from overseas or even mainland Ecuador is way expensive.
Seymour – Diving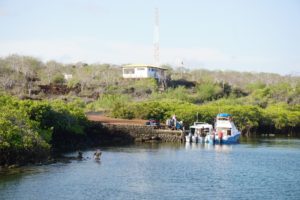 We dived with Albatross Diving in Santa Cruz. They provided us with full length wet suits, diving shoes and all other equipment diving related. We reached the dive shop at 6:50am from where we took a car to Baltra channel and a half an hour boat ride to Seymour Island. The island itself is a mecca for birds and we were able to see blue footed boobies and frigate birds on the cliffs of the island.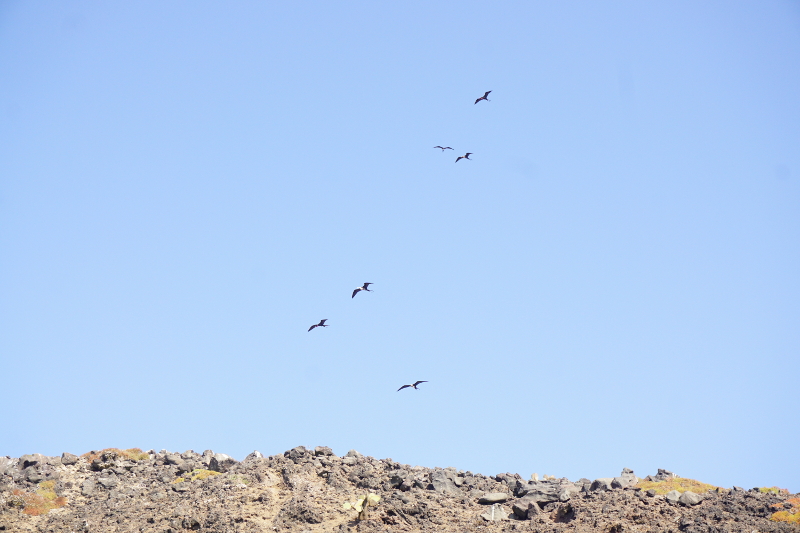 The tour group included some casual divers as well as seasoned divers and beginners like me. The casual divers went first and we snorkeled around in the meantime. This was our first time in the water in the Galapagos and we were able to see a sea turtle, sharks and a ton of fish. That topped more than anything I had seen before in the water.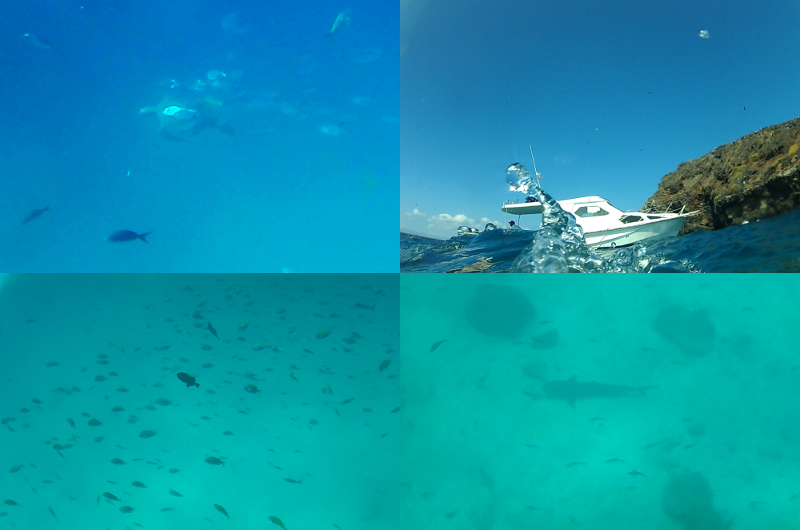 The first dive was no less exciting. The visibility was 8-10 meters and the sea was full of life. We saw huge manta rays, large fish, sharks (white and black pointers) amongst other things. We were all following the guide when he went down to the floor and started watching into the distance. He made a sign of hammerhead and I was nervously looking in the distance but we never saw it. The guide was a little nervous and we spent a long time waiting doing nothing.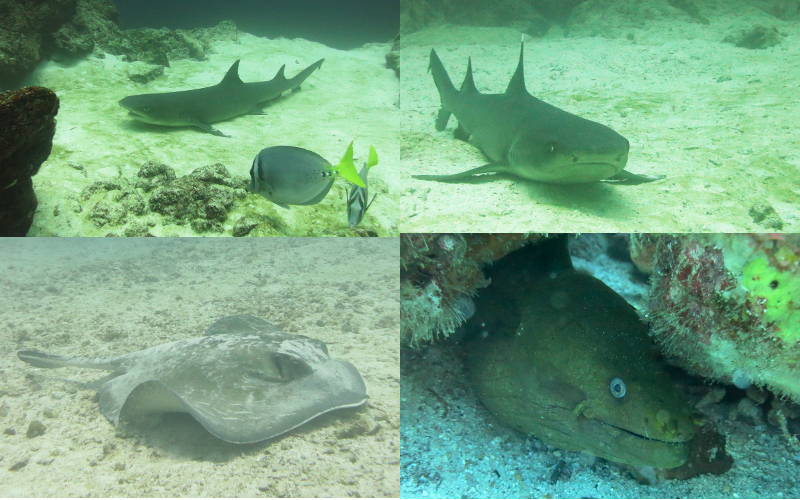 After a wait of 45 minutes, we went down again for the second dive in Mosquera Island. The depth was deeper than the previous dive and we saw many of the same animals. However, the cherry was a school of around 12 eagle rays going right past us. It was an unreal feeling just observing such beautiful but dangerous animals just gliding past us.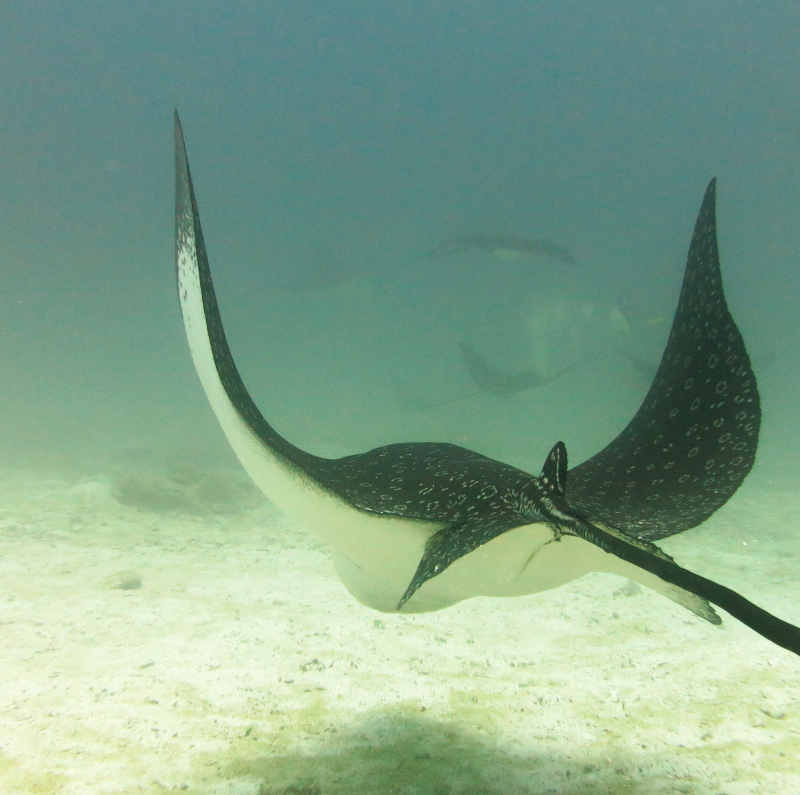 While the animals were great, we can't say the same for the guides. We had a limit of 70 bar (air) to return to surface but both guides ignored this and kept going. The second guide was even worse and told me and another fairly beginner girl to ascend by ourselves. It was lucky that her boyfriend was a serious diver and went with us to make sure we don't end up sick. Moreover, in the second dive Shruti's air had reached its limit but the guide tried to give her his air and keep going. Not only should he have started ascending before this but the move didn't work and Shruti was forced to ascend up blowing out. It was very dangerous and it could have been worse. Seeing animals is not worth putting your life at risk like that.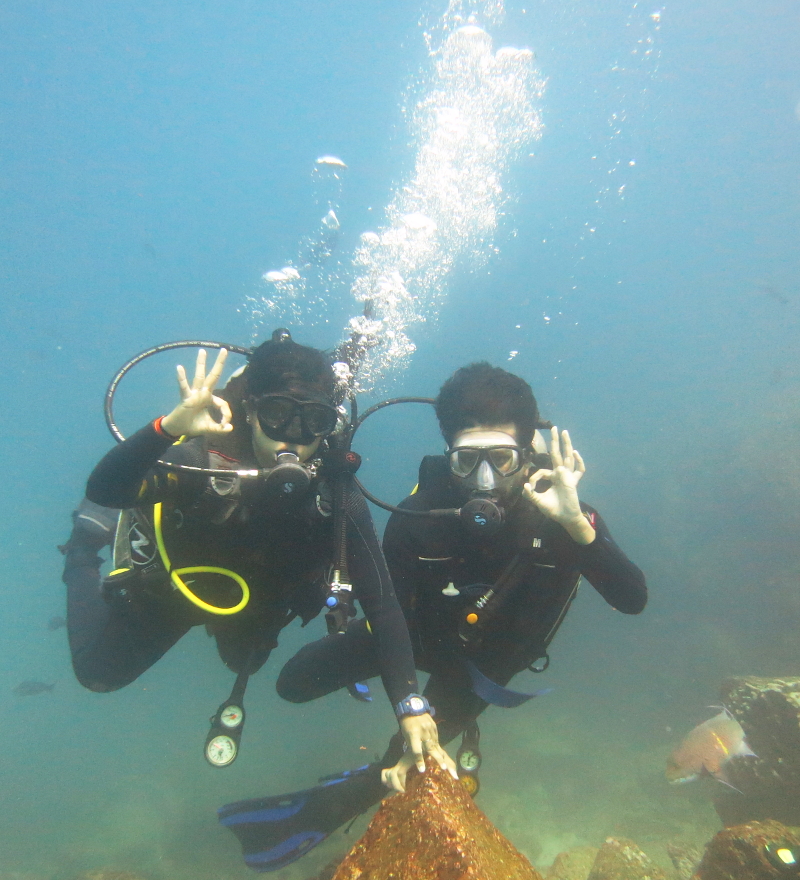 Finally, should you do diving in the Galapagos Islands? If you are an experienced diver who is keen to see hammerhead sharks that exist in specific regions. All other animals are easy to spot by snorkeling.
Santa Cruz Island
Sea Lions, Giant Marine Iguanas, Giant Tortoises and Cactus Trees
Sea lions in the Galápagos are like street dogs in India. You can find them sleeping all along the coast in the day. On our first evening in Galapagos, we visited the main pier and were amazed to see Sea Lions sleeping on benches, pier, floor and tourists were all around them taking pictures.

Marine Iguanas are an unique animal. Apart from being the only iguana species that swims, it is also the only reptile in the world which eats algae from the sea. We saw marine iguanas nesting close to Puerto Ayora while they take in the sun during the day and swim back at night. They are black, scaly and look a little like Godzilla. It takes a while but eventually you get use to seeing them around and liking them.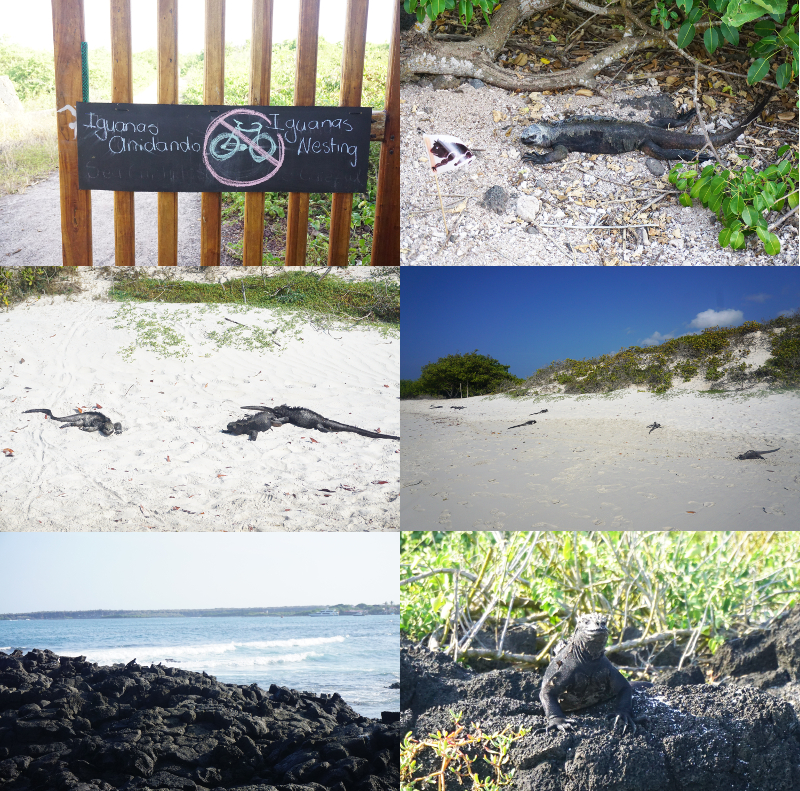 Giant tortoises are unique to Galapagos too. They can live for several hundred years, weigh upto 300 kilos and are threatened by humans and introduced animals. Charles Darwin Centre in Santa Cruz takes the eggs from the laying areas and raises the young until they are old enough to protect themselves, i.e., their shell gets hard. While we saw several huge tortoise in the centre, it was in a tour to the highland farms that we saw them upclose.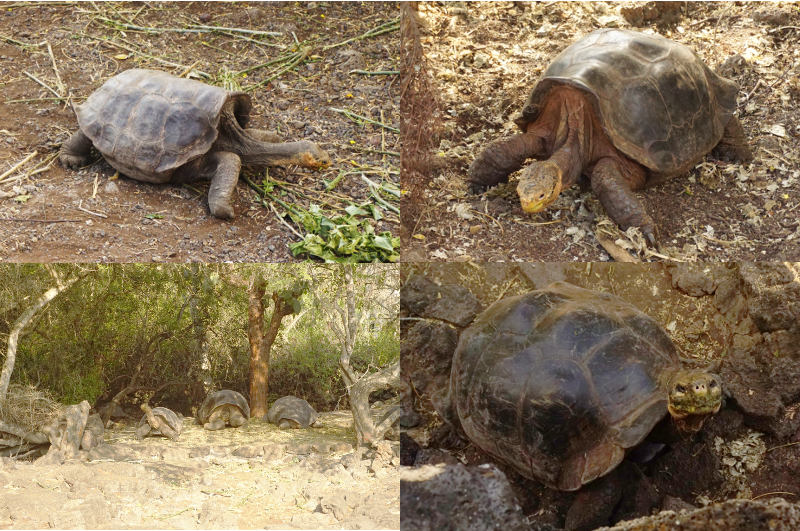 The giant tortoises spend two months in the farms, eat fruits and grass, poop everywhere and chill in small ponds. It is an unique sign of human-tortoise friendship. The farm owners like the tortoises as they clean up and fertile the farm and tourists pay to see them while the tortoises get to eat fallen fruits and mate in a controlled environment. It is amazing to see that such huge animals are scared of us so easily. The cost for the highland tour was USD 45 per person and an additional USD 3 per person at the farm to freely walk around the tortoises. The farm provides rubber boots to prevent ant bites.

The volcanic nature of the islands was included in the same highlands tour. There was a large magma chamber which we didn't quite understand but we thought neither did the guide. It looked like a mini Blue Mountains.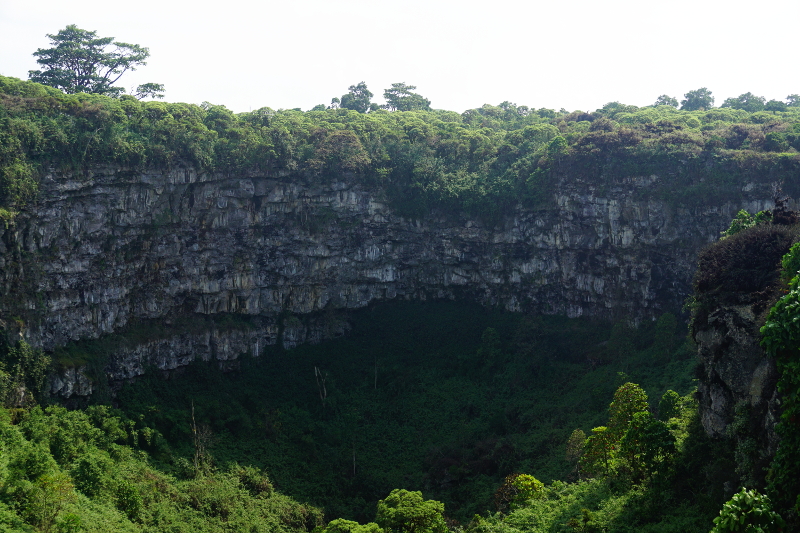 In addition, we visited a lava cave which was a natural tunnel of 400 metres. The lava passed through this tunnel and the only way the farmers found out about it was when their cows went missing. Apparently, there is very little top soil in the Galapagos and most of the islands have solid volcanic rock underneath. It was a great lesson on the geography of the place.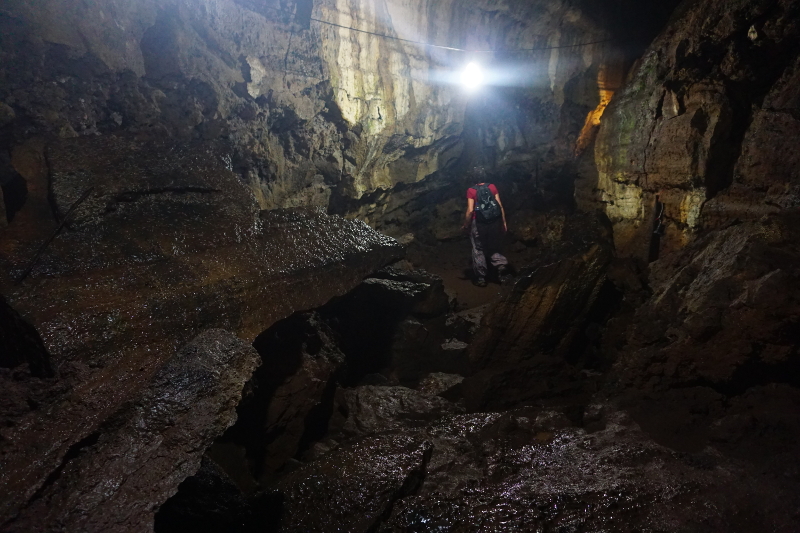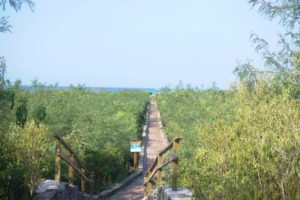 While in Santa Cruz, we indulged in free activities like Tortuga Bay and Las Grietas. The 45 mins walk to Tortuga Bay was tough as we had to walk in the hot sun but there were amazing flora and fauna on display. Giant cactus trees are native to Santa Cruz island. They look like trees with a bark and have mickey mouse ears. In addition, we saw Darwin's finches which are different on each island. They are one of the main reasons that Charles Darwin was able to create his theory of evolution. Finches on each island have a common parent but have evolved according to the environment on each island.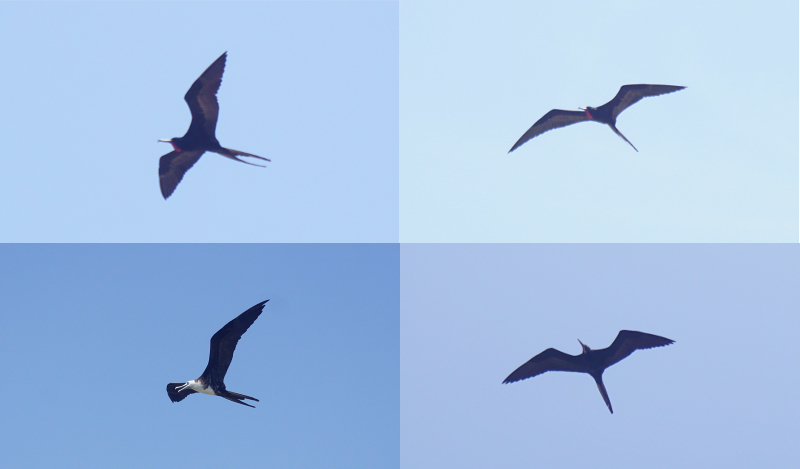 Tortuga Bay was a small and bay great for swimming. The beach was beautiful as well but not good for swimming due to the currents.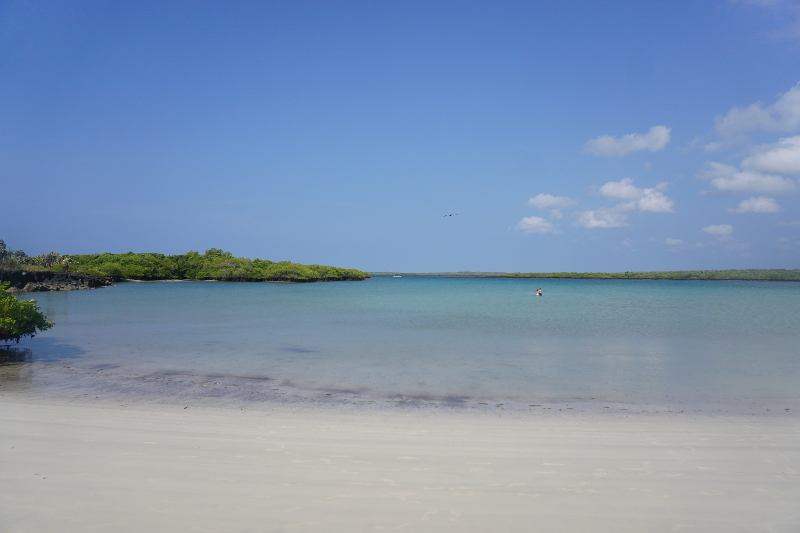 Las Grietas was about 20 mins walk away from the pier. To get to Grietas, we took a water taxi across the channel for 80 cents and then walked. Upon reaching the location we were completely stunned! A beautiful water channel between two cliffs was definitely the best place to swim! We even indulged in a few jumps, check out the video.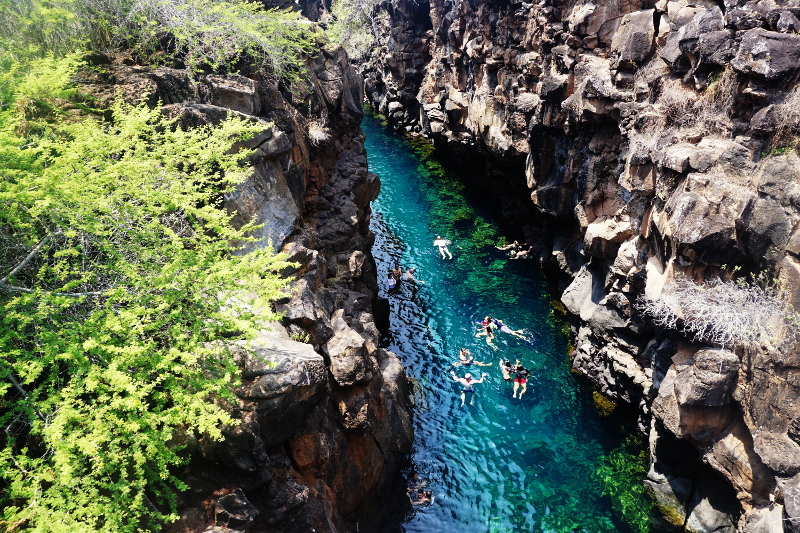 Santa Fe Island
Swimming with the Sea Lions
It was one of Shruti's dreams to swim with the Sea Lions and I must admit I was curious about it too. We took a day trip to Santa Fe island famous for sea lions and a unique land iguana. Our guide, a small old man, met us and another 7 people at the pier. We took a water taxi to the boat where we realised how small the boat was. This was going to be a fun ride!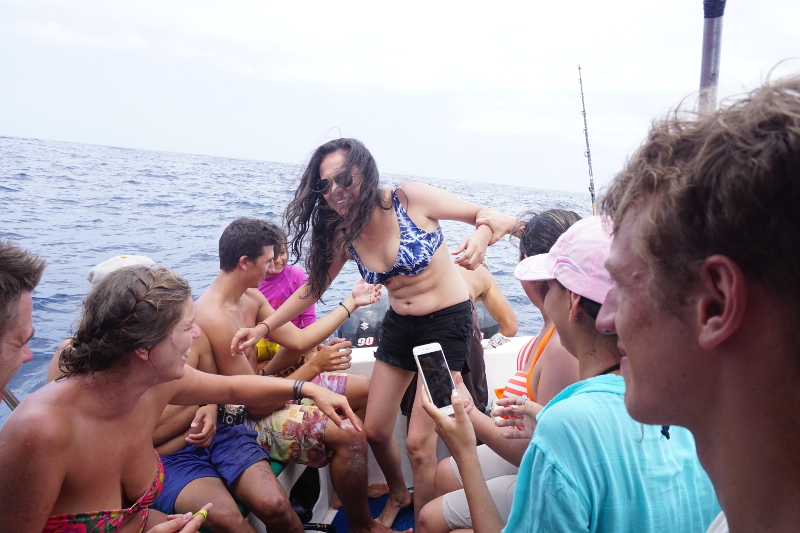 As we neared Santa Fe, we found out that we wouldn't be going on the land – just the water. That worked for Shruti who hates iguanas and lizards. Our first stop was a bay for snorkeling. We saw lots of fish and even an eagle ray. Since there wasn't a lot to see in this place, the guide got us back in the boat for the next place. On the way, we saw blue footed boobies and other birds sitting on the cliffs.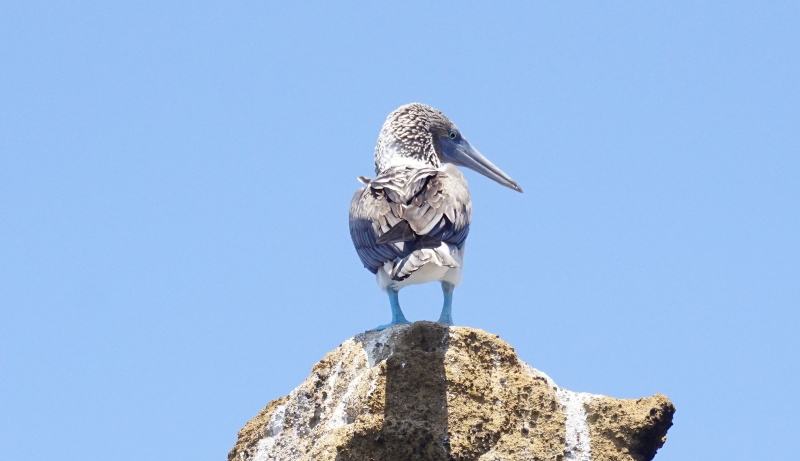 Our next snorkel area had many large boats already parked. As soon as we got in the water, we realized why this was the case. We were in a bay full of sea lions – all age groups combined! We were snorkeling near the grandfather sea lion who was huge and so old that he didn't bother moving.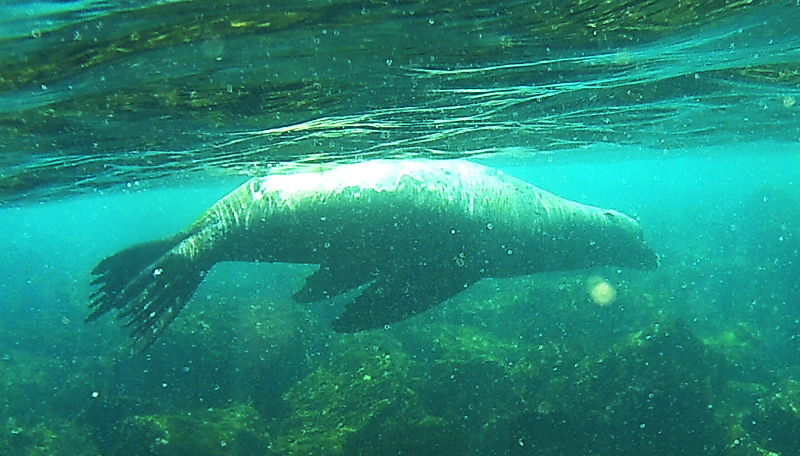 We were watching him for a while till the "kids" showed up and started swimming around us. They went around us and came very close sometimes. We swam with them for a good 30-40 minutes. At one point, I got very close to one only realising that there was a mum and baby. I had to be very careful in case the mum's maternal instincts kicked in and she attacked me!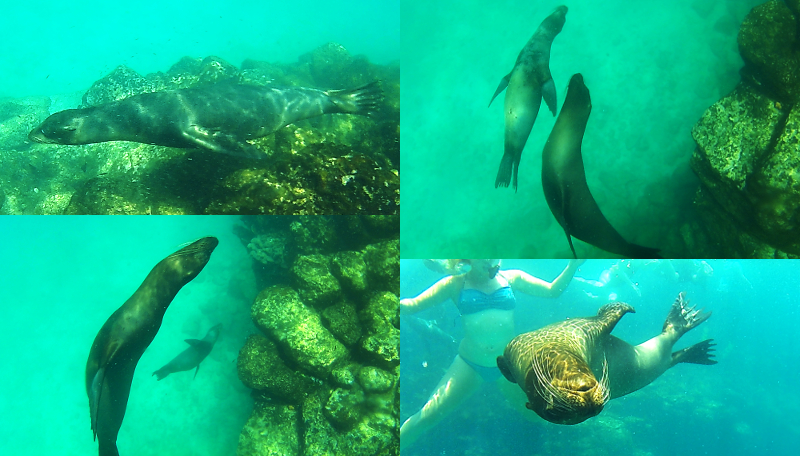 It had to be the most fun we have had in travel except maybe Alaska. Sometimes the cheeky sea lions would bite the fins or swim upside down around us. Another time, I had a sea lion come really close to my face and pretend to bite me like a dog might. While they were hungry and have a liking for fish, they never really threatened us. It was an amazing experience which words cannot describe.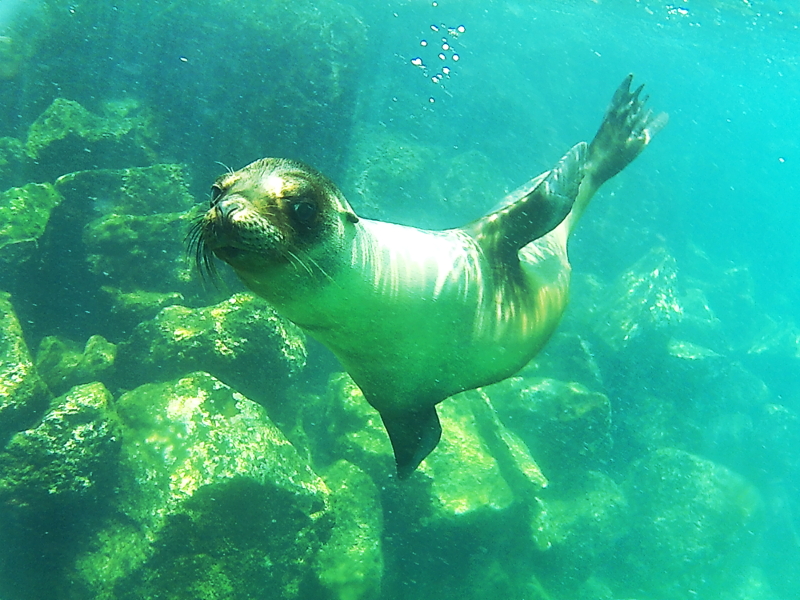 On the return journey, the captain and the guide started fishing by putting a line out and simply steering the boat. They caught a tuna and a wahu. Both were huge fish and they hardly had to try at all. It was the first time Shruti and I saw someone fishing and killing the fish. They were also lucky as a big sea lion was after the tuna and nearly grabbed it.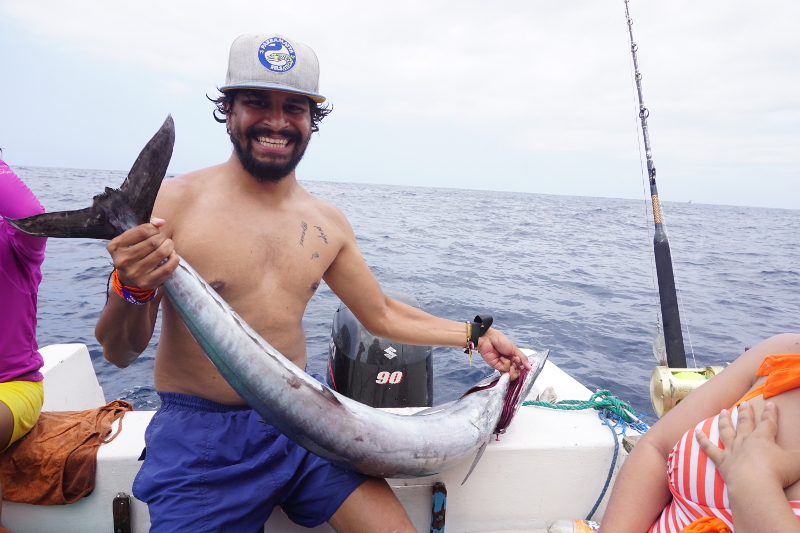 To finish off the day, we snorkeled at a beach on the opposite side of Santa Cruz island. While the visibility was low, we saw a huge sea turtle. Not bad for a day trip which cost only USD 90 per person.
Bartoleme Island
A million year old island with penguins and baby animals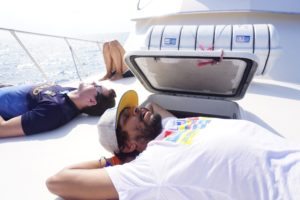 Bartoleme was the other day trip we took from Santa Cruz. In this case, the boat was quite big and luxurious. The distance between most islands in Galapagos is 1-2 hours. Bartolome was around 2 hours and we got to see Daphne Volcano on the way. I also had great sleep sleeping in front of the boat while Shruti took pictures.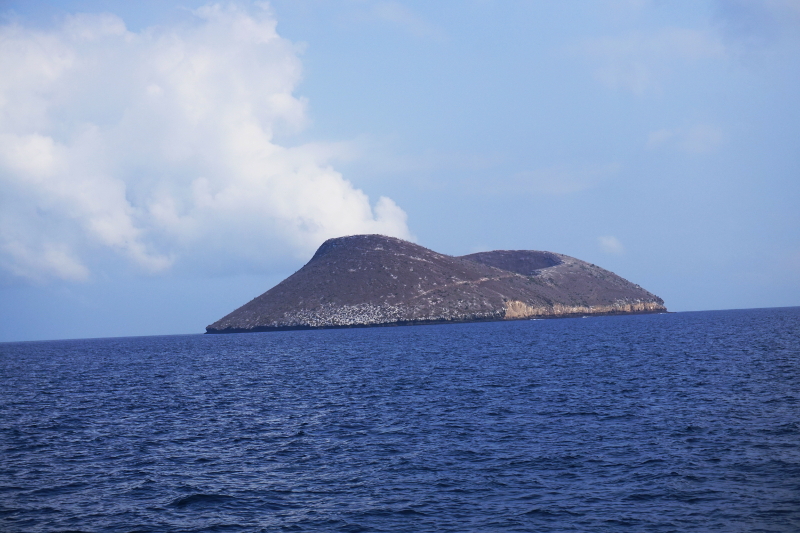 Once we reached Bartolome, we realised we were amongst stunning scenery. The volcanic island was dry and desolate but the pohoehoe lava reflected some amazing colors. As we landed on the island, our guide told us we'd we walking up a 104 metre summit in the harsh sun. At every rest point, our guide explained us about the island with signs, animation and dances. He mostly used Spanish so I and some others had to translate for the rest.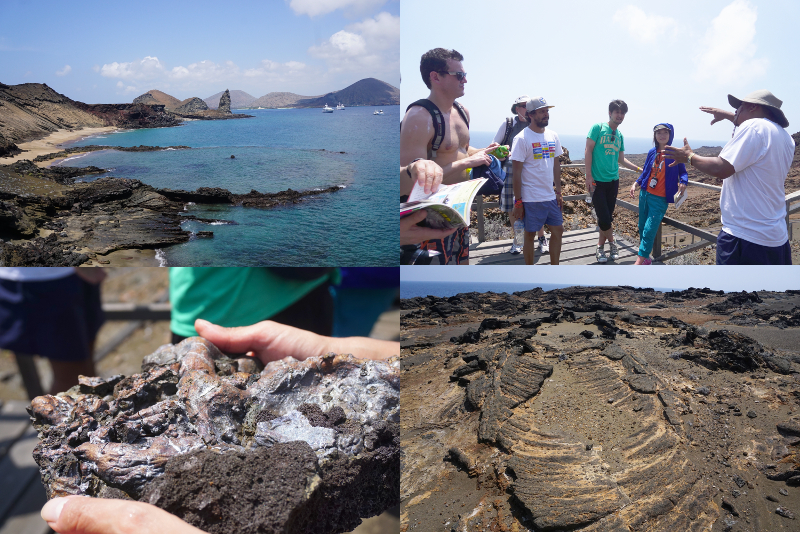 The top of the summit though was incredible because the view was picture perfect. The view from the top is actually used as a postcard picture.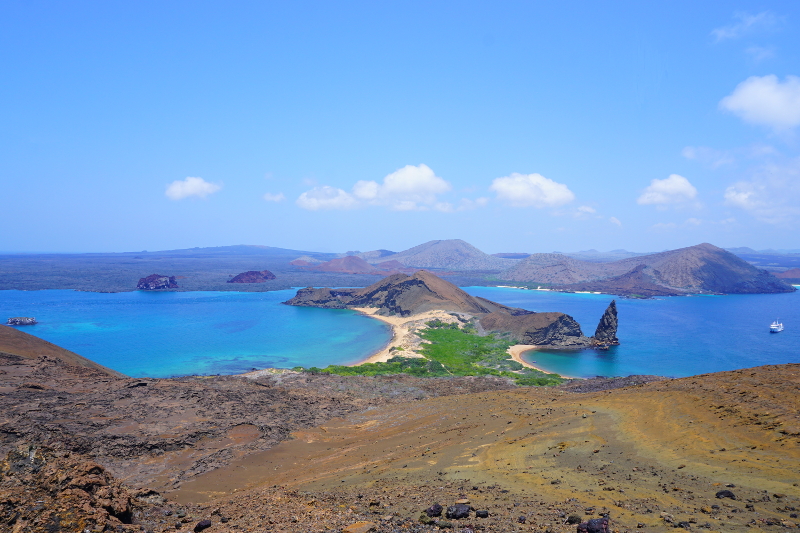 The next thing was to snorkel around the most famous site. We were to swim around the torre which is a large rock. The history of this rock is as amazing as itself. Before World War 2, there were two of these rocks. However, American soldiers practised target shots and ended up blowing one of them Anyway, the wildlife was kind of amazing around this rock. We saw lots of big fish, sea lions sleeping on the rock and swimming in the water around us, shark relaxing on sea bed and a ray close by too. For a flash moment, I even saw a penguin swimming around. We were primarily here for the penguins. Alas, that was the last we saw of them or so we thought!
After the snorkeling, our guide was keen on seeing the penguins. He informed us that they sub bathe in the middle of the day and we may be lucky. We took the motor canoe close to the rocks and sure enough, two penguins were sunbathing like they were hot blonde girls with bikinis on a beach. For Shruti, this was a defining moment as she had always wanted to see penguins in the wild.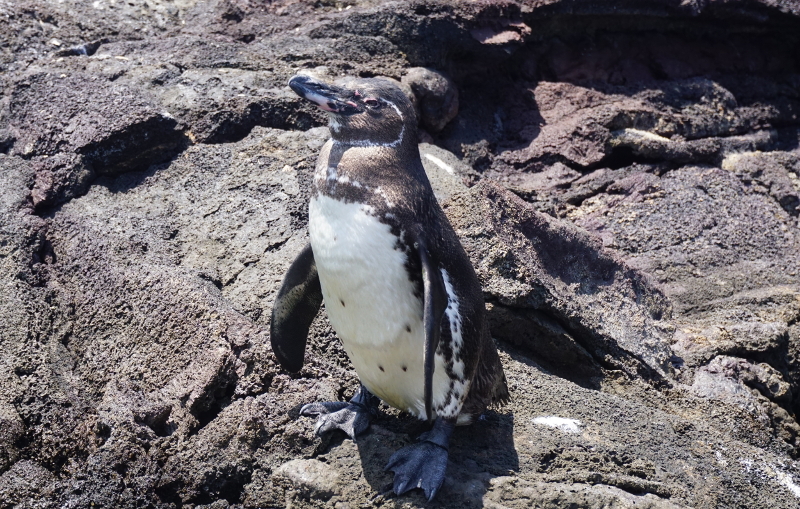 We though we were done with the animals but no, Galapagos sprang a surprise again. On the beach at Bartoleme, while waiting for lunch to be prepared, we saw a baby ray and many different baby sharks. It was a great end to a great day. After this, we went back to Santa Cruz with a smile! This trip costed us USD 145 per person.
Isabela Island
Island has it all
Unlike other islands, we didn't do a day trip to Isabela. Everyone we met on Galapagos told us we had to go live in Isabela and so we did. Our day started early and we took the ferry at 7am to Isabela. The cost for ferries between habituated islands is USD 30 and we bought our tickets a few days before. The ferry ride was generally boring with some beautiful parts as we saw small islands appear and disappear out of nowhere. An amazing thing in many islands of Galapagos is that the piers are not dredged and therefore boats have to stop at some distance while a water taxi takes you to the pier. Isabela was unique in the area was so shallow and so full of life that we saw sea turtles right next to the pier. We paid USD 5 each to enter Isabela.
Our first stop in Isabela was the Concha Y Perla lagoon. It's right next to the pier and we hired the snorkeling equipment from the only shop there. The lagoon was beautiful with a wooden walkway over the surrounding mangroves.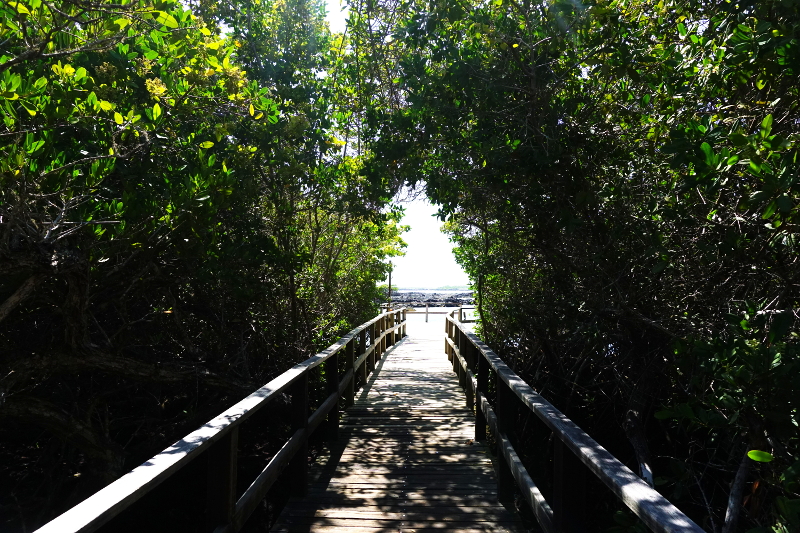 As usual, a sea lion was asleep in the sun on the entry to the lagoon. The snorkel around the lake was uneventful until we found a cave going outside the lagoon. We followed it and Shruti spotted an eel.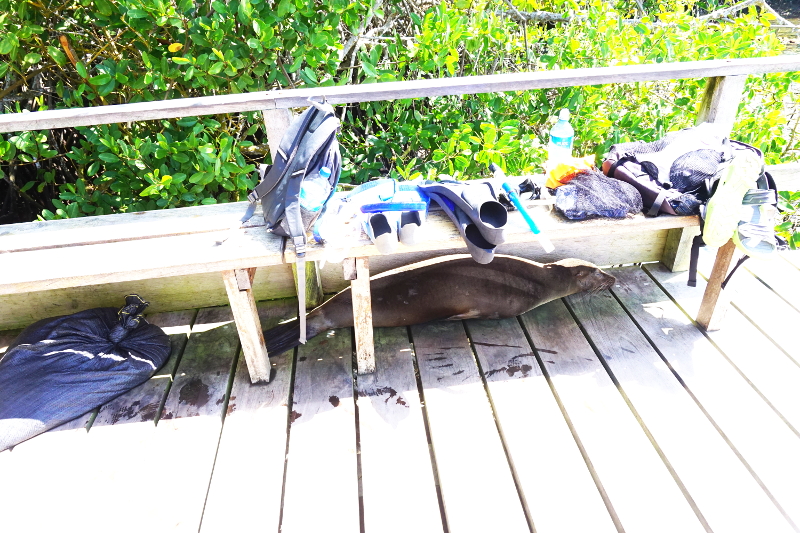 Later on, we spotted a sea turtle having its meal on the algae. Then a sea lion decided to swim around us and climb up on a rock.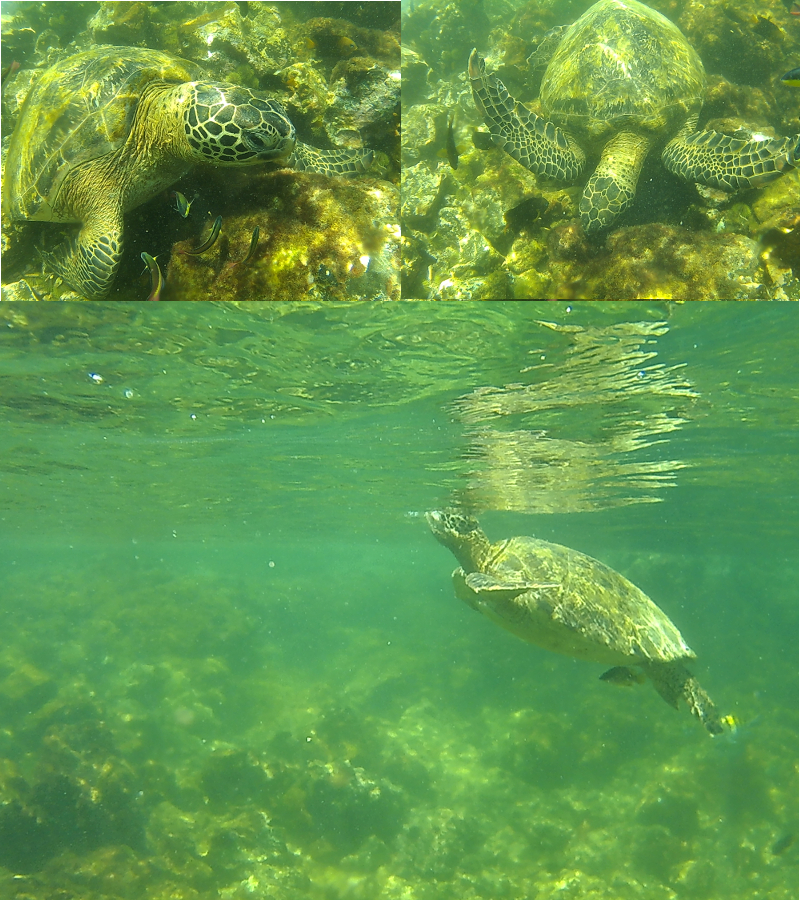 Our next stop were the wetlands and the giant tortoise centre in Isabela. The walk through the wetlands was again tough in the sun but we loved seeing the flamingos standing and sleeping in the water. We had seen flamingos even in Gujarat, India but from afar. In Galapagos, we got to appreciate their beauty and god damn they were so pink and beautiful.

Moreover, while we had seen giant tortoises in Santa Cruz, the specialty on Isabela were the baby giant tortoises. They were sooooooo cute (Yes I lost my manhood) while they enjoyed the water and played with each other. A sight to behold!

At times, Galapagos seems like a zoo where we are the animals and the birds and mammals are there to check us out. As we swam in the beautiful beaches of Isabela that day, we saw so many birds flying over us and other birds diving for fish meters from us. They had no fear whatsoever! The town of Puerto Villamil on Isabela island is a little more than a village. We had a few meals here and they were surprisingly cheap. The accomodation was also relatively cheap at USD 20 per person.
The Tunneles Tour at Isabela
We booked a Tuneles tour from an agency in town for USD 85 per person. Tuneles is Spanish for "The Tunnels". To be really honest, we had no idea what we would see but sharks and penguins were almost guaranteed. Our trip started in a funny manner. We had talked to another agency and they were USD 5 more expensive. We decided to save that money and guess what, we got driven to the same agency for the tour. Apparently, the agency we paid just cut a deal with the other guys. It would have been awkward but the lady we talked to wasn't there. Phew!
The tour started with us getting all the equipment and meeting our guide. Gabriel was a seasoned guide and was incredibly knowledgeable. Our boat took us from the town to the far west of the island. Along the way, we stopped at a rock in the middle of the ocean. The main point of this stop was to alert us of the "punto caliente", the lava opening under Galapagos. The islands in the archipelago were created east to west. The islands on the west are the youngest and Isabela has 5 active volcanoes and the island of Floreana which is basically a volcano. Anyway, the rock in the middle of the ocean was the closest point to earth's magma point only 3km below from the surface. It didn't bother the sea lions and nasca boobies who were chilling on top!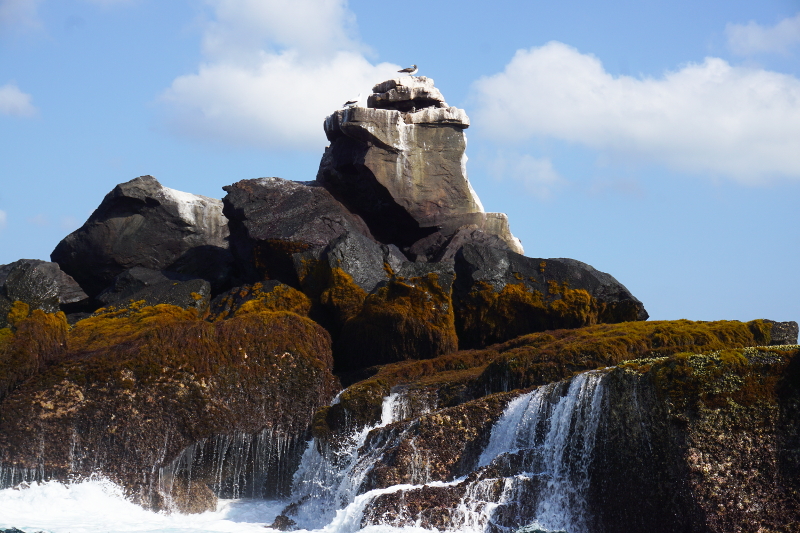 As we reached closer to the tuneles, Gabriel told us to watch the water on the sides and sit tight. Apparently, tuneles are a low volcanic rock area and the only way to get in or out was to surf the wave, on a boat. What the f##$! Well, it was too late to back out now. Gabriel pointed out how the captain slowed the engine to a stop before the break and then waits to surf on a big wave across. Well, the captain upped the music, ride the boat hard over and on the left we could see the wave breaking. We were surfing on a boat!!
As we made it across, we were even more impressed with the captain. The tuneles were old lava fields which had disintegrated over time and the sea had made its way in. It was incredibly hard to manouvre a boat in such shallow water. The captain parked the boat and we went on land to discover the lava, cactus species of Isabela and finally, seeing a "sea turtle highway". We named the water in this area as such due to huge and beautiful turtles which would swim past every few minutes.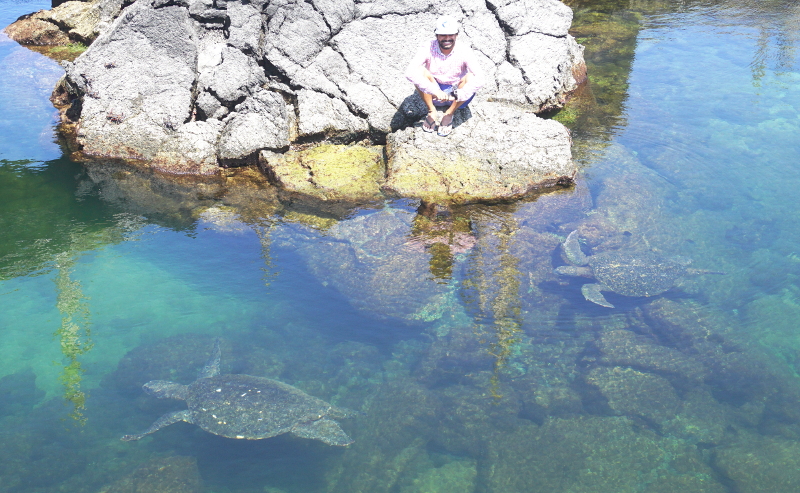 There were several "bridges" of lava which were unbelievable. With time, these beautiful work of nature will fall into the water.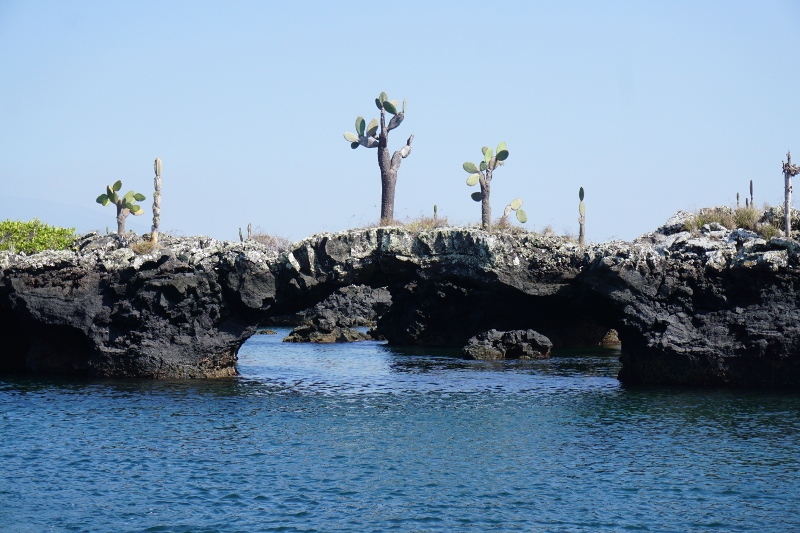 Our snorkeling spot was away from this area and we had to ride the wave out. But before that we snorkeled for 30 minutes in shallow waters. We saw schools of fish and penguins sunbathing on a rock. It was an incredible sight to see even though we had seen them before. Shruti was excited yet again!

Our next spot was a little away and on the way there, the captain of boat spotted golden rays close to the surface. I thought what the hell is a golden ray? But too late for any thinking as a group of us got our gear on and jumped into the water. We swam as fast as possible and behold there were a huge number of golden rays swimming in a shape like attacking jets from world war 2. There were so many that we couldn't count. Shruti lost count at 35. To top it off, we saw baby golden rays as well. To make it clear, golden rays are similar to eagle rays but have a different color and no patterns. They are rare to spot too!
We weren't done yet. We snorkeled for 40 minutes in the next spot, saw the biggest sea turles, blue footed boobies up close, sharks sleeping in caves and even a sea horse. It's impossible to relay the events step by step as it was a dream snorkel. Best snorkel of my life for sure!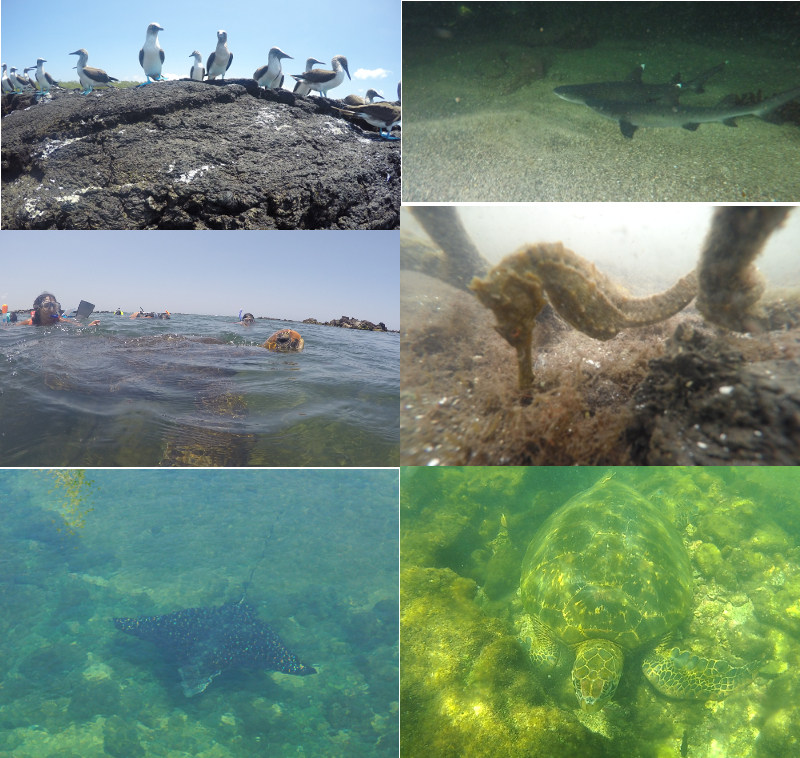 Final word
What to say about Galapagos Islands? Its expensive, it's a paradise but it's different from any other islands. The geology of the place has made it the best place to see a huge number of sea animals in one place. After 5 days in Galapagos Islands, it seems like seeing sea turtles, sharks, iguanas, penguins and sea lions together is just a regular thing. However, it could take you a few dives just to see one of those animals in even the best places. In addition, it's not the animals alone that are the most beautiful in Galápagos. Islands like Bartolome, Isabela, Floreana and even Santa Cruz when seen from the airport are stunning on their own. Therefore, while the tickets, entry and activities are expensive, Ecuador uses that money to preserve the islands so our future generations may enjoy it as well. A must do place in South America!
Budget Breakdown
We were there from Sunday to Sunday, i.e., all activities done in 6 days. Here is our breakdown for Galapagos Islands.
Accommodation – USD 225 (7 nights)
Activities – USD 941 (includes 1 dive day, 2 full day tours and 2 half day tours)
Food – USD 133.50 (we mostly had breakfast & dinner at hostel while lunch was included with full day tours)
Transport (within & between islands) – USD 221.60
Immigration & official entry fee – USD 250
Total – USD 1771.10 for two