We wrapped up with New York in 14 days, read and see all about our New York Experience here. Our next destination was a bit adventurous. Each time we told people, the response was, "wow, good luck" or "gosh, it will be cold". Our stop was Fairbanks, Alaska! Yes, that part of the world which you see on the globe and be like, "that's far man!" or "I wonder what's up there". We went there, and it was amazing.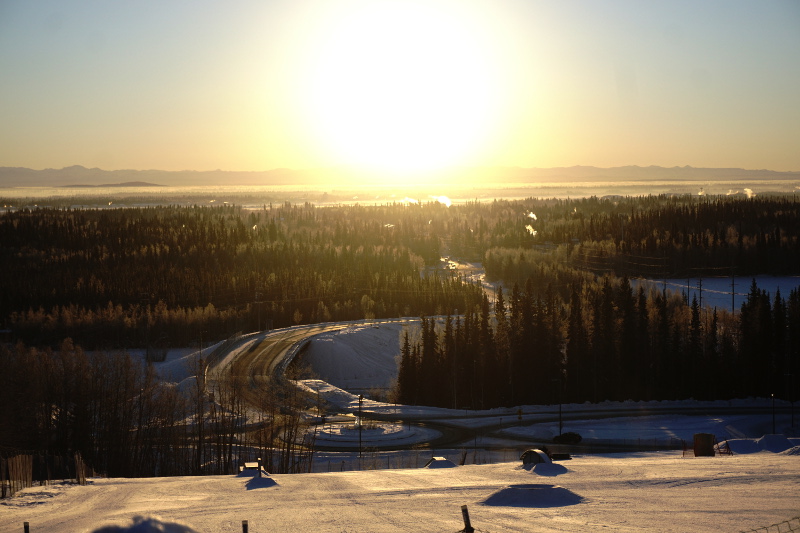 Before moving forward, another post about all our Alaskan Adventure coming soon with an awesome video. Watch this space.
Introduction to Northern Lights
Aurora Borealis or the Northern Lights are a natural phenomenon that appears closer to Earth's North Pole. It is visible when the sky is dark, thus making new moon winter nights the best time for viewing. It is highly dependent on solar winds, weather of the location and the lighting and air pollution in the region. As the solar winds cannot be predicted, it is tough to say when and where will the northern lights be seen. Sometimes going up too north can be good for you, and at times, it can be bad. General areas good for viewing are Alaska, Northern Canada, Greenland, Iceland, Northern Norway & Sweden and Russia. If you need scientific answers, I recommend reading about it Google / YouTube it.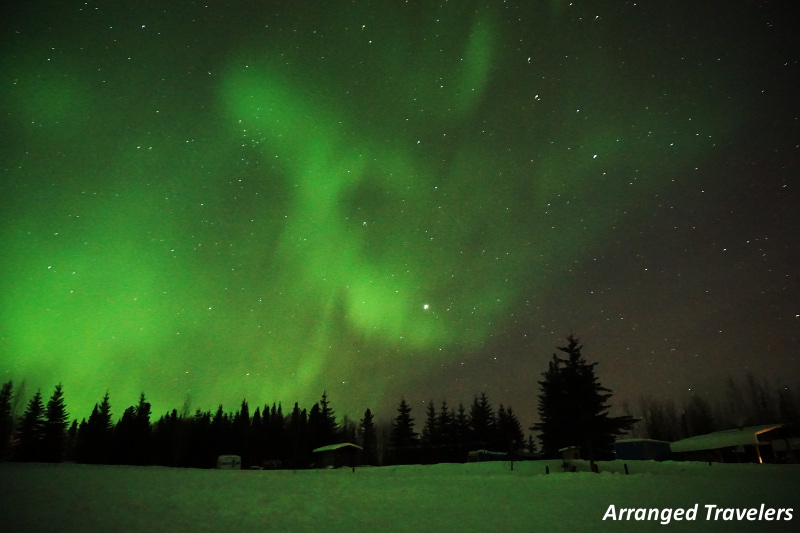 But one thing is for sure – viewing Northern Lights is high on most people's bucket list. Thanks to social media, most people are familiar with this phenomenon and want to watch it for themselves. We understood all the dependencies very early on and so gave ourselves enough time in Fairbanks, Alaska. We spent 5 nights in Fairbanks because one night is never enough. Think of it as going on a safari, you don't always see the wild cats or beasts in the 3-4 hours you are out in the jungle.
Here we outline our experience and also provide some tips.
Research & Preparation
Northern Lights has been on our minds for quite sometime. In fact, Shruti and I might have even discussed it on our first date. I can't be too sure about it though. Anyhoo, our initial plan was to travel to Scandinavia and see the lights in Sweden or Norway. Abisko in Sweden is meant to be one of the best places to see the lights, but we didn't end up going there.
As our trip unfolded and plans changed, we decided to try our luck in Alaska. Northern Lights can be viewed anywhere in the Arctic Circle Region and nearby latitude. So after doing some initial research, Fairbanks was the ideal town to head to.
We mentioned earlier about Shruti's uncle spotting use some flight tickets. We looked up the airline and there was a YES moment. Delta flies to Fairbanks! Double Win!
First Sight
Our first sight of the Aurora wasn't actually expected at all. While sleeping on the flight to Fairbanks, we were woken up by the Captain at around 12am. He spoke through the mic, "Hi ladies and gentleman. Sorry to wake you up but for those interested in the Aurora Borealis, it is visible on the right side of the plane". We were wide awake just then, luckily on the right side of the plane and there it was! The colors were not bright as we were above ground level, but we could see the glow against the vast expanse of darkness.
Trip to Chandalar Ranch
Understandably for a place where Northern Lights are visible, there are a few tour companies and lodges for the viewing. Shruti had been following the weather conditions in Fairbanks and the days we were supposed to be there, were forecasted as cloudy. I went through various TripAdvisor reviews and decided to head for our viewing with Alaska Northern Lights Tours. The main reasons why we picked it was because of Ben Boyd, the owner and tour guide, a member of Indian tribe and amazing reviews.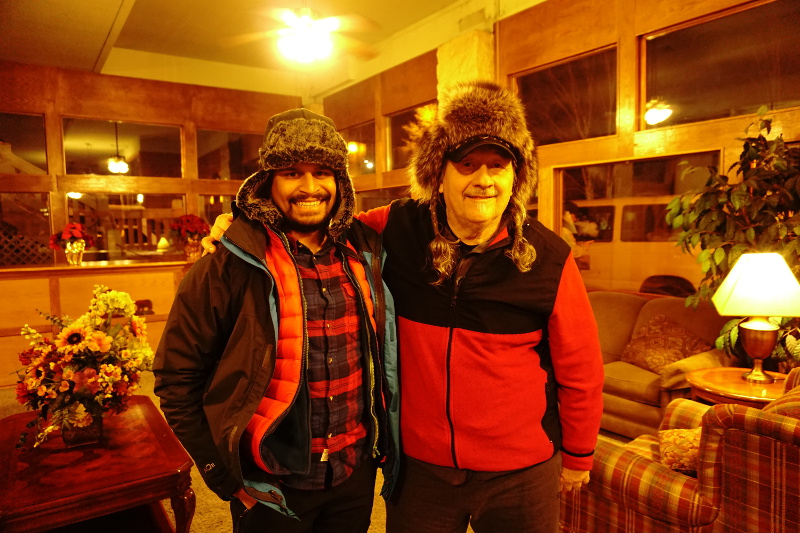 At 11pm sharp, Ben turned up at our hotel with a van full of people. Money changed hands and a few pleasantries were exchanged with people in the car while we got on the road. We must have driven for about 20 minutes after picking up the last passengers when Ben spotted the Aurora. We stopped the car on the side of the road to take a few pics before we got to the ranch.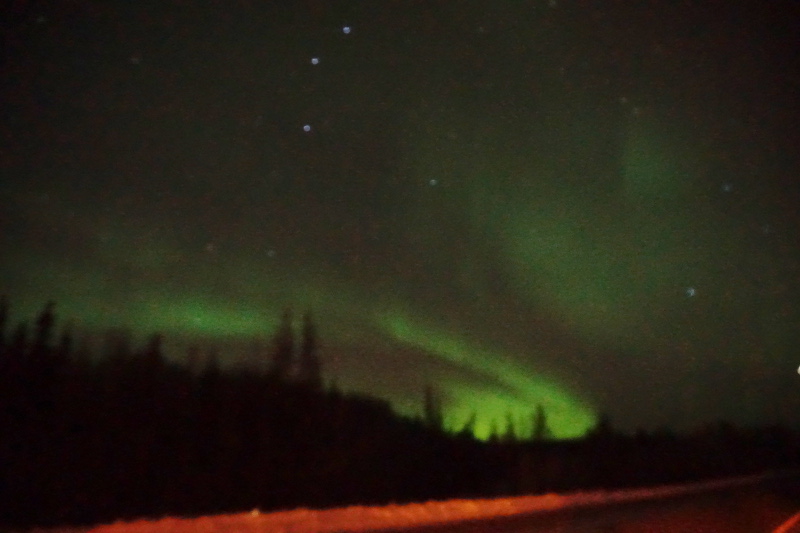 At this stage no one was sure if we would see the Aurora again, not even Ben. It is so unpredictable that no tour guide would take the risk of lying to his/her customers. It is a natural phenomenon after all.
Anyhow, he showed us around the lodge, introduced us to the owners and took us to the photography area. However, we must have picked a good night because we never stopped seeing the Aurora during the night.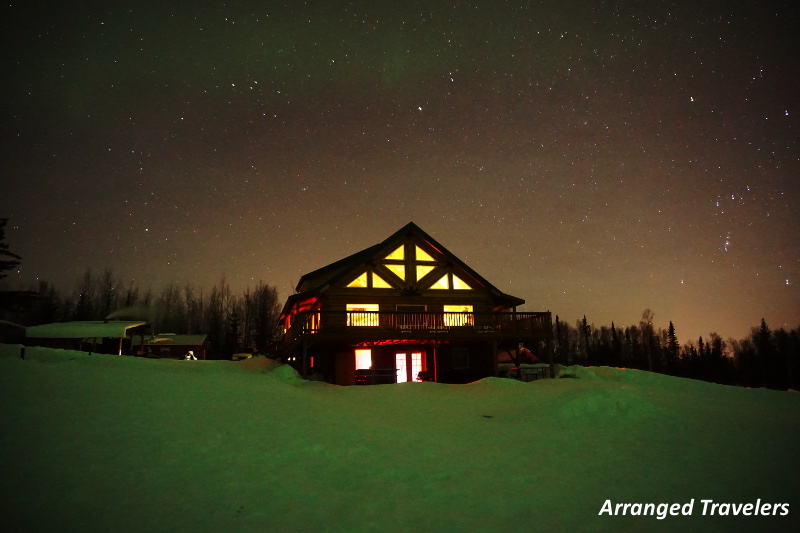 It showed up in all directions, giving us various ribbon forms, green glow in the sky and the reflection of the colour make the snow look green. It was sublime, unbelievable and larger than life. It almost seemed like the universe was out there to mesmerize you. The funny thing was that the display wasn't even the best according to locals. However, for us it was one of the greatest things we had ever seen.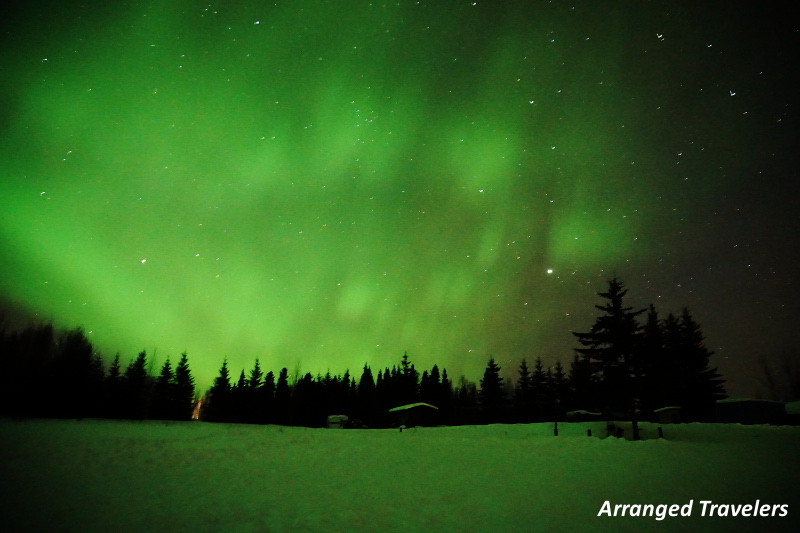 We photographed it faint, medium and strong moving across the sky and checked off the item from our bucket list gladly! We were out so long that both of us were a bit under the weather the next day. But hey, it was worth it.
Winchester Dome
In Alaska, dome means a mountain. Our Arctic Circle Trip involved seeing the Aurora on the return journey. However, apart from seeing it for 15 minutes after we left the Arctic Circle, we had cloudy skies the whole way. And because of the fierce wind on Finger Mountain, we couldn't stop the car and get off. But our guide, Randy, wasn't one to give up.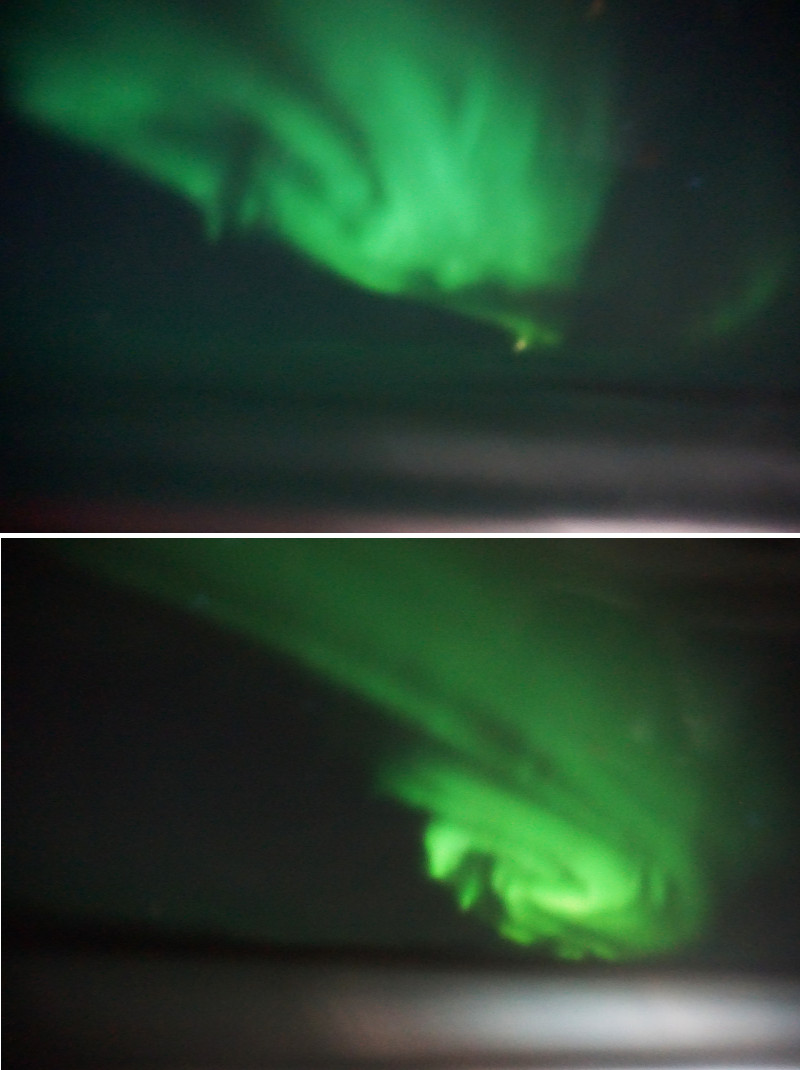 Randy kept a lookout and we eventually saw it in the sky 40 miles out from Fairbanks. We stopped at Winchester Dome and were able to photograph it yet again. In fact, we were even able to see the ribbon effect right above us. It was surreal!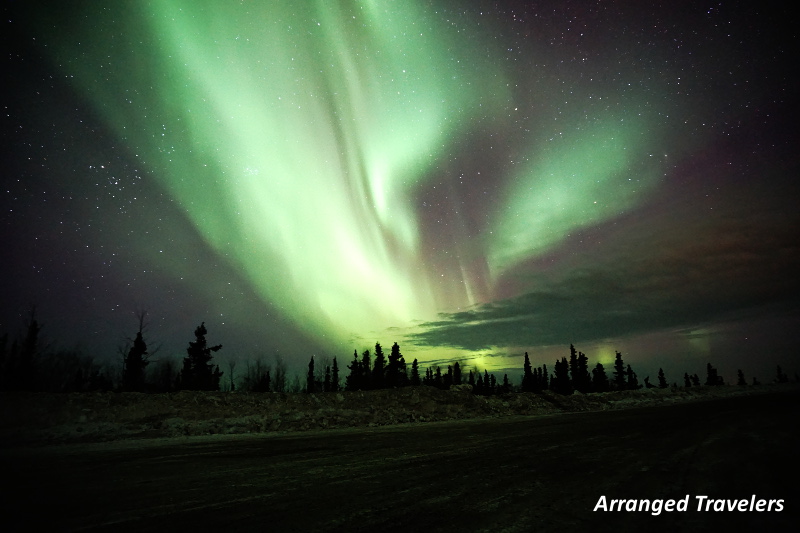 Tips for Aurora Viewing
Aurora happens at least 80 kms (50 miles) over land and there's a few things which make it hard to see.
Solar flares (or lack of) – As mentioned earlier Aurora is entirely dependent on solar activity. Therefore, a weak solar flare and you may not see much. There are plenty of apps and websites that forecast aurora viewing. Do remember to check them out. PS, do not be disheartened by 2 or 3 forecast rating because that means, there is better chance to view it up north. If the forecast is more, the aurora gets pushed little south so it may cause issues if you are too up north.
Clouds – The biggest hurdle for the aurora. If its non-moving clouds, the chances of seeing anything is zero. Make sure you discuss clouds with your tour guide because most times, the viewing lodges are out from the city and the weather forecast can be completely different there.
City lights – City lights also make it harder to see the aurora. The further out you are from the city, the higher the chances of seeing the aurora.
Cold and remoteness – While these don't affect the Aurora per se, they affect your ability to go out and see it. Being in the north in the middle of winter and being away from a city means you must know how to drive in the icy conditions and have all the winter gear. Tours cost a bit but they usually save you from danger.
Luck – Even with all the conditions mentioned above going right for you, its a matter of luck. A 5 on the aurora scale has been known to push the Aurora further meaning you may see nothing in Fairbanks.
Other activities – As I wrote above, seeing the Northern Lights is plain luck for the most past. Therefore, always research other activities in the area, in case the aurora does not show itself.
Tips for Photography
Two most important things for Aurora Photography are:
Low shutter speed – make sure your camera allows you to control the shutter speed, aperture and the ISO. Without having control over these settings, capturing Aurora can be close to impossible.
Tripod – to ensure you don't end up with a shaky picture, you need a good tripod. It doesn't have to be a giant tripod, but good enough to ensure your camera is still while you capture your photo. Our tripod goes up to 39″ in height and that was sufficient for our photos.
Although Shruti and I were discussing buying a night lens, we ended up not doing so. We used 18-55mm F3.5-5.6 lens with our Sony a6000 camera. The settings that worked wonders for us were:
OPTION 1 
Shutter speed – 10 seconds (low)
ISO – 5000 (high)
Aperture – f3.5 (low)
OPTION 2
Shutter speed – 15 seconds (low)
ISO – 4000 (high)
Aperture – f3.5 (low)
Do try various settings because you will not know what works the best till you take hundreds of photos.
Also, try and focus on a closer object. That makes the photo sharper (see all above images). This may be difficult considering you are out in open, but a tree could work as well. The below image could have been one of our best, but unfortunately it turned out blur.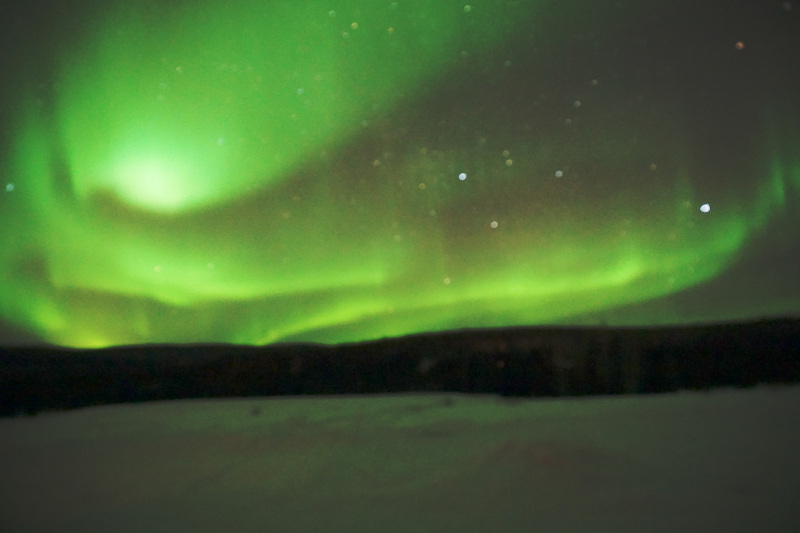 Good luck crossing Northern Lights off your bucket list!