The main reason for us to come to Peru was to see and experience the Inca kindgom, mainly by visiting Machu Picchu and Cusco, the kingdom's capital city. We had heard plenty about Cusco from fellow travelers. Some of the words that were constantly repeated were – touristy, expensive, beautiful. We were ready to check it out ourselves!
Getting In
Unfortunately, Oltrusa and Civa, luxurious and affordable tourist bus companies, were booked out for the Arequipa to Cusco trip. We shopped around a bit and finally decided to book with Transzuela. Although Transzuela didn't provide dinner, it provided some snacks, a comfortable 150 degree bed, a toilet for use and all for almost half the price, 50 soles per person, USD 15.6. That was fine with us. We had a good meal at the terminal and were ready to sleep on the bus. 7am in the morning, we reached Cusco for another amazing journey.
The taxi driver started speaking to us and when he learnt that we did not have an accommodation booked, he suggested a place for 40 Soles, USD 12.5. We decided to stay there but soon realised it was a bad decision. We planned to move to another hostel the next day. Our first half of the day was just hostel shopping and it didn't take us long to realise that Cusco was expensive! We managed to find Bright Hostel off Calle Palacio very close to Plaza de Armas for 60 Soles, USD 18.75. The room was new and it seemed a bargain!
Cusco at First Glance
We were still in the taxi when we started seeing Inca influence all around. A monument for an Inca warrior, Tupac Yupanqui, a Golden Sun waterfall and foundations of Inca buildings were everywhere. We knew we were in for a treat.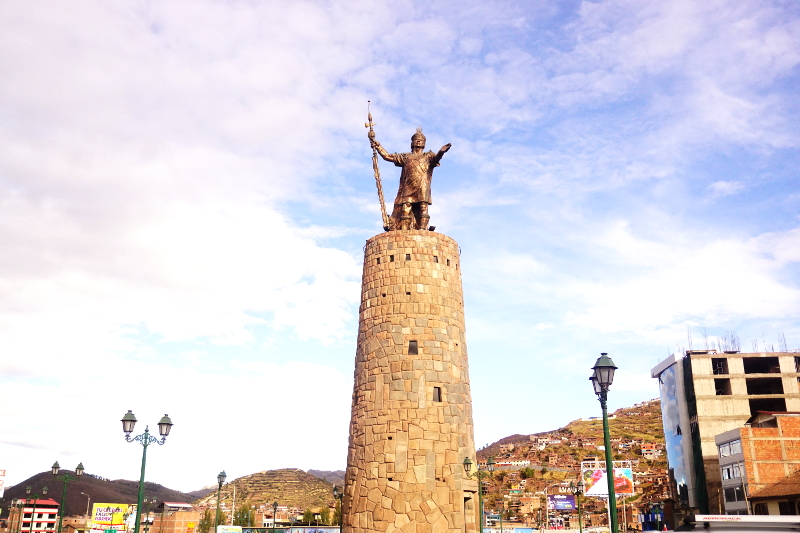 The historic centre of Cusco is incredibly pretty and well kept. The 360 degree view from the Plaza de Armas is incredible. One of the best plazas in South America!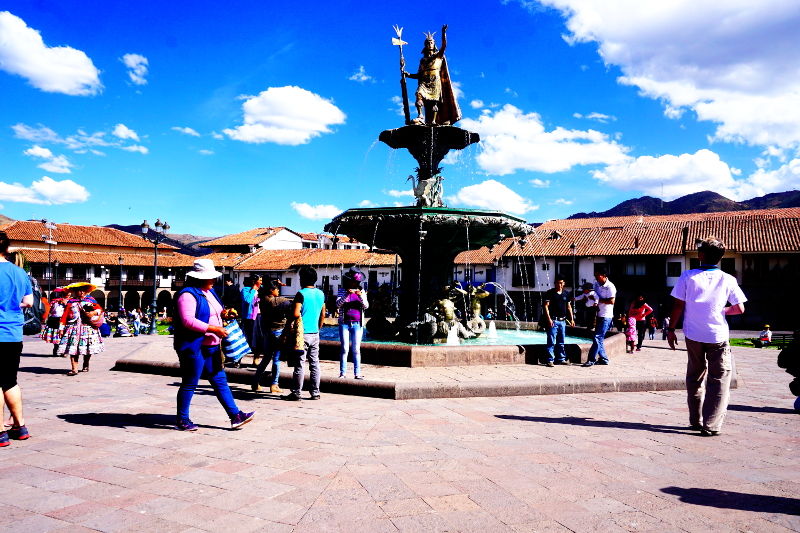 Touristiest City
As travelers, we know we contribue to country's economy through tourism and are comfortable with it. In fact at times we do not mind going out of our way to help a local make some money. During this trip we visited plenty of touristy places like Agra and Jaipur in India, Charging Bull in New York but Cusco was another level. There were incredible amounts of tourist traps here. Native ladies would bring a fully grown llama and a baby llama for photos every morning. It was cute but tough for the llamas and llama kids who were dragged around and passed from lap to lap. We did indulge in photos once!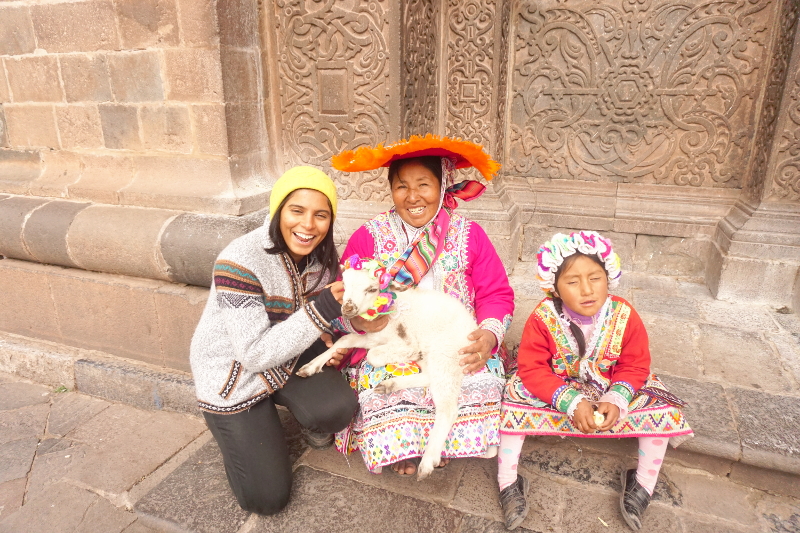 In the Central Square, there are plenty of shoe shiners roaming around wanting to clean shoes for 1 Sole. But once you agree to get the shoe shined, the 'bill' goes up to 10 soles because they applied "colour" or special chemincal on the shoe. We fell for this one as our shoes were very dirty after Colca Canyon. It was an intense stand off at the end where I threatened to call the police and they got agitated. Eventually, we settled for 5 soles for 2 people and walked away.
There are plenty of people selling bus tours every 10 feet, touristy ayahuasca ceremonies and shops selling alpaca clothing for incredible markups. The pull of Machu Pichu (sometimes the only thing people want to visit in Peru) has really transformed the economy of Cusco.
Cusco Bus Tour
There are so many bus tours in Cusco that there is a bus tour traffic in the city every morning. We took two bus tours in Cusco, one around the city to Inca sites and another to the Sacred Valley. The first tour of Cusco was unbelievably cheap at 20 soles per person. Read about the Sacred Valley tour in the next post.
The tour started with us meeting our tour group at the Plaza de Armas. We walked with the group to the nearby Qoricancha Church, passing through an ancient Inca pathway. Here things became a bollywood comedy, it was funny and confusing but we don't know what happened. Our guide asked if we wanted a tour in English and we replied in the affirmative. The next thing we knew, we were hanging with another group of completely different people.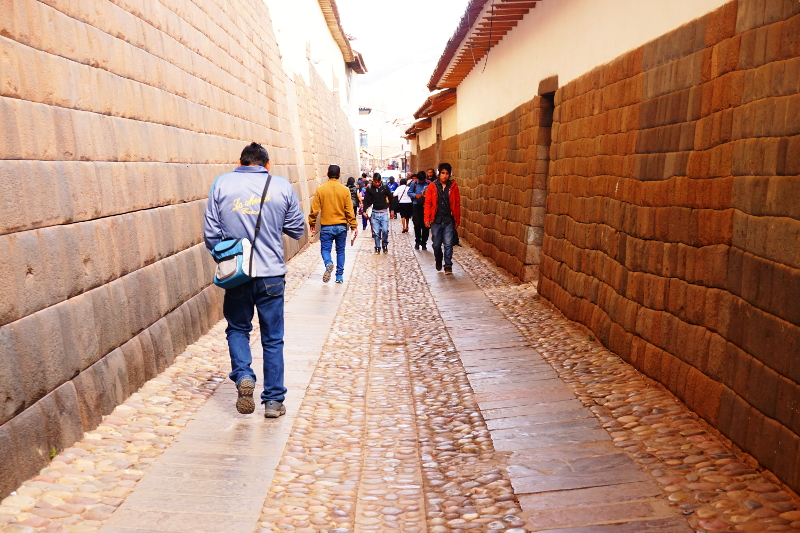 The guide gave us a tour of Qorikancha in English as well as in Spanish. The Incas were excellent builders as well as astronomers and this was evident in the remains of the ruins at Qorikancha. The Spanish built a church over it but the Incan building is still visible. The rocks that the Incas cut were still the most perfect cut stones we have seen.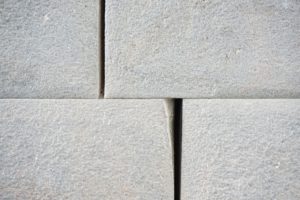 To emphasize their perfection, it is important to highlight that they had no chainsaws and other modern tools yet look much better than the Spanish stones. Moreover, Incas could view stars out of a particular door and predict whether the El Niño will occur. Amazing!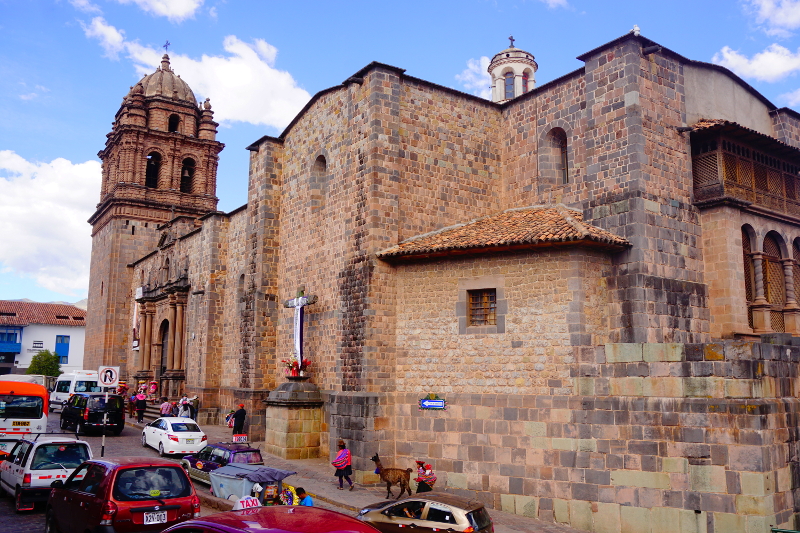 Our next stop took us on a bus journey to Tembo Machay. It was the highest area above Cusco city. The ruins itself were surrounded by the water streams from the mountains. The Incas thought this was holy and many Incans were buried in the caves here.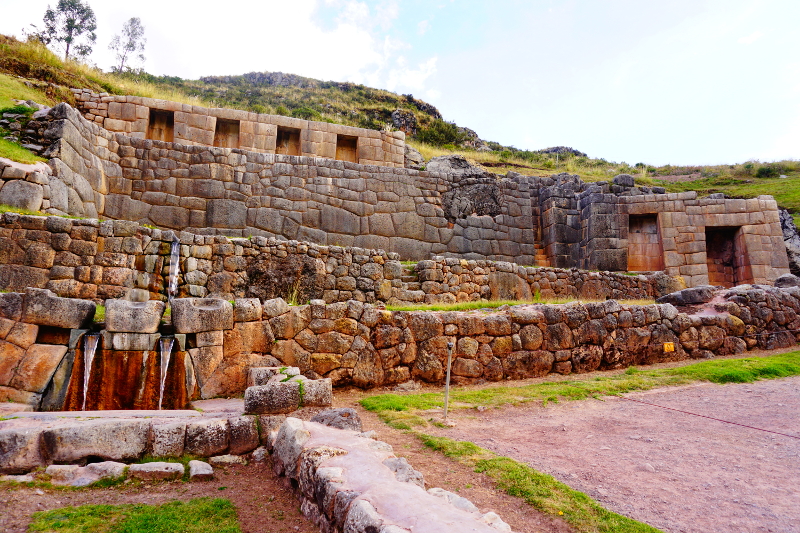 Our next stop was the Puca Pucara ruins. The name means the Red Fort, like the one in India. However, that may have been in the older times. The ruins were now of the usual stone color as the other Inca ruins. The ruins were quite small and we were there for only 15 minutes.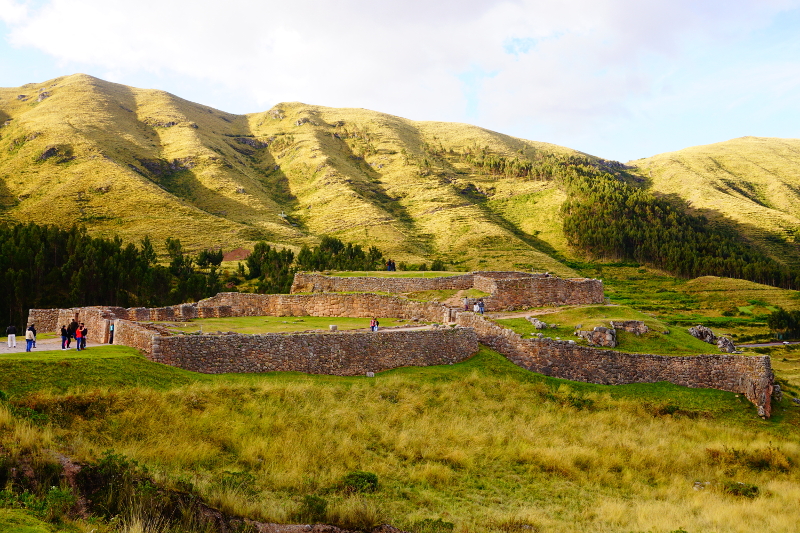 Our final stop was the mother of all ruins, Saqsayhuaman or as tourists call it 'Sexy Woman'. As we entered the ruins, we went through a cave which was the centre for burials and rituals. We exited the cave for the ancient water storage for Cusco. It was as big as a stadium and stored water for the biggest city in the empire at the time.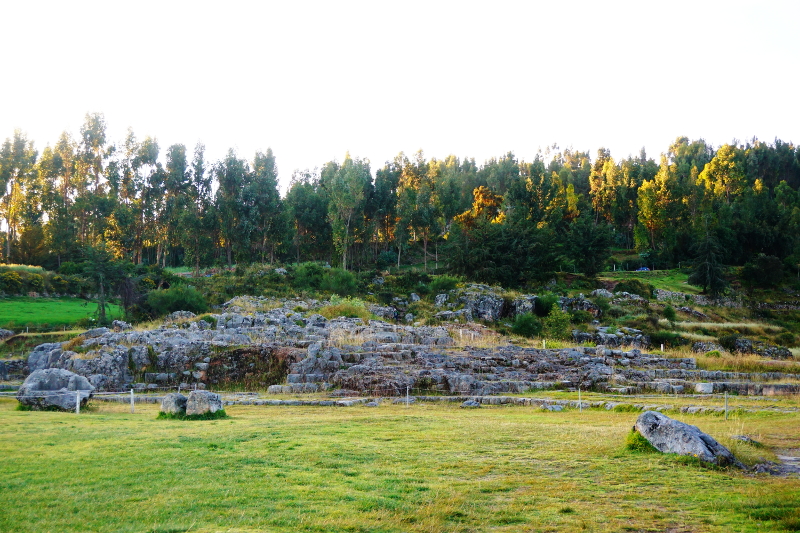 Our guide told us about the King Tupac Yupanqi who built the temple above the city. The stones of Saqsayhuaman were 100s of tonnes in weight. They were carried to the top without any animals and using only humans. It is a mighty structure that is clearly visible from the centre of the Cusco old city. This was definitely the highlight of the trip. A trip totally worth it for 20 Soles!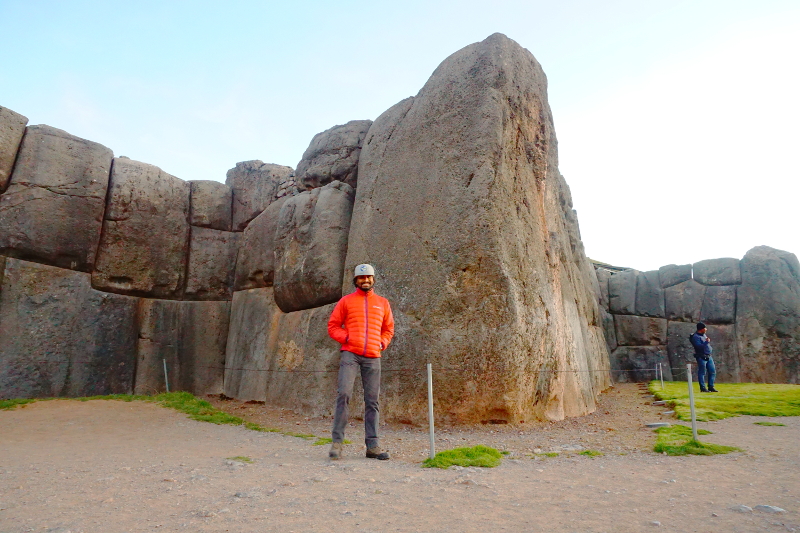 Shopping
Although we thought we will not shop in Peru, it was hard to resist the shopping in Cusco. The city had Incan textiles as well as real and fake Alpaca outfits. We bought some textiles for ourselves to wear at home as well as some souvenir shopping. Due to us touristy tag, the souvenirs can be cheap in Cusco as vendors compete for sales. We grabbed a few souvenirs as we bargained the vendors down.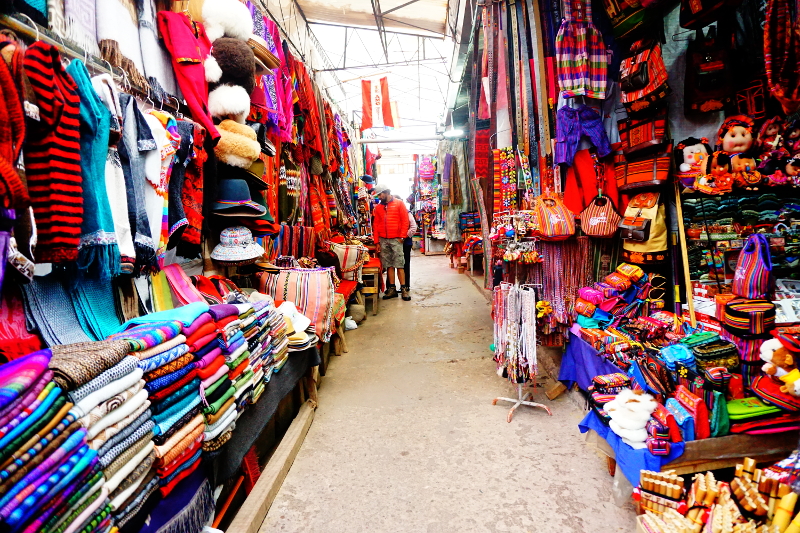 Food
Cusco being a touristy city had some amazing food. We were recommended a Korean Restaurant by an American traveler, Emma and we were not disappointed. Sa Rang Che Restaurant was a little inside a complex off the street. It had Korean speaking people, k-pop music and plastic cutlery, cups and water bottle which is very Korean. We were not disappointed in the slightest!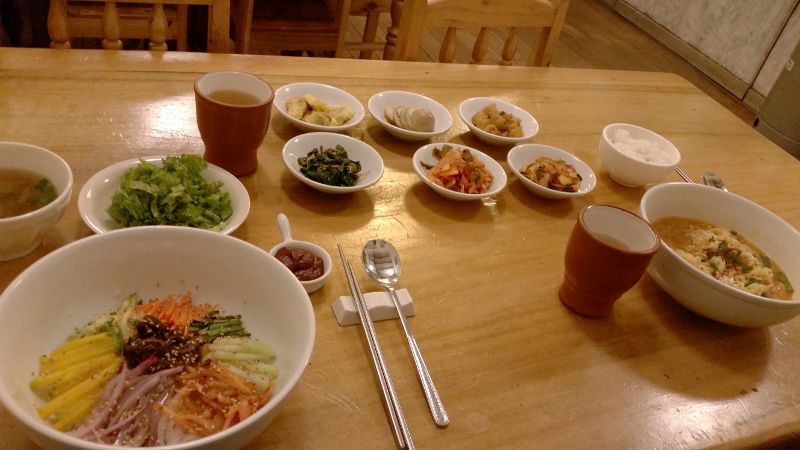 Likewise, The Peruvian food was great as well and we were able to get some great lunches in Cusco for usually only 20 Soles. We had one of the best kebabs of our trip in Cusco as well. We found a breakfast place name Jack's Cafe bar. The breakfast here was a little expensive to the usual Peruvian but it was huge and extremely well cooked. It was like a cafe from Sydney (or another Western city) had moved to Cusco. We were delighted to go there.
Final Thoughts
Cusco is the main city for travelers in Peru. It was the capital of Incas and everything in the architecture and the clothing of the people says so. They may have been defeated but they are not gone. The people and the history of the Kings is still here. It is a shame about the touristiness but as with the food above there are some benefits to it. Without question, a must visit place.