We came to Alaska in winter simply for the Aurora Borealis, Northern Lights. However, we leave having done so many more activities and learning so much about this US state. And, btw, Alaska is our favourite place for now. Let's see if that changes in next 7 months.
Before you get into all the details about our exciting activities, here is a video compilation of all the fun we had. I hope it makes want to come visit Alaska :)
Arctic Circle
Fairbanks is close to the Arctic Circle when you look at the map. But in reality it is 200 miles (320 kms) from Fairbanks. Since we were so close to the circle, we figured that we might as well ride the final 'few' miles. When again are we going to be here really!?
Our guide Randy, from 1st Alaska Outdoor School, met us at the hotel and we realised we were the only ones on the trip. As we headed out, our first stop was the Trans-Alaskan Pipeline. This pipeline runs for 800 miles (1,287 kms), almost through the height of Alaska, from Prudhoe Bay to Valdez, port at Gulf of Alaska. It is the backbone of Alaskan economy as it provide jobs and financial benefits to all Alaskans in form of at least $2k cheque every year.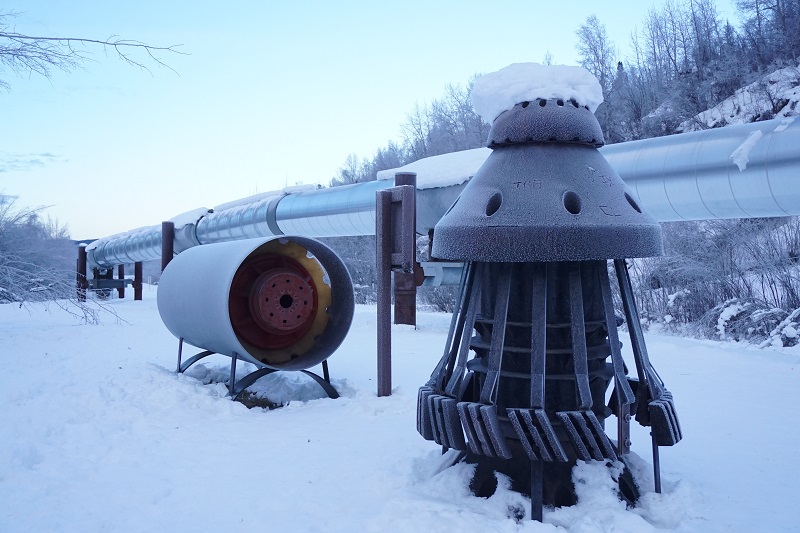 Our next stop was Hilltop Truck Stop, on Elliott Highway. It is the last place to get food, essentials and petrol for 500 miles. It is also famous as the first stop in the show Ice Road Truckers.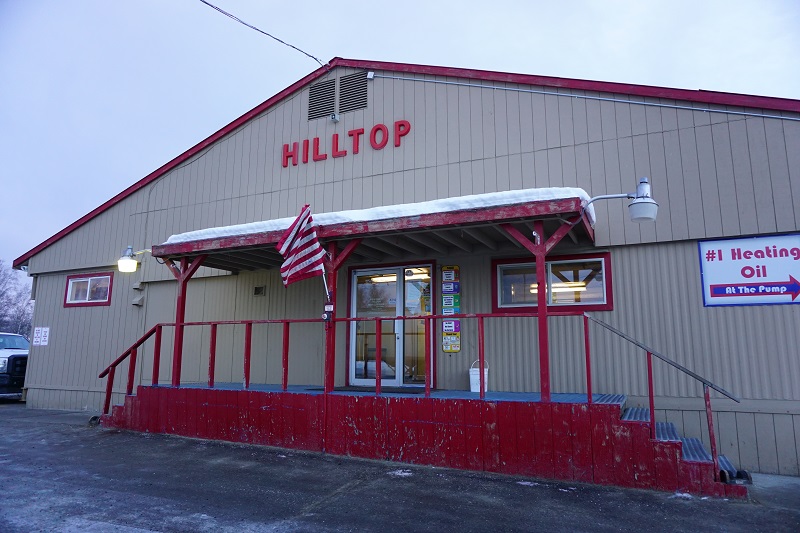 While most of our journey was on the Elliott and Dalton Highways, we rode on mountain roads with very few flat stretches. Along the way, we stopped at Winchester Dome to stretch our legs and take couple of photos. While there, we saw some real mushers training the dogs while their kids helped around. The dogs were cute, the mushers were busy and it was absolutely freezing. We wanted to pat the dogs but decided against it as they are working dogs.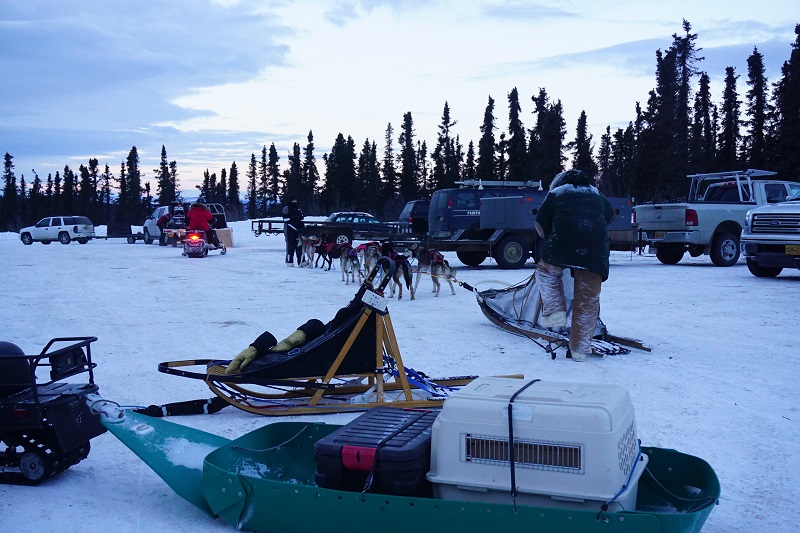 As we jumped back in the car, we realised the sun was ready to go down. We informed Randy about wanting to take pictures and he drove a few miles down the road to his secret spot for sunset shots. Truly, the spot was amazing and we couldn't have got a better sunset. The landscape of the area was stunning with mountains and snow everywhere. We found some good pack snow and decided to make snow angels (see video above or on YouTube).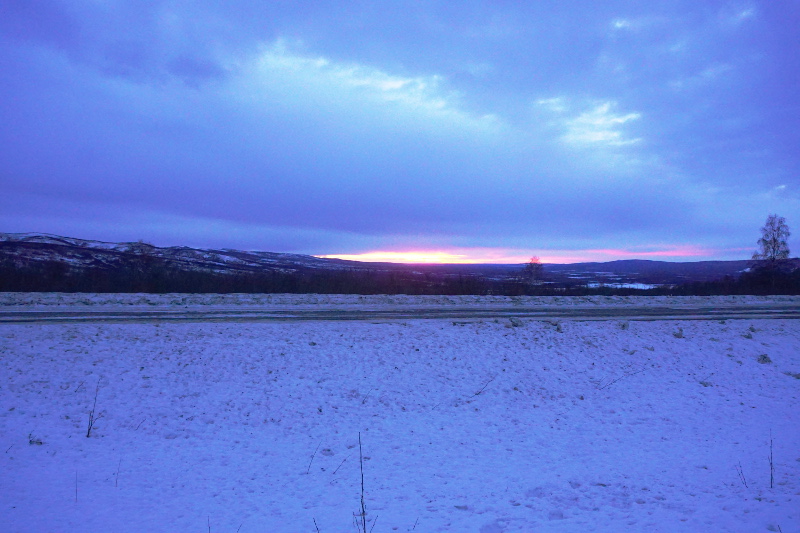 We didn't stop until Colorado Creek for a bathroom break. The creek was completely frozen and the outhouse was disgusting. At this stage, Randy informed us that wilderness starts once you are 20 or so miles out of Fairbanks. After this it was only truckers, trappers and tourists. We did not see any other cars or people except truckers for the next 150 miles.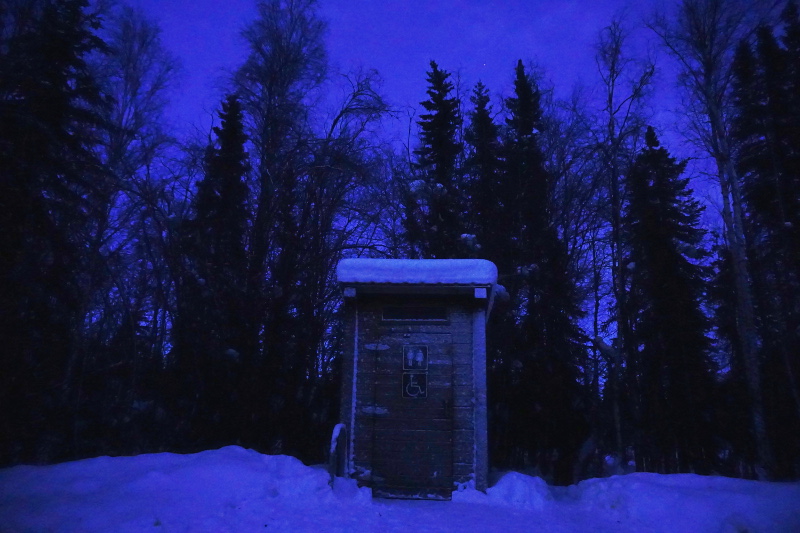 The game changed completely once we hit the Dalton Highway. Dalton Highway is not a state road, but privately owned. It was built only to supply Prudhoe Bay and other sites along the pipeline. At the start, Randy had to turn on his short wave radio and alert the truckers where he was. It felt like we were trespassing on a private road.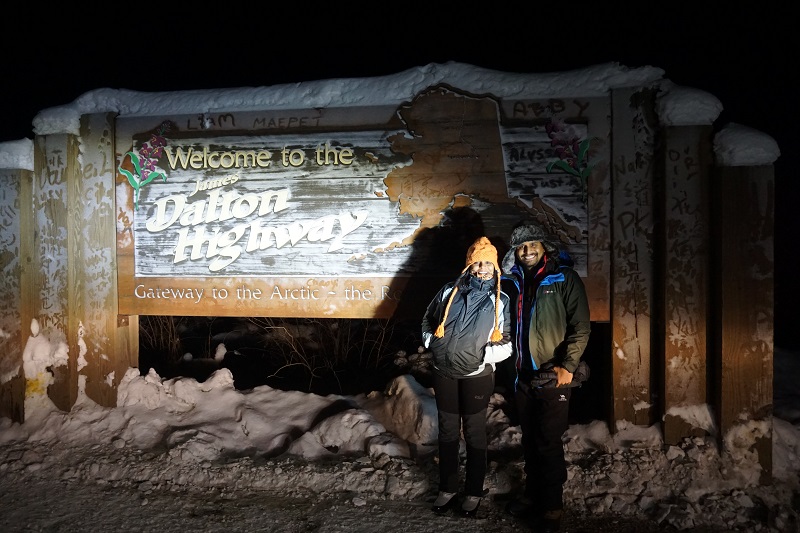 As we went further and further, we realised why they made a TV show out of this road. The road is literally ice for large parts. The trucks drive at 70 miles per hour on this ice road and mostly they drive in the middle. The two way radio was mainly to alert them that we were sharing their road.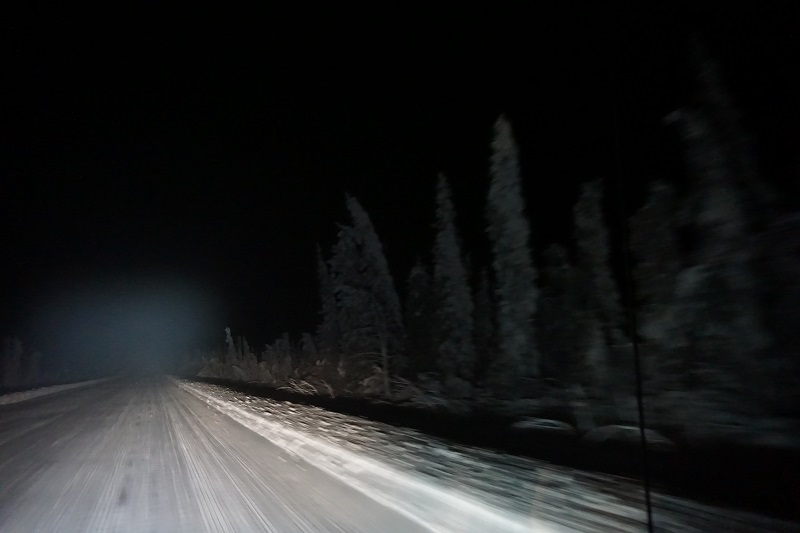 Along this road, we saw the ghost trees which are hit by snow winds almost all year so they are completely white. They truly are a sight. One may confuse them to be dinosaur skeleton!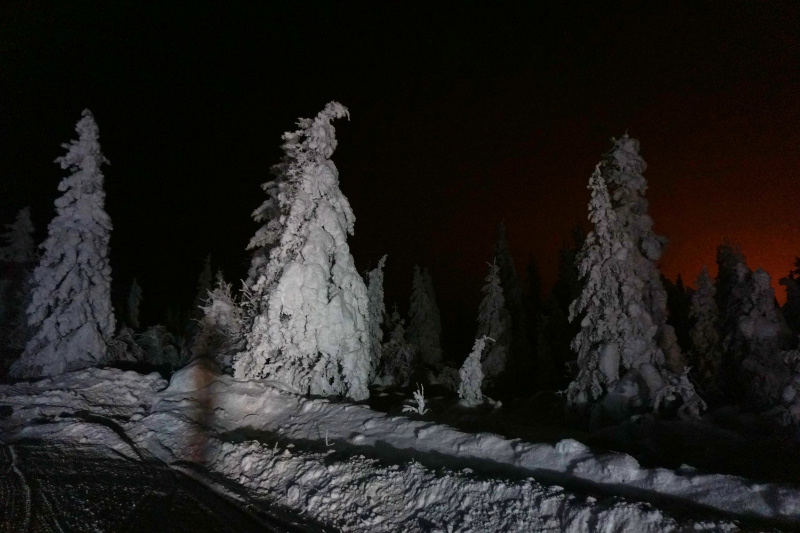 We also went over the Finger Mountain and Beaver Slide. Both these places have gale force winds and beaver slide is aptly named as trucks regularly slide off the road. At this point, we were incredibly scared. If the trucks didn't kill us, the gale force winds might bow us off the road.
Further down, we saw a frozen Yukon River and the Yukon Bridge. It is the only bridge on the mighty Yukon River in Alaska.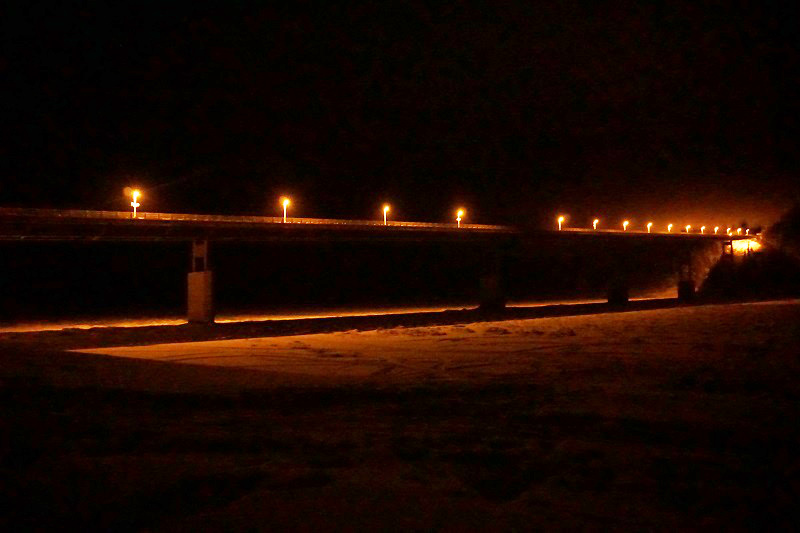 Finally, after driving for almost 8-9 hours, we made it to the Arctic Circle. You know how they say the journey is more important than the destination, well, we certainly find this to be true at the Arctic Circle. There's nothing there really. A campsite, a bill board, a toilet, pitch black darkness and the boreal forest is all there is. However, it felt like an achievement simply because of the roads we had passed. We made it to a place where few will ever go in their lives. It has to mean something!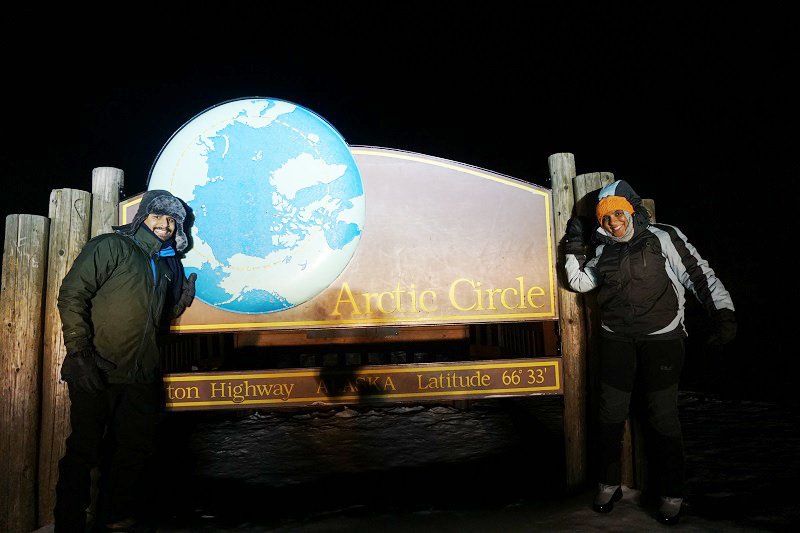 The return journey was uneventful for the most part. We briefly saw the Aurora as we left the Arctic Circle and then went through a wind storm, a snow storm and ice fog for 120 miles. At Winchester Dome, the sky was clear again and we saw the aurora again. Seeing the aurora move overhead is a very deep and humbling experience. It puts your life and problems into perspective for sure.
Dog Sledding
Another unique thing about Alaska and the Arctic is the use of dogs for travel. The word used out here is "mushing" and the people in the business are "mushers". The word itself comes from the French March, which sounds like mush in English. We took a trip out with Ben for it and drove about 4 miles outside the city. As we arrived, the mushers' cars were parked on the road but they and the dogs were missing.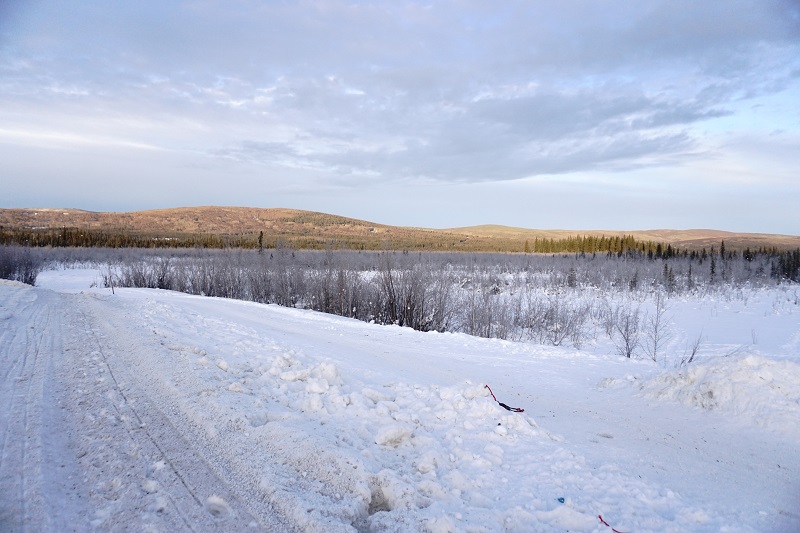 While we were waiting around, we heard the dogs bard and knew the mushers were arriving soon. Now, it was our turn! We put on some oversize jackets and pants and got a quick tutorial on dog sledding.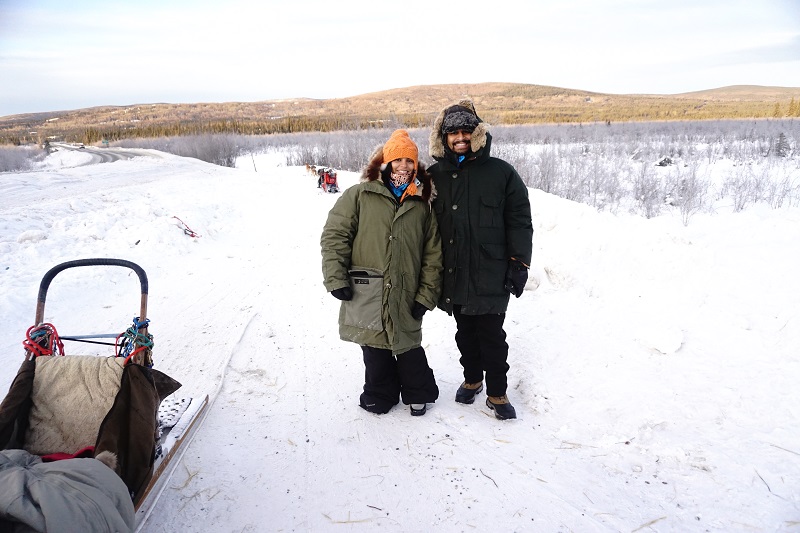 For the first 15 minutes, Shruti sat in the sled while I was standing and we reversed the next 15 minutes. Our guide, Zach, with only a few layers of warm clothes was on the main sled at the back. There wasn't much to learn except that if the dogs turn too fast around a corner and the sled is about to flip, don't try to break your fall with your arm. Doing so will almost certainly break it so just go into a fetal position.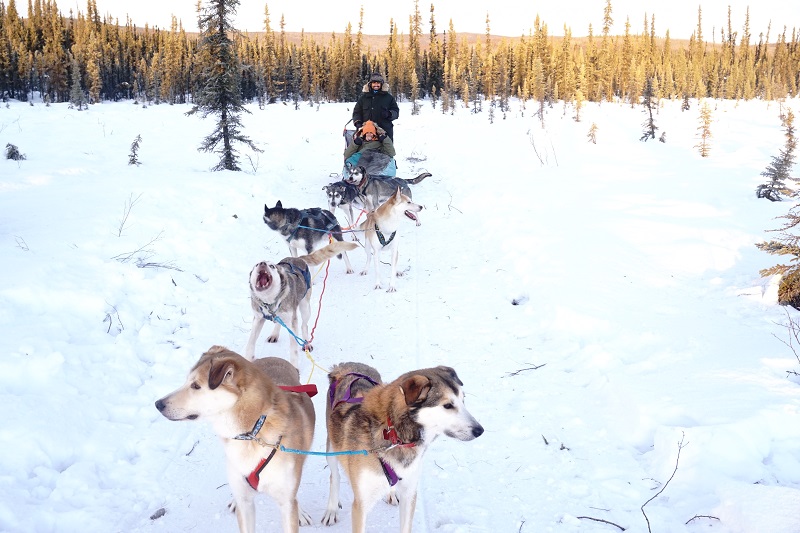 With that much needed instruction, we were on our way. The dogs were anxious, they are born to run and know little else. The sled glides through the snow at a rapid pace with 7 dogs running. Every couple of minutes, Zach put the breaks on and let the dogs rest. It was too hot for them at a warm -9 degrees! The first thing they would do is to eat snow to keep cool. Zach would yell a few words of praises and encouragement for the huskies and they kept running.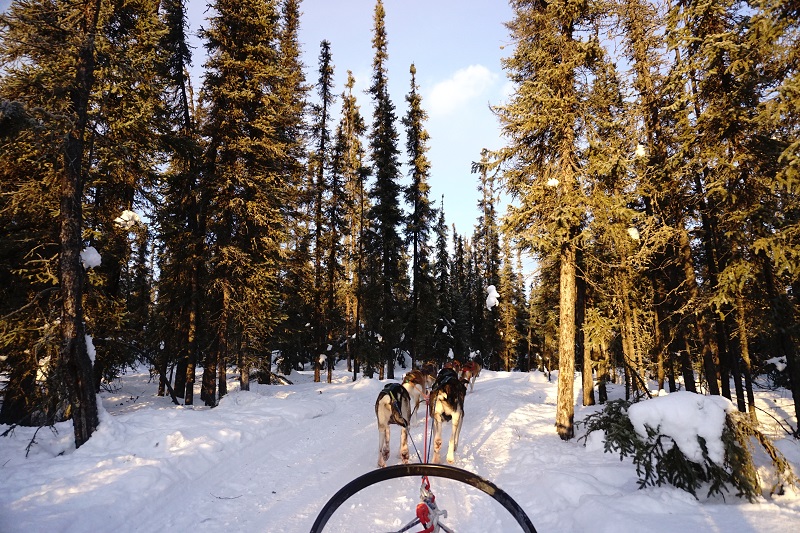 While the dogs and Zach felt warm, Shruti and I were slightly cold in the hands and feet but loving the teamwork of man, dog and nature. We had our teamwork going on as well. Shruti clicked pictures while I took timelapse video in the saddle. It was the perfect time of the day and the sun shined on the flat snow and the boreal forest, turning everything golden. It wasn't the best for the dogs but Zach gave us extra 10 minutes on the sled. Perfect end to a perfect ride!
Chena Hot Springs
On our second last day, we decided that we should warm ourselves a little bit in the hot springs nearby. Ben, Alaska Northern Lights Tour, did an entire package deal and we went for it. He drove us to Chena Hot Springs Resort, which is 56 miles (90 kms) away from Fairbanks. When on the road, we were glad we didn't drive ourselves because most part of the road was covered in ice.
Once we got to the resort, Ben told us about all the activities we will be doing. We started our tour by visiting the ice museum. The artwork was delicate and cold.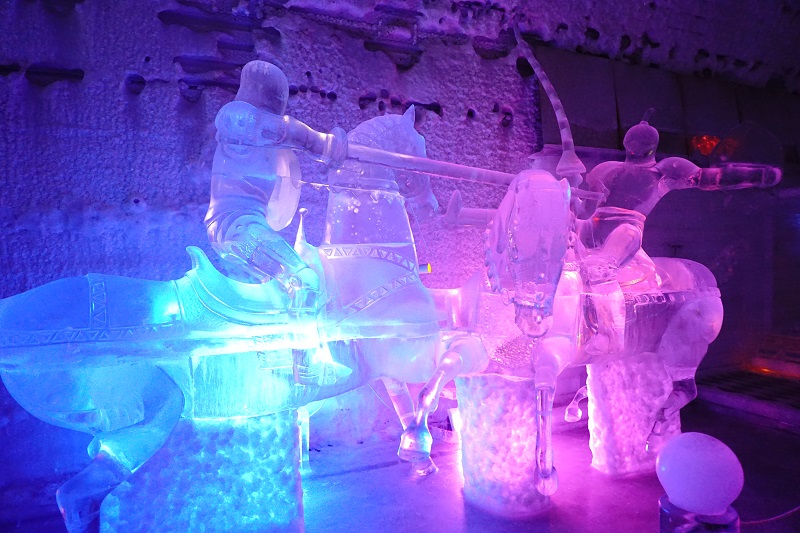 We spent about 45 mins there and enjoyed appletinis in ice glasses, sitting on ice stool at the ice bar. That was really cool, literally!

Once done with museum, we headed for a geo thermal tour. Basically everything in Alaska is about sustaining themselves. The resort have two water generators that produce electricity for the resort.  Additionally they have few greenhouses as well where they grow their own lettuce, tomatoes and often herbs too.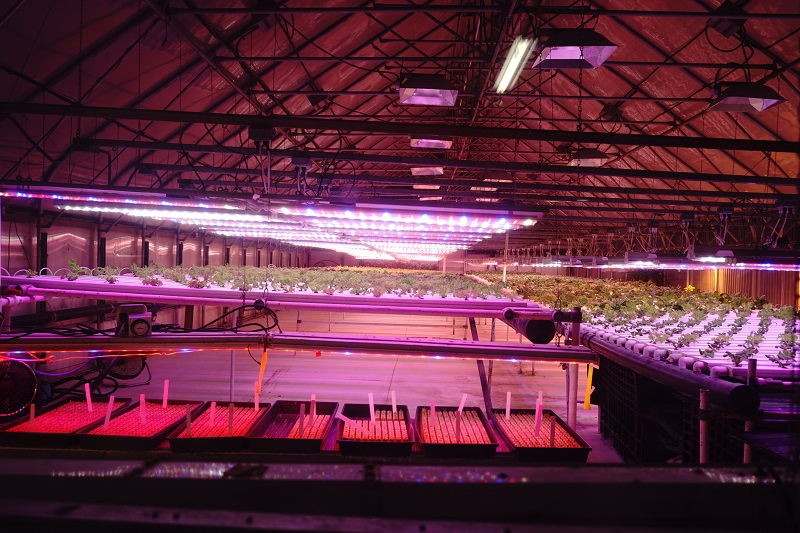 The best was left till the end thanks to Ben's organised tour. It was finally time to check out the hot springs! We changed into swim wear and chilled in the warm jacuzzi before heading out to the hot springs. It is important to know that the distance to the hot springs is about 20 steps, but as soon as you open the door to step out, you are greeted with cold wind.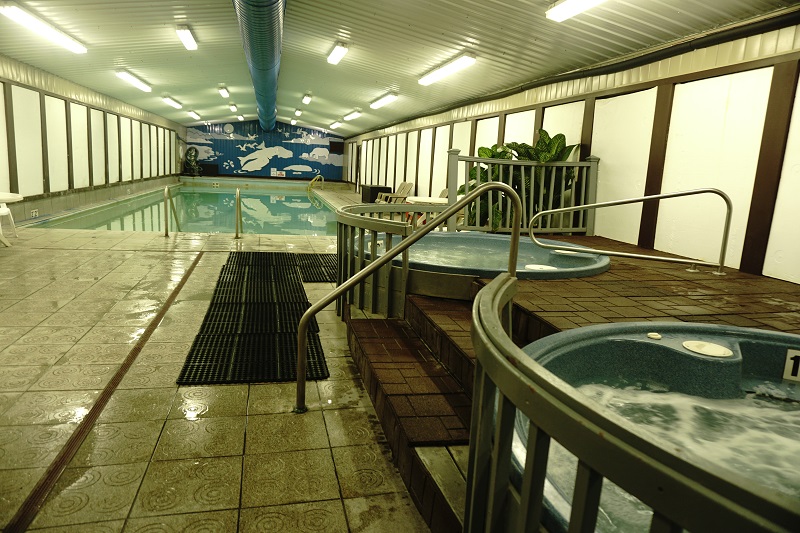 Also, I have to mention that the outdoor hot springs pool was pitch dark, with red and green led lights at various spots that created a soothing mood and steam everywhere. If it wasn't for the hot springs, it could have been the set for a bad porn film.
We put our towels on the hanger and ran out into the water. It was an unreal feeling going from -10 degrees to 30-40 degree water. At that point, the water felt like your best friend. We swam around for a bit and the water got hotter. The funny thing was, our face and hair was getting cold while the body was hot. In fact, if I kept my wet hair unattended for 15 mins, I am sure the water in my hair would freeze to ice!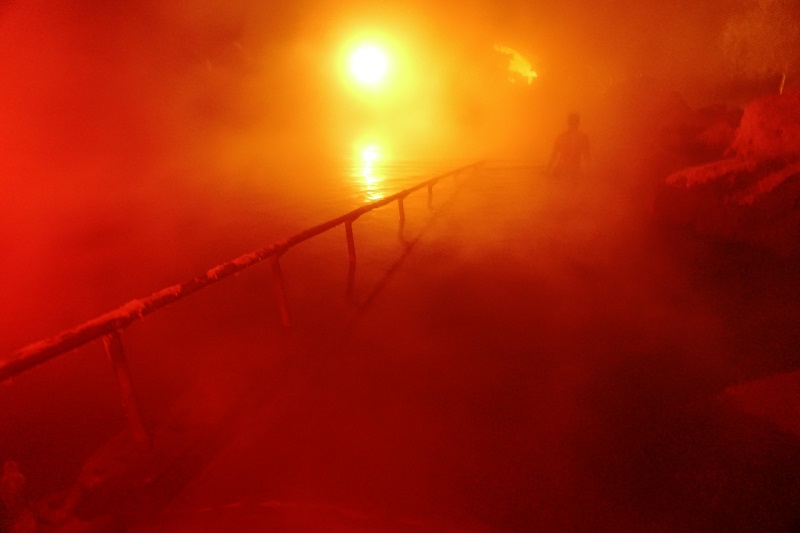 After half an hour, we had had enough and moved inside. It was so relaxing that we could have stayed longer but that hot water especially with the sulfur is not great for a long time. We showered and got ready to leave with our eyes half closed.
Outdoor swimming in Alaska, in middle of winter – Done!