While in Bogota, our tour guide, Daniel, recommended Santa Cruz de Mompox as a town to visit for its buildings and history. We decided to visit and got more than we bargained for in this town forgotten by time.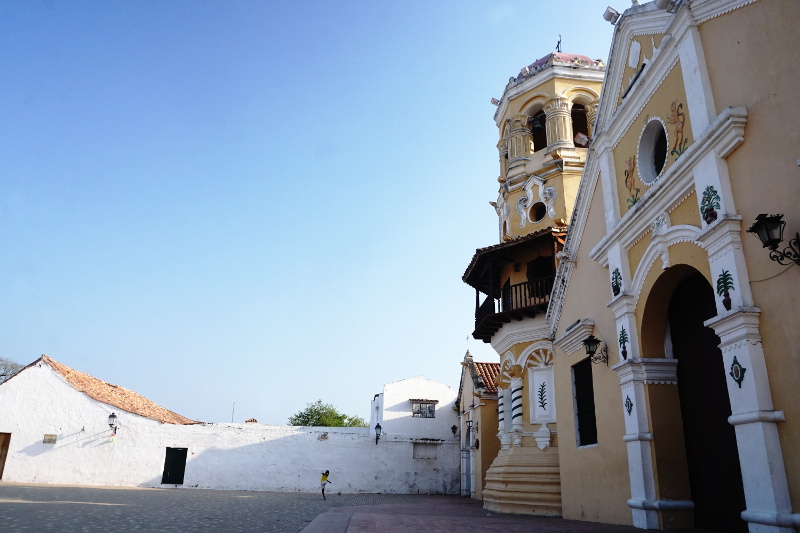 Getting to Mompox
Mompox is in Bolivar province but is generally considered part of the Carribean region of Colombia. Getting here from Cartagena, Barranquilla and Santa Marta is quite easy as well as well as the nearby Andean cities like Bucaramanga.
It cost us 56,000 pesos (~ USD 17) per head to get there on a direct bus from Cartagena. The bus ride took 7 hours, was overall uneventful except the driver eating every time we stopped at a bus station. Big guy!
The History
Mompox was founded by Spanish and thrived as a town due to its location on the Magdalena River. It had churches, businesses and lots of people coming in and going out from this town for that time. Simon Bolivar visited many times in this city and even recruited for his army here.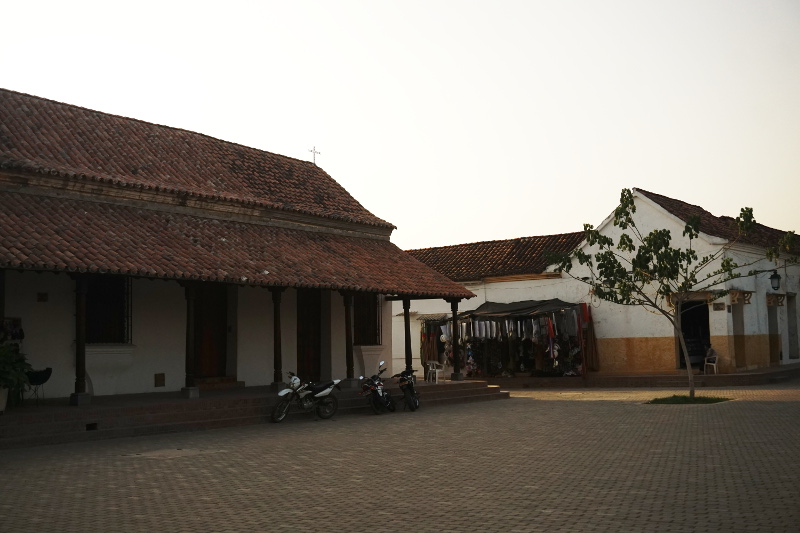 Mompox was equivalent to Cartagena in terms of the buzz, development and trade back in the day. Unfortunately, the river which was its connection to the rest of Colombia silted up making it harder for ships to get here. The town's glory gradually declined as Magangue took its place as a port and people forgot about Mompox.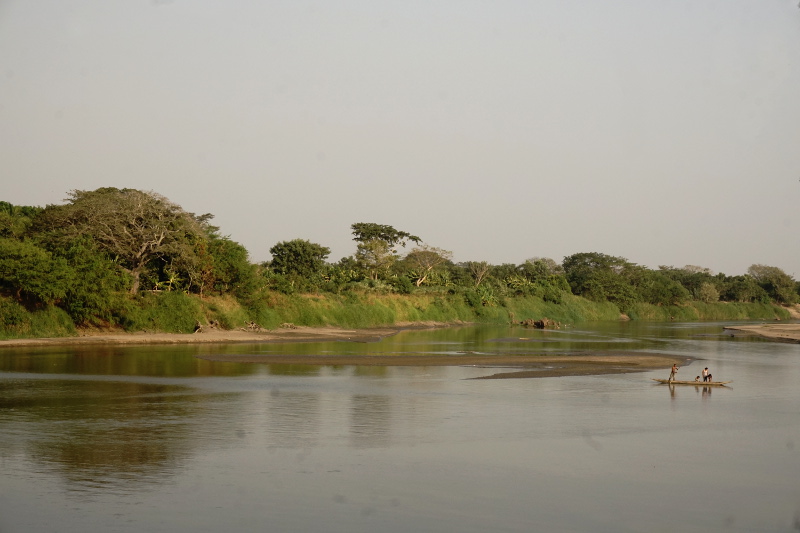 However, this forgetting actually proved to be a positive for its buildings. The locals restored the ancient architecture as not much development was happening here. In fact, UNESCO Heritage listed Mompox the historic centre in 1995.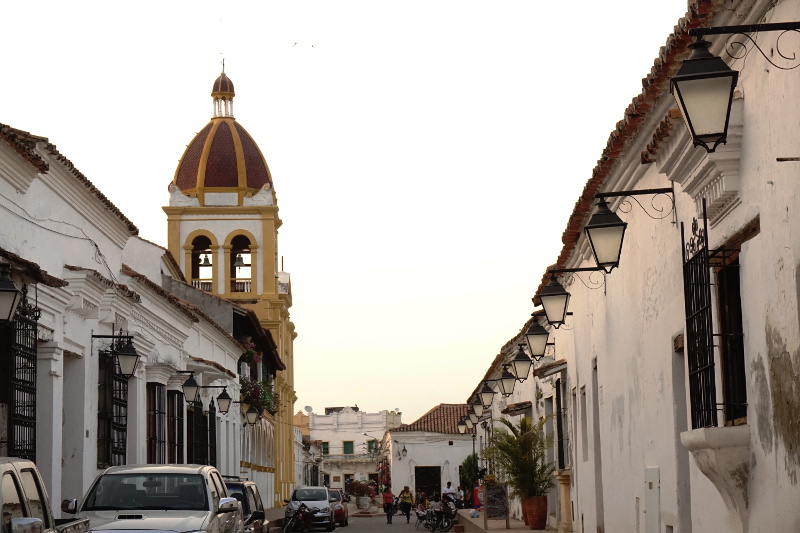 The Churches
We walked around all the streets of this tiny town and saw a church on every second street.
Our hostel was right behind the Church of Santa Barbara. The building itself was beautiful but what's more interesting is that till today the Church rings the bells each quarter hour to indicate time. Something clearly from the past!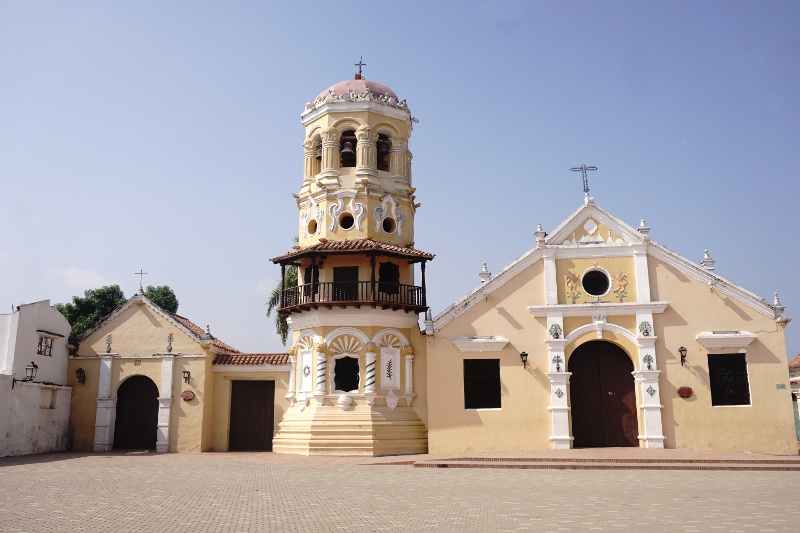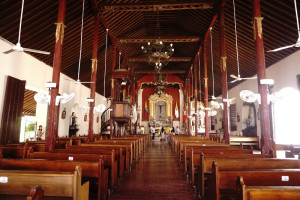 There was also San Augustin, San Fransisco and Santo Domingo churches. The biggest of them all was Church of the Immaculate Conception, though every church is beautiful in their distinct ways and all were open on different days and at different times.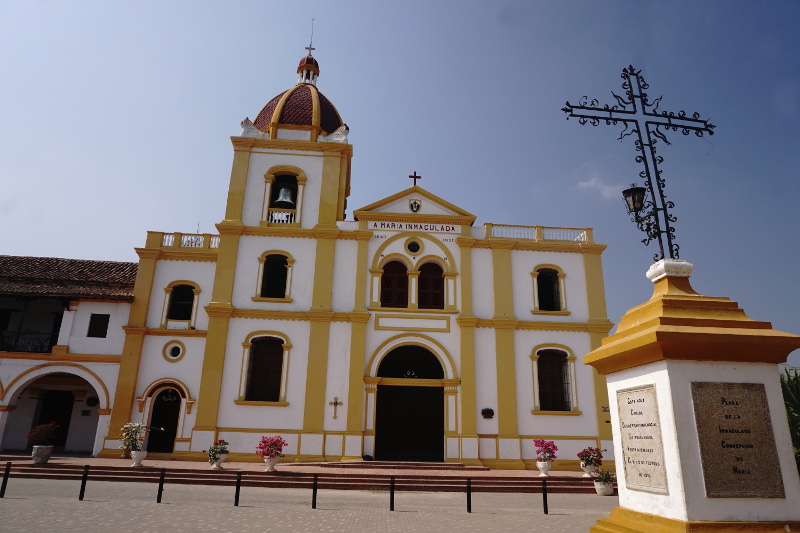 The Buildings
The historic centre runs along the river. All houses as well as businesses were whitewashed with tiled roofs, ironwork on the doors and the windows. Each house usually had an iron cross on it or a cross in the masonry.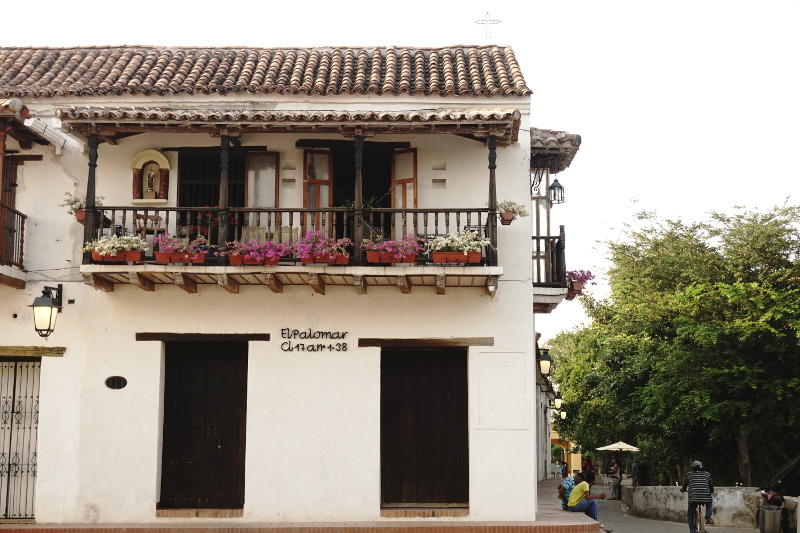 There were boutique hotels, small restaurants selling local cuisine and lots of street vendors selling anything from food to jewelry. Outside many buildings, there are plaques (parks) dedicated to a famous person such as Bolivar or a famous family that lived there.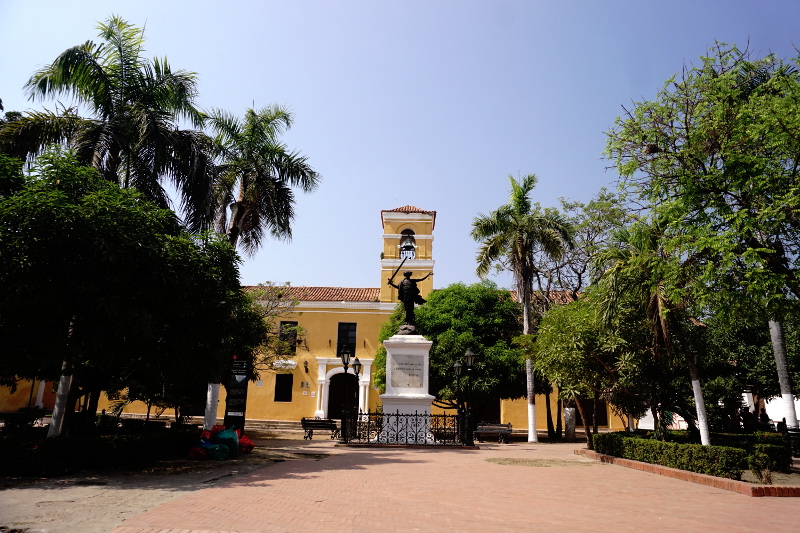 The Village Life
Mompox is tiny. Period. Though it has a population of 30,000, most of the people are spread out and the historic centre can be walked in an hour. There are tuktuks and moto-tuktuks taking people around the town. Everybody knows everybody. People love their drink and their music.
One of the people we spoke to (in our broken Spanish) said, "Momposinos son muy tranquilo" which means, people of Mompox are quite tranquil. People were happy to talk to us about whatever we wanted. They even complimented me on my bad Spanish.
The tranquility came along with the weather. Mompox was extremely hot after mid day and virtually everything shut down from 1pm onwards and opened again at 5pm. The only thing to do was stay in the shade and drink a fresh juice next to the river or siesta. It was so bad that we never really saw the historic museum opened. That could be due to the fact that we were there on a weekend and everyone was drinking and dancing. Says something about Momposinos!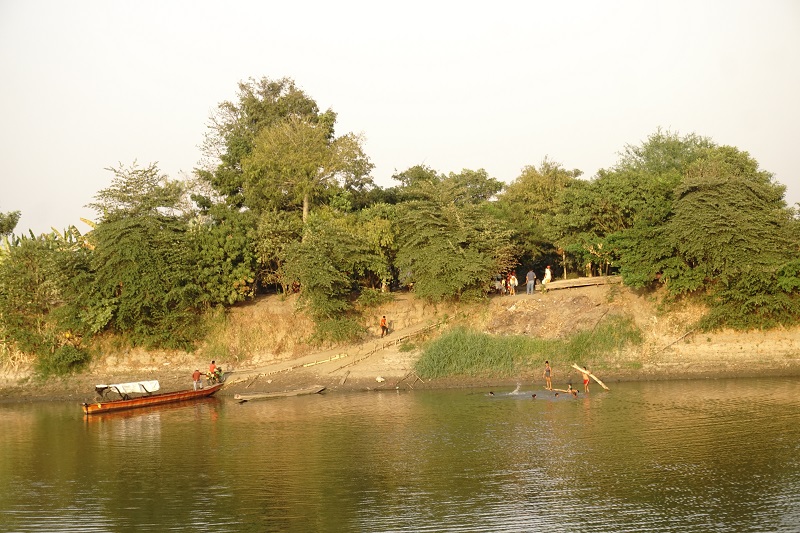 A sad but unique experience was visiting the town cemetery. Again the former greatness of the town showed itself as some major politicians and other famous people were buried there.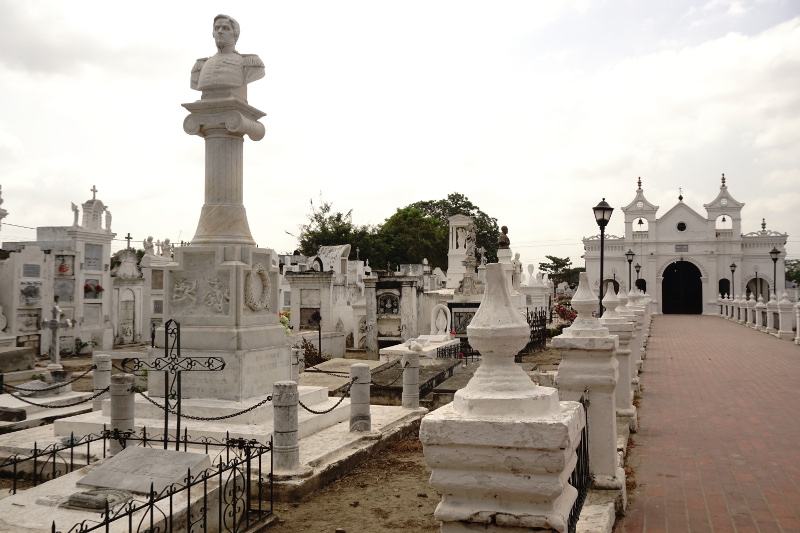 However, a different sight for us were the vertical graves. Sometimes entire families were buried one on top of another. Together at last or hating each other even in death depending on how you like your relos!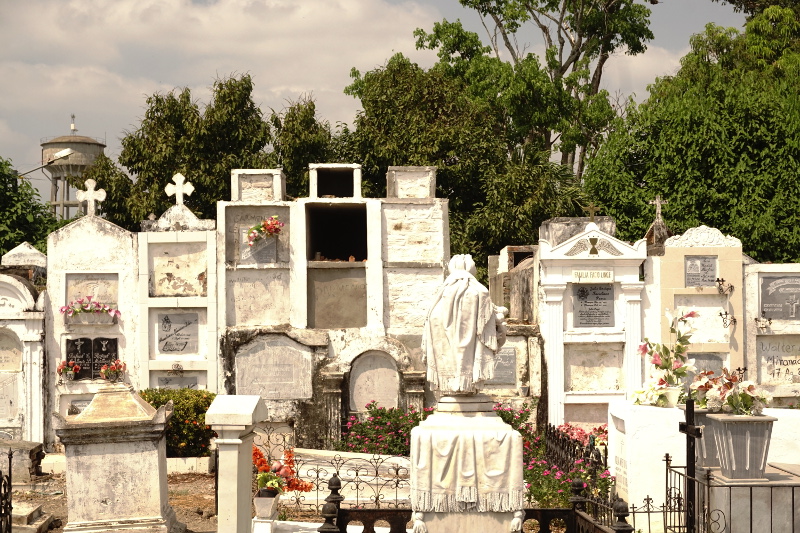 The Town Fiesta
While we were walking along the river on the first evening there, and I must say we had seen most of the town in that 1.5 hour walk, we came across an area that was being decorated. We asked a lady selling drinks what was happening and she replied in her accented Spanish. I could gather something about a queen and how we should return at 7pm to see it all. That got us really excited!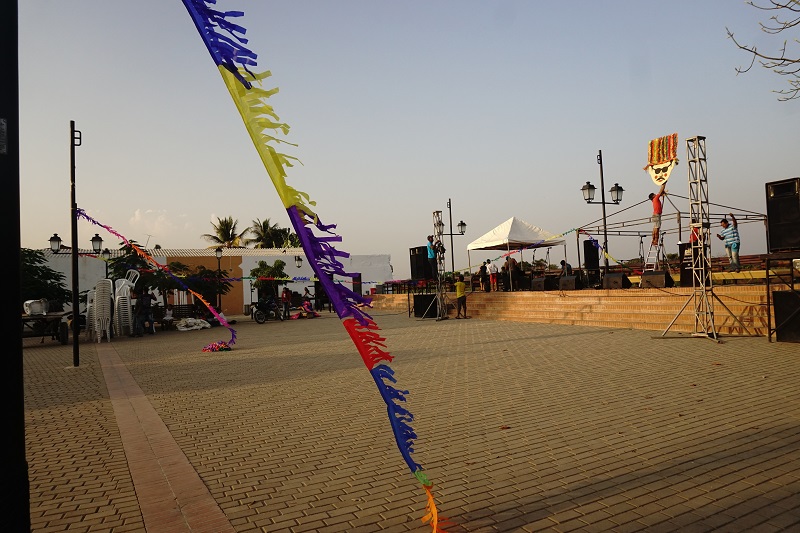 Unfortunately, we assumed things would start late but they were right on time at 7pm. By the time we arrived around 8:30pm, the show was in full swing and the entire town was already there. That made it hard for Shruti and I to see much and we had to settle for a foothold on some stairs.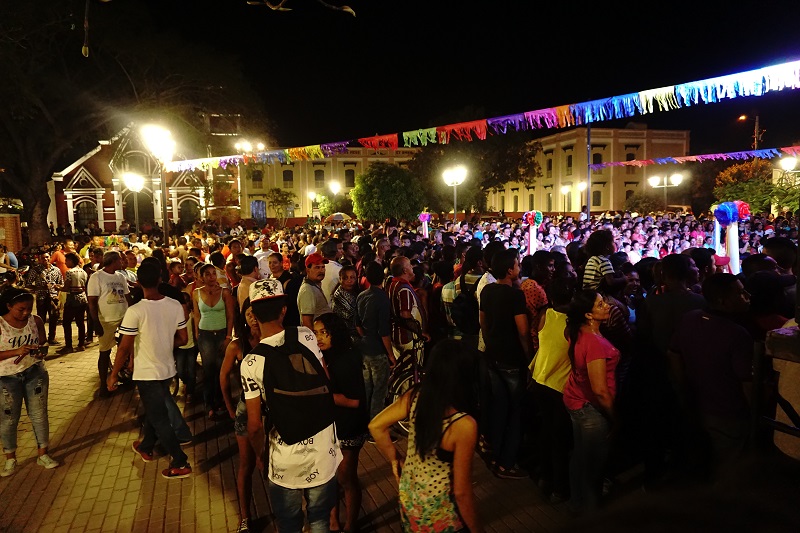 The affair was essentially a beauty pageant combined with dancing with the stars as the potential Kings and Queens were to dance and be judged. From our limited view, the dances were elegant and the king was meant to be rejected by his queen and try repeatedly. Finally, she let down her guard and they danced together happily ever after. So Bollywood!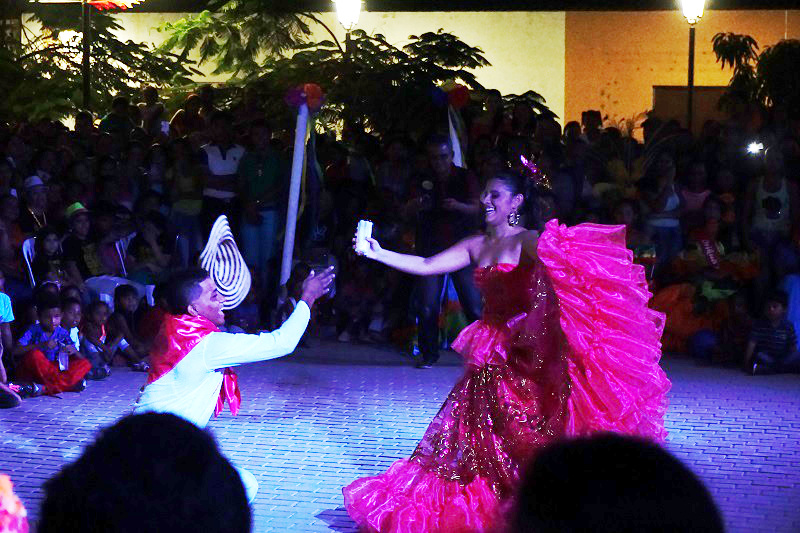 This was all new to us and we loved it. We grabbed a couple of beers and just took it all in. Cumbia music has a catchy but repetitive beat and all the dancers waltzed on the same song. The problem was that we couldn't understand the commentating because it was fast so we decided to go and drink on some rocking chairs.
When we returned, the pageant was done and lots of people, mostly young boys and girls, were dancing. At first, we were shy but then decided to copy their moves. Latin men and women can move and move fast. We ended up staying for half an hour and had great fun. At last, we enjoyed a Latin cultural event in Mompox.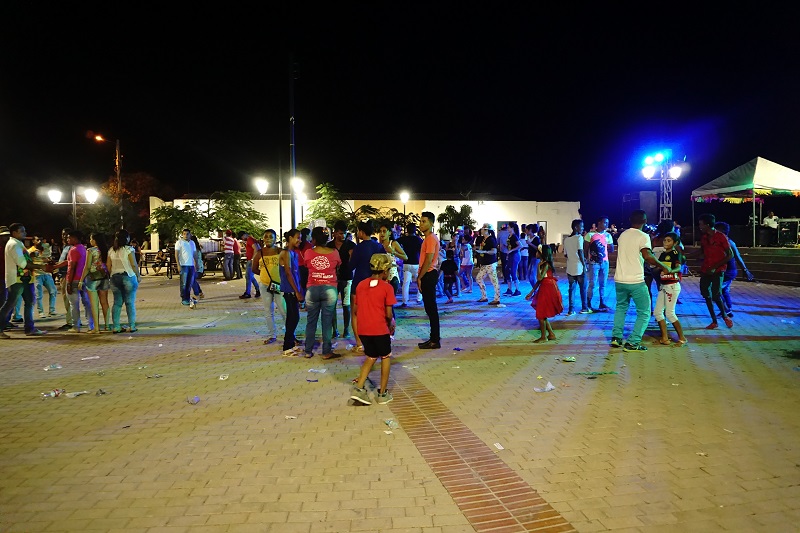 Party with the locals
Our last night in Mompox was a Saturday night and we were craving a party. We walked around town but could not find any big party. People have drinks and extremely loud music at home so we were sure we wouldn't be allowed in. Therefore, we decided to settle down close to home and have a few beers. That was an experience in itself as two rival shacks along the river were competing for customers and playing all types of Latin music extremely loud.
While there, I had an interesting experience asking for the bathroom:
Mani: ¿Señor, dónde está el baño?
Bar owner: Para las damas, Hay el baño allí pero para los hombres hay el lado del rio.
Mani: ¡Que!
Translation
Mani: Sir, where is the bathroom?
Bar owner: For the ladies, there is one there but for the gents, we have the river bank.
Mani: What!
While on our second round, a big Latin family turned up along with their kids and bought some beers for all the adults. A little while later they bought a tetrapack, from which they were drinking and then eventually started dancing. Shruti wanted to know what was in the tetrapack so I introduced myself to one of the guys (Eminso), told him we were tourists and asked him the name for the drink. It was Aguardiente which is a Colombian favourite. The guy then turned around and asked if we wanted to try and we did! It was like a better version of Sambucca.
As the night went on, Eminso offered us more drinks which we mostly refused so as not to finish the stock of the entire family. At around 12 they all started to leave and spoke to us again. That led to a 3-way multilingual conversation.
Eminso: Vamos a la casa. Compraremos más aguardiente y cervezas y bailar por la noche. Venga con nosotros.
Mani to Shruti: They are inviting us to their house to dance.
Shruti to Mani: Where is their house? Is it far?
Mani a Eminso: Estamos en casa del viajero. Dónde está su casa?
Eminso: Está acerca de viajero.
Mani to Shruti: It's close to the house.
Shruti: Ok lets go!
Mani a Eminso: Vamos!
The rest of our night involved being guests at a real Mompox house with real Momposinos, mixing beer & aguardiente and dancing to all types of latin music popular on the coast and interior. At around 1:30am, we decided it was best for us to leave if we were to make the 1pm Medellin bus the next day and said our goodbyes.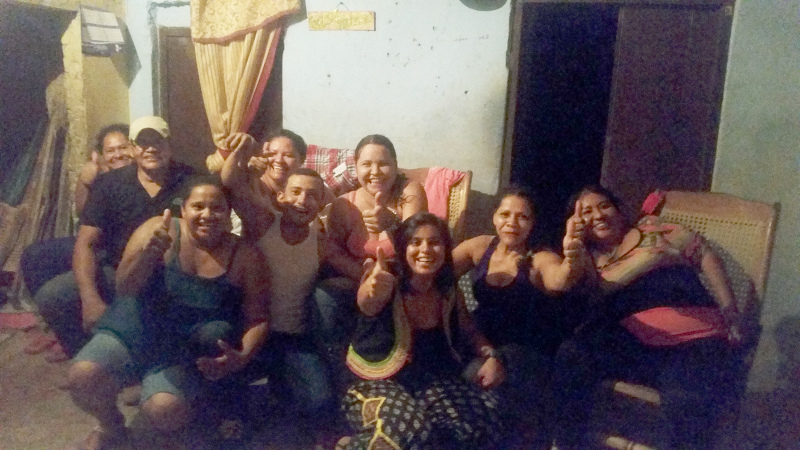 The mums loved us and wanted our whatsapp numbers while the young guys readied their bikes to drop us home. They rode ok in a drunk state and we made it home alive and unable to believe the events. We were glad to leave Mompox on a high note!
Food & Drinks
We thought Shruti's options would be limited considering she is a vegetarian and we were in a small town in interior. But actually all restaurants, except bbq ones, had great vegetarian dishes. The sandwiches for her were huge and tasty.
I tried a few different types of meat namely grilled and skewered. Both were beautifully done and the portions were huge.
In terms of drinks, we tried some more amazing juices in Mompox to escape the heat as well as two new milk based home made drinks. Chichas, same name as the alcoholic drink we loved in Bogota, is a drink made from milk and grinded rice and sugar. It was sweet, cool and acted like a radiator coolant on a hot Mompox day. Similarly, Avena is made from milk, sugar and oatmeal. It is also cooling but also very filling and people have it as a post-drinks food.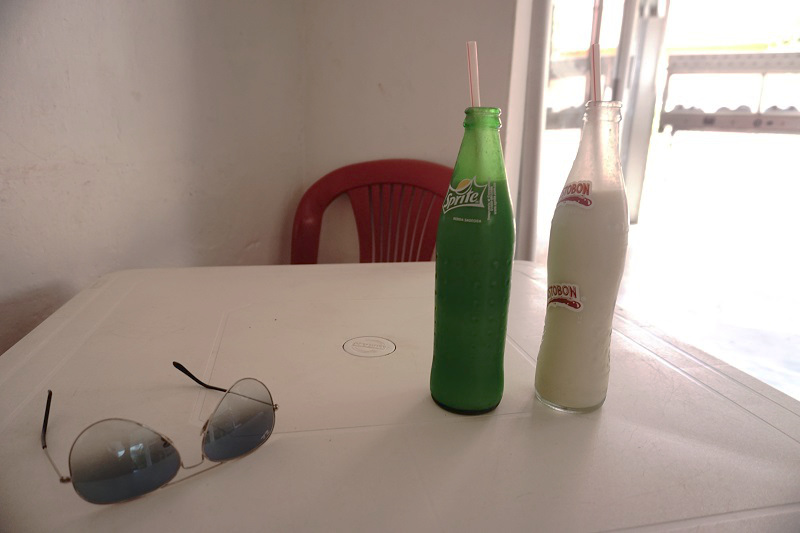 We tried a new beer in Mompox, the costeñita. It was smooth and we totally loved it.
Should You Visit?
We recommend visiting Mompox if you have plenty of time on hand and don't mind experiencing a sleepy town. Once there, you could stay for 2 days or 1 week. It all depends on what kind of a traveler you are. If you decide to skip it, you wouldn't be missing much.