After spending 3 days in Bogota, we wanted to check out the North of Colombia. This region is famous for its beaches as it is part of the Caribbean sea and natural areas. After doing some initial research we figured there isn't much to do in Santa Marta, an attractive town for tourists. It basically is a destination to explore the region, so lots of day trips around the area. Some of the popular spots to go are Minca and Tayrona National Park.
We looked through the accommodation for Santa Marta and it was a little expensive. So we looked into nearby smaller towns and found a pretty seaside village called Taganga. Turns out, it is the backpacker hub and has plenty of options. We checked AirBnB and found a nice place and great opportunity to stay with a Colombian family.
Rancho Aparte
Rancho Aparte is located at a hill in Taganga. It has great view of the beach but also of the hills around Taganga. We were able to book a room for a very good price not knowing much about the ranch at all.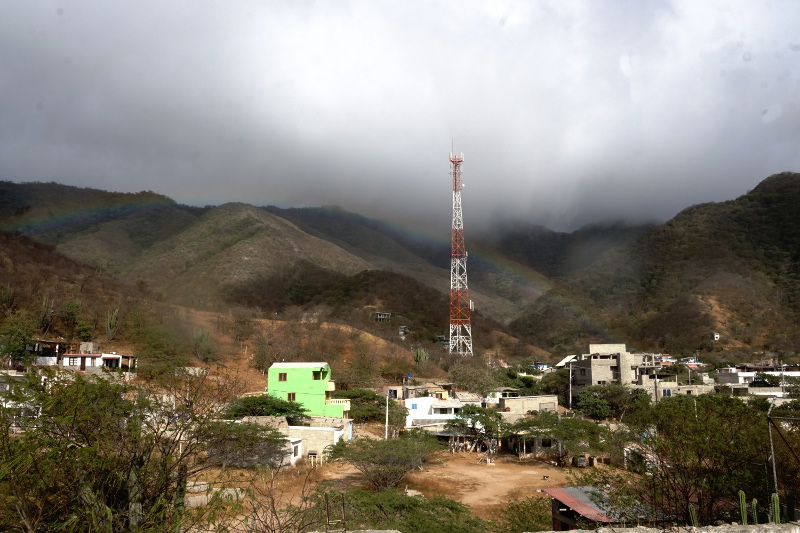 Normally, I don't like the flight landings but in Santa Marta you land right between the sea and mountains and the sun was setting too. It was certainly a beautiful start. Ingrid, our host and her husband Jeff picked us up from the airport.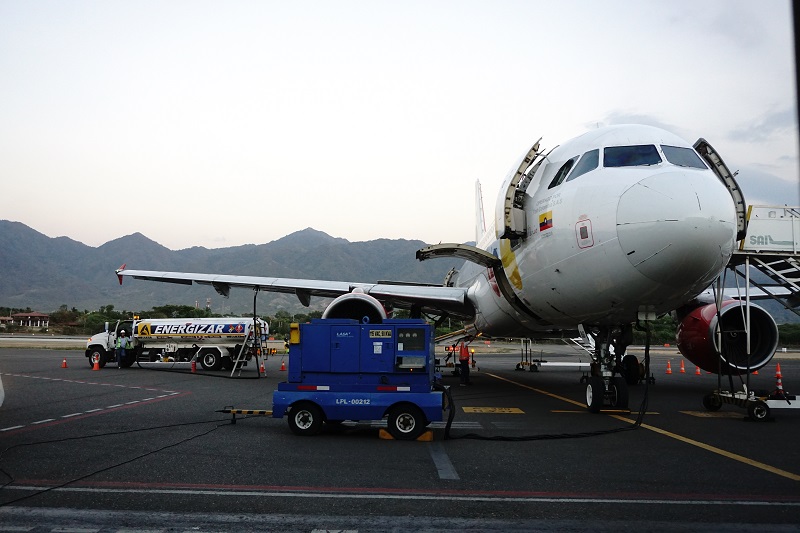 The journey from airport to Taganga was eventful. A police pulled over Jeff for no apparent reason. Jeff and I got off the vehicle, went through a body check, our IDs were reviewed and we were done in 5 minutes.
We stayed with Ingrid and her family for 8 days and had a great time. Her mother was gracious enough to offer us fresh juice upon our arrival and cook us a Colombian breakfast and dinner. Everything was very delicious!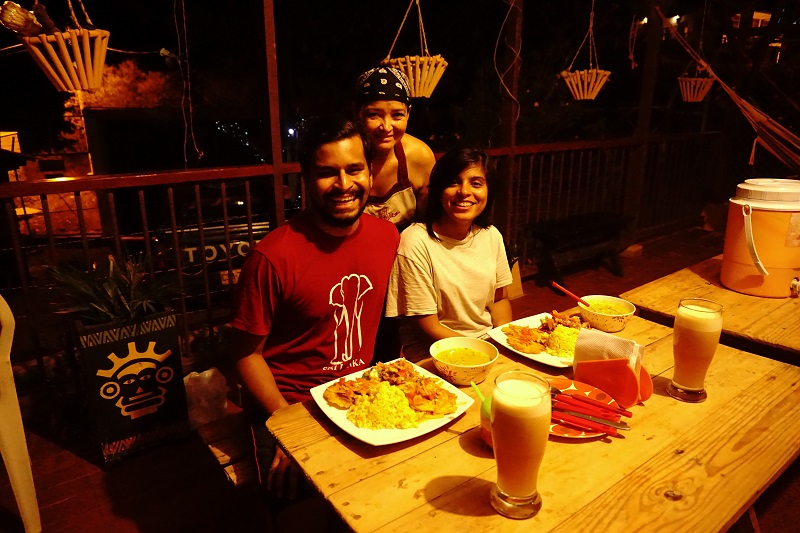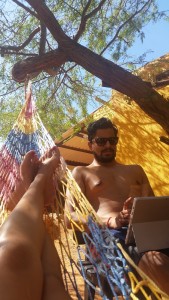 We relaxed at the ranch couple of afternoons enjoying the strong cool wind and swaying in our hammocks. It truly was relaxing time.
Taganga Beach
Taganga became a backpacker mecca sometime ago. Though we don't know when it happened but it certainly amazed us. Everything in the town is catered to the tourists and some of those who stayed behind and now have businesses catering to other tourists.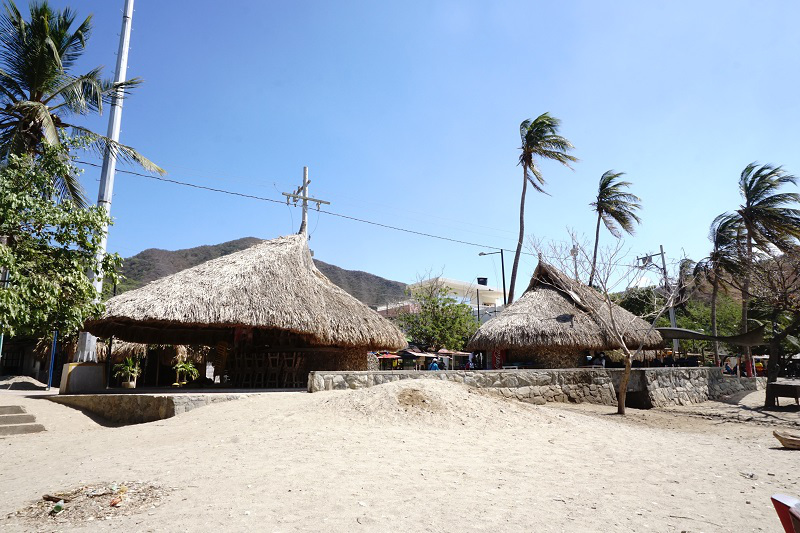 The beach has several restaurants, few bars, cafes and tiendas (shops) selling alcohol and eatables. Bonsai Bistro is a small cafe run by a Dutch couple and is worth checking out. The breads are baked fresh everyday! Another place to check out is Pachamama. It is a nice joint in a small alley from the beach strip.
On any day, you can find people haggling prices to take tourists other beaches along the coast by fishing boats. Playa Grande, Playa Crystal and Playa El Cabo are some of the options and the cost varies depending on distance.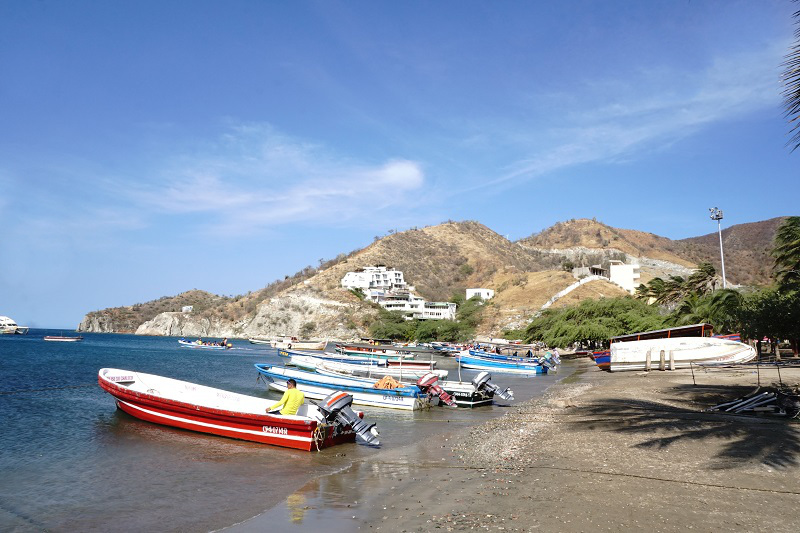 However, it is the freedom that the backpackers love here though the village itself has no sealed roads. You can drink on the road, on the beach and outside bars and no one will say a thing. The locals are friendly and safe.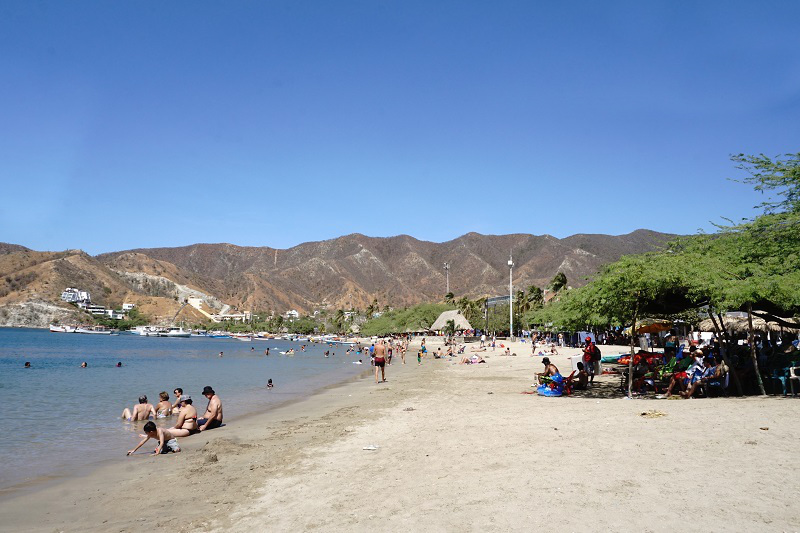 We had the chance of taking a dip in the Tanganga Beach as the sun was going down, it was raining unusually and there was a rainbow. Add in the hills around and the sight was picture perfect. Para para para dise!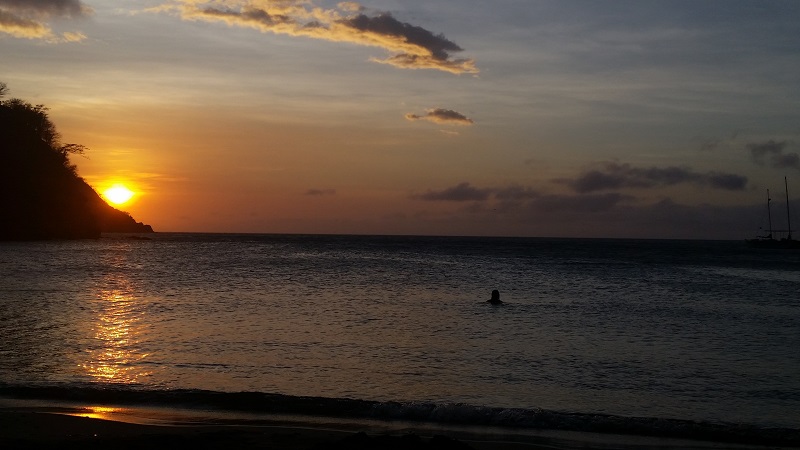 Playa Grande
Aside from Taganga's main beach, there is also Playa Grande which can be reached by walking 20 mins along the hilly path or boat taxi for between 6000 to 10,000 pesos ($2-3.5 USD). We decided to walk it. It was an easy walk and the view of Tanganga from top of the hill was a sight to behold. While it has developed slightly, Tanganga is still a pretty fishing village at heart.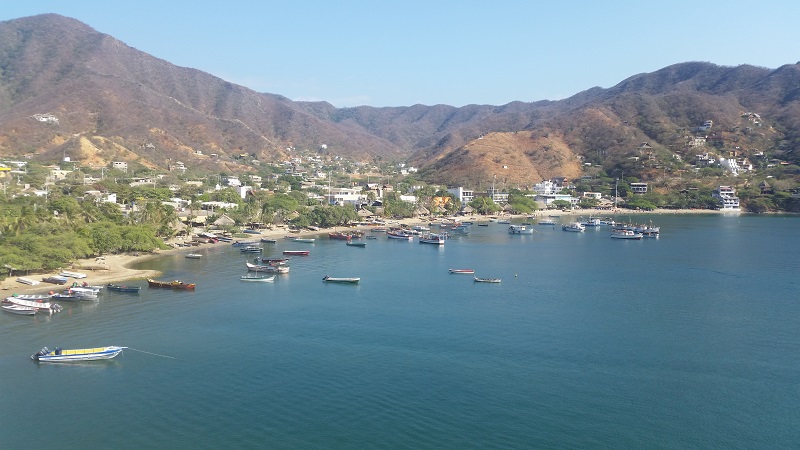 Playa Grande too looks beautiful from the top of the hill. In comparison to Bondi Beach or beaches in India, it is small and overly crowded but one can easily hire chairs in a beachside restaurant for 5000 pesos($2.5USD) to sit, tan and enjoy the cerveza.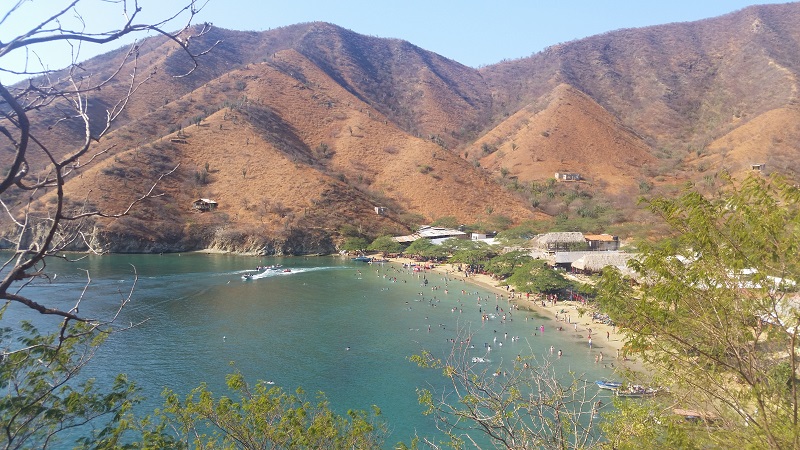 We enjoyed the water for a good hour in the calm waters and were able to go in quite deep in the water. As we swam, people were being thrown off banana boats around us.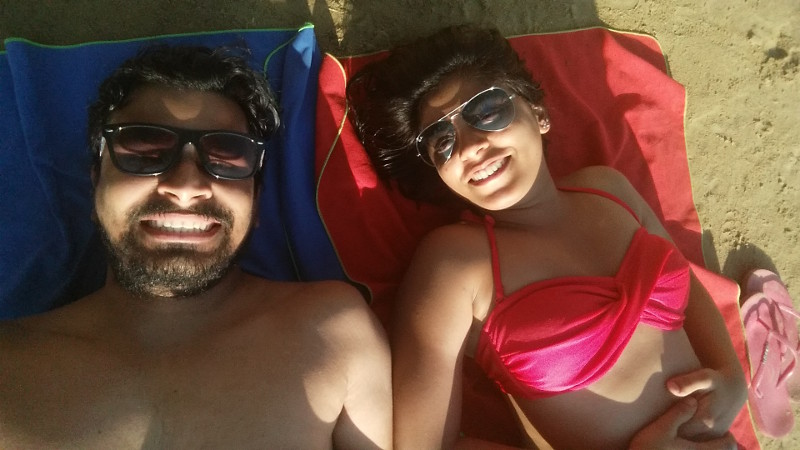 A funny thing happened as I got out of the water. I noticed my slippers were gone. As I looked around, I saw a young local girl coming back with them on. At first, I thought better of it but then yelled at her in my bad Spanish "Oye! Este son mis zapatos". She immediately took them off and apologised. She probably thought she shouldn't have walked past me. Lucky me, I managed to get my lost slippers back while Shruti couldn't stop laughing. Fingers crossed we don't have to deal with this again!
Santa Marta
We did a day trip to Santa Marta while here. This historic city was one of the first cities founded by the Spanish in Santa Marta. It has beaches, historical buildings and great food. The bus from Taganga took only 1400 pesos($05.USD) to get us to the historic centre and dropped us right at the Bahia beach with its port and cargo ships.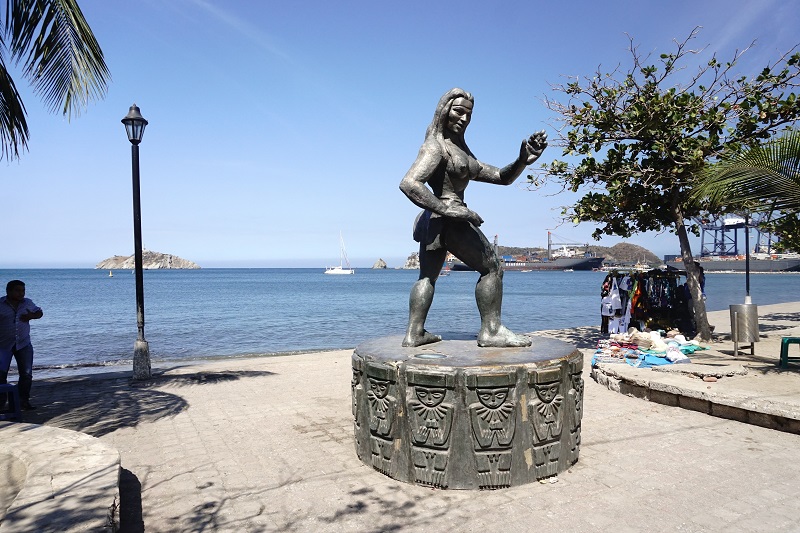 We spent the first couple of hours just waking through the streets and taking in the sights, sounds and the colours. The colors of the houses, the blue sky and the strong sun made the city look remarkable. While Bogota had it rustic beauty and Taganga its natural beauty, Santa Marta looked much more beautiful than both. There are lots of parques in the old city which looks more like plazas then parks but they were great places to sit, people watch and have a coffee in.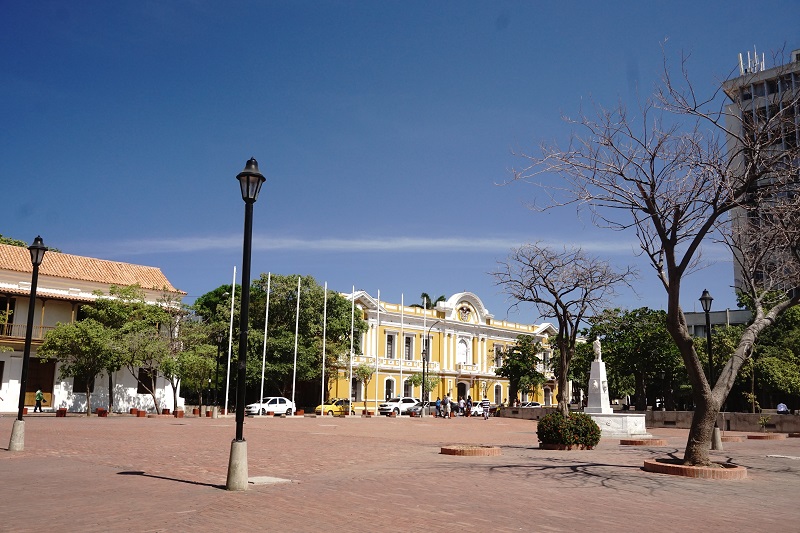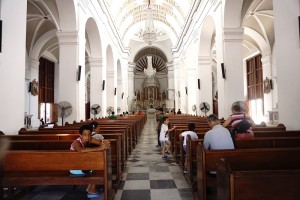 The Cathedral of Santa Marta shined like a white sheet against the Sun. Both from the outside and inside, it was stunning and showed the former glory of Santa Marta. An interesting thing about the Cathedral is that Simon Bolivar, the Liberator General of Colombia, Venezuela and Ecuador was buried here but his remains were exhumed and moved to Caracas, Venezuela.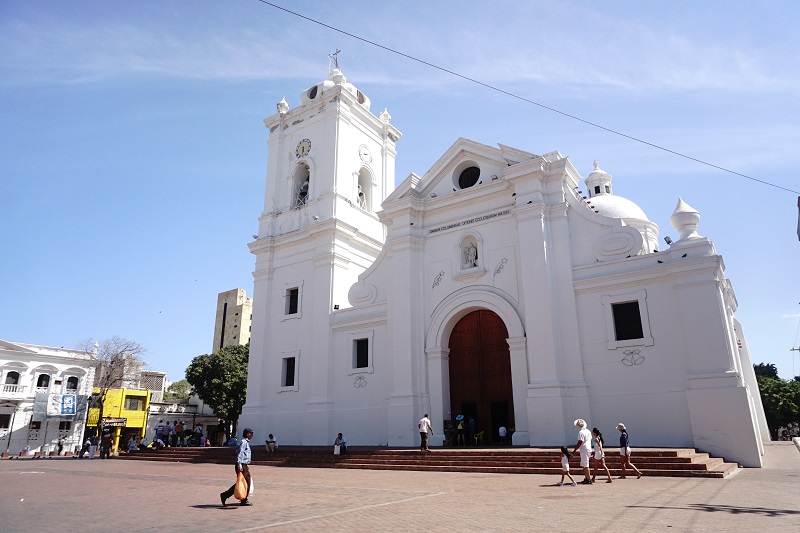 Our next stop was the Museum of Gold in Santa Marta. We didn't intend on visiting as we had seen the Musuem of Gold in Bogota but another museum in the area was closed and this was free. It ended up being a good decision as the museum had lots of information on the Sierra Nevada Mountains, Foundation and Trade in Santa Marta, natives of the region and Simon Bolivar. The information was well written and just the amount without boring us.
Post lunch, we decided to take a dip in the beach. At first, we went to the close by Bahia Beach but then decided against it. Rodadero Beach is the famous one in Santa Marta so we decided to head there instead. Buses to Rodadero beach are available from the main street in Santa Marta and takes around 15 minutes to get there. Once we had corssed the hill, the conductor dropped us on the main road in Rodadero, about 10 minutes walking distance from the beach.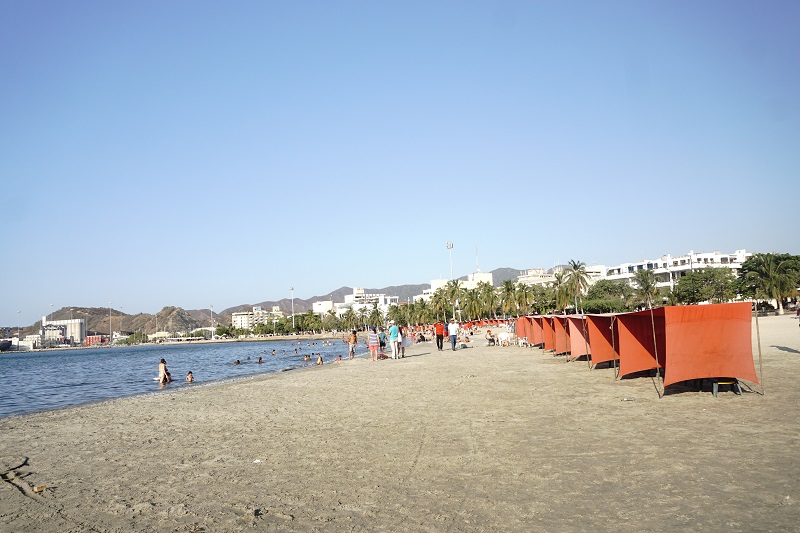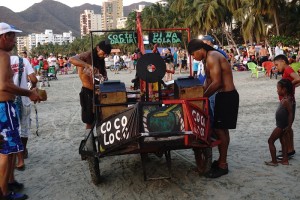 The sun was almost setting as we arrived at Rodadero beach. The beach itself was packed to the brim. The best thing about popular beaches in Colombia is that they have plenty of food and drinks right at the beach itself. There were people selling arepas, alcohol, tours to the national park, sweets and DJing right on the beach itself. The atmosphere is like a party and you can easily stay all day.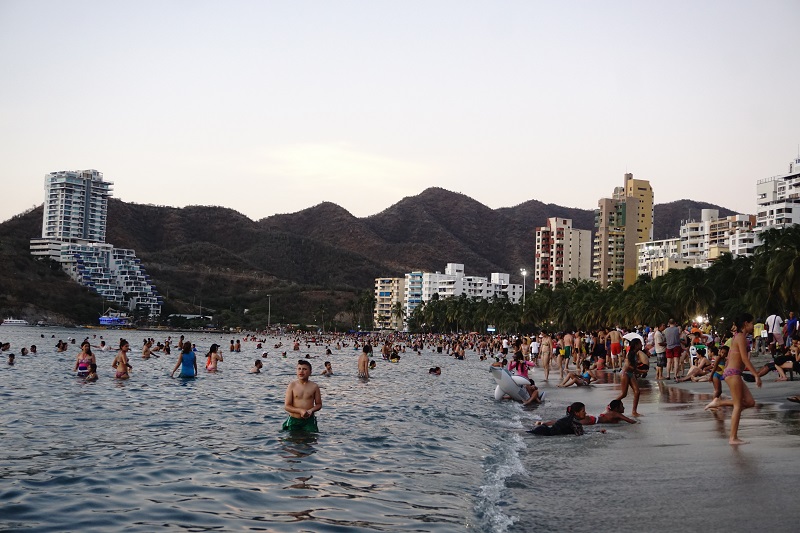 Food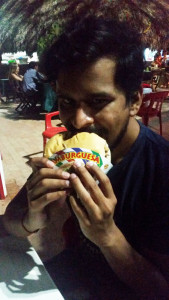 While in Santa Marta and Taganga, we tried a lot of local food from street stalls, which was mostly cheap and tasty. One of the first things I had was the local fish in Taganga. It was fresh and flavoursome. Another local food we had a few times was the arepas with cheese and sauces. It was cheap, only 1500 pesos (USD 0.50), tasty and fatty with all the cheese. I even had a massive chicken burger from a street vendor for 5000 pesos (USD 1.50). Similarly, Shruti tried the vegetarian salchipapas which was salad, cheese and french fries. It costed 5000 pesos (USD 1.50) and was a sufficient dinner meal.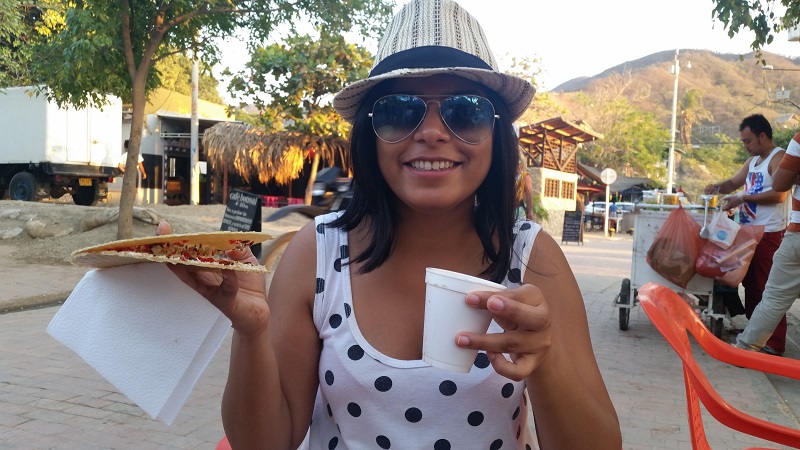 Moreover, we had one of the best lunches in Santa Marta. The lunch special was kidney beans, rice, plantain and a choice of yuca or chicken with a maracuya juice. It was similar to thali lunches in India and we were incredibly full. And surprisingly, the entire lunch only costed 20,000 pesos (USD 6.50).