In one word – Brilliantly. India gave us a great experience.
Before getting into all the details, let's have a quick look at our travel in Asia, time lapse mode.
So back to India.
Why India?
We are Indians by birth, but left India at early age – read about us here. We hadn't seen much around in India and Shruti hadn't even seen the Taj Mahal (till September this year).
It is well known that India is diverse and we had to experience it. So when we decided to quit our jobs and travel, we knew we had to spend quality time in India.
The next task of planning our itinerary in India was a big task. There is so much to do here – history, culture, food, nature and spirituality. Where do we go and what to we skip. After many discussions, we had a plan and booked our transport and hotels well in advance.
Recap
We started our trip in Delhi visiting my family and Haridwar, Rishikesh and Agra to escape the heat. We also managed to apply for USA visa in Delhi.
Once we started backpacking, we first covered the south and west region, i.e., Hyderabad, Hampi, Goa and Kerala. We then spent some quality and spiritual time in Varanasi and Bodhgaya before visiting family in Kanpur and Mumbai.
While in Mumbai, we tried to renew Shruti's passport but it was unsuccessful. We then went on a 15 day trip of North East and Kolkata. We continued our travels in Rajasthan for 11 days before returning to Mumbai and getting Shruti's passport.
We briefly went to Gandhidham, Gujarat where Shruti's parents now live to celebrate Diwali and my birthday. We then flew to Delhi for Peru visa and attended my friend Amrit's wedding. After a small tour of Amritsar, it was time to meet and say goodbye to family in Delhi before returning to Gujarat to visit Saurashtra and Kutch region.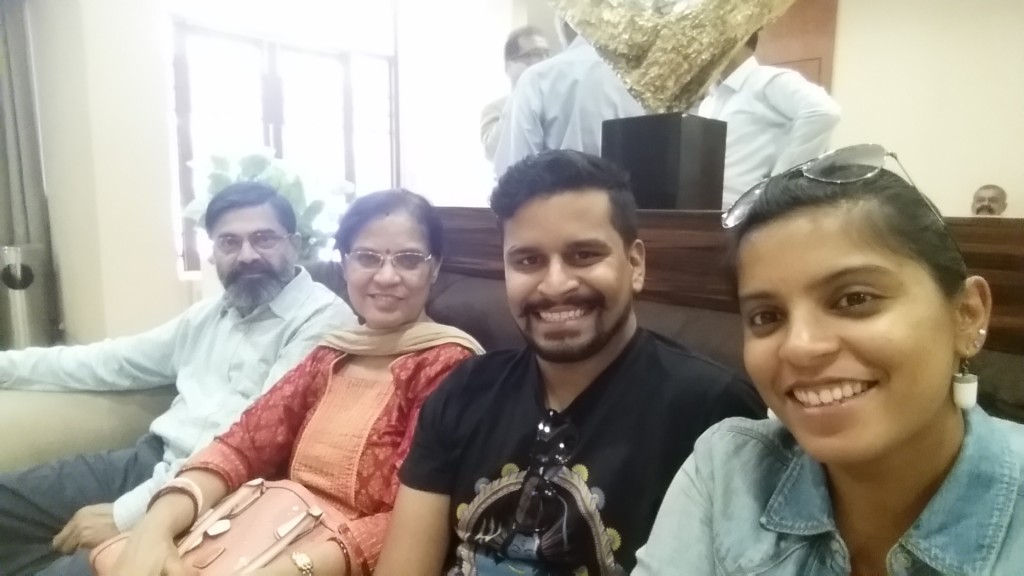 Family aside, we were able to see a variety of places in India while keeping some obvious places for next time. It has been a great journey across this great land.
Mistakes
Biggest mistake – booking EVERYTHING in advance!
We had to book transport, otherwise traveling in train would have become impossible. India has a huge population (well known fact) and covers huge area. This makes train the most convenient way for transport. Train tickets go on sale 3 months in advance and usually get sold out early. We had no choice but to book in advance.
The hotel bookings though could have been avoided.
Taking flights – expensive mistake
As we were visiting India during the monsoons, we had to pick our destinations carefully and check the weather well in advance. This led to quite a few flying trips within India. We ended up spending almost Rs. 80,000 (USD 1200) on flights within India.
Booking tour packages – we realised we could have done it cheaper
We chose tours for Kerala and North East as the logistics was getting difficult. We  could have managed it on our own, but decided to take a convenient option.
Doing things too fast – The trip was a mad rush at times
We had plenty of time in Hyderabad, Jodhpur and Shillong. It allowed us time to stop and think about things around us. Although we couldn't spend a week  or more in Rishikesh like many white backpackers do but we should have avoided the rush in places like Agra, Hampi, Gangtok and Udaipur.
Cultural shyness – We rarely scratched beneath the surface
Now, being from India, there are a few cultural norms and cultural issues we have grown up with. This means it was always tough for us to photograph a Hindu Sadhu (holy man) because after that he may get offended or ask for money. We didn't ask people in Varanasi how drugs are affecting kids because being from India, we knew the set boundaries when speaking to strangers and elders.
What we gained from India
Where do we start? While we made some mistakes (see list above), we gained a lot of experiences in India which are invaluable. We ticked off quite a few places off our bucket list namely, Brahmaputra river and root bridges of Meghalaya in the east to Mehrangarh fort and Mewar kingdom (Udaipur) in the west and Kerala backwaters in the south to Varanasi in the north. While the distance between them is huge and it cost us a bit, I have to say, money can't buy the vast experience.
Secondly, I feel Australia has a habit of depressing us. There are issues with liberals and labor, property prices, traffic and alcohol-fueled violence. However, not until you see a country with a huge difference between rich and poor, sectarian violence and hatred and dishonesty in people that you realise how grateful you are. It is not until you hear our experience of getting a passport and then hear of an Indian gangster in Australia having an Indian passport that you realise the law is not the same for all. The term 'first world problems' makes you realise how tiny our problems are until you have lived in a country like India.
Finally, we have learnt that it is very important to be accommodating. In India, the word used is 'adjust'. Here there are plenty of cultures, religions, languages and every person has their own set of problems, but for some reason the country is moving forward in a very disorganised form, the actual term is 'organised chaos' is apt. As we will be traveling to South America, we are ready to be culturally shocked and embrace it with open arms.
Look out for complication of must do in India.