Hampi is a picturesque group of villages in Karnataka state. To be honest,  I don't remember where or when I first discovered Hampi. Perhaps, it was on my random wikipedia browsing or an image on the Internet. Since it made a nice little stop over between Hyderabad and Goa, we kept it in our list.
Getting to Hampi
We arrived in Hampi onboard an overnight train from Hyderabad. This was our first experience of Indian trains on this tour and we weren't disappointed. We arrived at Hospet station at 10:10am sharp and took an auto rikshaw (tuk tuk) to our resort.
Tip: Karnataka Tourism Board runs perfectly new buses from Hospet railway station to Hampi bus stand. Its around 30 rupees per person to Hampi which is quite cheap.
The resort, Vijayshree H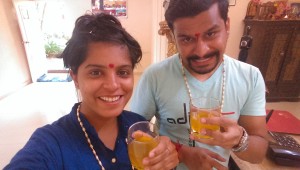 eritage Village, itself was beautiful and grand. A sign of modern India, it was a North Indian Rajasthani themed heritage resort in the middle of Karnataka in the South. It had been visited by Bollywood Stars and Indian Politicians of all parties as well as famous Religious Gurus. We were welcomed traditionally with a tikka, maala (necklace) and welcome drink.
After a brief rest,  We left to go to Hampi but first we had to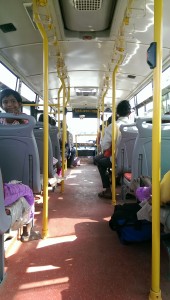 figure out where exactly the bus stop was. Everyone we asked,  pointed like a Bollywood hero pointing
to his diva towards the road. We later realized that the bus stops wherever you want as long as you flag it. Phew!
The bus ticket was around 20 rupees for the both of us and we mentally enacted Brett Lee's chainsaw at the saving! On the way, we saw beautiful paddy and sugarcane fields as well as crazy bus driving. I think every bus driver in India thinks they are part of NWA. Shieeeeeeeet!
The hills are alive…..
Nothing could prepare us for visiting Hampi. At the first sight of huge boulders, We knew that we had made the right decision. As far as the eye could see were hills with rocks the size of buildings.
That experience from the bus was shortlived. Even before we got off the bus, the auto wallahs were at the bus doors like a group of zombies. Auto sir! Auto madam! Full day tour! Half day tour! Lunch place! We were offered everything from day tours to good quality marijuana. One autowallah, Raja however was nice, calm and informing. We told him we may use his service the next day and he pointed us to a great lunch place.
Hippies
We don't know when hippies discovered Hampi but we can certainly say there's a lot of people there to "discover themselves" in India. It has its side effects, good and bad – but the great thing is chill out spots. Mango tree restaurant is a great chill-out restaurant for tourists while it offers amazing food for very little cost. At this point, our tummies were burning from the Andhra food and we needed something bland. The menu had falafel and hummus thanks to the Israeli customers and I jumped on to it, while Shruti enjoyed her roti with coconut curry. We highly recommend this great little restaurant if you are in Hampi.
Hampi – A Lost Kingdom
Post lunch, we started wandering around the ruins. We saw the big Shiva temple, Nandi (bull) monolithic statue and the Hanuman temple. There were bazaars and other ruins which had stones cut and carved from the local area. It started raining and we met a hindu bairagi naga, a holy man, who gave us more gyaan (knowledge) about the area and India chasing modernisation.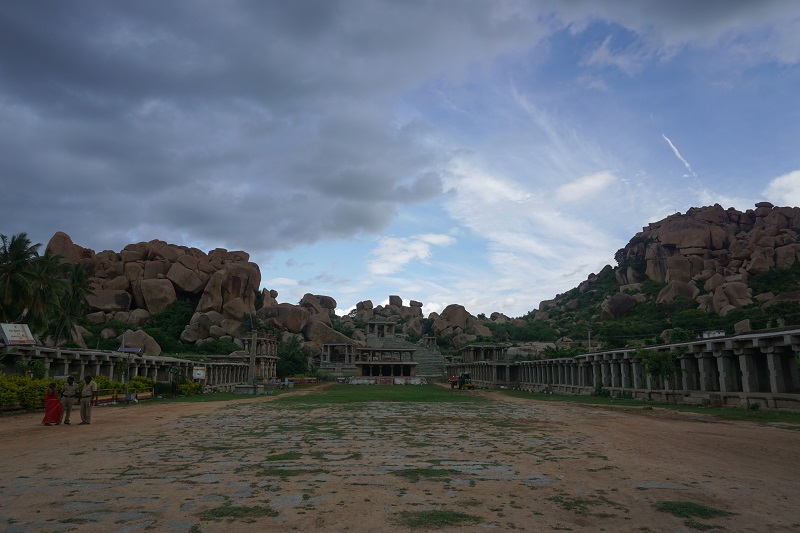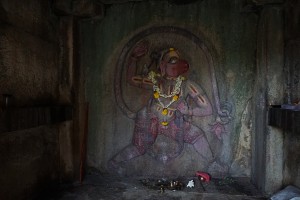 Hampi is a pilgrimage for the Shiva and Vishu sect. The area is believed to be Kishkindha city of the Ramayana which was the Monkey Kingdom. Hanuman, the Monkey God, is believed to have been born here and the temple of his mother was on a hill across the river.
However, in our view, its current beauty is due to the medieval Vijaynagara Kingdom. There are lots of temples and structures built around the area amongst the massive rocks. If you looked towards the horizon, you will see massive rocks and some pillars or temple like structures on the rock top. It is truly amazing. I suppose, the Vijaynagara Kingdom invested a fortune, earned through diamond trade, in their temples.
We then started to climb up a hill overlooking the city with a temple at the top. The view from the top was simply breathtaking with a 360 degree view of the city and the hills beyond. The walk down was in the rain and the stone steps turned wet making it hard to get a grip. We did what the locals do – took off our shoes and trekked down barefoot. It was almost a pilgrimage for us as well :)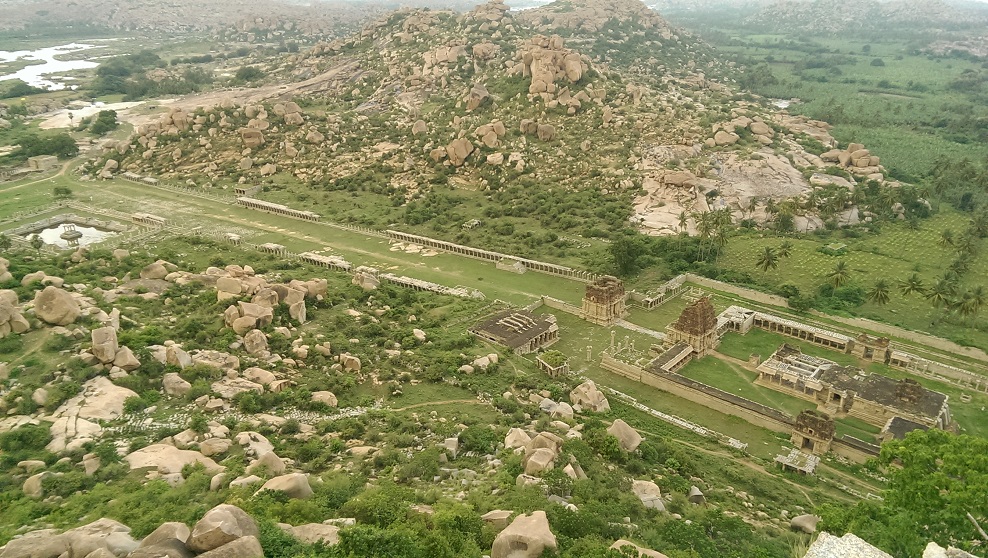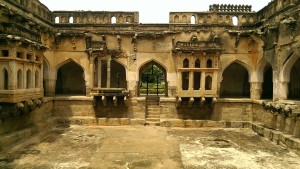 We hired Raja the next day for a full day tour.  We visited all the big temples, such as, Vittala Temple (known for the stone chariot and musical pillars), Virupaksha Temple, as well as the ruins of the palace, like Lotus Mahal, Royal Bath, etc. It was a sad story of a kingdom built beautifully around the massive rocks. The kingdom lasted for several centuries but lost to its neighbors after betrayal by it's own soldiers.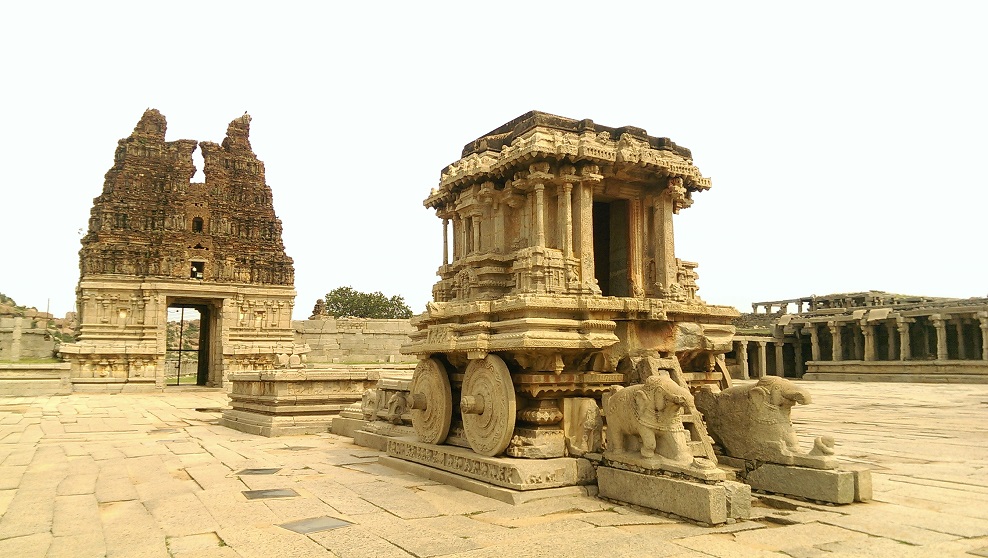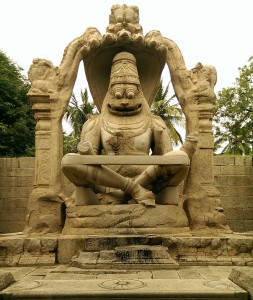 The stone carvings in this whole area were exquisite. Some temples had the entire Ramayana scenes carved on the walls while there were lots of monolithic idols around the region. Some of the big ones were of Narasimha, the man-lion and Shivalinga, Shiva's representation made out of a single rock. Each of them were several feet tall and wide.
Once Raja left, we continued our journey on the foot. We trekked a small hill and saw some temples we had previously missed. Some of the boulders on the hill were several stories tall. We also fed a cow with a new born calf and a pregnant dog.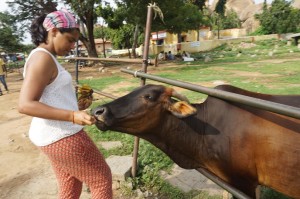 We ended our day trip by looking for small change.  Small change is huge problem in India especially while traveling. While the locals couldn't assist us, an aged uncle, tourist himself, who heard our problem decided to help us out!
Tip: Always break your big notes after food etc as restaurants would be more accommodating than transport facilities or small eateries.
Summary
Transport
In order to get to Hampi, you need to reach Hospet first. There are trains and buses from Bangalore, Hyderabad, Goa or Mumbai. Once in Hospet, utilise the state buses run between Hospet railway station and Hampi. They are comfortable and cheap.
As for seeing Hampi itself, there are two key options:
Tuk Tuk – if you are short of time, hire a tuk tuk for the day and he will show you around. We highly recommend Raja, apart from being safe on the road, he knew the history and communicated with us very well in English. He can be reached at +91-9449420985.
Cycling & Walking – if you have plenty of time (3 days min.), we recommend you to hire a bike and cycle around the ruins. This gives you the flexibility of how you want to spend time and de-rail on an unknown path.
Accommodation
We recommend living in Hampi itself – there are relatively cheap accommodations and you can enjoy Hampi to fullest. We missed out on the sun rise and a massive hill because we had to commute back to Hospet.
Final thoughts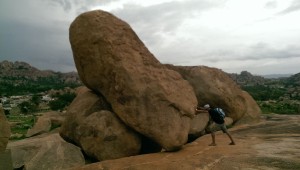 Hampi was magical. Period. No words can describe the terrain, ruins and the living temples. It seems like man and nature have worked together to create a beautiful place.
In addition, we managed to see various animals all around us. Goats, cows, monkeys, langoors as well as chickens and a peahen – this made us realize we were in a village.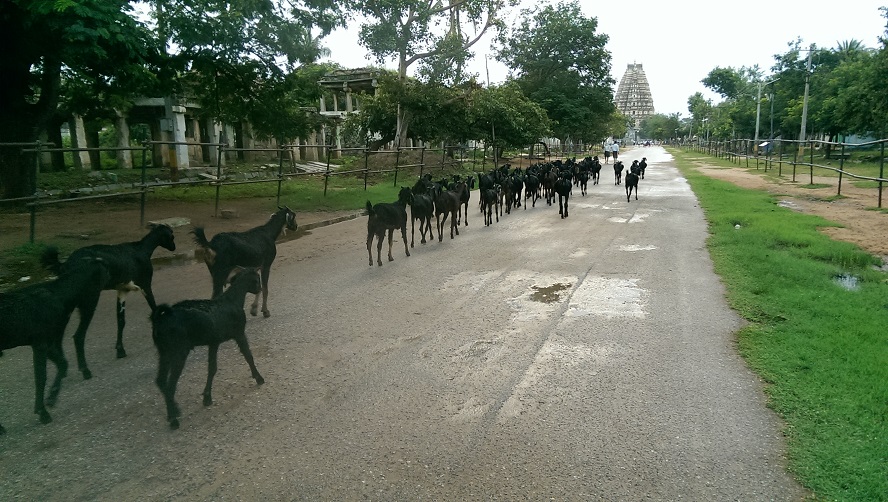 Our final words – if you are visiting India, please do not miss this tiny village.
Visiting Hampi Gallery