Initial planning
During our initial planning, we had a few South Indian cities on our list of places to visit. As time went by, we realised we were short of time and so we had to cut down quite a bit. Some of the major cities like Chennai and Bangalore didn't make it to the final itinerary. Hyderabad on the other hand, we couldn't remove. Reason – food. That's it! Period.
Hyderabad, though it is part of South India, it has a distinct culture due to its mix of North Indians, South Indians, Hindus and Muslim cultures. Growing up in India, we have known Hyderabad for two things: Hyderabad Biryani, a spicy slow cooked rice dish and Hyderabad accent, a mix of North Indian Urdu and South Indian Telugu language. Recently however, Hyderabad has come into the news for protesting for and getting a separate state in India. It seems to us that every few years, the number of states in India increases. I won't be surprised if Shruti can't tell you how many states there are in India right now :P
First bite of the cherry
We arrived in Hyderabad in the middle of a thunderstorm but were relieved to be away from the Delhi heat. Telangana state runs P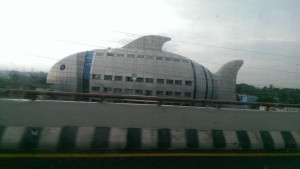 ushpak buses which takes you from the airport to the middle of the city for a small cost. The highlight of the bus trip was a building shaped like a fish which understandably happens to be the fisheries department of the state.
After checking in and resting for a bit, our first stop was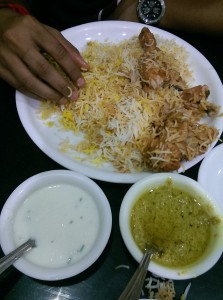 Paradise Restaurant, supposedly a Hyderabad institution. It is known for its Biryani and kebabs,
so we bought the same – biryani, kebab and desert called Qubani Ka Meetha, to eat in the room. The walk gave us an brief view of the city life and we were shocked to find no animals on the roads. Now that's unusual for an Indian city.
Once we had the first spoon of the Biryani and bite of the kebabs, we knew that we had made the right decision coming to Hyderabad. The desert, made of apricots, was just delicious. The local newspaper was full of news of floods in the city but we couldn't care less!
Hyderabad hospitality
We decided to check out the historical monuments of the city and boarded a local bus. The mix of religions, cultures and languages in Hyderabad was very evident on the bus – and we loved it. Growing up in Delhi and Mumbai, we always assumed people in big cities to be rude and far from helping. This wasn't the case in Hyderabad – as soon as we boarded the bus and asked the bus driver how to get to Charminar, we had a quarter of the bus helping us out. Eventually, a mother and daughter-in-law, who were heading in the same direction, asked us to follow them. They helped us take the right bus, dropped us outside the tourist area and even gave their phone number in case we were lost. The young girl even offered Shruti her seat on the bus and when Shruti insisted she sits, she replied, "aap Hyderabad ke mehmaan ho", which means, 'you are the guest of Hyderabad'.  We were definitely taken aback with such politeness.
This incident wasn't our last – we encountered this helpful attitude throughout our time in Hyderabad.
The history of the city
The old city of Hyderabad is a majority Muslim area and in many cities in India, it can be a no-go zone for non-Muslims. Hyderabad though is a beautiful exception. There were Muslims, Hindus, vegetarian eateries and beef shops near each other. The main tourist attraction of Hyderabad, Charminar, is a beautiful medieval monument. The name itself means four towers and the monument is built in the middle of a crossroad. It was built in 1591 by a Qutub Shahi King but restored and maintained by dynasties afterwards. A lady from the Archaeological department told us that a Hindu princess got married to the Muslim king in the medieval area and the name of the city in Hindi and Telugu is based on the same princess.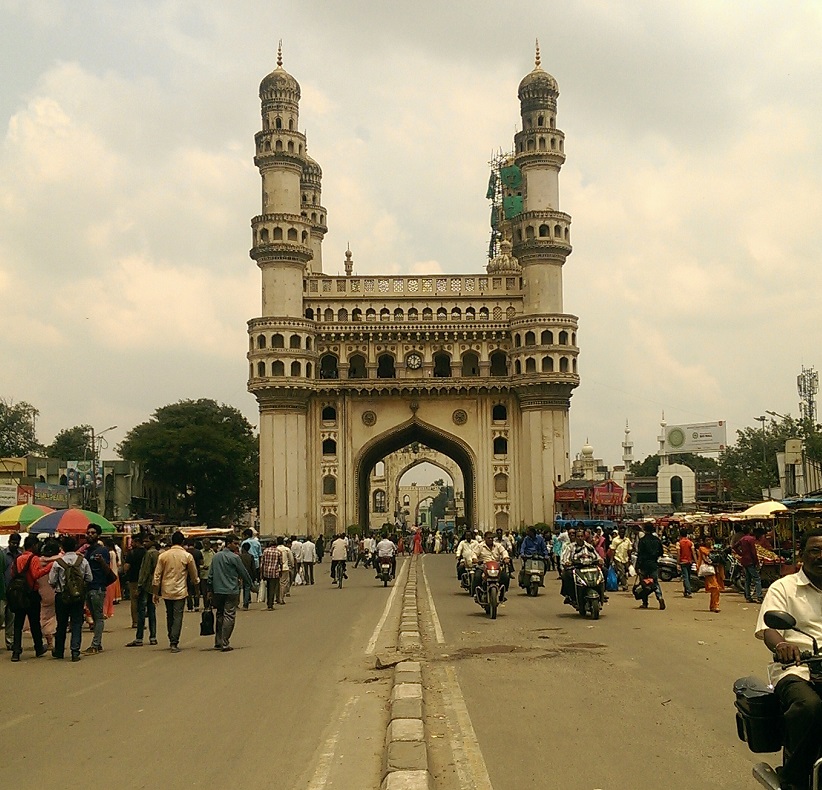 The Mughal kings from North India saw Hyderabad's potential early on due to its diamond mines in the area. Many wars were fought between the Mughals and Qutub Shah Dynasty and the Mughals eventually won. They brought the Northern languages and Persian food which innovated in Hyderabad and is now famous. Mughals left their Generals in charge, known as the Nizams, who eventually became independent and change the character of the area.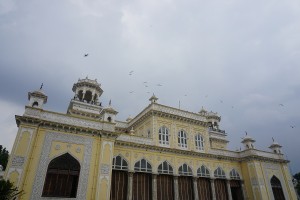 We visited the Chowmohalla Palace, which was home for few Nizam kings. The palace was full of history and grandeur of the royals. It showed everything from their paintings, weapons, furniture, crockery and some of the best cars in the world of their time. The biggest surprise? After India became a democratic country, the last Nizam moved to Australia with his family. G'day Nizzy!
Our discovery of history continued as we visited the Golconda Fort and the Qutub Shahi tombs. The fort was built in the 12th century and was the capital of the region for many centuries. It is built on a large hill and the view from the top is amazing. Unfortunately, as with most historic places in India, people have managed to etch their names into the walls. The security guard caught and threw out a teenager for doing the same before giving him a small beating. Somebody is gonna get a hurt real baddddd!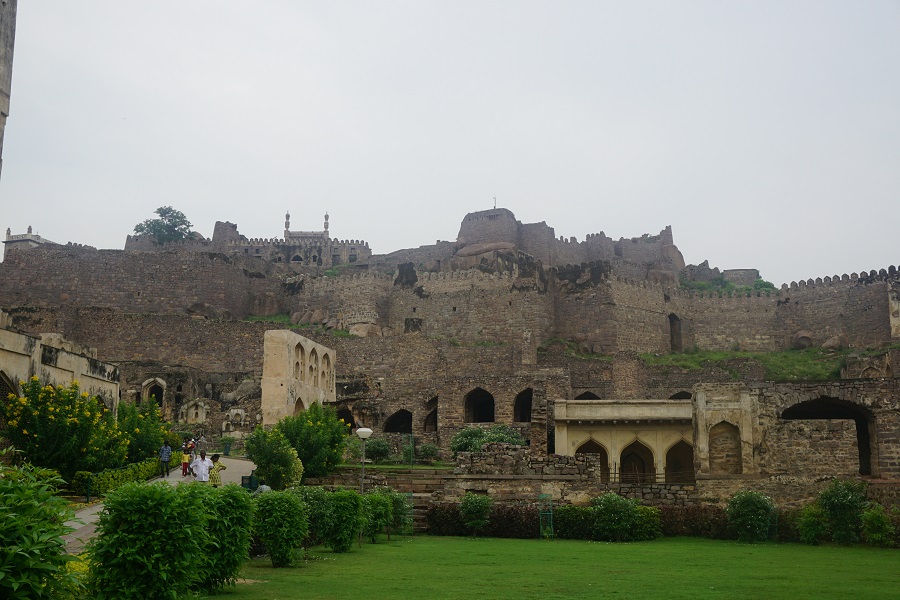 The tombs were no less than the fort in their grandeur. Their was restoration work going on in many of the tombs but it is still a nice quiet place to spend a few hours away from the sun. Hyderabad being away from the tourist route means that you can have the places to yourself. We rewarded ourselves with another spicy Biryani and gosh, it was hot. Afterwards, all I could sing was Burning Ring of Fire by Johnny Cash.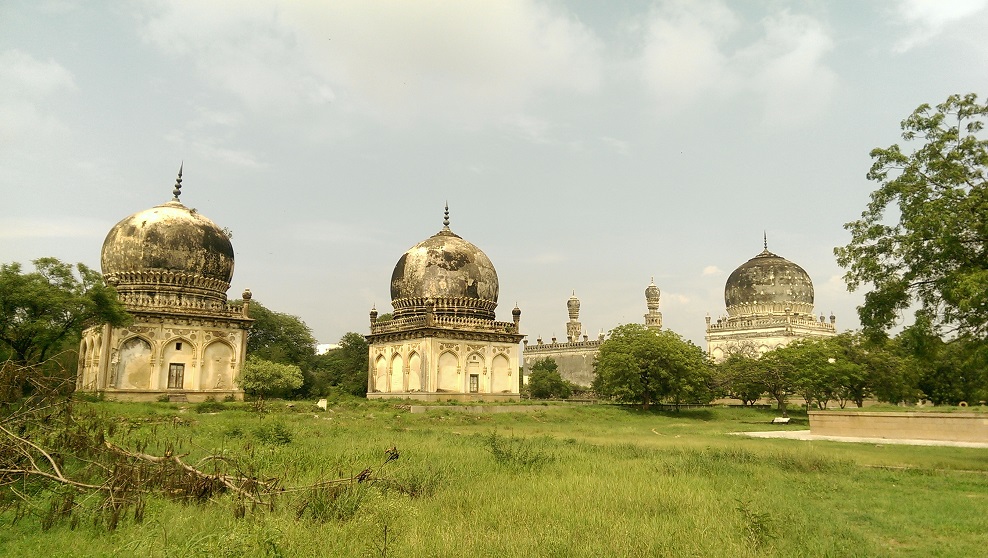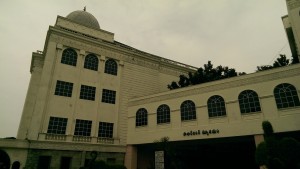 We also visited the Salar Jung museum in the old city. Salary Jung was the title given to the Prime Ministers of the Nizam Kings. The museum was built by Salary Jung III. Much like the Chowmohalla Palace, the museum displayed the history of the Nizams but also of the Salary Jung family. It has a great collection of Indian art and history.
Other tourist spots
We also visited the Hussain Sagar Lake and the Birla Mandir. The lake was somewhat disappointing though the drizzly weather may have had something to do with it. It has a giant Buddha statue which is the highlight but the lake itself appeared dirty.
The Birla family has built a lot of temples along with other things around the country. The Birla temple in Hyderabad is on top of a hill overlooking the city. It is a must visit site not only for the religious reasons but also the view.
Party scene
Other than the history and food, we were excited that we were in Hyderabad for the weekend. Like any other IT emerging cities in the country, there are lots of youngsters who have moved here from other parts of the country. When the young crowd isn't working, they are definitely partying. Though, you need to be aware that the party scene in India is limited to posh places which can stay open after lockdown. Unfortunately, no one could tell us when the lockdown actually is.
We met Shruti's childhood friend Ankit for dinner at Stone Waters Kitchen. It was a great place to chill with live music, good food, alcohol and hookah. The musician played till the cops dropped by to checkout the place – this must have been past lockdown.
We met Ankit again on Saturday night to go clubbing. Shruti and I had never been clubbing in India and Ankit was happy to take us along. We met in the Hi-tech city which is the new part of town full of IT companies and hotels. Heart Cup Coffee had a nice mix of chillout lounges and an electro club. We had planned to stay out til half past 12 since we had to checkout the next day. However, we then moved to Over the Moon which had Bollywood and Electro/House music and we loved it from the start. We loved it so much that we left only after the Indian music finished at 2:30am. Shruti and I had never been clubbing in India and this certainly made up for it. We even grabbed a 3am dosa on the way home!
Hyderabad food
Apart from the yummiest biryanis from Paradise and Rumaan Restaurants, I also tried some of the local delicacies like Hyderabad Chicken Curry and Patthar Ka Gosht. The latter is lamb slow cooked on heated stone and it really melts in your mouth. This is definitely a must try – highly recommended.
We also ate the local desert, Qubani Ka Meetha and Double Ka Meetha. The latter is basically fried bread with cream and sweet syrup – it was definitely delicious.
We made sure we had an Andhra Thali, the local Telegu food. It is basically a massive serving of various curries, roti and unlimited rice. It was a feast and we couldn't walk after the meal. Make sure you have one of these if you are in Telengana or Andhra Pradesh.
I also wanted to try Haleem – which is a slow cooked sweet dish with lamb, dry fruits and spices. It is usually cooked during Ramzam (Ramadan) festival so all my efforts were in vain. This is still on my must-try list.
We also bought a box of famous Fruit Biscuits from Karachi Bakery. I suppose this box will last us a week or week and half easily. Each biscuit is rich in its content and has rose essence – we are enjoying it with cup of tea during our the train rides :)
Summary
Transport
We used buses to get around the city quite a bit. Though they appear a little aged and dodgy, they manage to get people around the city just fine. The conductors and drivers were quite nice and the buses were cheap. We had no issues whatsoever.
The autos are the bane of Hyderabad. There is a meter system set up by the government but you will rarely find a auto driver who is willing to use it. We only used shared autos for area less than a few kilometres.
For late night travels, Ankit introduced us to Uber in Hyderabad. We used both Uber and Ola in situation where nothing else would do. The drivers were pretty good and the cabs were relatively cheaper than autos as well as safe.
Accommodation
We stayed in Banjara Hills which is a posh locality. There are lots of food options at close proximity. There are lots of lounges and clubbing spots around the area too and getting around at any time of the day isn't an issue.
Another recommended locality is Jubilee Hills. Similar to Banjara Hills, there are lots of food and entertainment options around.
Final thoughts
Its pretty obvious that we visited Hyderabad for its food. However, we learnt a lot of things about the city which changed how we think of Hyderabad. To be fair, there is not a whole lot to do in Hyderabad. It has a lot of history and culture but it is the people of the city that make it what it is.
Hyderabad still has the old 'royal' manners where people will be nice and try to help as much as possible. The busses have 50% of the seats allocated to the women – which I have never seen anywhere. We felt that the women were much safer in Hyderabad then they are in the North. The bus conductors and bus drivers were so nice which is unheard of in India.
As stated previously, Muslims and Hindus living under the royalty has created an amazing mix. It is possible to have Mutton Biryani and Veg Thali within close proximity. You can get by speaking Hindi/Urdu, Telugu or English without anyone complaining. Muslim women with burqas and Hindu women in saris sit side by side without any issues. This truly makes Hyderabad what it is.
Though its history is a highlight, Hyderabad is modernising at a rapid rate. The hi-tech city has attracted people from all over India as well as overseas and this has brought restaurants, cuisines from around the world, malls and towers like any other global city.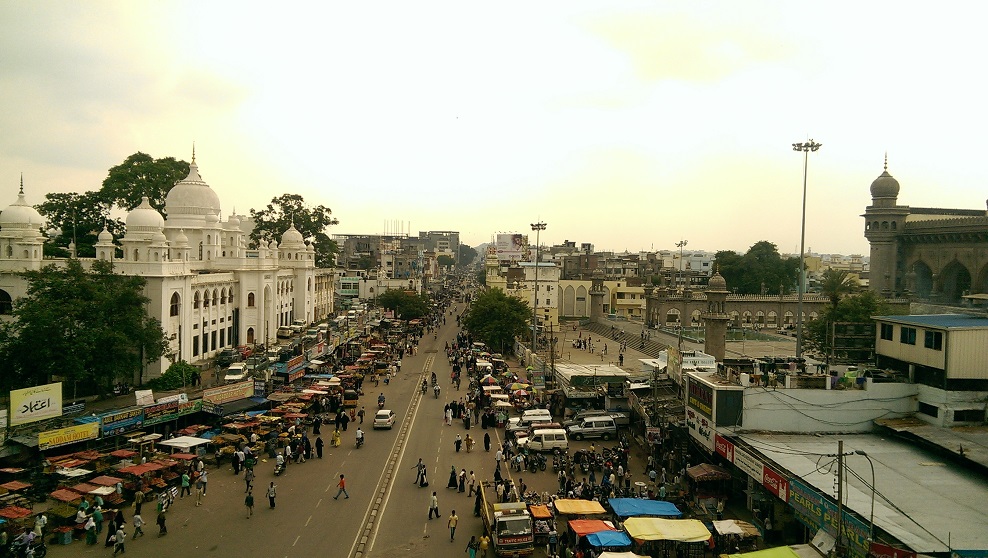 Hyderabad Gallery