The what and why
Goa is the smallest state in India. It is on the Western coast bordering Maharashtra and Karnataka. Goa was under Portuegese rule from the 16th century and the culture, language, monuments and food are heavily influenced by Portugal.
Goa was made famous by the hippies in the 60s and 70s and is now a big party destination. It has loads of beach parties and has also been featured in bollywood movies. Having grown up in India, our travel around India would not have been complete without visiting Goa, so we spent 3 days in Goa.
The beach
We arrived in Goa out of season – it was either raining cats and dogs or the clouds were preparing for a downpour. At dinner in a local restaurant, we were told that most beach shacks were still closed and the watersports were off until the end of the month. Not the best start! However, this being India and due to a long weekend, Goa had enough Indian tourists. We still managed to visit some beach shacks and chilled each night under grey clouds.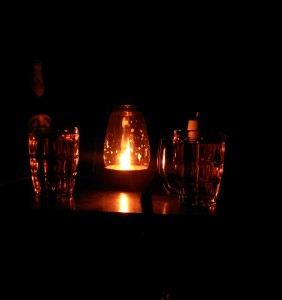 Goa's beaches aren't as clean and pretty as Australia's but they are certainly very lively through the day and night. Each beach is known for it's music genre. Baga and Calangute beaches are big for Indian tourists so most beach bars played Yo Yo Honey Singh, while on Anjuna beach there was electronic music played all across. We managed to enjoy beers while listening to music on a beach, true Goan style, on Baga as well as Anjuna beach. Definitely double tick for us!
On our final day in Goa, the Goan Gods were very kind to us and shined in form of the sun. We spent the entire afternoon chilling in a beach shack with a parasol for the sun. After a couple of dips in the sea, few beers and a massage on the beach, we felt like our holiday in Goa was complete.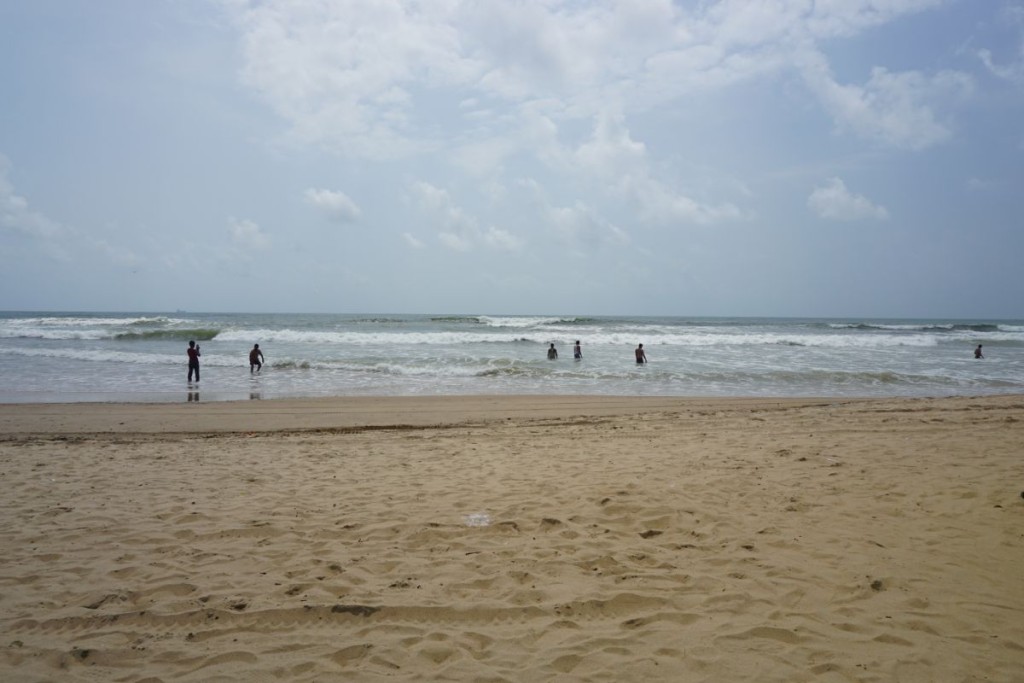 Riders of the storm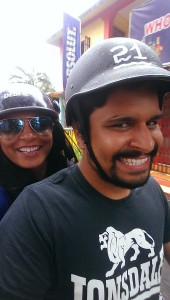 We hired a scooty for two days as the public transport in Goa is relatively expensive as compared to other places in India (by expensive I mean Rs. 40 for 12km, it is still cheaper than taxi!). We decided to indulge a little and live it up Goan style. Our plan was to see the beaches, history and the interior of Goa.
To be honest, I hadn't ridden a scooty since I was 12 and it took me around half an hour to get a complete hang of it. Sometimes though it was a tough task as there was a bit of a road in the middle of a pothole and yes, a cow too!
After filling up the fuel, our first stop was Fort Aguada. Built by the Portuegese as a watering station, Aguada means 'place of water' in Portuguese. The ride itself was great and Aguada is only a short distance from Baga and Calangute. However, the fort, in our opinion, was quite boring. Maybe the grand forts in Delhi, Agra and Hyderabad set the bar too high.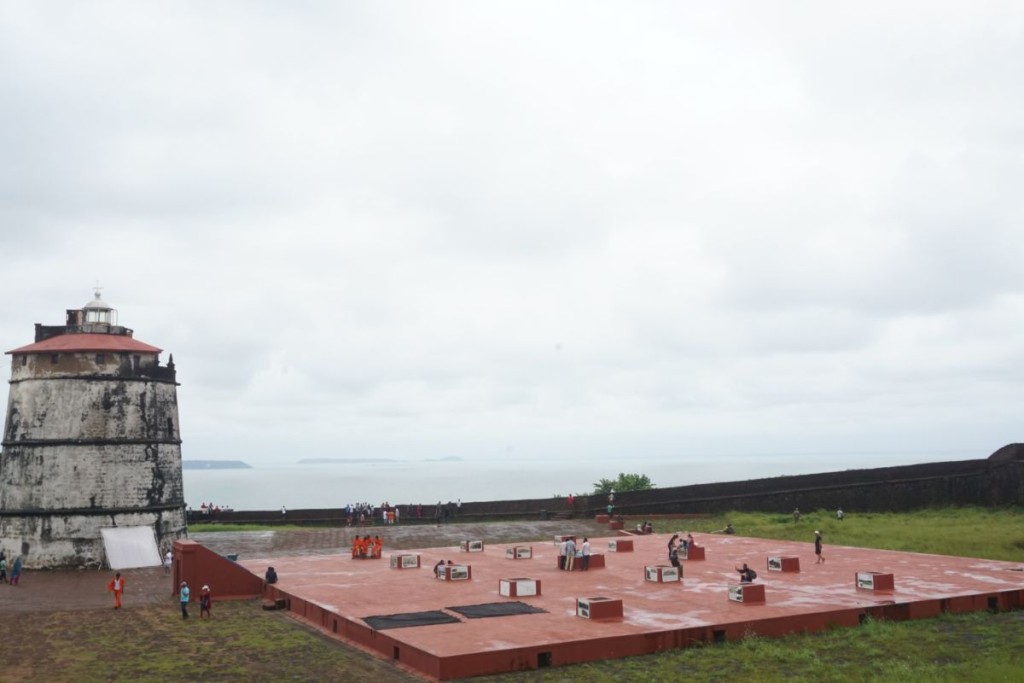 Our next destination was Panjim also called Panji. We visited Our Lady of the Immaculate Conception Church, which has been shown in many bollywood movies. Continuing the bollywood trail, we headed up North to Chapora Fort.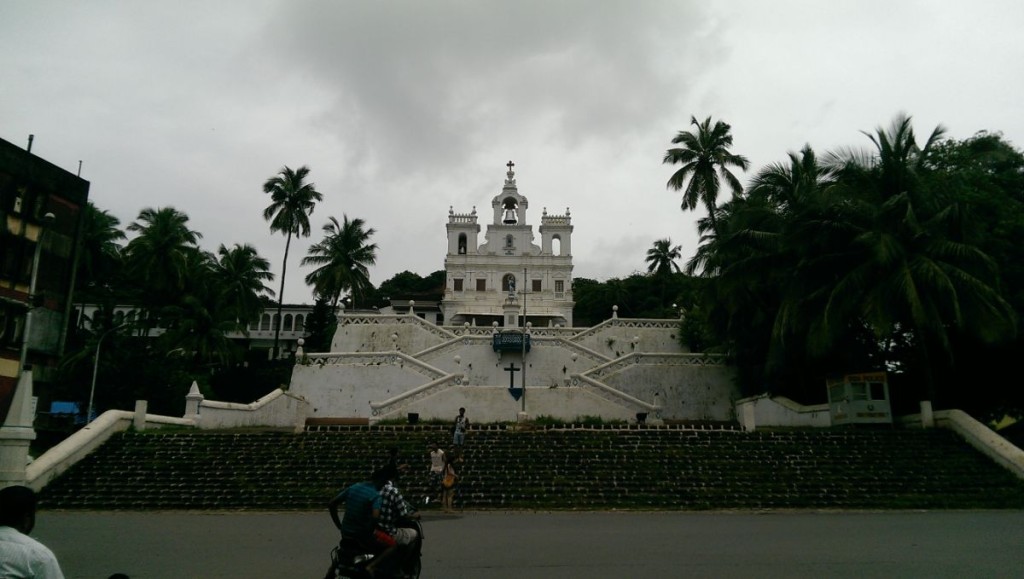 The Chapora Fort, unlike Aguada Fort, had an amazing view. It sits high on a hill overlooking the sea and Vagator beach. This fort was made famous through the movie Dil Chahta Hai, which came out in 2002 and became the voice of a generation. A few key scenes from the movie were shot here and so, it was a must visit for Shruti.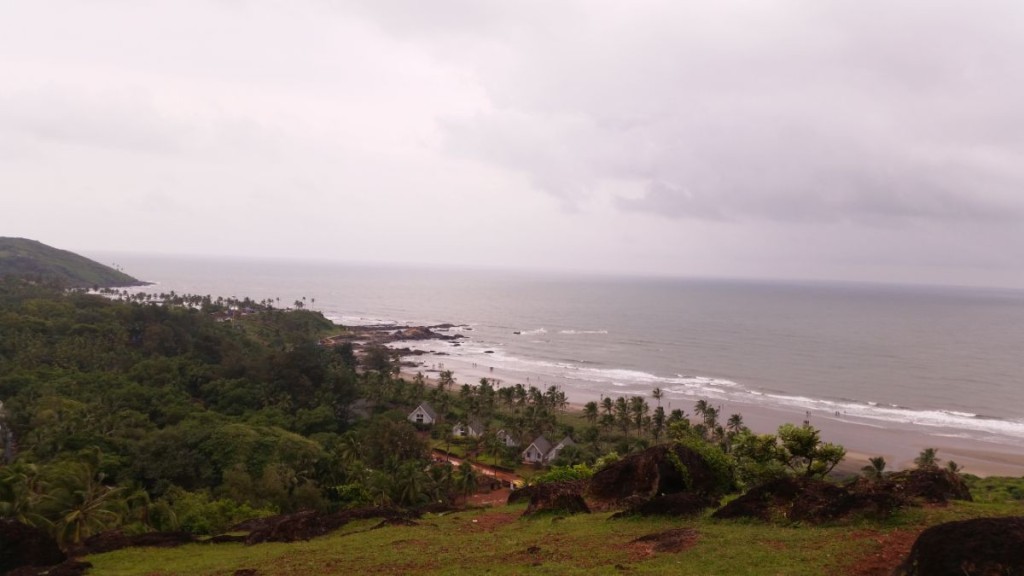 The next day, we rode again to old Goa to see the old churches. It was over an hour ride. We saw the church of Bom Jesus where the remains of St Francis Xavier are on display. Miraculously, his body hasn't decomposed in 400 years.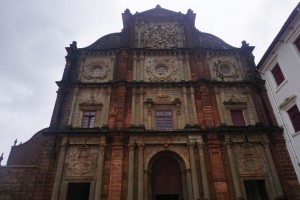 We saw a few more Portuegese churches and then rode towards some lakes and the Pandava caves. Riding through the countryside of Goa is a special experience. The paddy fields with hills in the distance are a beautiful sight. The narrow lanes twist and turn everywhere with bright and colourful Goan houses next to them.
Check out our Insta video clip of the scooty ride!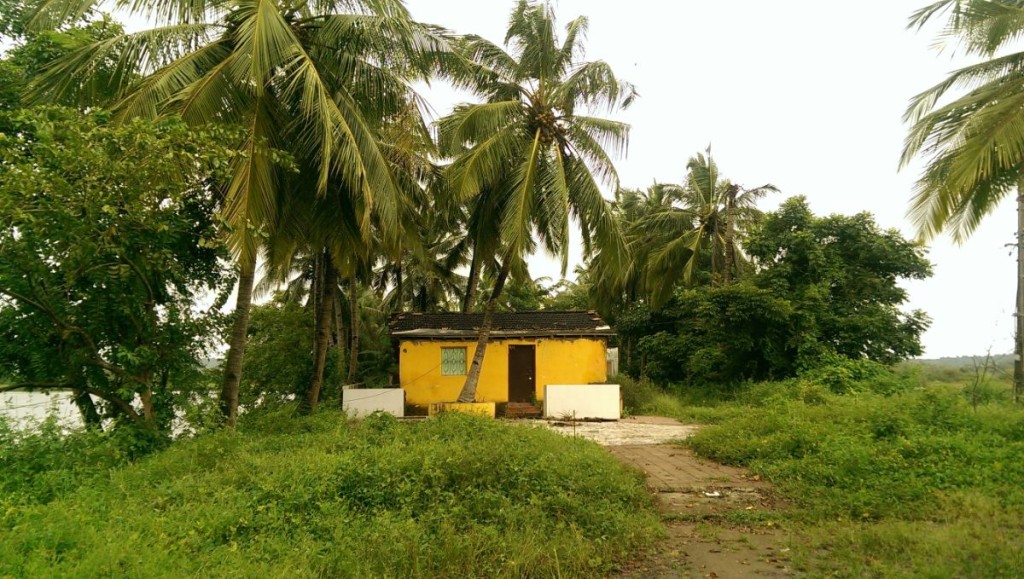 Once at Pandava caves, we had a small lunch and admired the excavated caves. Somewhat unexpectedly, we stumbled upon a waterfall only 100m ahead of the caves. Due to the heavy rains this week, the waterfall had a great amount of water falling off it. The sound and the water flying around was just astounding. We were pretty happy as the waterfalls were totally unexpected.
Tip: Rent a scooty and ride around Goa – because that's what everyone does. Also, do not fill up the tank. The scooty is meant to be rented with close to no fuel and the extra money spent on petrol can be utilised for beer.
My friend Ganesha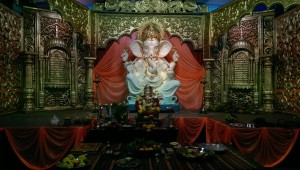 The day after we arrived in Goa happened to be Ganesh Chaturthi festival. It is meant to be the birth day of the Elephant God, Ganesha, which is huge for Hindus in Western India. On this day, Hindus keep a small idol at home, pray to it between 1 and 12 days and subsequently immerse the idol in a water body.
Though the weather was depressing, the festival lifted everyone's spirits. Everywhere we went, people were lighting firecrackers. Most people had taken the long weekend off to pray with family and we heard prayers while riding the scooty and prayer bells in the distance.
Our experience on the final night, however, was incredible. Many families brought their Ganesha idols to Baga beach for immersion. The kids enjoyed with firecrackers while the Adults prayed. As a sign of respect, the clubs reduced the noise while the immersion went on.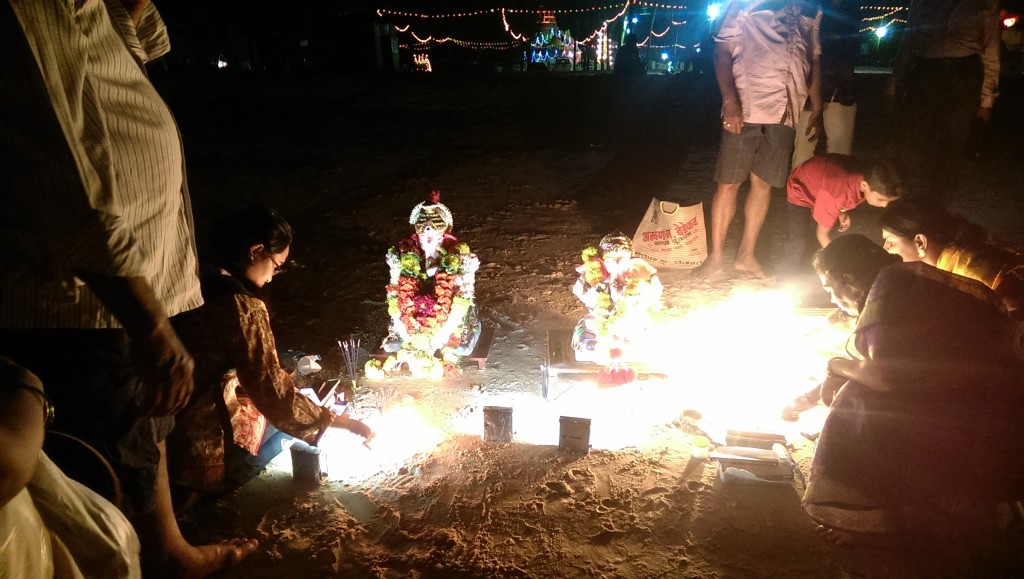 In addition, it was an emotional experience for us watching the kids playing with firecrackers and their older cousins letting off larger fireworks. Neither of us have enjoyed firecrackers with the family since we moved overseas. This Diwali will be different, Dhamakaaa (explosion)!
Summary
Transport
Being a prime tourist destination, taxis and autorikshaws are crazy expensive. There is meant to be a government rate but taxis don't follow it. Buses run between most towns in Goa but getting to beaches can mean changing buses a few times as well as using autos.
Tip: When you arrive in Goa, check for public buses or ask your hotel for pickup and dropoff. The hotels are likely to provide the best rate.
Seeing around Goa is best done on a scooty within Goa is the best option. They can be hired for Rs 300 a day and give you complete freedom to go anywhere in Goa. However, ride slow and watch for buses and crazy drivers.
Accommodation
Goa has every range of accommodation. From budget to luxury, you can find homestays to hotels to resorts. Be mindful though that prices will vary depending on the time of year.
We highly recommend staying on the beach as you are likely to spend most of your time around it. As different beaches play different music, select the one you are likely to enjoy the most so we can save on late night transport cost.
Final thoughts
Goa, as expected, was fun though the weather wasn't perfect. The scooty ride through the interiors was definitely the highlight for us, though we thoroughly enjoyed the beach and the culture as well. Like Hyderabad, we saw Hindus, Muslims and Christians living together and celebrating each other's festivals.
We highly recommend Goa if you are looking keen to party or just take in the culture. Also, do try Fenny, the local alcohol make of cashew nuts. It is best enjoyed with sprite.
3 days in Goa Gallery