Sometime in May 2014 we decided we were going to take a long holiday the following year.  We had always wanted to do it. Now we were finally married and had to decide what we wanted to do with our life.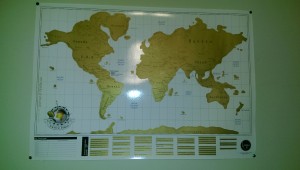 We got talking about places we want to visit and what we want to carry with us. We also bought a map to start scratching places we have visited together. Being a project manager, I quickly realised we need to plan a lot and it needs to happen in an effective way.
We decided to take baby steps by breaking down our conversations to topics. We created a list of things we need to consider as our starting point. As we discussed each topic, we made decisions that helped us outline our travel plans.
Travel preparation list
Continents we want to cover
Duration of our travel
Travel budget
Consider savings for post travel
What type of traveling do we want to do
Our existing jobs
Inform our parents – yes, we had to consider this and be very tactical about it!
Once we agreed on the above items, we broke down our next set of tasks to smaller tangible actions.
Read more about working on above list, travel research, packing and saving.
Let us know what you think about the list.