The day had finally arrived! We were heading to Machu Picchu. My dream was finally going to be fulfilled. After spending a few days in the Sacred Valley and Cusco, we had a better understanding of the Inca Kingdom. We were ready to see the masterpiece that was never found by the Spanish!
Getting to Machu Picchu
We arrived in Machu Picchu Town, a.k.a, Agua Calientes, on the PeruRail train from Ollantaytambo. We paid USD 64 each for this trip. The lady assured us that she was giving us a left-side seat for the better view. Once we boarded and the train started to move, we realised we were on the right side of the train! There goes Shruti's photo opportunities.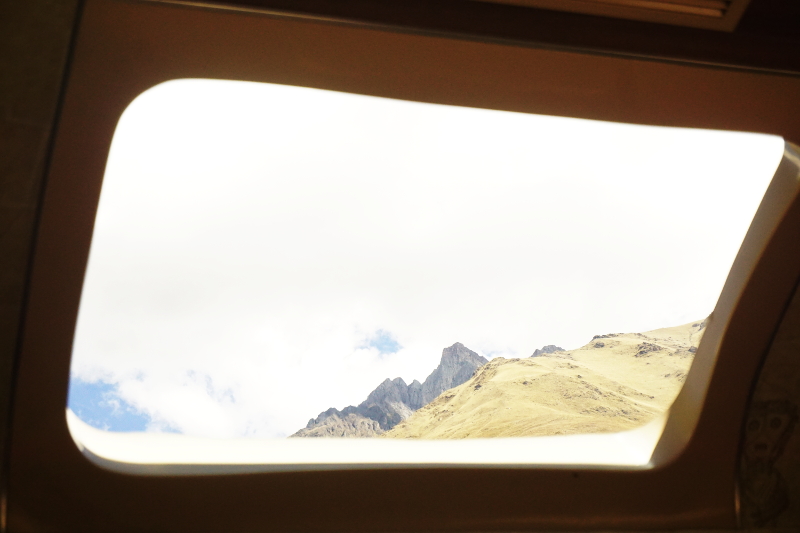 To add on, the train ride to Agua Calientes isn't a scenic one. We did Nariz Del Diablo in Ecuador and that was a scenic ride. On the way to Machu Picchu, once in a while we saw pretty meadows and high peaks but most of the ride was sheltered by trees on either sides. So there goes the chance to see! We felt as though we wasted tons of money. If we had taken the bus from Cusco, it would have been at least USD 100 cheaper.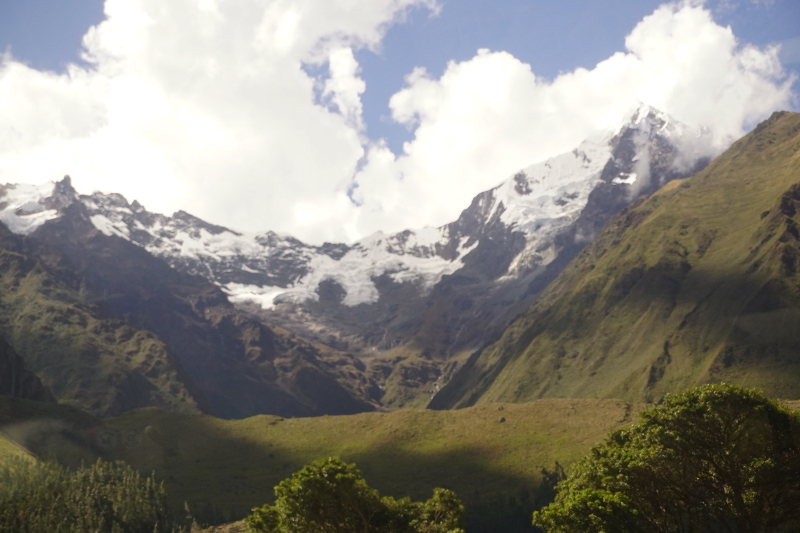 Rain, Rain, Go Away
We weren't welcomed by Incas or Llamas but by the rain. Not the best sign but we were positive. The rain subsided eventually and the clouds flew away. Phew we thought!
Tourist Tax
We stayed two nights in Aguas Calientes because we did not want to rush our visit. It was a very touristy town with Mexican Restaurants and massage parlours everywhere. We had a few meals here before and after climbing Machu Picchu and ended up paying a thing called 'tourist tax'. Funny enough we did not come across such a thing in any part of Peru, including Cusco. A bit steep!
Sickness and Change Of Plans
I started feeling a little sick in Sacred Valley. It was kind of a strange feeling with fever but no bad throat or funny nose. It progressively got worse and by the time we reached Aguas Calientes I was down with high fever. Therefore, our initial plan of hiking up to Machu Picchu by foot was impossible. To add on to our misery, we had bought permits to hike Montaña Machu Picchu and our slot was between 7-8am. We weren't sure if that was going to happen though.
Anyway, we woke up early to get on one of the early buses to Machu Picchu. Though the bus service starts only at 6am, the queue starts to form at probably 4am! We were up and ready in line at 4:45am. The bus costed us USD 24 for both, each way.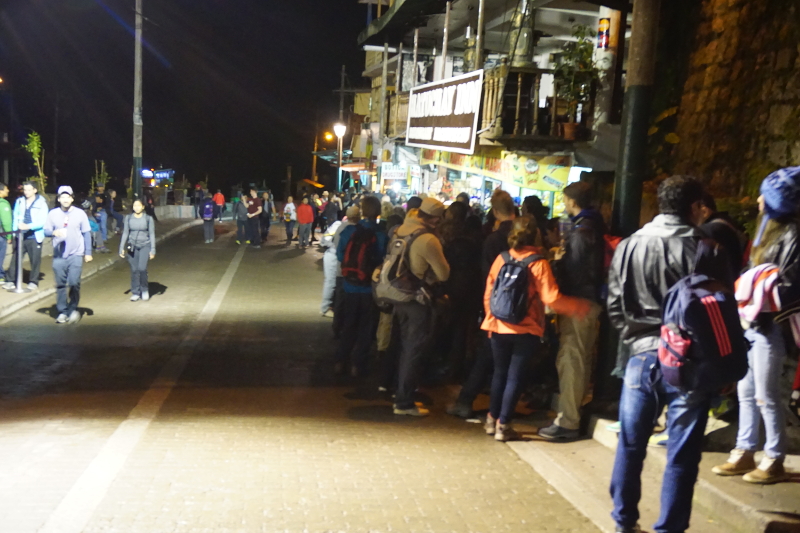 Long Way To The Top
Upon reaching Machu Picchu, we cleared the entry and set about going towards Montaña Machu Picchu. We were supposed to be in the first group going up between 7-8am. I was confident I would be able to do the hike. After all, this is what I had wanted to do for a very long time. But at 6:45am, the rain came down and clouds were all over the place. Not a great start!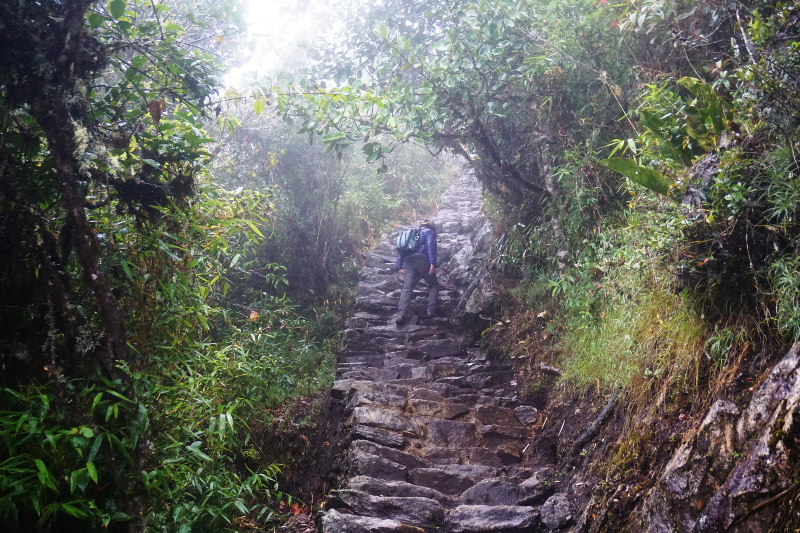 As we slowly made our way to the top of Montaña Machu Picchu, the consistent rain was slow murdering our hopes for the amazing view. After hiking for 2 hours, we reached the top only to find shelter from rain in the only hut available. All the hikers gathered around, waiting, chatting and trying to cozy up to keep warm. All our clothes and bags were wet and we couldn't see a thing from the top.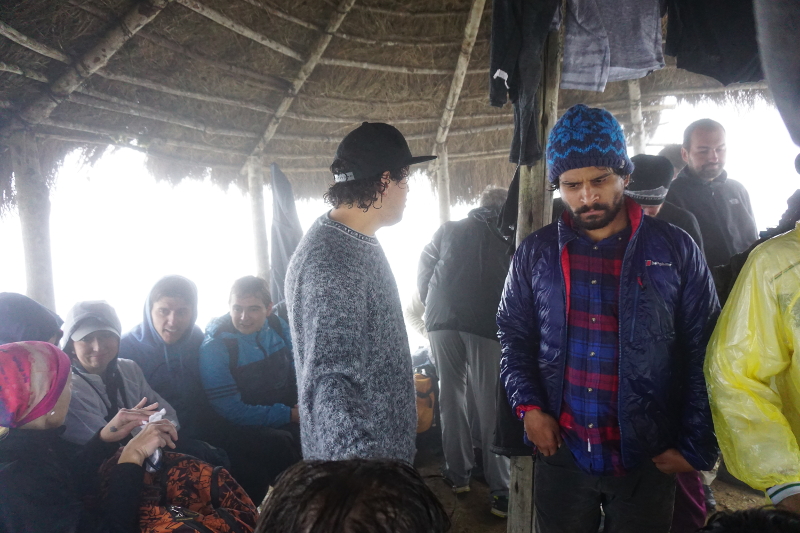 However, while this was a downer, everyone on the mountain was keen to see Machu Picchu yet the clouds wouldn't allow us. All different ethnicities prayed to their own Gods for the clouds to part and the Sun (ironically Inca's main God) to show if not for the glimpse at least for the warmth. It took a while!
First Glimpse
At around 10am, after waiting for 1.5 hours, the Sun first showed up and the clouds parted for 10 seconds. The entire crowd went berserk and then groaned together. Anyhoo, in that moment, Shruti managed to get our first shot of Machu Picchu from the top. That was as good as it got.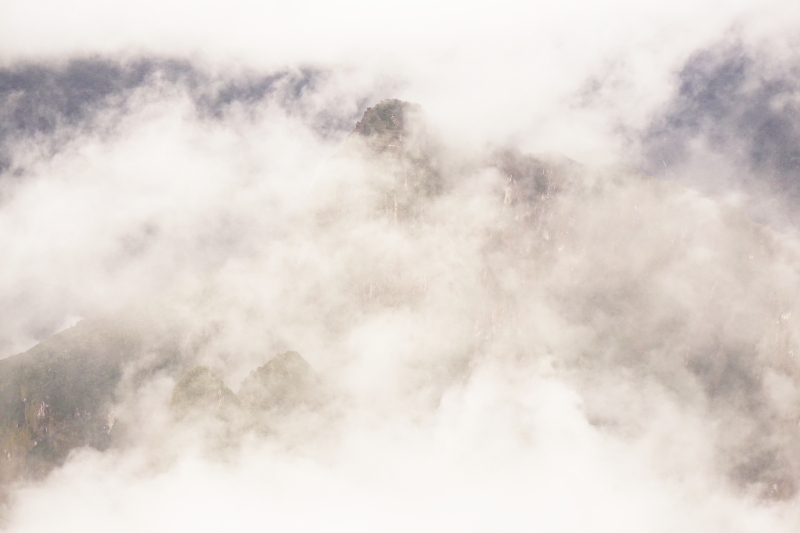 We waited and watched the sun and clouds play their hide and seek game. Every 15 mins it would appear as though the clouds would clear but that was nature messing with us. Shruti managed to get a couple of shots but we never managed to see the entire ruins from the top.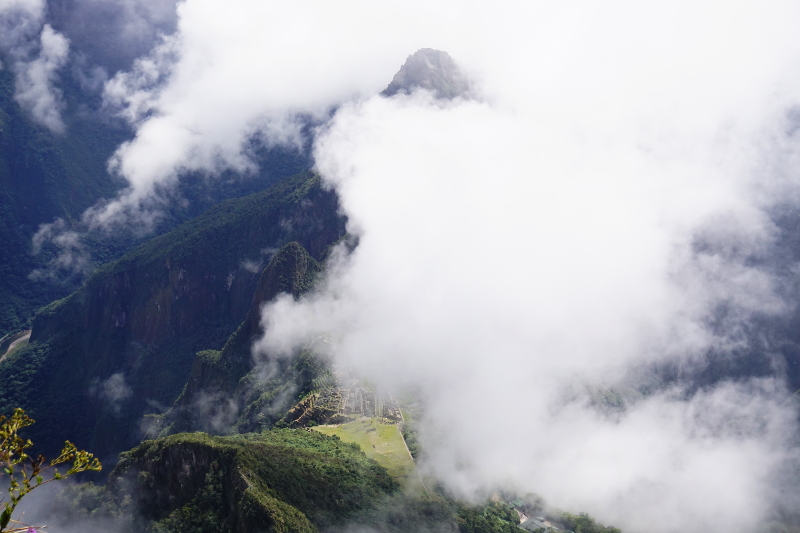 At 11:30 we decided to head down as we still had to explore the ruins. Luckily, during our descend, we got some clear views of Machu Picchu. Finally!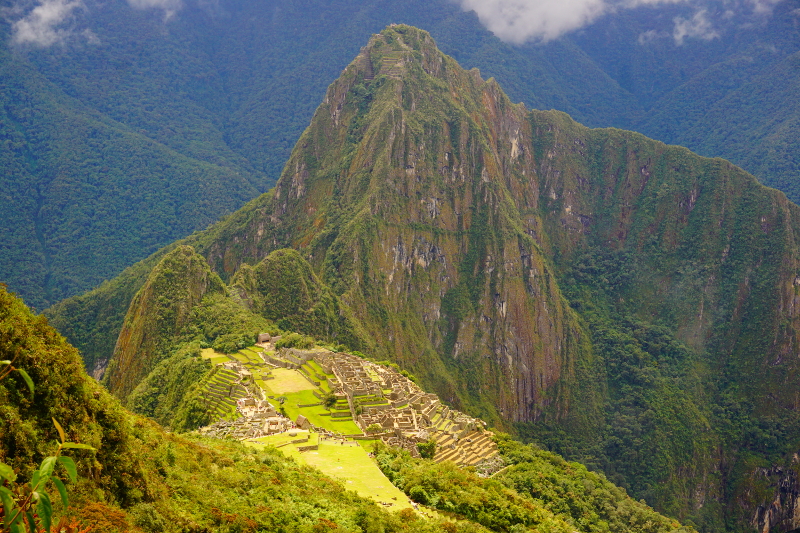 My dream of seeing Machu Picchu since I was at school was finally coming true. I had seen it in magazines and read about it as Wonders of the World. On this day, I was finally there. As we descended from the mountain, we took some iconic shots of the ruin, mountain and the llamas. It was surreal!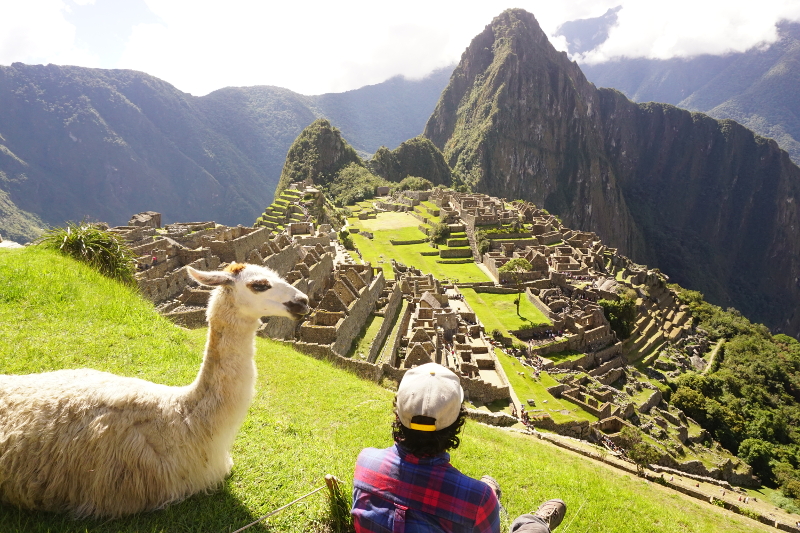 Tour of Machu Picchu
We had been warned about the crazy prices of tour guides in Machu Picchu. When we asked around though, the price was only 30 Soles per person if we did the tour in a group of at least 4. We met a Polish couple up on Montaña Machu Picchu who agreed to join us for the tour.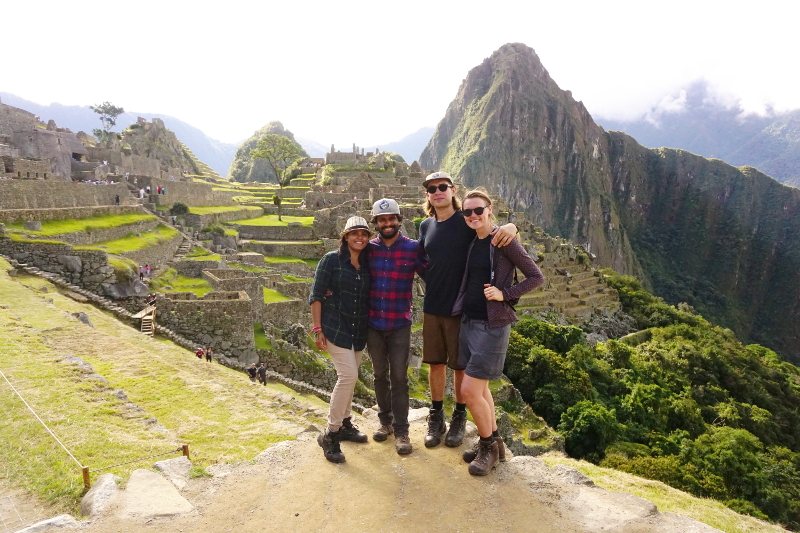 The tour guide, Señor Israel, gave us a tour of the entire complex. He explained why the location of Machu Picchu was chosen, what purpose it served, information about the Inca Empire and the buildings within the complex. There was so much information that it was hard to take in. It really made us believe that Machu Picchu was a Wonder Of The World!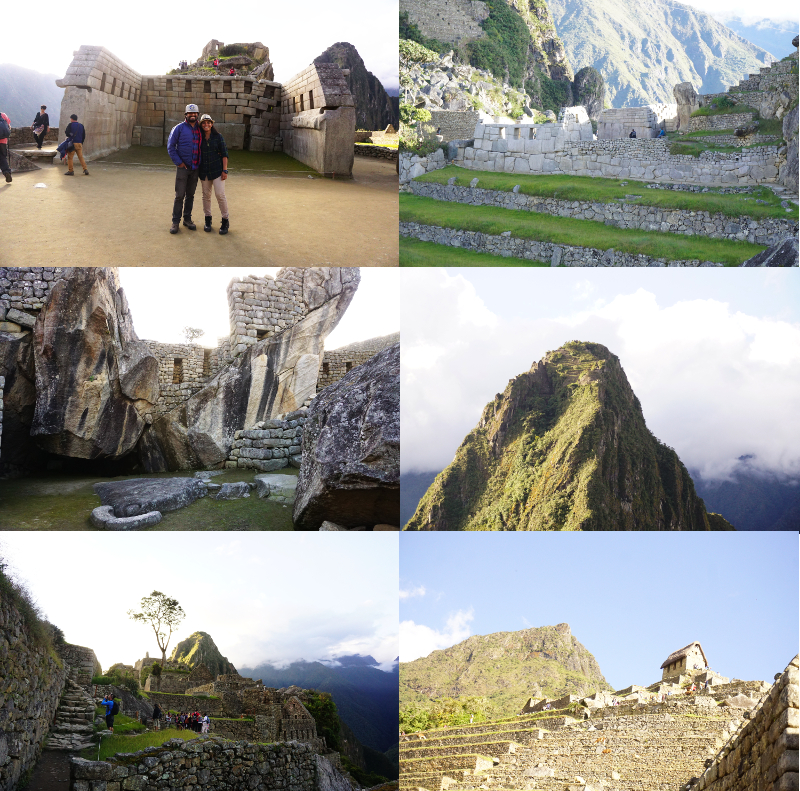 We took plenty of photos around and finally at 5pm, when the gates where shutting, we said our goodbyes. We had spent the entire day, 6:30am to 5pm, at Machu Picchu and it still wasn't enough!