We were finally done with Cusco, Machu Picchu and the Sacred Valley and we were ready to get out of the crazy tourist area. Little did we know our next stop was another touristy area!
Getting There
We took an Exclusiva bus to Ica from Cusco. We paid 150 Soles, USD 47, per person for this trip which was the most we paid in transportation in South America. They were the cheapest in the "luxury" buses and the only one to provide a bedlike 180 degrees seat. We even had to change the dates and they did so without a charge.
Once inside, we were amazed! A seat that reclined to 180 degrees, with headphones,  and an individual entertainment set with a selection of English movies as well as dinner and breakfast.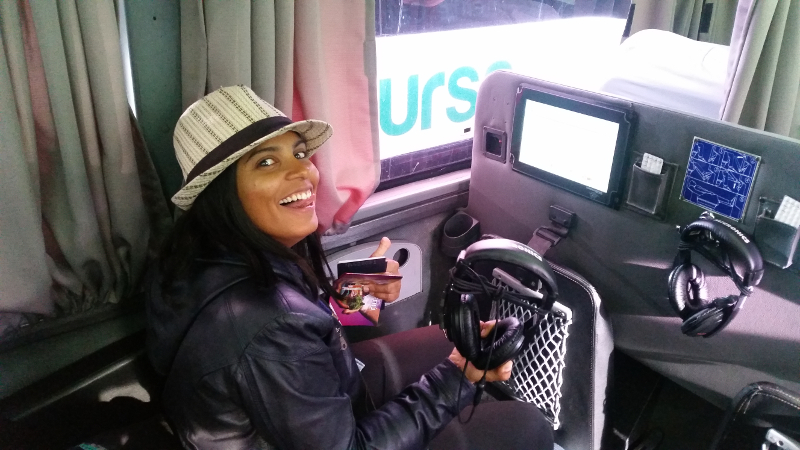 The journey took 16 hours and we were dropped at the Exlusiva bus terminal in Ica. We hired the only available taxi for Huacachina. To be honest, I had never heard of the place expect from some Aussie saying "Its a sick desert oasis, mate" and I trust my fellows!
Dune Buggies And Sand Boarding
Huacachina is a Desert Oasis. Period. Some say that the oasis is no longer natural and the local office bring tankers of water so tourists continue visiting. Anyhow, real or not, it still amazed us. Right in the middle of the sand dunes is a green patch with palms and a pond.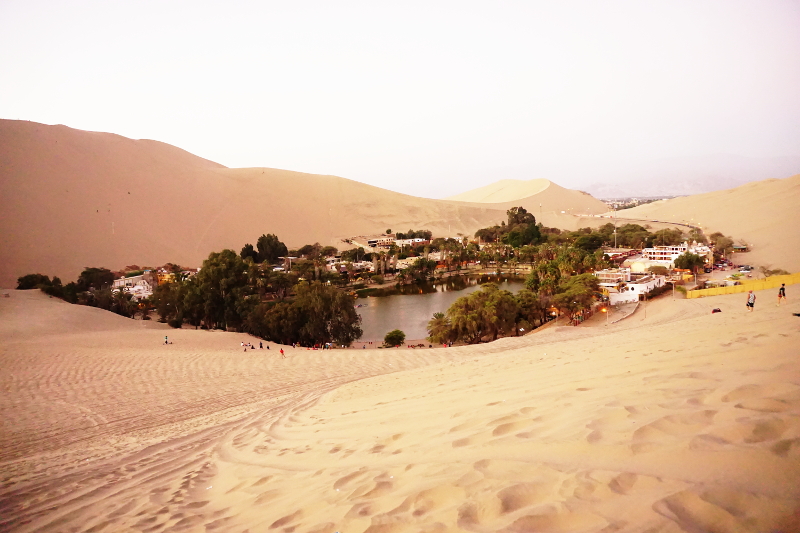 The town is very small – we managed to walk all around it in 20 minutes. We arrived at 7:30am in the morning and most hostels were either still closed or just opening. We took the cheapest hotel we could find and decided to stay for 2 nights before heading to Lima.
Upon our check in we learnt that the hostel organizes dune buggies tour and we signed up for it. Dune buggies in Huacachina look unlike anywhere else. They appear to be a combination of a small truck and a Wrangler Jeep.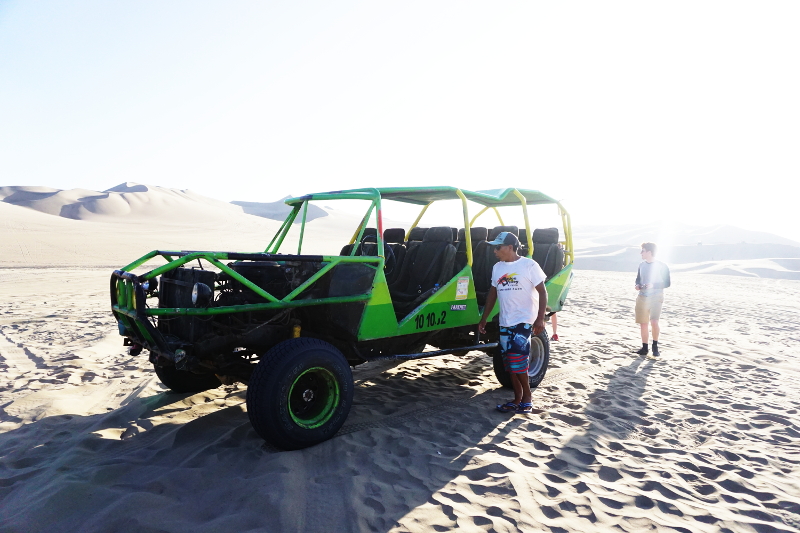 The tour started at 4pm with confusion as every other tour in South America. There were three buggies and no one knew where to be seated. After jumping between buggies for 10 minutes, we were ready to hit the dunes. Or, at least that is what we thought! We hit a check post 5 minutes into the ride where we had to pay a 3 Soles per person as dune tax. Beats me why they don't charge ahead!
Anyhow, the tour started and we got on the dunes. The buggie moved alot and we were convinced it will be a bumpy ride. After some laps of the dunes, the buggie stopped at the edge of a dune. Then whooooaaaaahh we were going down the dune in a bumpy car at a crazy speed. Ah yes, we had seat belts but it didn't help. We screamed and held on for the next 15 minutes as we went down many dunes. Shruti loved it but I hated it but I was committed and there was no way out.
We stopped to take sunset pictures on top of a dune and then we were it again going down the dunes. It was really an intense experience where my heart was in my mouth. We eventually stopped for sand boarding. We started with a practice run down a small dune. Shruti went sitting on the top and reached down fine. I started out ok sitting but it got bad at the end when I flipped off the board and hit my head on the sand. Ouch!
The second run was much better but then came the final run. It was down a huge dune! Everyone went down in their own way and Shruti cruised down too but I stayed put. The fear of hitting my head again was too great. That ended the tour!
Extended Stay
Until we reached Huacachina, we had been in the mountains for close to 2 months. Everyday of wearing jackets and base layers finally got to us. Huacachina provided an excellent respite from the cold. It was sunny and hot all day so we decided to make a 2 day trip into a 4 day trip.
Wine & Pisco Tasting
The problem was that there was not much else to do in Huacachina other than dune buggies. A guy working at the hotel asked us if we wanted to do a wine tasting tour. We said yes knowing that I wouldn't be able to taste anything as I was on antibiotics.
The "tour" as it turned out was the same guy driving us around to different wineries. The wineries were all in Ica which is famous in Peru for wine and pisco. The former is the standard grape wine but the latter is a distilled alcohol from a particular type of grape. The first winery we visited had an English-speaking guide on hand to show us around. The guide knew Shahrukh Khan and started chatting to us about him!!! Go figure.
She showed us around the vineyard, the collection point and informed us that grapes here are still crushed traditionally by feet. The more important part though is that the alcoholic pisco as well as grape juice is kept in huge earthen pots standing. Shruti tried the pisco and wine and we decided to buy a bottle of pisco for home.

The next winery was a little more mum & dad business. The complex was big but there was no guide. Our driver/guide gave us the tour here in Spanish which I then translated to Shruti. The weird thing was that the wine cellar was a cellar as well as a museum. It had things like alligator skins, antique pieces and the earthen pots in what was a damp and dark storage yard. The best thing was that you could try wine yourself using a bamboo stick and buy a bottle, a 2L plastic can or a 5L can. What!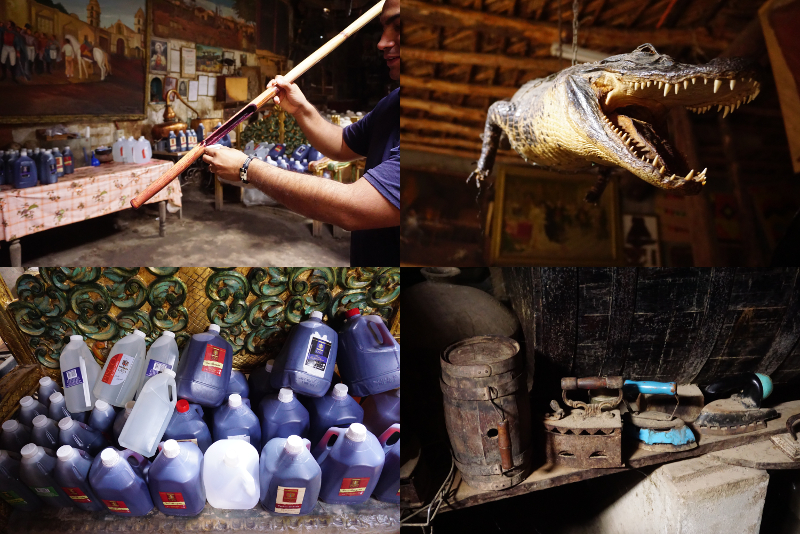 It made wine look more local which we loved. It wasn't your fancy schmansy wine tasting place where a host gave you 1 sip of all and then you were obliged to buy an overpriced bottle which is cheaper at a liquor store. Here you tried a shot or 2 from the earthen pots and then grabbed whatever quantity made you happy or drunk. We ended up buying the baby maker wine or Perfecto Amor which is its real name. It is a sweet wine which supposedly helped raise the population of the district, hence, baby maker. Mmmmmmm ooooh baby! Jokes we bought it for Shruti's friends in USA.
In the Summertime
Huacachina had not much else except sun and the hotel was pretty average except the bar, pool and 3 dogs. I was off the drinks so we didn't use the bar much but we fell in love with the pool and dogs. Our day would start with brunch (usually the same spot) and then we would return to the hotel, jump in the pool and laze on the pool chairs while occasionally playing with the dogs. This pattern continued day in day out. It was like we were taking a break from our holiday, you know, just rejuvenating.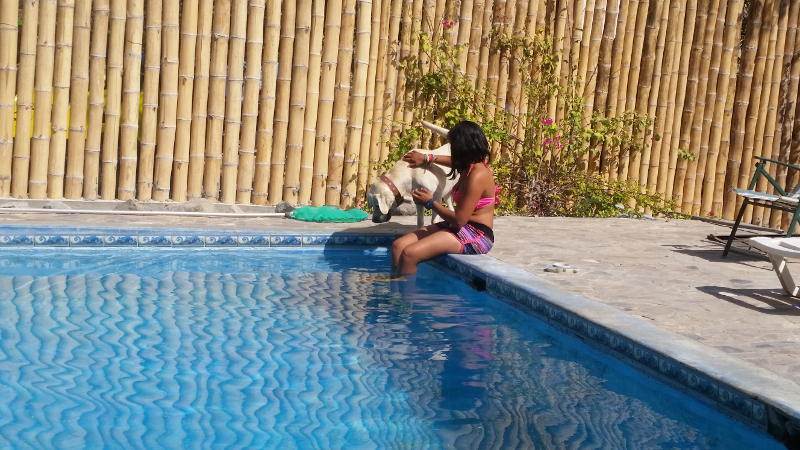 Up the Dunes
One morning we decided to climb the dunes overlooking the town. We had to start early to beat the harsh sun. Now, the dunes look beautiful and camels look like ships on them but for humans its way tougher to walk on them than on land. We went up a small dune, rested for a bit and then went up the biggest dune in the area.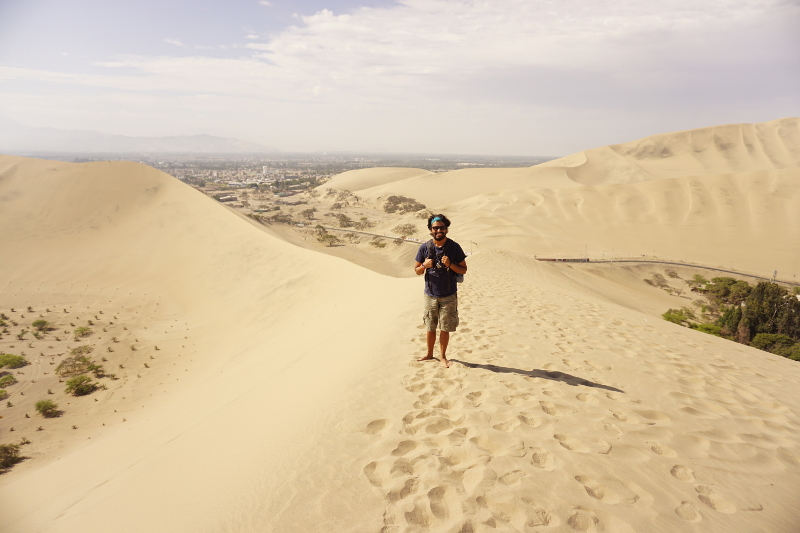 The view got better with each step and the oasis looked remarkable. After a brief rest and some photos, we decided to run down the dune. We felt like kids again! After that workout, we went to a backpacker hostel for breakfast where I had the Israeli breakfast full of tomatoes and bread. I can't tell you the name now but it probably had a throaty sylable.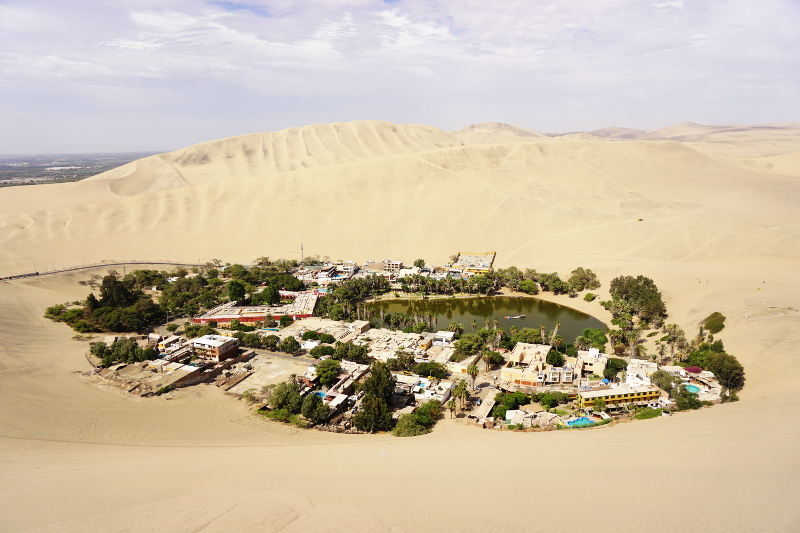 Final Thoughts
We had a great time in Huacachina with a couple of downers. Firstly, I had my awesone towel stolen off the line by some Peruvian teen girls (thats what the hotel said, we don't want to blame anyone) but the hotel reimbursed me with exactly the same type which someone forgot. Secondly, because we wanted to end Huacachina with a lazy swim, we left our swimmers for drying and they are probably still hanging in the sun there. Most likely, the hotel will replace those for stolen swimmers.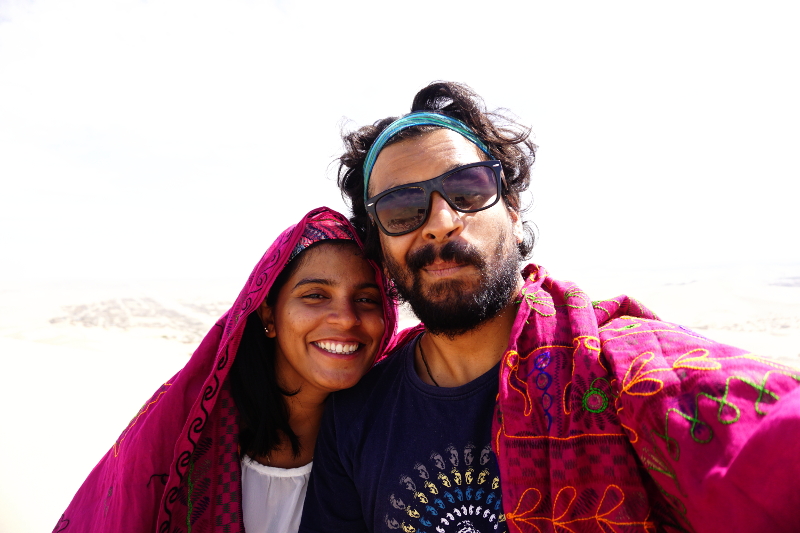 Getting out of Huacachina/Ica was a pain. There was only one company going to Lima which had 2 types of buses every hour, one was faster and didn't stop while the other was slower. We took the slower one but trying to understand the difference was a pain. In the end, we boarded a bus an hour after we arrived which stopped lots except for a bathroom break. That was the end of Huacachina.