I had heard about Colca Canyon and wanted to visit it. But we couldn't get there directly from Puno so decided to stop at Arequipa, the closest big city.
Getting in to Arequipa
We boarded a bus from Puno. It costed 20 Soles each, USD 6.25, and the journey was around 4.5 hours. At first glance, Arequipa looked like a dusty old town but we were there only to get to Colca Canyon.
Finding Accommodation
Booking.com, our trusted friend, for booking accommodation stopped working presumably due to canceling too many bookings. We had no choice but to note down a hotel name and address and just turn up there. A taxi to the now forgotten hotel arrived after 10 min drive and was about 10 minutes walk away from the Plaza de Armas of Arequipa.
Unfortunately, this hotel had no double room and especially not for the price we wanted. Thankfully, there were 2 other hostels close by and we got a decent room in one of them for 40 Soles, USD 12.50.
Resting for a few days
Shruti wasn't feeling the best when we arrived in Arequipa. Moreover, we hadn't done our laundry since La Paz and this was the perfect place before we went to Colca Canyon. So we decided to rest a bit and recharge before heading to the hiking destination.
Central City
Arequipa's central city was quite small. The Plaza De Armas and 2 blocks in each direction was the centre. The good thing was that all the chain restaurants and banks were all in one place. We could do everything we wanted in one small place. Also being a big Spanish city from the past, it had plenty of Churches to photograph.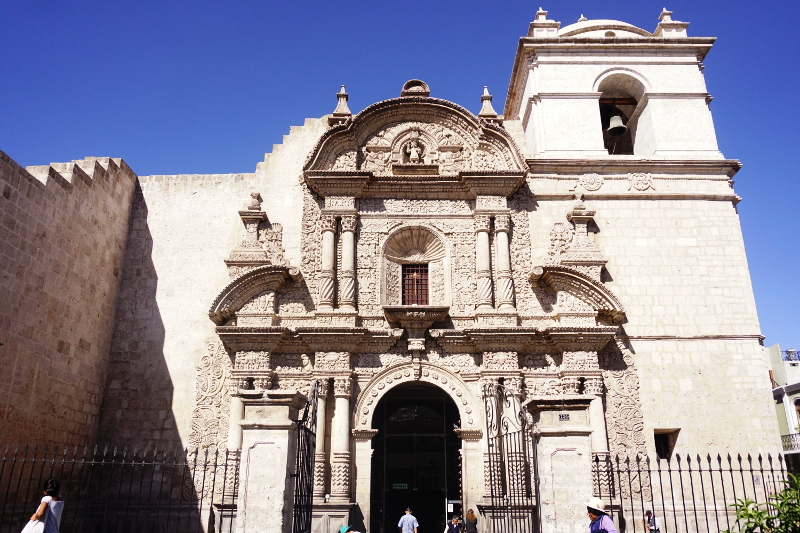 The Cathedral was incredibly beautiful especially at night. That was all there was to Arequipa really and I couldn't imagine spending more than 2 days in the city.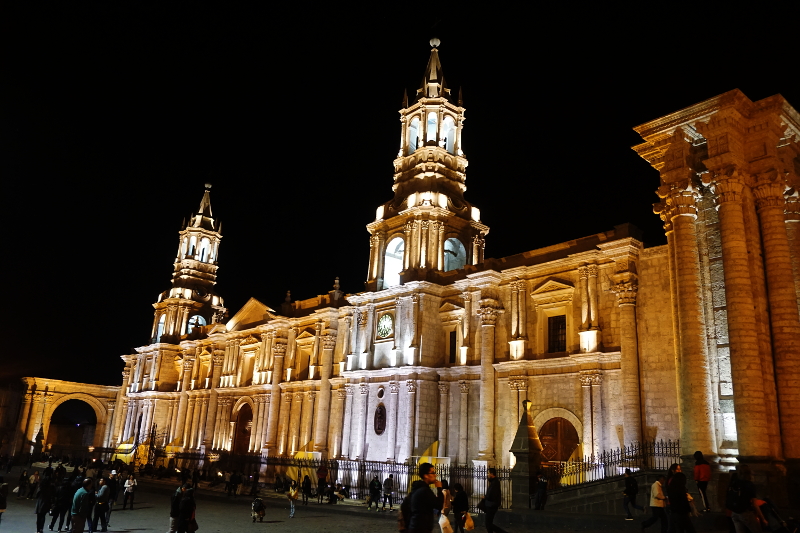 Bus Tour in Arequipa
Since Shruti didn't want to walk much, we decided to do a bus tour. It was kind of strange when the 50 Soles per person, USD 15.7, suddenly came down to 25 Soles per person, USD 7.8. We didn't even try and bargain. Luck we thought but we didn't think that when the 10am scheduled tour didn't start til 10:15am and then the lady from the agency took us to another agency 2 blocks away. There, another girl took us on a 10 mins walk to a row of buses parked with no one in them.
Eventually, a bunch of Peruvians turned up and we got going. Our first stop was the suburb of Yanahuara which had some architecture from the last century as well as a mirador (view point) with quotes from the Peruvian Independence. The best thing was the view of the Misty Volcano!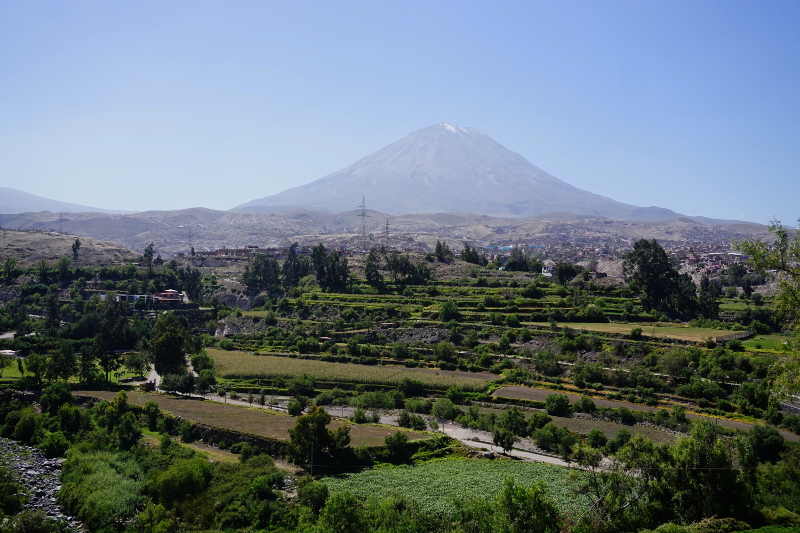 Our next stop was another viewpoint with 3 volcanoes which border Arequipa. This really was magnificent with the 5-6000 meter mountains visible on a beautiful day.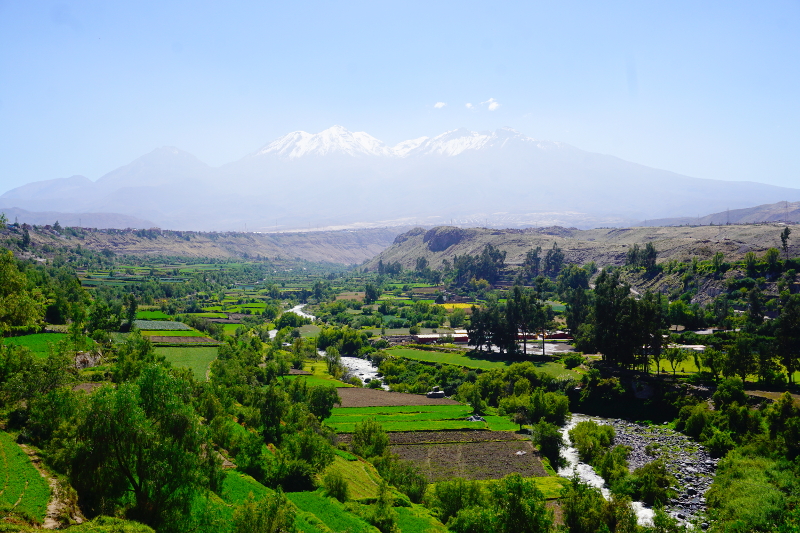 Our next stop was a little touristy and slightly strange as well. We stopped at an alpaca wool shop which sells jumpers, ponchos etc. That's not strange at all as there are hundreds in Peru for the tourists. The strange thing was that they had a little zoo with alpacas, llamas and guanacos for tourists. Arequipa isn't very high at 2000 meters and keeping those animals at that low altitude is tough on the animals. Strange indeed!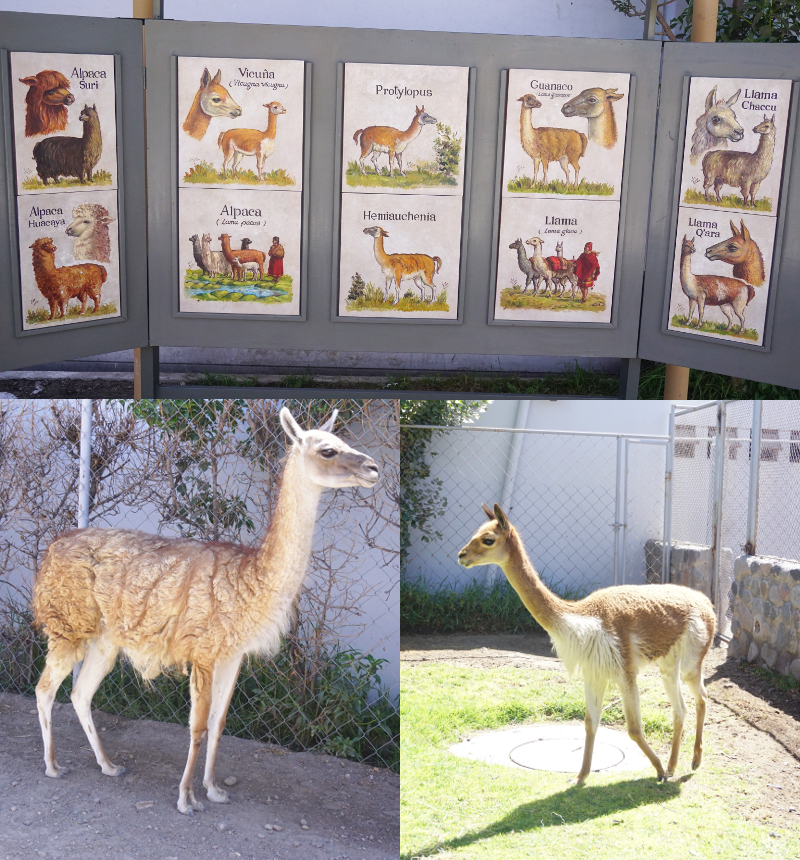 As the bus went on, the next stop was the House of the Founder. The Founder of the city had a house which was destroyed in earthquakes and was restored several times. It is now a museum and also hosts weddings. We liked some old objects, paintings and the fact that the place is rumoured to be haunted. Therefore, no wedding happens at night and all guests leave before midnight. I can't see too many Indian weddings happening there!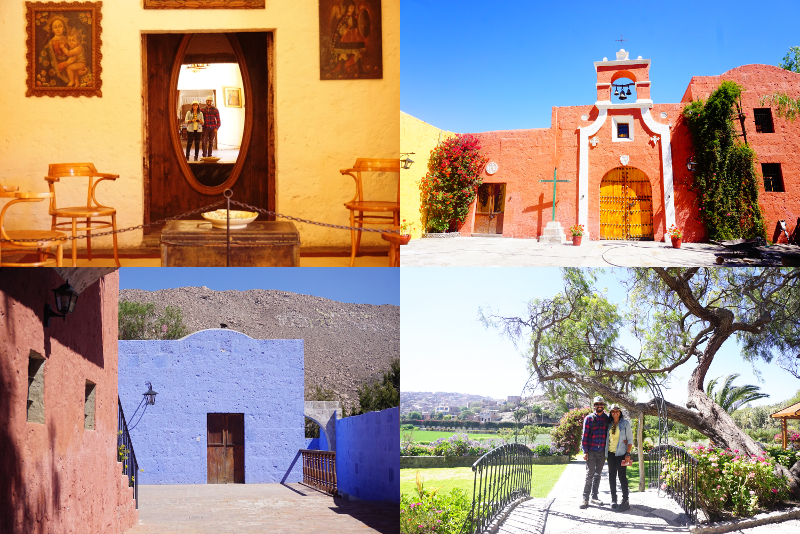 The final stop was a restaurant/hacienda with a few activities like horse riding and random Peruvian women placing eagles on you for photos. We were tempted by the latter but decided not to encourage people who may not be so nice to the animals. Eagles belong in the skies looking regal not on people's heads for photos.
The bus tour was interesting but also provided some incredible views of the city and its natural surroundings. It was good value!
Getting to Colca Canyon
We finally were on our way to Colca Canyon. It is a prime location for trekking in Peru but where to visit and how to go about can be confusing. Tour agencies in Arequipa and Cusco can take you on a 2, 3, and 4 day treks but you can also do it yourself. We decided to head on our own adventure.
We took a bus from Arequipa terminal to the village of Cabanaconde. Chivay is the centre of Colca Valley and a bigger town but Cabanaconde is the perfect starting point for trekking. The buses to Cabanaconde are at odd hours like 1:30am or 3:30am but we managed to get ourselves on the only sane time – 9:30am. We left our big bags at the bus company we used for a small voluntary fee. In our case, we arrived at 4pm after a very scenic drive.
PS: A tourist permit is needed to trek in Colca and a lady was there to sell us this permit as soon as we got off the bus.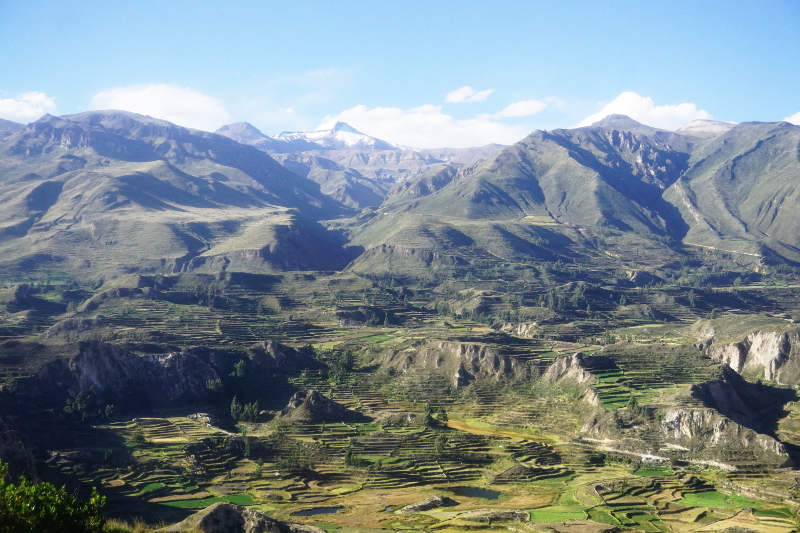 Finding a hostel was easy as there are only a few choices and they were not full by any means though it's best to book ahead in high season. We stayed in hostel Villa Pastor and paid 30 Soles, USD 9.35, for a night. The hostel also has amazing food for great prices. There was not a lot to do in the village though we walked to the mirador Achchihua after leaving our day packs bags in the room. The view was incredible against a setting sun and we understood the scale of the trek. Colca Canyon is the second deepest canyon in the world. This was not going to be easy!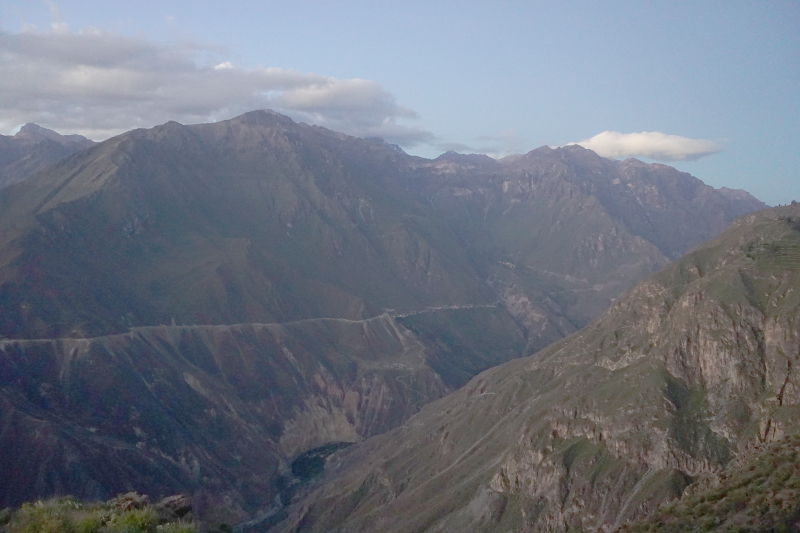 Hiking at Colca Canyon
Before starting any hike in Colca, it's great to ask the locals in the hostel and have a plan. How many days? Which villages? Where to stay for the night(s)? Get a map. These questions are important to avoid being in danger or be lost at night. We planned to hike to San Juan, make our way though Cosninhua, Malata and then descend to Sangalle for the night and ascend to Cabanaconde the next morning. We started our hike the next morning after an unsuccessful attempt to see the condors flying through the canyon. Local knowledge, yeah right!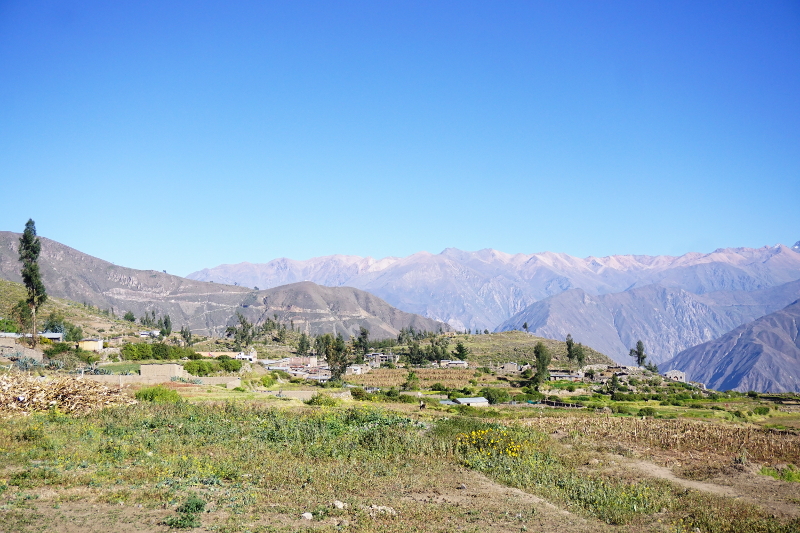 Things didn't go well at the start, we lost our way at the start as we tried to descend down a small trail. After a little course correction, we realized the actual trail was well beaten and on top of the ridge.
A lady at the mirador San Miguel checked our permits and gave us a few tips. We hiked down slow and steady towards San Juan De Chuccho.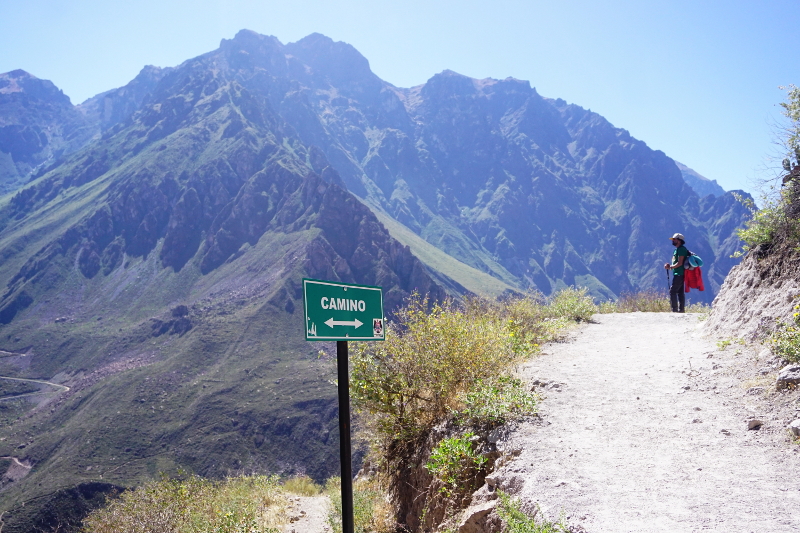 Guess what? We even saw a couple of Condors flying through the canyon and another one munching on some meat.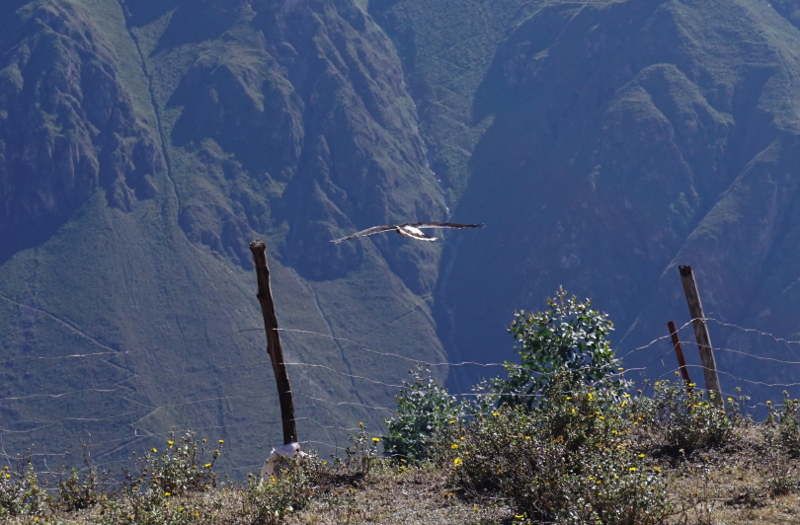 The view was absolutely incredible, the trail went around the cliffs slowly descending down to the river and then rising back up. As we descended down, the lowering altitude and the sun made the descent very tough. The view was the only respite, looking up the canyon looked as remarkable as it did on the way down. Some people were sunbathing at the river under San Juan. A lady selling drinks showed us a quicker route to San Juan where we stopped for a bargain lunch – only 10 Soles, USD 3.1.
On the way to Cosninhua, we passed by a mountain stream. It was the perfect opportunity to cool down in the heat and the water from the stream was the best tasting on this entire trip. It was so fresh and so tasty that I couldn't stop drinking.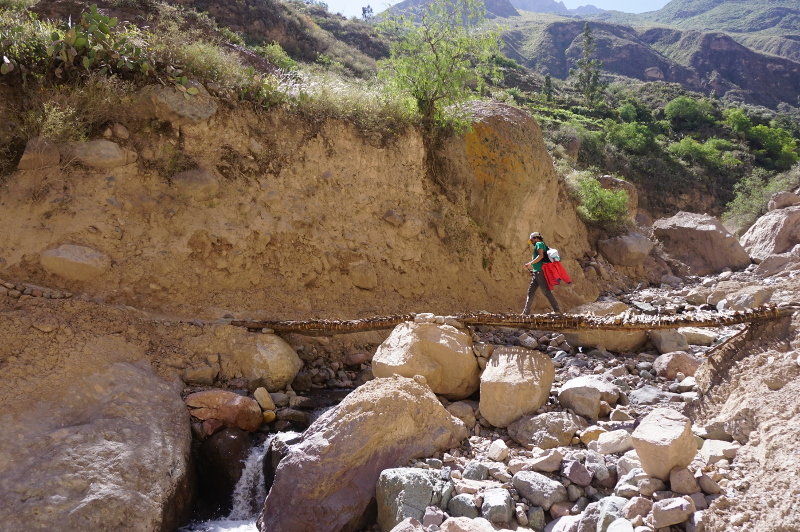 The trek up to Cosninhua was tough and we needed a chilled coke when we reached the village. The next 45 minutes were flat through 2 villages and we were ready to start our our descent to Sangalle, the oasis.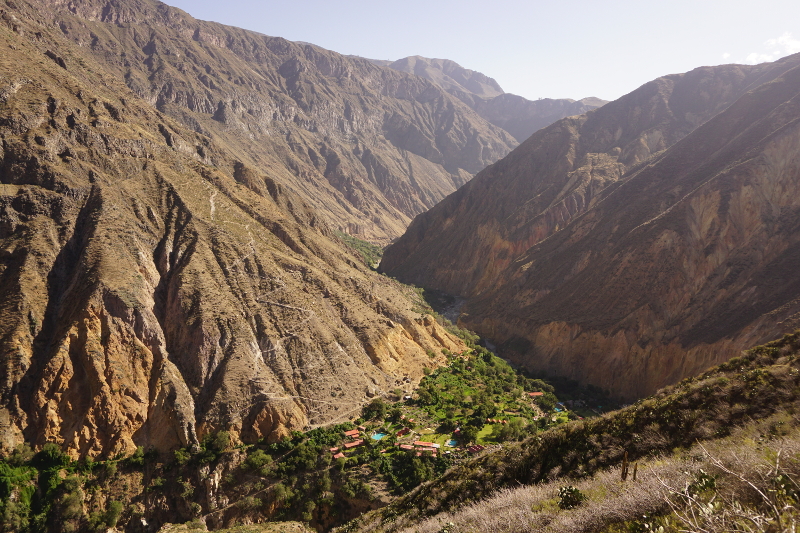 If we thought we had it tough, we were wrong. Everything needs to be carried to Sangalle, either on donkeys or by humans. We saw two groups of tough guys carrying a fridge full of beer down the canyon. I salute thee Sirs!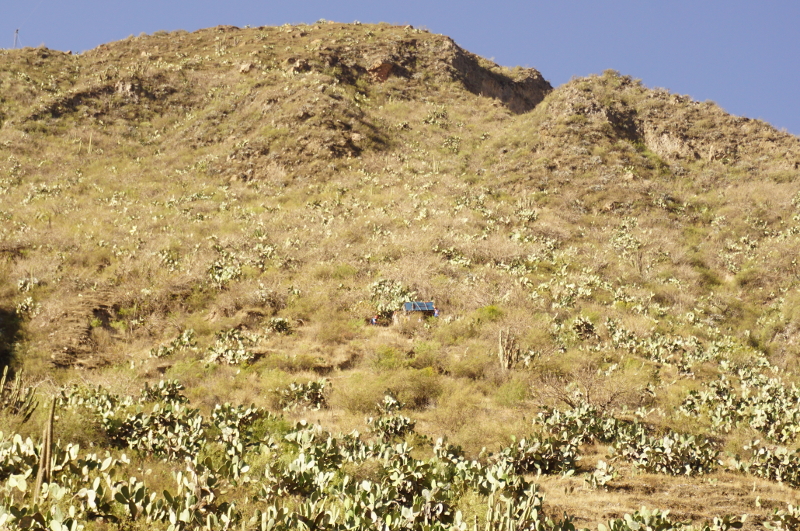 Shruti and I have found out one thing during our travels. It's easier for us to walk up the mountain than down. Downhill hurts the knees and is less stable so there is more chance of falling. The hike down was tough for us as it was downhill, though we made it in one piece. Sangalle is a sight for sore eyes and feet. It's a green patch in an otherwise dry canyon. We argued whether it was actually an oasis and our opinions differed. Anyway, the lads carrying the fridges told us to get the second resort (there are only 2) and so we did. We showered, had a few beers and a great meal at great prices given the context.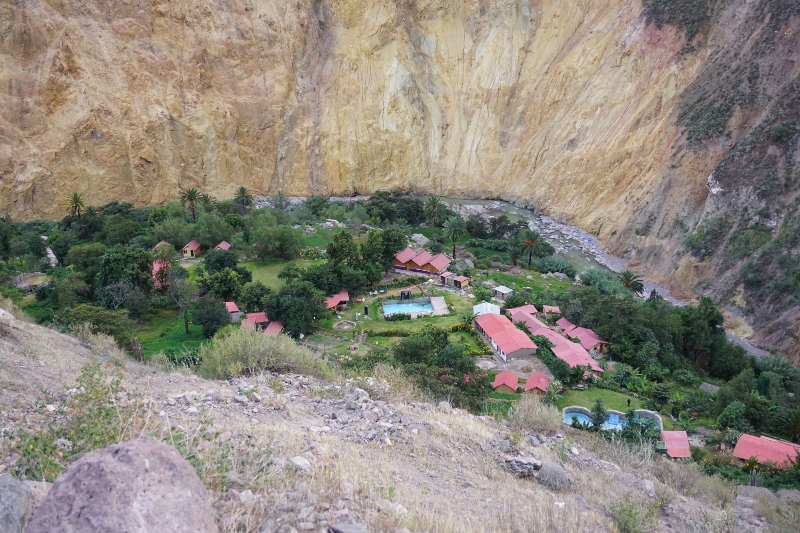 The next morning, we started our hike early. It was meant to be a 3 hour climb but it got tougher as the sun got stronger. The trail was such that we felt a few times that we were getting close to the top. It was always a disappointment or KLPD in hindi colloquialism.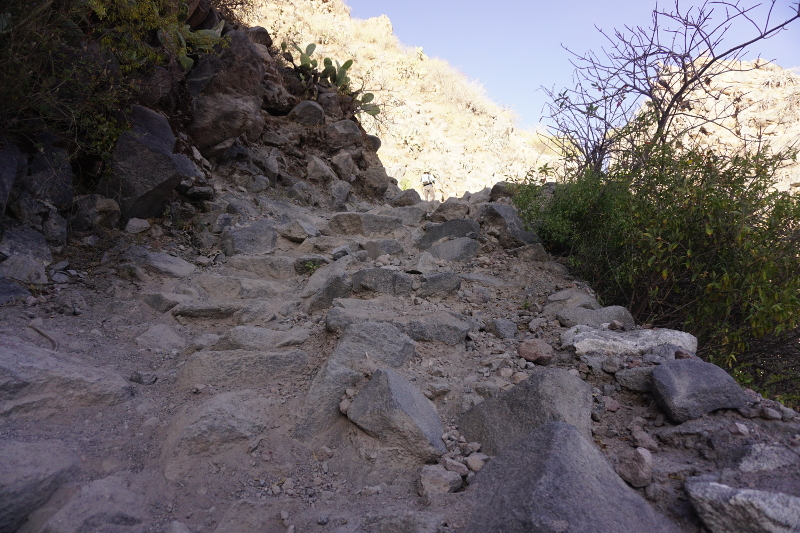 Anyhow, we had our snacks along the way and made it to the top after 3 hours and 15 minutes. Another 15 minutes and we were back in the village where we bought the 11:30am bus ticket to Arequipa. There is an option of taking a bus to Cusco from Chivay but we wanted to get a good bus for the 10 hour journey. We arrived in Arequipa by 6pm where the bus company had kept our luggage safe. A great 3 day tour of Colca!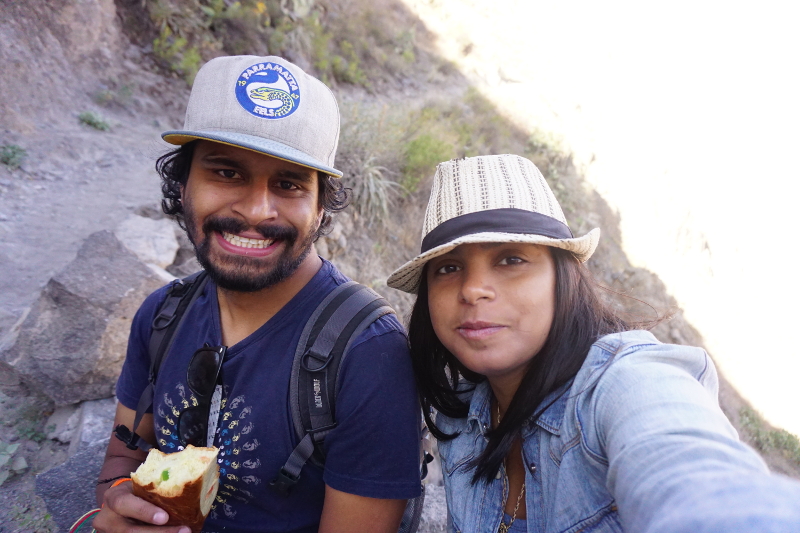 Hike Duration
Here are our hike timings from one spot/village to another. Take note, we aren't the fittest people so these numbers can be used as a benchmark. Also, we took plenty of breaks for snacks and photos.
Day 1 – Cabanaconde to Sangalle
Cabanaconde to Mirador San Miguel (stay on the main road, it is just past the observatory) – 30 mins
Mirador San Miguel to San Juan Bridge (at the bottom of canyon) – 2.5 hours
San Juan to Malata (crossing Cosñirhua) – 1 hour 10 mins
Malata to Sangalle – 1 hour 15 mins
Day 2 – Sangalle to Cabanaconde
Sangalle to Cabanaconde (almost 1000 meters hike up) – 3 hours 30 mins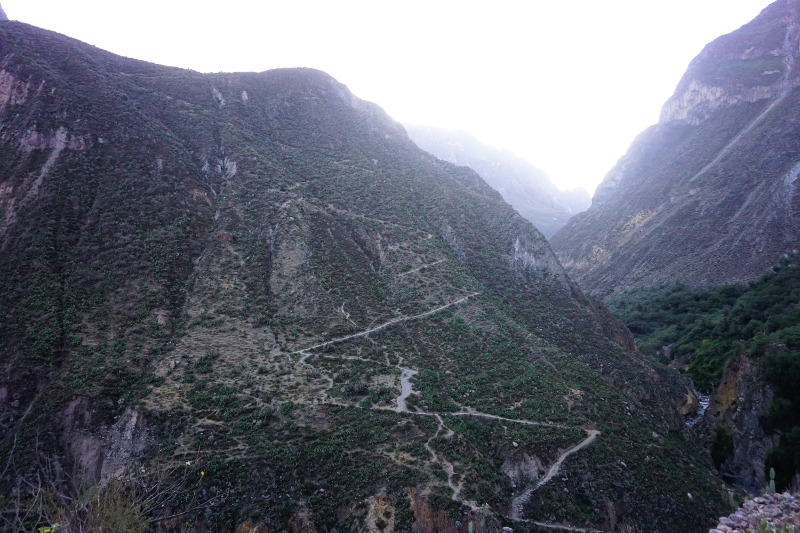 Other Recommendations for Hiking in Colca Canyon
If you have more time than we did and do not want to go crazy hiking too much in a day, here are some options –
OPTION 1:
Day 1 – Cabanaconde to San Juan
Day 2 – San Juan to Sangalle (this way you get to enjoy the Oasis)
Day 3 – Sangalle to Cabanaconde
OPTION 2:
Day 1 – Cabanaconde to San Juan
Day 2 – San Juan to Sangalle
Day 3 – Sangalle to Llahuar (enjoy geyser here!)
Day 4 – Llahuar to Cabanaconde