Chimborazo Volcano is 6310 meters high, making it the highest volcano in Ecuador. In fact, it is the highest mountain in the world when measured from the center of the Earth. It beats Mt. Everest by 2 km. It is located close to the city of Riobamba. We had a weekend off from volunteering in Runtun, so we decided to head to south of Banos to do the Devil's Nose (Nariz del Diablo) train ride and Chimborazo.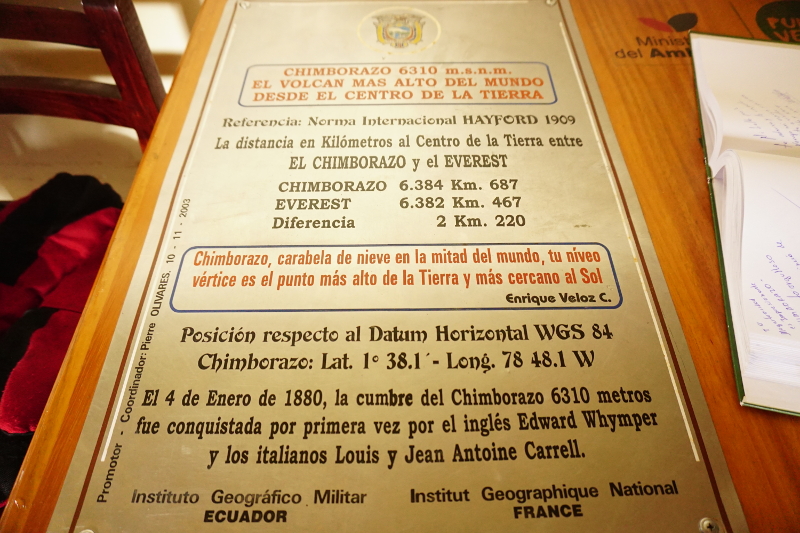 Where to Stay?
As we did the Devil's Nose train ride from Alausi on Saturday, we decided to head to Riobamba the same day. Spending the night in Riobamba also made getting to Banos on Sunday much easier.
There are options for staying around Chimborazo as well. Instead of crashing at Riobamba, you could also head to Guaranda. This town has welcomed tourists and backpackers and provides quite a few options for hostels and restaurants.
The other option is to stay at the Refuge Lodge on Chimborazo. The refuge is located at 4850 meters, making it a very interesting choice for a night or couple of nights. It is usually used as a base by people who plan to trek to the top of Chimborazo.
Journey to Chimborazo Parque from Riobamba
The evening we got to Riobamba, we checked for buses to Chimborazo. We were informed that we could take any bus from Terminal Terrestre that is going towards Guaranda. We found the Transporte Bolivar Bus Company that had daily buses to Guaranda. We boarded the 5:45am bus to ensure we get to the volcano early to avoid the clouds that roll in around midday. The ticket one way was USD 1.5 per person.
When we boarded the bus, we told the guy to drop us at Chimborazo Parque entry. Within 50 mins of the drive from Riobamba, the conductor on the bus waved at us to indicate our stop was coming up. We were dropped right outside the parque entry and once the bus drove away, we realised the view around us was something we had never seen before.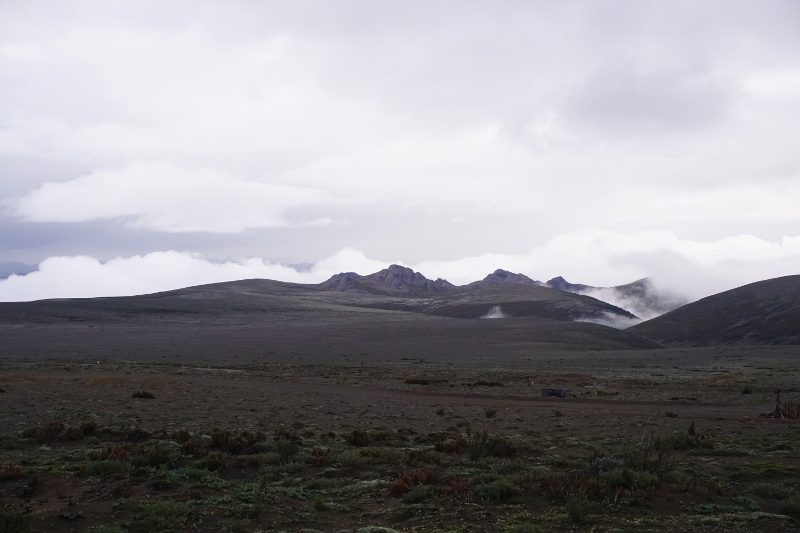 There was not a single tree around, just small bushes scarcely scattered and the soil was dark brown in colour. The mountains on the opposite side looked mystical. For a few minutes we thought we were on a different planet! One thing you need to know is the bus dropped us at 4350 meters, way above the tree line.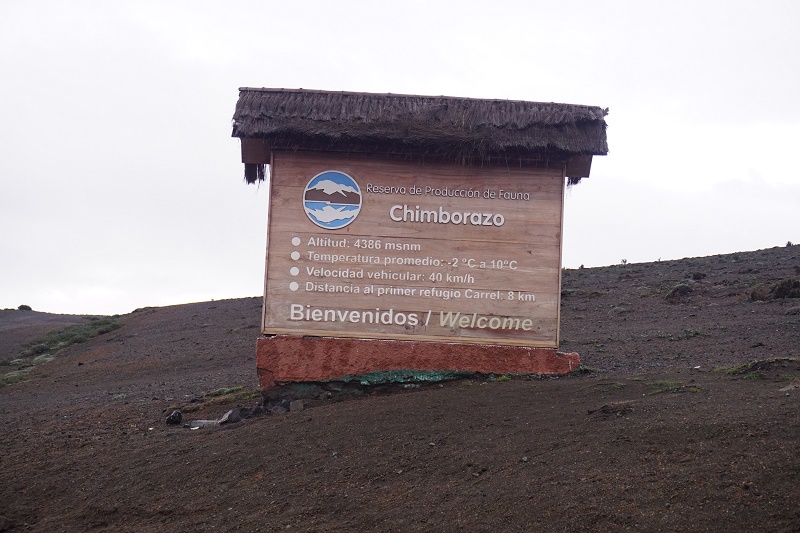 Hiking to First Refuge
We walked closer to the parque gate to realise opening hours were 8am to 5pm. We had arrived at 6:55am. We continued walking past the entrance when we heard a tap on the window. We turned to see an older man waving at us. We walked back to chat with him. Here is the conversation we had:
Guard – the park only opens at 8am.
Shruti – *makes a sad face*
Guard – where are you going?
Manish – up to the 2nd refuge.
Guard – returning back today?
Manish – yes, returning to Riobamba by noon.
Guard – ok go!
Yay!! That was easy!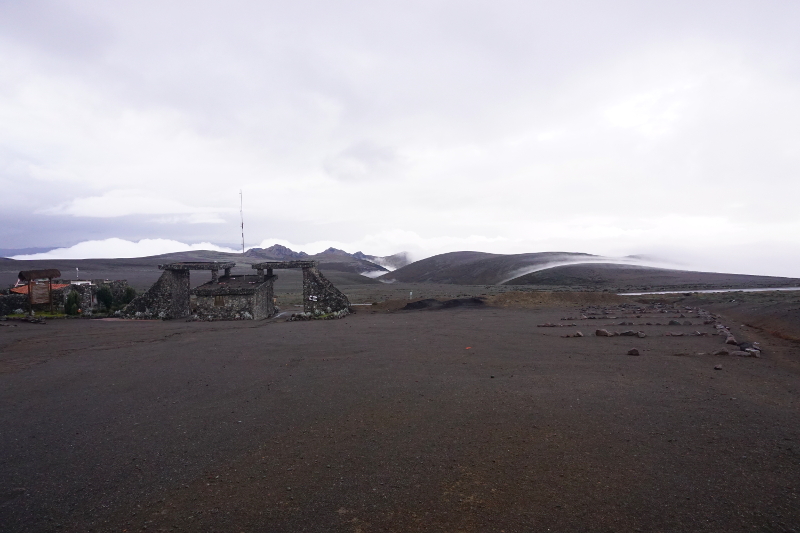 The hike up from the door (4350 m) to the first refuge (4850 m) was on an unpaved road that winds up the mountain. It was 8 kms long and to walk it up, we would take 2 hours. We started walking along the road only to realise we were not the only ones around. Vicuñas, a less hairy version of llama, were just hanging around in the national park. They were as curious as we were. Soon we realised that there were plenty of them around. Some were running around, some eating and others calling out to each other.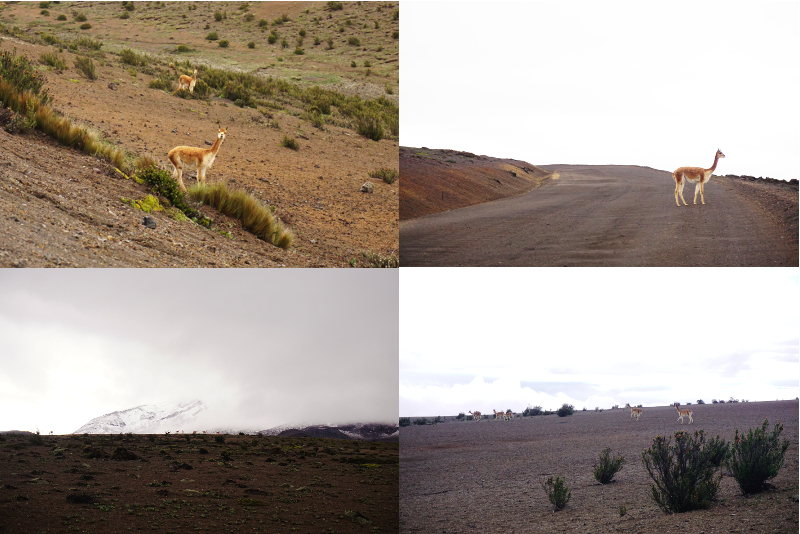 After walking for about 1 hour 10 mins, we heard the first vehicle. We quickly stopped, turned and lifted our thumbs in the air. We were hoping to hitchhike the remaining distance up. Luckily the UTE (utility car) stopped and we jumped at the back. The remaining ride up was about 15 mins drive but the temperature and wind made it seem longer. By the time we got to the first refuge, our hands were near frozen!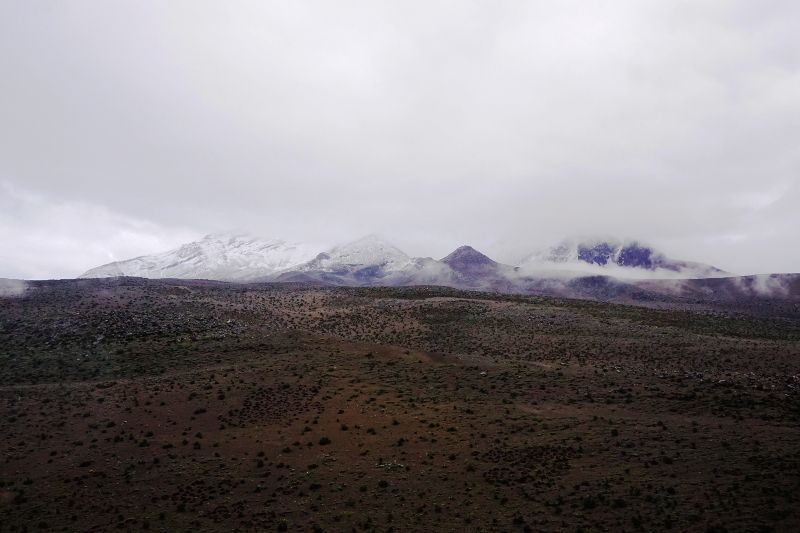 We jumped off the car, said thank you to the boys and rushed inside the refuge. The temperature inside the building was warm and we loved it. Walking further in we realised backpackers who stayed there were enjoying their breakfast at that time. We ordered ourselves coca tea and sipped it for half an hour. Bliss!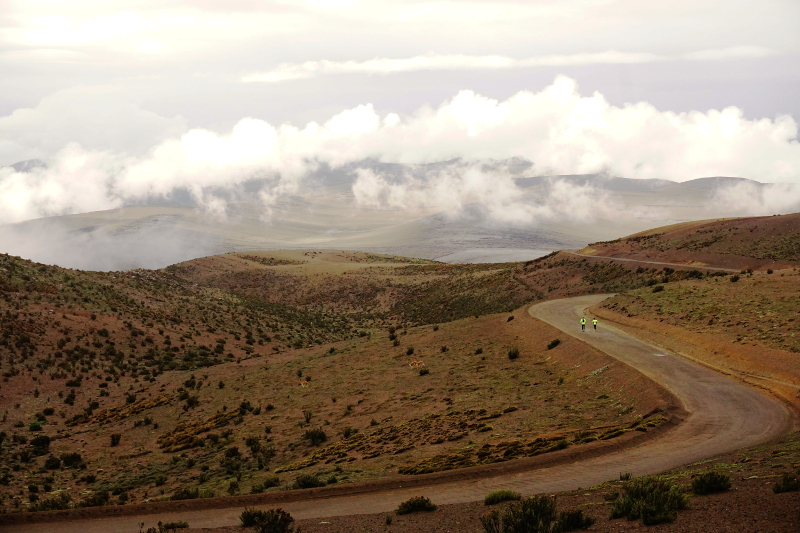 Hiking to 5100 Meters
We paid the refuge care taker for our tea and asked him directions for the 2nd refuge and the laguna. We were told that the hike to 2nd refuge is 900 meters and will take about 45 minutes due to the altitude. We were ready to hike from 4850 m to 5050 m.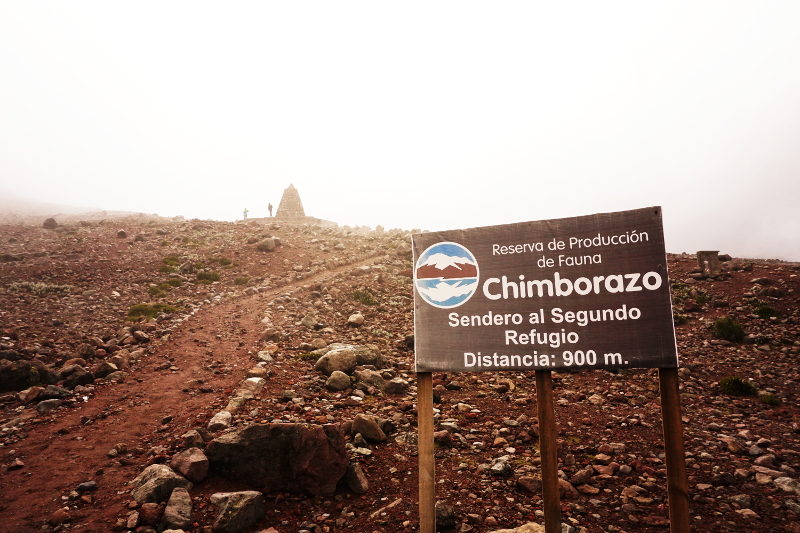 As we started our ascend, we realised there were grave stones around marking deaths of hikers. Slightly spooky but we continued walking up. Very soon we felt the affect of altitude. Our hearts were beating hard and we had to literally take baby steps. It was probably one of the most difficult hike we did. We stopped plenty of times in 40 mins to ease our hearts till we reached the 2nd refuge. Just then it started to drizzle.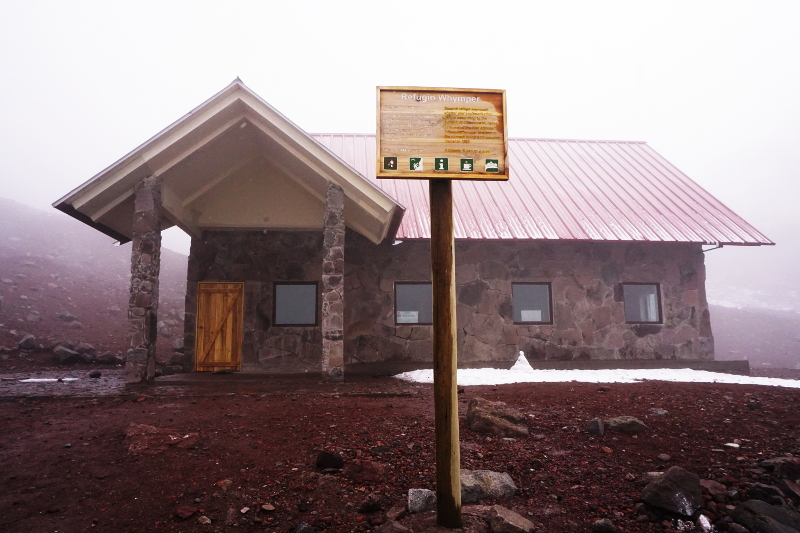 We rested for about 15 mins outside the building under a shelter and ate our chocolates. It was cold and there was snow in various parts. We were so close to the glacier top! Then as the rain got a little strong, we decided to quickly hike to the laguna before heading back. The laguna is at 5100 m and the walk up took about 10 mins.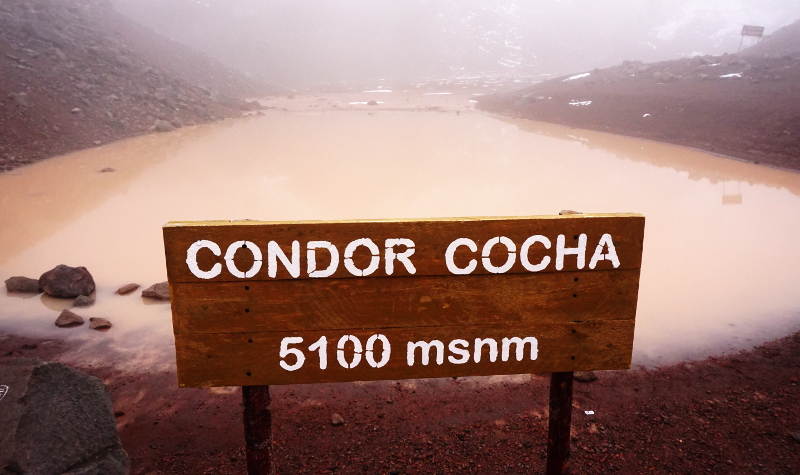 Due to the altitude, it was no longer rain pouring down. It was hail and sometimes even snow! At least we can check that off our list. It got really cold at the laguna and our fingers were starting to freeze. We did a quick walk around, took photos of the visible glacier before starting our descend down. Although we couldn't see the Chimbarazo peak, just being at that altitude was an accomplishment!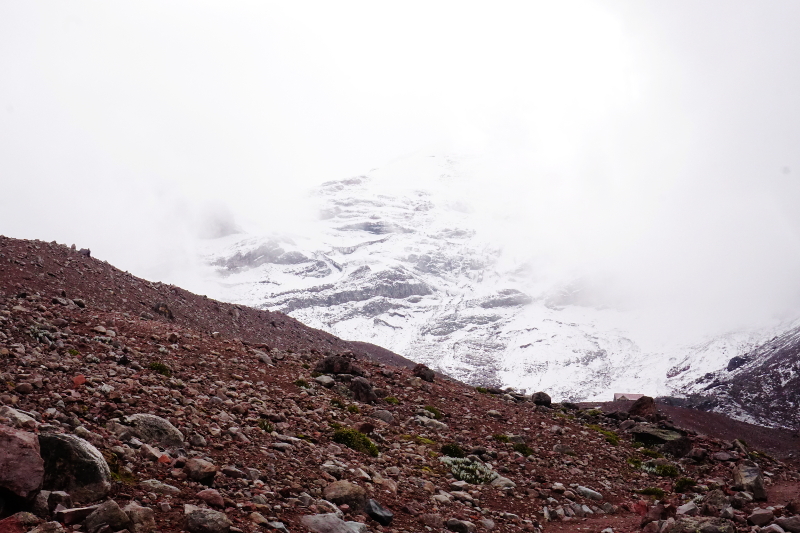 Descending Down
It took us about 20-25 mins to hike down to the first refuge. The altitude does make a difference! But this time we had a different challenge. We had to protect ourselves from hail. It was heavy hailstorm and was smashing against our jackets. We covered our face and ran down where possible.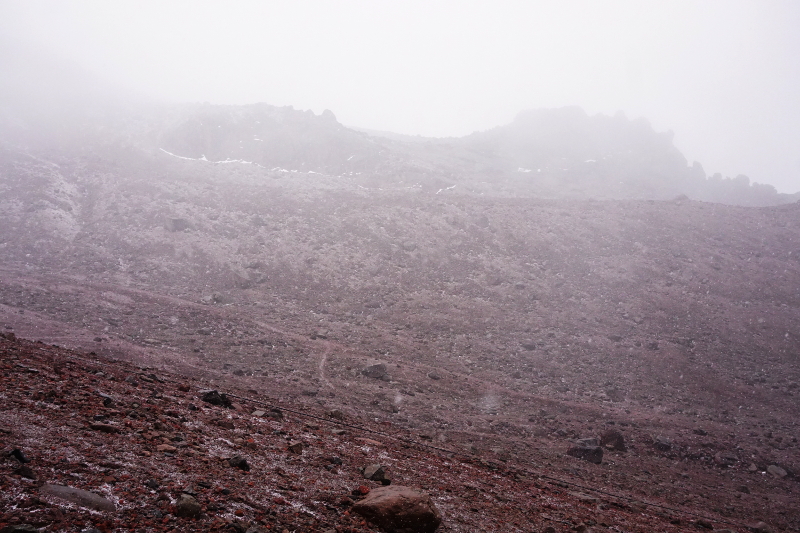 Upon reaching the refuge we decided to dry up a little before heading all the way down. Just at the entrance there was a crowd and Shruti quickly realised that the people were watching something. To our amusement, it was a wild Andean Fox just hanging around the refuge. This was definitely one of the best days of our travel.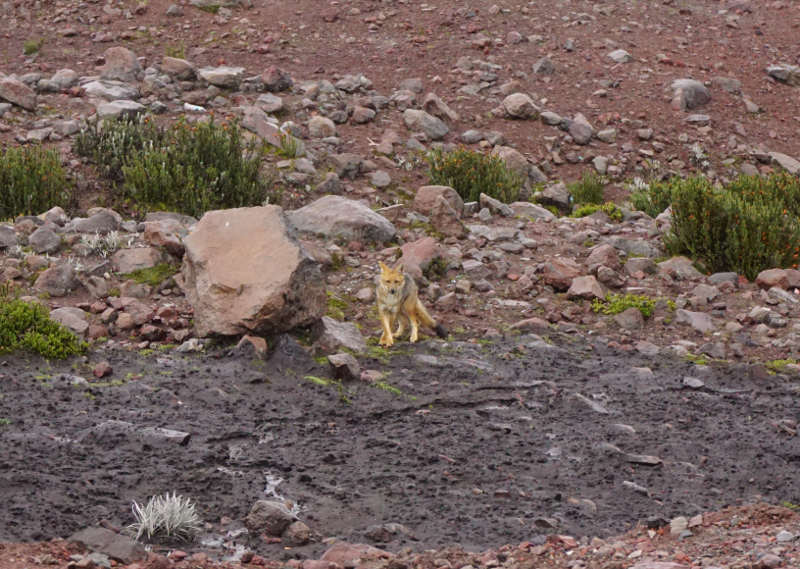 After taking some pictures we headed back inside the refuge to enjoy another hot cup of coca. The time was about 11am and we were ready to head back. We watched people leaving and asked a couple of guys if they could drop us down to the park entry. After being declined twice, one couple agreed to drive us down. We jumped to the back of the car, held on to the edges and were ready for a wet drive down. Till about half way down we could still feel the hail falling on us and then it was just the rain. The ride down took about 20 mins and we were completely soaked by the end of it.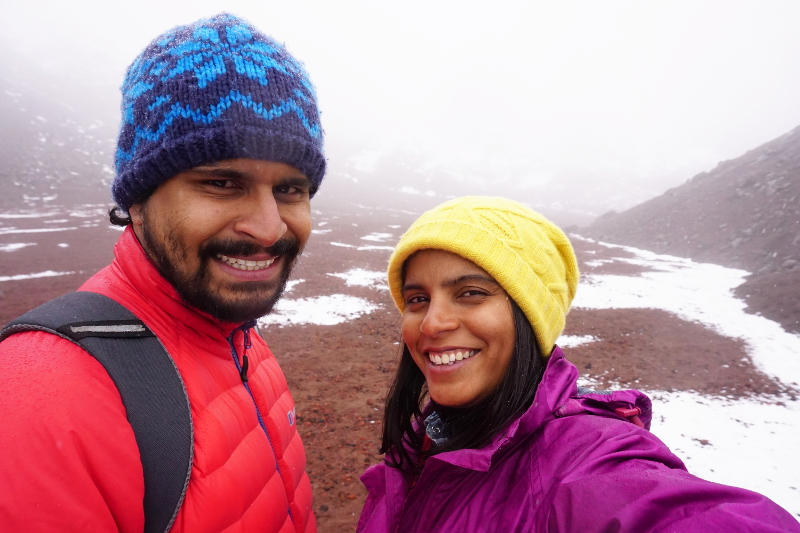 Back to Riobamba
The best thing about this region of Ecuador is the friendly people. We stood on the side road waiting for either a car or bus to pass. In about 15 mins, a car drove out from the parque and that was our chance to hitchhike again. The guy pulled over the car and waited for us to jump in! Though he wasn't heading to Riobamba, he dropped us at a junction where we could easily get a bus to the city. Also, as it was raining he gave us a tarp to cover ourselves. What a guy!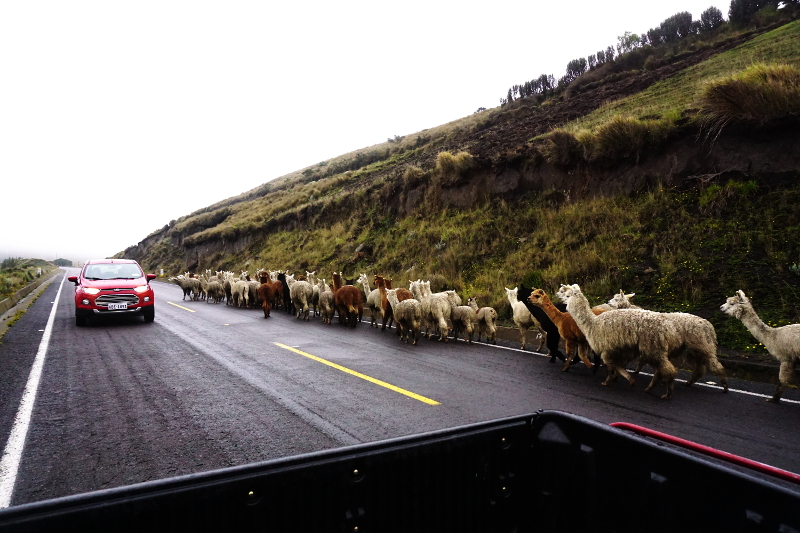 What to Bring
It gets really cold from the first refuge on wards so make sure you bring warm clothes. In fact, beanie, gloves and scarf are highly recommended. Wearing comfortable hiking shoes will help make the walk up easy. Carry plenty of water and chocolate. The throat dries up quickly and you need something for instant energy. And do not forget your camera! Apart from the volcano and glaciers, there is plenty of wild life activity happening around. Just keep your camera ready!