Here's a little secret: We nearly skipped Medellin! We are glad we listened to all the locals and travelers we met along the way because we would have missed the best city in Colombia.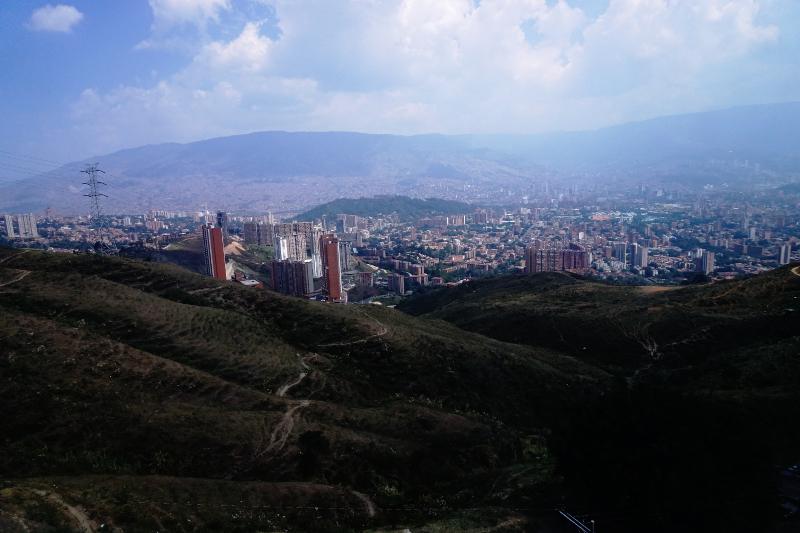 We have already posted about our great experience in Slums of Medellin. This post focuses on other things to do in Medellin. But first, getting to Medellin.
Getting To Medellin
As we were in Mompox, the best way to get to Medellin was through a direct bus that took almost 15-16 hours. Copetran is the only bus company that operates the direct Mompox-Medellin route. We bought our tickets for 120,000 pesos ($40 USD) and geared up for a long bus ride. Fortunately, the ride was comfortable. The bus had wifi, toilet and amazing seats with foot rests. The only issue was the aircon at night – the driver really turns it on high! If you are taking a long route overnight bus in South America, do not forget a nice jacket or blanket. You will need it!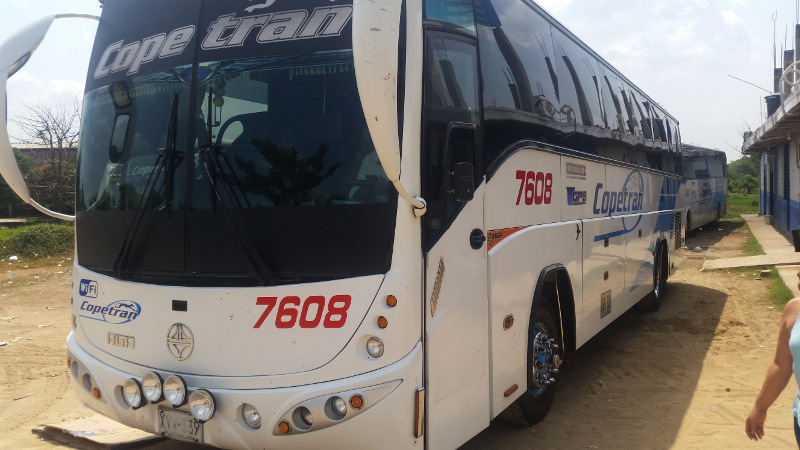 Medellin is generally well connected with rest of Colombia. There are two bus terminals within the city so the buses from all around drive to one of the terminals. Additionally, you could also fly in. The airport is about 45 mins away from the city.
The Metro System
Medellin's metro system started in the mid 90s and has grown since. At initial glance, it looks like a small network with only two lines but add in the metro cable cars and it is a bigger network spread across the vast areas up to the mountains.
The metro is generally not too crowded (except peak hours) and is a good experience. Most of the popular sites in the city can be seen from the metro system, all you need to do is ride from one end of the city to another. In the previous post, we wrote about how to ride the cable cars, so don't forget to read that while planning your day.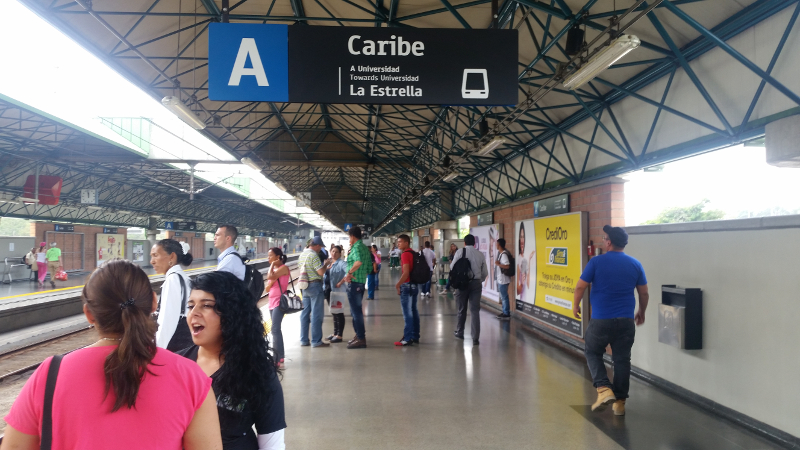 Another great thing about the metro is that the ticket is flat fee, 2150 pesos (less than $1 USD). So travel to the next station or spend an entire day using the metro system. It really depends on you!
El Centro
The Centre of Medellin is similar to the Centre of Bogota. It's old, it's crowded and it had a reputation for crime. Although many historic buildings in the city were destroyed during Escobar era, Medellin council and people are working hard to transform its reputation and infrastructure.
The first place to visit in Medellin Centro is the Plaza De Botero and the Museo De Antioquia. Fernando Botero, Colombia's most famous artist, is from Medellin and has donated vast amount of artwork, paintings and sculptures, to the city.
His art is different from any other artist to say the least and a large part of Museo De Antioquia is his artwork. Moreover, since it is unique, the museum provides excellent explanations for his art and why its important. Plaza De Botero is free while the museum entry is 10,000 pesos (USD 3.5) per person.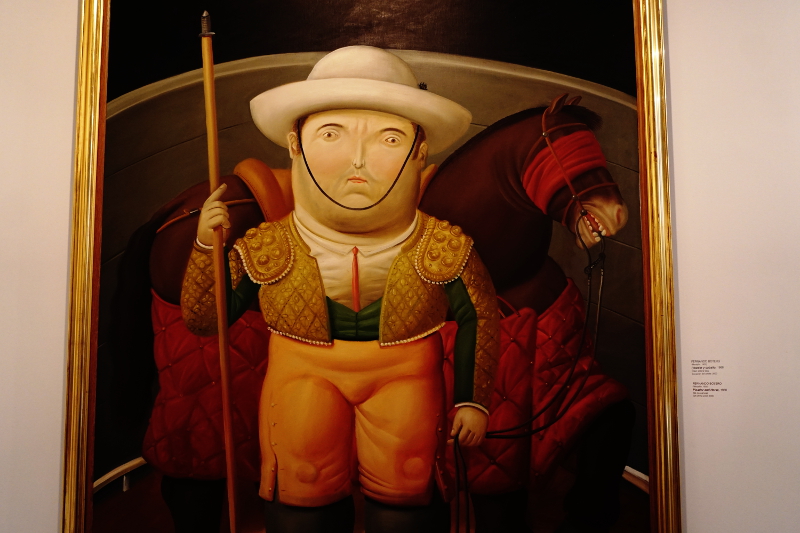 Another interesting aspect of the museum are the interactive rooms. We have been to plenty of museums by now and nowhere did we see an opportunity for visitors to interact with the art. There are sketches, board paints and even a web camera section where you can take your photos and email it to yourself! It was really fun playing around in these rooms.
Plaza De Bolivar is another nice place in Medellin Centro. Old people read their newspapers, coffee sellers sell their coffee and families visit the cathedral nearby. It is a great place to just watch life go by. We sat here for a while and realised that the city provides free Internet in plazas!
There are plenty of Cathedrals around the Medellin Centro. While walking around the area, we came around three churches. The architecture is really pretty and historic.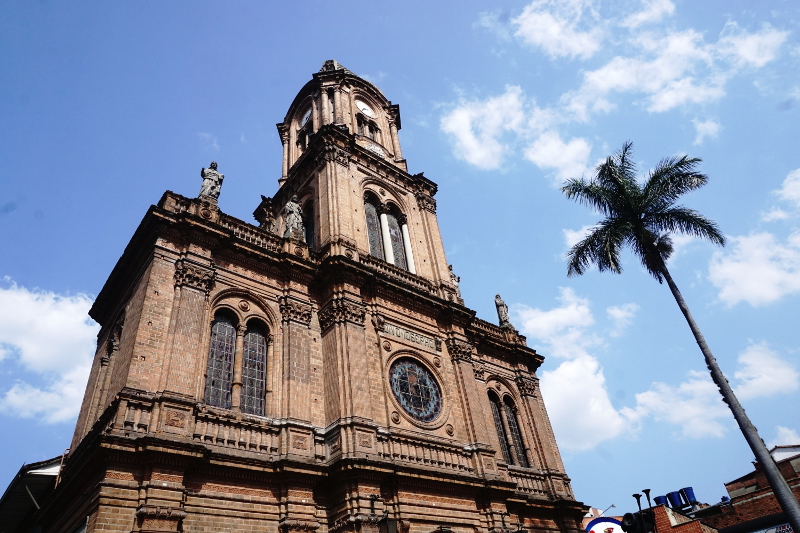 If you're into street shopping, El Hueco and Junnin Street are not to be missed. These are near the San Antonio station. There are shops and hawkers selling practically everything on the streets. If you're looking for a bargain, you may find it in this area.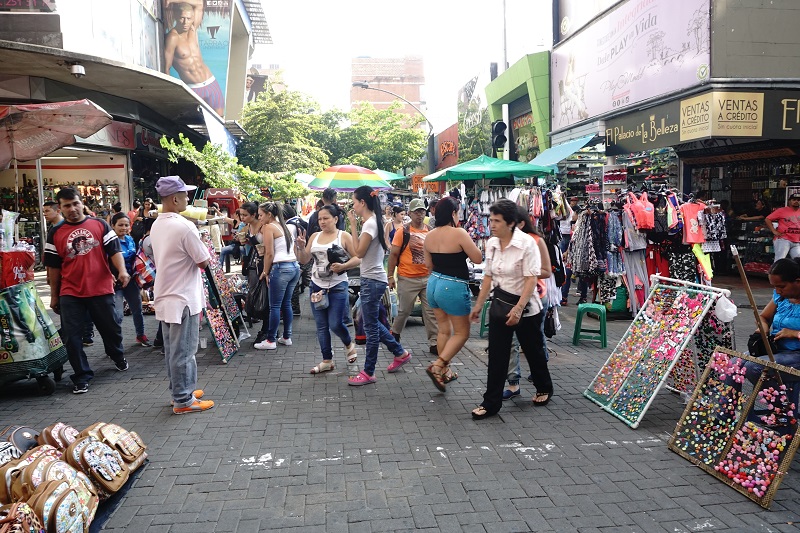 Tip: The Centro of Medellin empties out at night as workers and vendors leave. It is suggested not to hang around late at night.
El Poblado
El Poblado was once a far away village of Medellin. Now it is only 4 metro stations away from the Centre. The rich of Medellin moved into Poblado and it is now a rich and safe part of town. Perhaps due to this reputation, the backpackers started moving into Poblado many years ago and changed the night life of the area.
Poblado has businesses and residential areas but as a tourist, most of your interaction is with the streets in and around Parque Ileras. This is the party central of Poblado and on a Friday and Saturday night it resembles Kings Cross (Sydney, Australia) minus the fighting.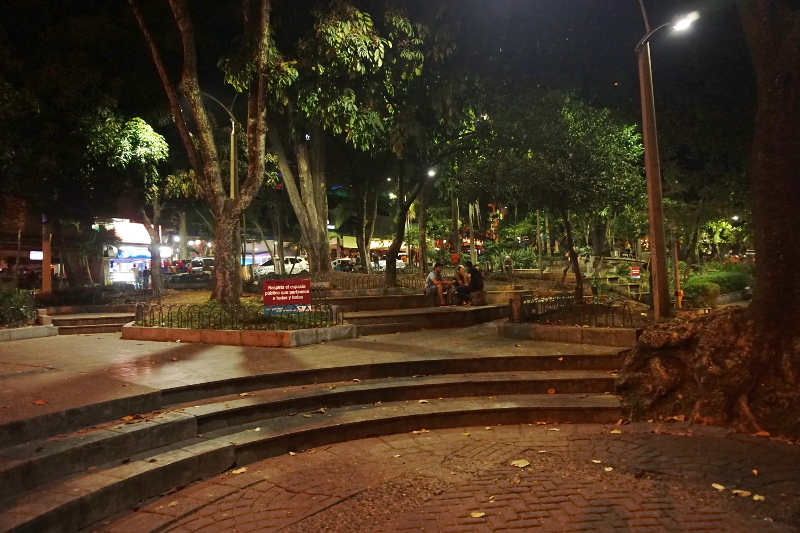 PS: this picture of Parque Ileras was taken on Tuesday, during the week.
As we were living in the area, we visited a few clubs and found the Latin style of partying to be very different to others. There is a lot of sensual dancing and alcohol but in general there is no violence and macho culture that exists in Australia. The music and the energy is immaculate!
Parque Arvi
Medellin has a huge National Park within the city borders somewhat like Cape Town on top of the mountain. The cable car from Santo Domingo can get you there in 20 minutes, read all about the cable car ride in the previous post. There are guided walks, camping and picnic points in the park so you could either spend few hours, an entire day or few days in the park. Suit yourself.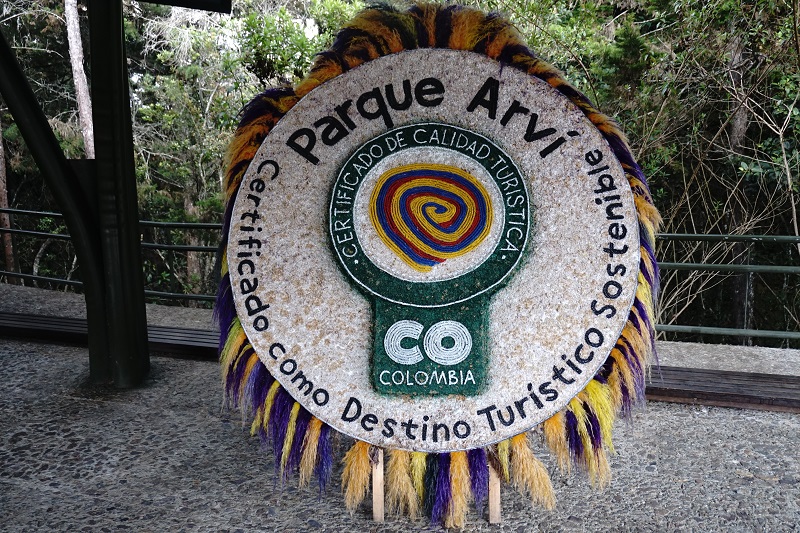 In addition, there are small vendors selling food, wine and jewelry. The park has little restaurants selling food, tea and other eatables. Going to a national park in Colombia is always fun if not for the nature then at least for the food and drinks.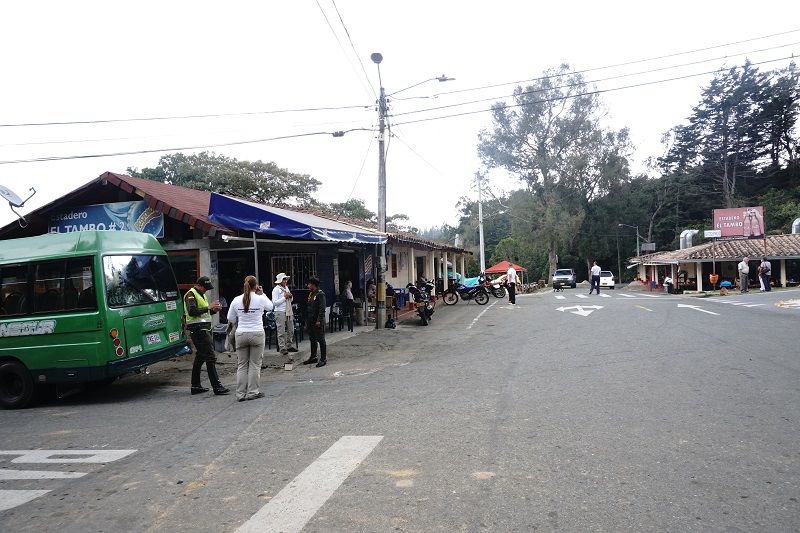 We spent sometime in one of the stalls that was selling Coca products. We tried out some coca leaves and had coca tea. A good way to unwind after a long day.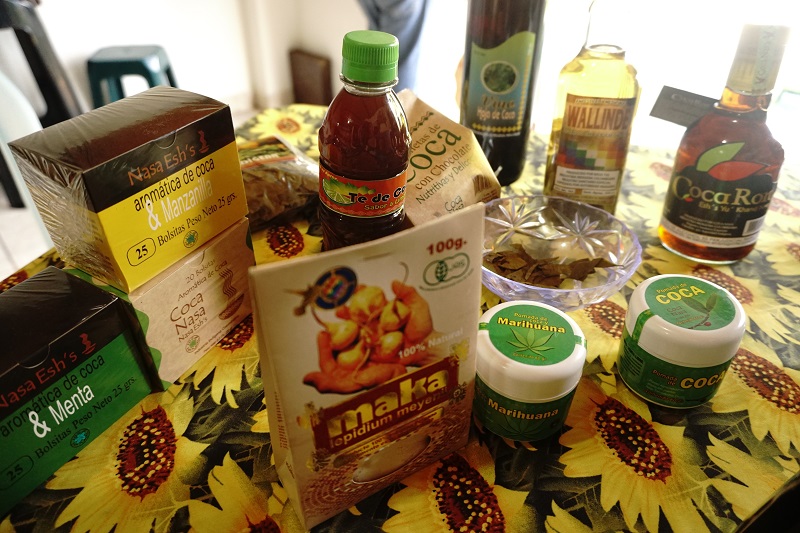 Watching Soccer
While we were in Medellin, the local team, Independiente Medellin, had a home game so we decided to go attend. We asked our hostel to arrange for the tickets. It was the second game of the season so there was a lot of excitement!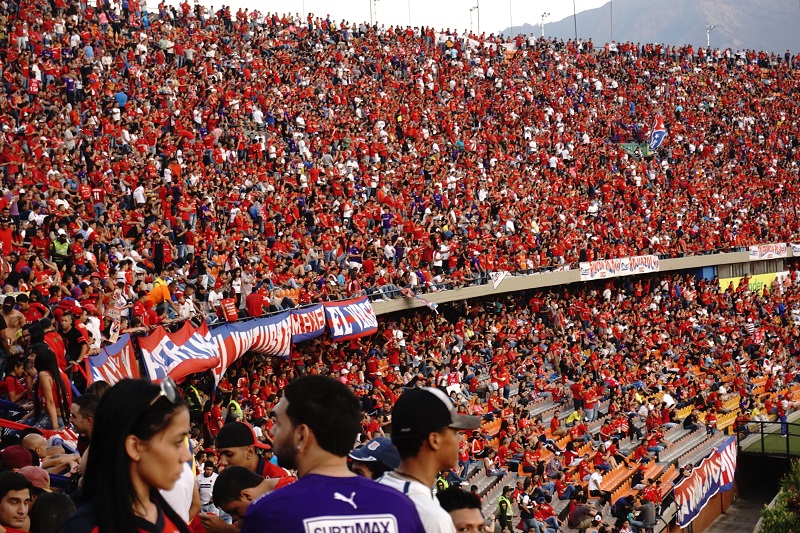 When the guy arrived with the tickets, I was wearing a green tshirt. He looked at me and said, "Nooo! Change tshirt. Fight". I quickly understood that green colour belongs to the opposition team, Juniors, and I went to change to a red tshirt, colour of the local team. He also suggested wearing comfortable shoes because if a goal was scored, the entire crowd would run down. We were a little confused but we decided to follow his advice anyway.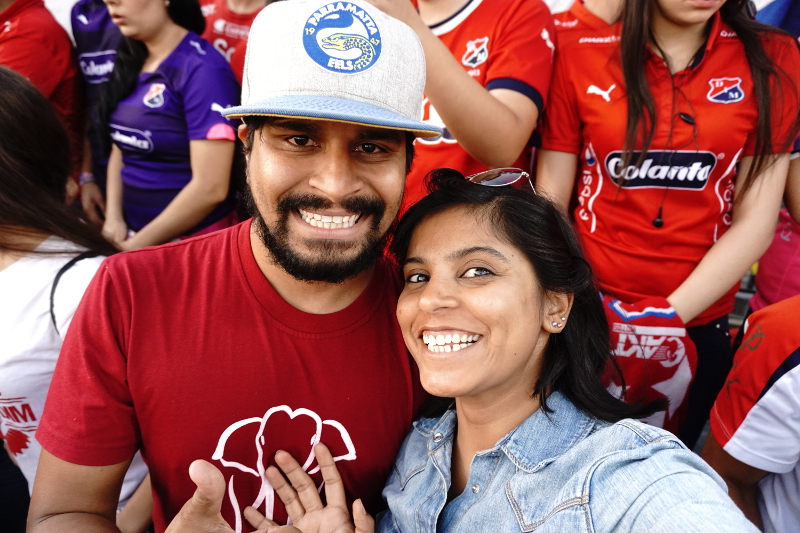 We got to the stadium just at kick off time. And oh my, the queue to enter was long. After waiting around for 20 minutes, we were finally inside. We got ourselves a good spot and joined the crowd.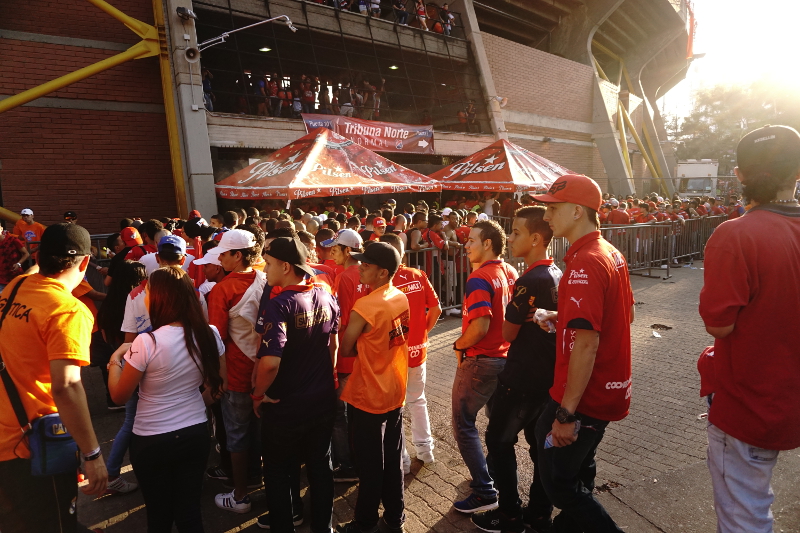 The fans in our stand were the hardcore followers. Throughout the game there was chanting to the band's rhythm. Almost everyone there was enjoying some drinks or smoking some joints. We were actually surprised how they got it through the security!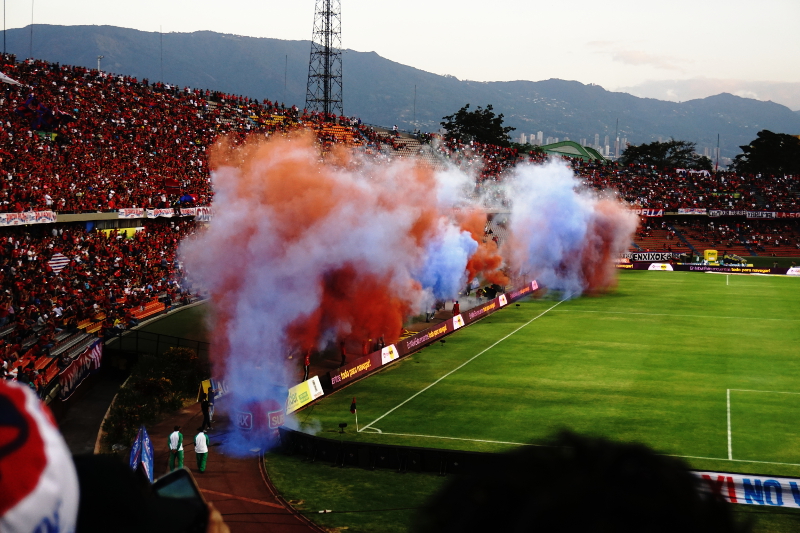 Overall, it was a great experience. Although no goal was scored this game, we felt like we were attending a party. Here is a complication of the game and crowd highlights.
The Positive Feels
Everyone we met in Colombia before getting to Medellin, local and traveler, told us that we have to go to Medellin. They couldn't point to a single reason and we were a bit confused. However, we only realised what they meant after getting here.
While Medellin went through a terrible time during the Escobar era, the city is really turning it around. Added to its geographical beauty, the fact that the government is really working hard to put the pride back in Medellin. The metro, the cleaning up of the slums, the roads, high-rise buildings, the nightlife, its brand as the Silicon Valley of Latin America and almost no visible crime make Medellin a great place to be in.
There are plenty of cafes, restaurants and small pubs around the area which gives a feel of a western city. There are plenty of expats in this part of Colombia and we can see why! We recommend spending some time in Medellin, whether it is for a holiday, short-time stay or a few years. There are quite a few things to do in Medellin.