While we were in Taganga, we did a few excursions. A day out in Minca was amazing, you can read all about it here. We also visited the Tayrona National Park and spent a night there. Unlike National Parks in Australia, Colombia is all about providing service and making money.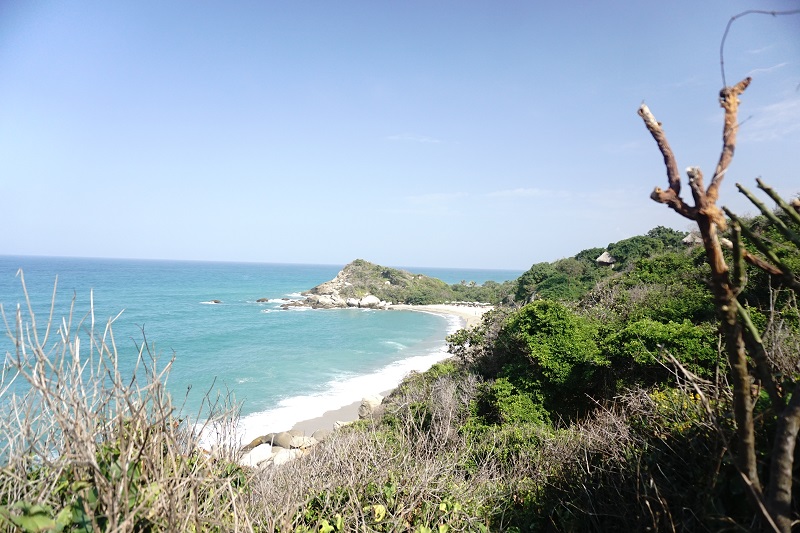 Get to Tayrona National Park
We got to Santa Marta knowing there are buses that go the National Park but we didn't know from where. So we got to Santa Marta and asked a few people till someone was calling out to us hysterically. Maybe we looked like the people heading to National Park because he directed us straight to the bus.
The bus ticket from Santa Marta to the Entry of the National Park costed us 14,000 pesos (USD 4.50) each. We lined up for 15 mins to get the tickets but once we got to the cashier, she pointed us to the other side and said "bring a token". Initially, we thought they wanted us to sort out our accommodation for the night before heading into the park but it turns out we had to watch a short informative movie about Parque Tayrona before buying our tickets. After watching the movie, one of the staff gives you an overview and hands you a token which means that you have watched the video and now you can buy the ticket. Bear in mind that the video and short intro was in Spanish, so almost foreigners were confused and didn't get much of the information.
The ticket into the park was 39,500 pesos (USD 13) per person for Non-Colombians. You need to show your passport but they were fine with our driver licenses.
Accommodation for Night
As mentioned above, we thought we needed to sort out our accommodation before getting the entry ticket. We knew there are locations within the park that rent out hammocks for the night and Parque Tayrona is incredibly popular so getting a spot can be difficult and expensive in popular beaches.
We spoke to a guy sitting on a tiny table for options. He said we could find out if 2 hammocks were available at Arrecifes beach and that got us excited! While doing the research, we decided Arrecifes would be our first option.
After making a call he confirmed that he can book 2 hammocks for us. The cost for each hammock was 32,400 pesos(USD 11) per person. Again, while we did our research, We had read that hiring cost was about 12,000 pesos, so that seemed a little strange to us. Anyway, we had no choice, but to pay the price.
Once we bought these tickets, we heard a guy selling hammocks at the same beach for 15,000 pesos (USD 5). Now, that was the better deal. We decided to go back to the gentleman on that table and request him to cancel our booking. He gave us the spiel that their service was better and that the other place doesn't have lockers. We didn't really require a locker, so we ignored everything and took back our money to reserve at the cheaper place. Savings double!
Unswimmable Beaches
We walked from the entry to the first beach, Cañaveral, though we could have taken a shuttle. It was about a hour walk but we were glad we did it as we spotted titi monkeys fighting and making noises on the trees. Other than that, we heard lots of birds and got to breathe fresh clean air.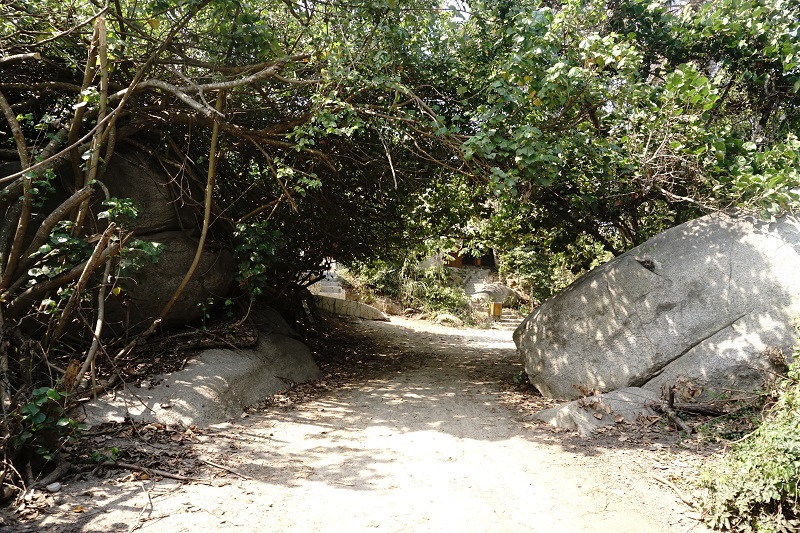 Upon reaching Cañaveral, one of the main beaches only to find out that it is closed for swimming. This story played itself out many times with different beaches. This stretch of the Carribean Sea is rough and the non-protected beaches can easily take your life.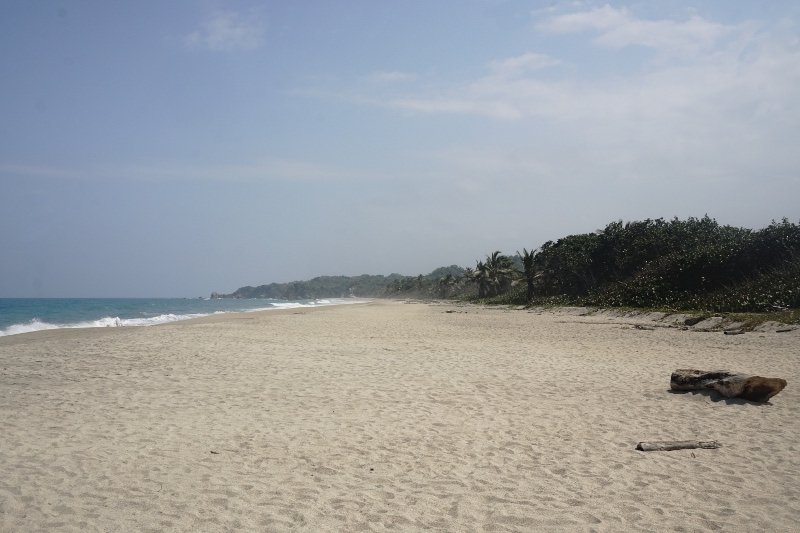 Hike to Arrecifes
After Cañaveral, the trail was mostly wooden structure built by the park authority. The trail goes up and down hills and around boulders and cliffs. It is only 3.2km and there are markers the whole way but it took us bout 1 hour 15 mins due to the terrain. After reaching Arrecifes, we realized the place we booked was actually quite good for the price.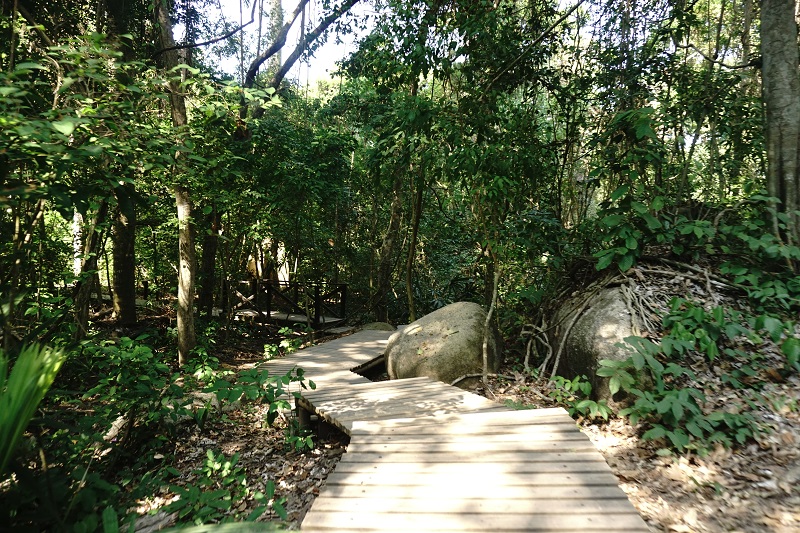 La Piscinita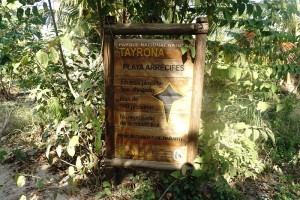 We walked from Arrecifes to La Piscinita. Strangely, though there is accommodation on the Arrecifes beach, the beach itself is unswimmable. La Piscinita was a small beach next to it and we enjoyed ourself in the water for a while. The beach is covered by rocks protecting it from big waves. We were kind of getting an idea of why Colombians love Tayrona!
El Paraiso
Hotel El Paraiso Bukaru had a restaurant, camping grounds, tents and hammocks with a mosquito netted area. To be fair, the mosquito net wasn't the best but we had our insect repellent so we were fine. There were showers, toilets, a great restaurant serving juices, alcohol and food and a parrot that said, "Hola". Great deal!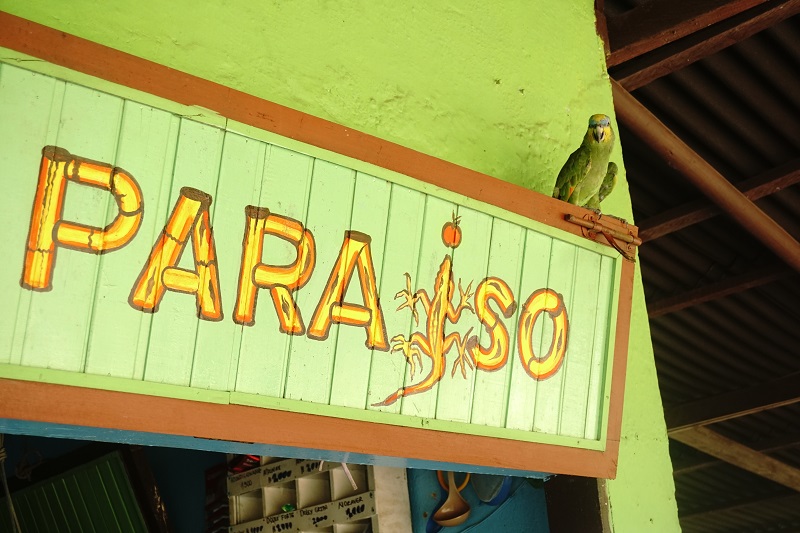 For dinner, Shruti enjoyed her vegetable rice while I decided to go for some shrimp rice. The shrimps were fresh and the meal was tasty. We decided to be a little adventurous and tried costeño (colombian coastal) hot sauce, the ahibasco. It was mindblowing spicy and we could only have a little without ruining our meal. The meal was quite cheap, only 30,000 pesos (USD 10) given we were in a National Park. That would not be the case in Australia!
As night drew upon and we were done with dinner, we decided to take a stroll down the beach. Turns out we weren't the only ones with the idea. We got a spot and spent some time under the moon light before heading to our hammocks.
This was the first time we would be spending a night in a hammock. I must say, I was a little concerned initially but had a comfortable sleep. Hammocks are really comfortable and I am not sure why we don't use them much in Australia.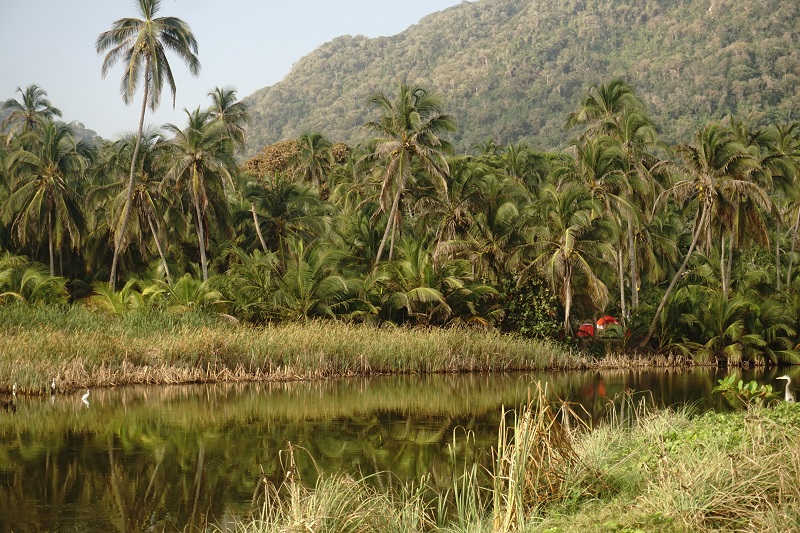 Snorkeling
On our way to Minca we met a few American girls and they told us how great the snorkeling was in Tayrona. As we were walking to El Cabo, another famous beach within the park, we came across the snorkeling board at La Piscina beach, a few beaches up from Arrecifes. An old grandmother was the owner of a snorking company and we decided to go with her. The equipment, guide and photos costed 40,000 pesos (USD 14) per person for 1.5 hours. Bargain!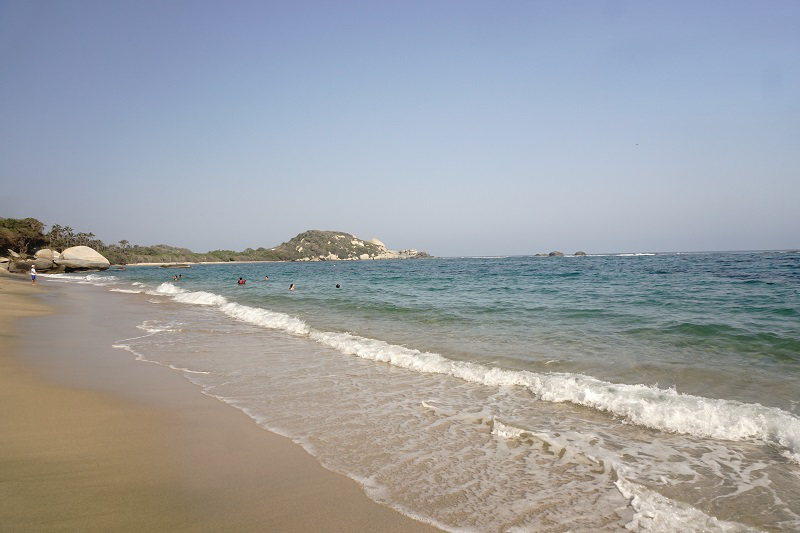 Our guide showed us around the bay, the corals and the fish. However, the star of the tour were 3 turtles we saw one after another. We followed each of them around until the guide spotted something else. We spotted a sting ray rested on the sea bed, covered with sand and lots of other colourful fish.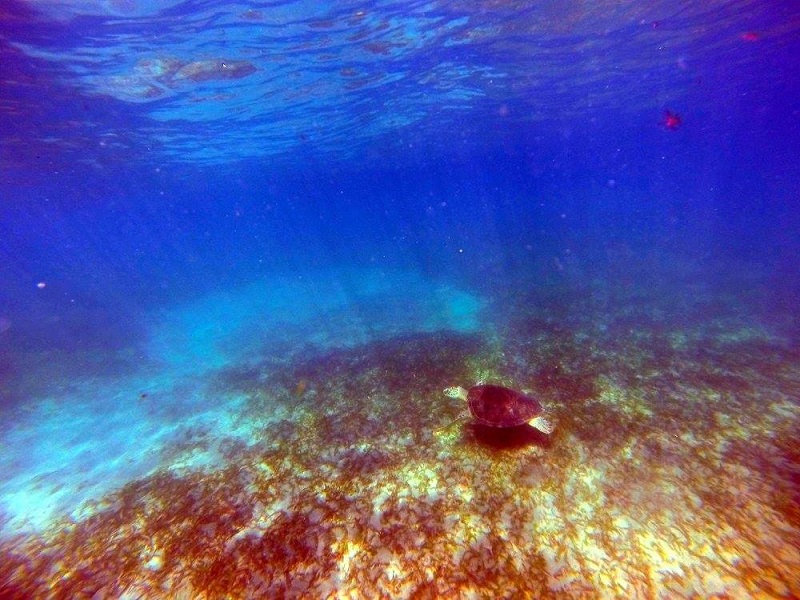 The current in the water was quite strong and it was interesting to see huge boulders break the wave and long sea grass being swayed around. It was a beautiful sight and we were glad we did it.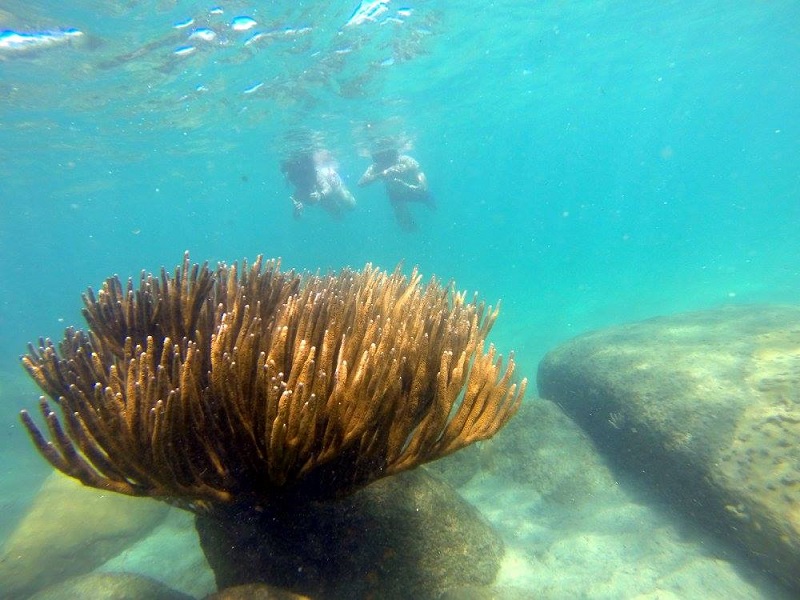 El Cabo
Post-snorkeling, we did another hike to reach Cabo San Juan de Guia. It is the most famous beach in Colombia and the one that usually represents Colombia and Tayrona. We took lots of photos of the beach and Shruti went for a swim as well.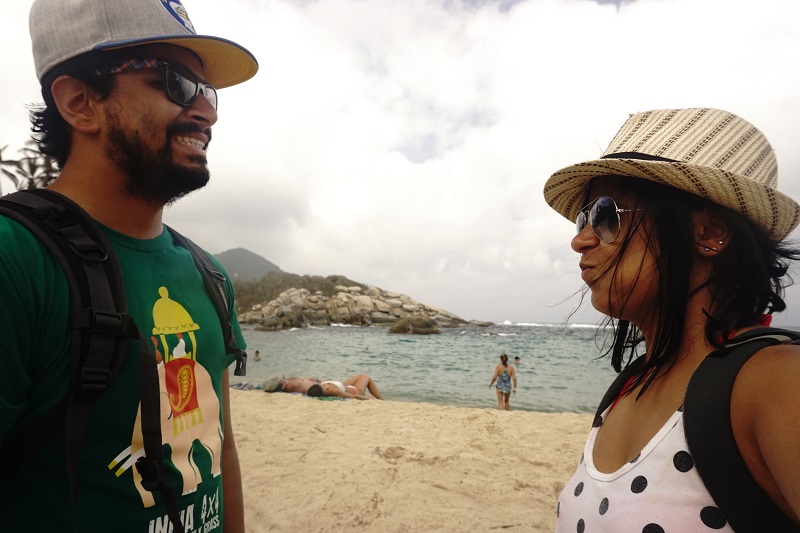 A great memory of this beach was a huge iguanna who came from the rocks to walk around the beach, scaring tourists and walking all over their towels. Shruti got a couple of great shots. Scary but cute!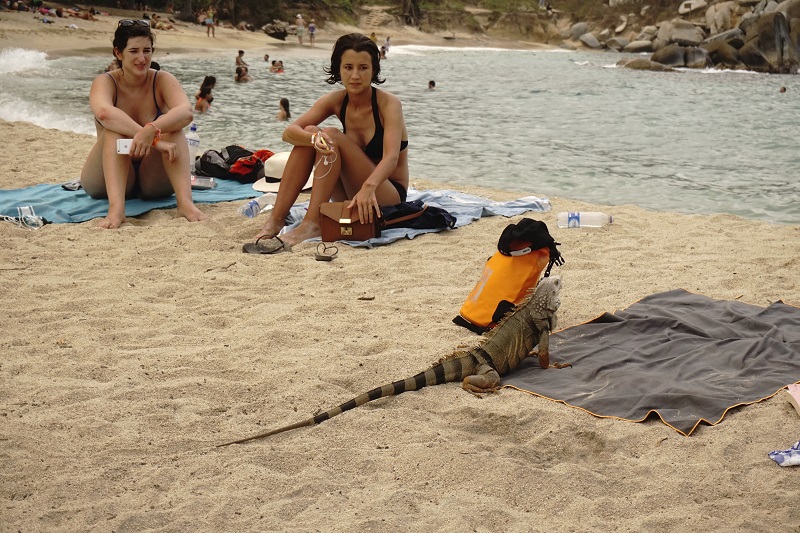 There are plenty of camp grounds, hammocks and premium hammocks available at El Cabo. Though, based on what we learnt, these spots cannot be reserved early on. There is a need to queue up and at checking in time, spots are allocated.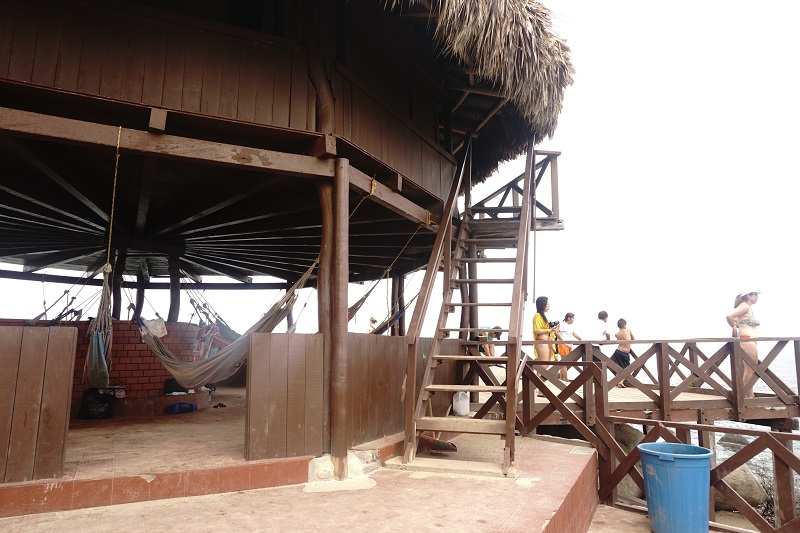 Long Walk Back
After an hour on Cabo, it was time to head back. Somehow the walk back was much quicker and we were able to walk 7km of rough terrain in 2.5 hours. We had almost run out of money so the shuttle to the exit wasn't an option and we ended up walking 4km back to the exit again. We were sweaty, tired and in need for a shower. Eventually, we got a bus back to Santa Marta and made it home with a few thousand pesos left.
We had some great experiences in Tayrona. The beaches, the snorkeling, the hammocks and the heat will be remembered for a long time to come. In the two days spent there, we saw the beauty of the park which draws hundreds of thousands of tourists every year both Colombians and foreigners.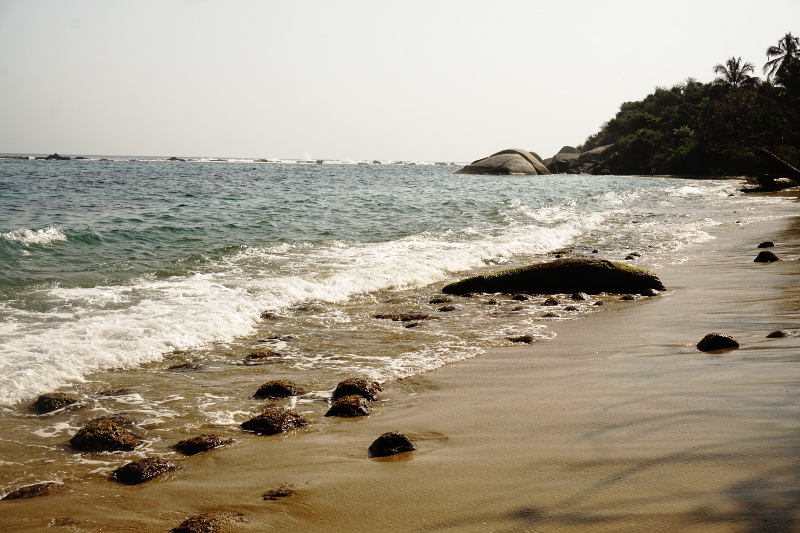 Important Information
There are no cash machines in the park and card isn't accepted. Make sure you take lots of cash.
Take fly spray as the mosquitos come out as soon as the sun is setting. And most likely long sleeves will not work.
Take lots of water and high energy food like muesli, nuts etc.
Buy from El Paraiso at Arrefices as it caters for budget travelers and things, such as water bottles, juices, aren't as expensive as in El Cabo.
If you are spending the night in hammock or tent, make sure you either carry a jacket or blanket. It can get chilly from 3am onwards till the sun comes up.
Most popular beaches such as Cañaveral, Arrecifes, La Piscina and El Cabo provide accommodation options and have restaurants. Depending on your budget, you can pick what suits you the best.