Guatape is a small town 2 hours away from Medellin known for its scenery. Most people come to Guatape for The Rock 'El Peñón de Guatapé' and Guatape Lake. It is one of the favourite weekend gateways for people of Medellin. Some come over for a day while others spend a night.
When we decided to visit Guatape, we thought we would spend a night. But we fell in love with the town that we decided to stay longer!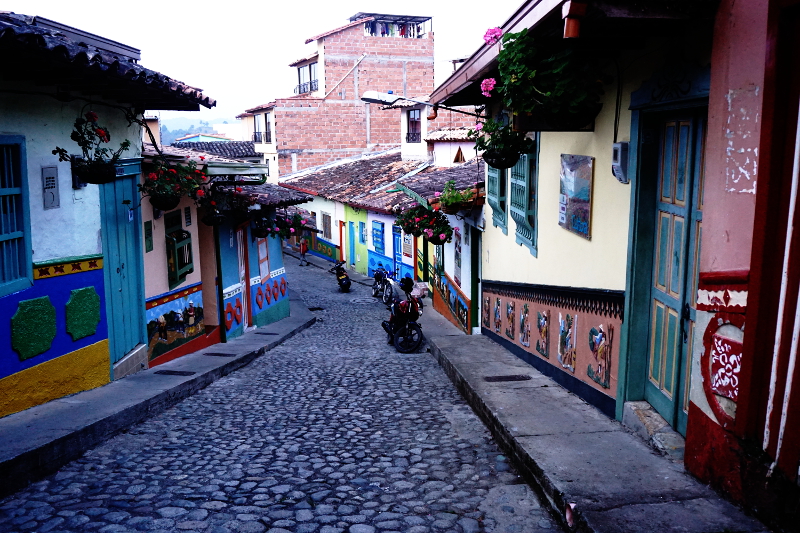 Getting to Guatape
Getting to Guatape is quite easy from Medellin. Buses from No. 13 of the Terminal Transport de Norte leave every half hour for Guatape until 7pm. The cost is 13,000 pesos (USD 4) per person.
If you decide to get to Guatape on Sunday, we suggest you book your tickets in advance, especially for return to Medellin. Those buses usually fill up quickly.
La Piedra
La Piedra is the main tourist attraction in Guatape. It is a mighty rock, 200 metres in height from its base and can be seen from a few kilometres away. There is a G and half U painted on the flatter side of The Rock as Guatape tried to own The Rock but the residents of El Peñol, nearby town, wouldn't let that happen.
There are around 670 steps til the Top of The Rock. However, there is a viewing platform which stands at 740 steps. The entire climb can be done in 20 minutes if 1) You are physically fit 2) You don't stop for photograph along the way. We took about 30 mins to get to the viewing area.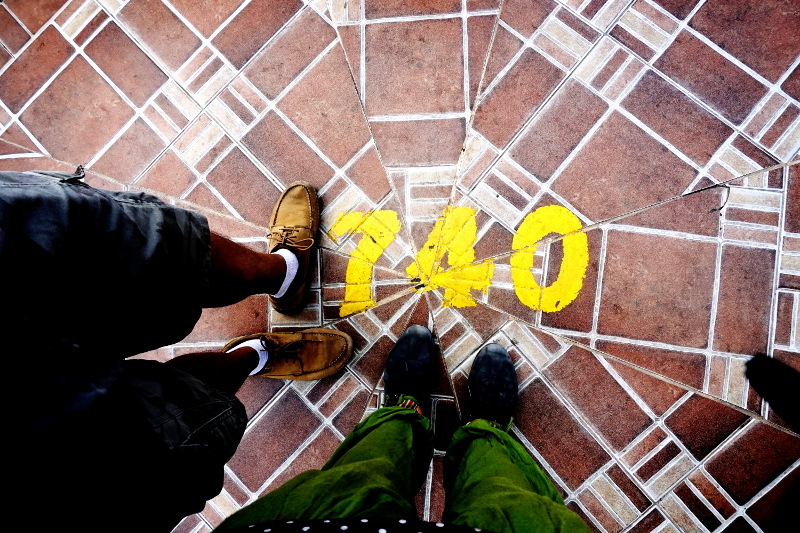 The view from the Top of The Rock is just outstanding. There is water and land in all directions. And the hills in the background just add to the beauty. The landscape makes the sight one of the most beautiful in the world.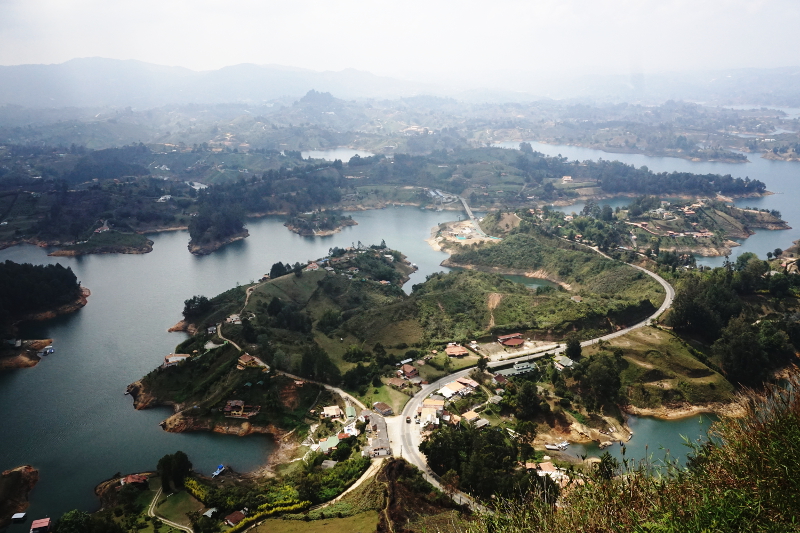 Following the Colombian tradition, there are beer and snacks stalls and souvenir shop and a restaurant on the Top of The Rock! You can never be thirsty or hungry in this country.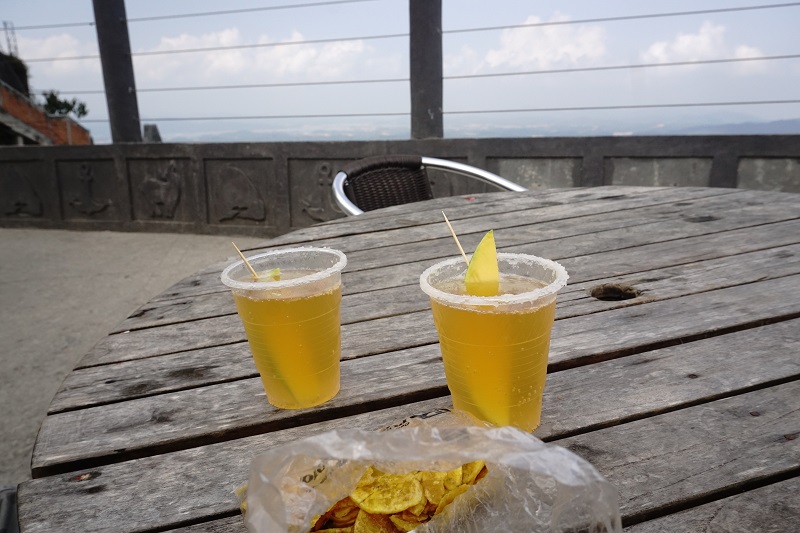 The entry to The Rock is 15,000 pesos (USD 5) per person. The buses from Medellin make a stop at La Piedra, so you could get off the bus and climb The Rock before getting to the town. From the bus stop to the base of The Rock you could either walk (10 mins), take a tuk tuk or a horse ride.
From Guatape to The Rock, there are tuk tuks and the bus heading back to Medellin. Getting to The Rock is pretty easy from the town.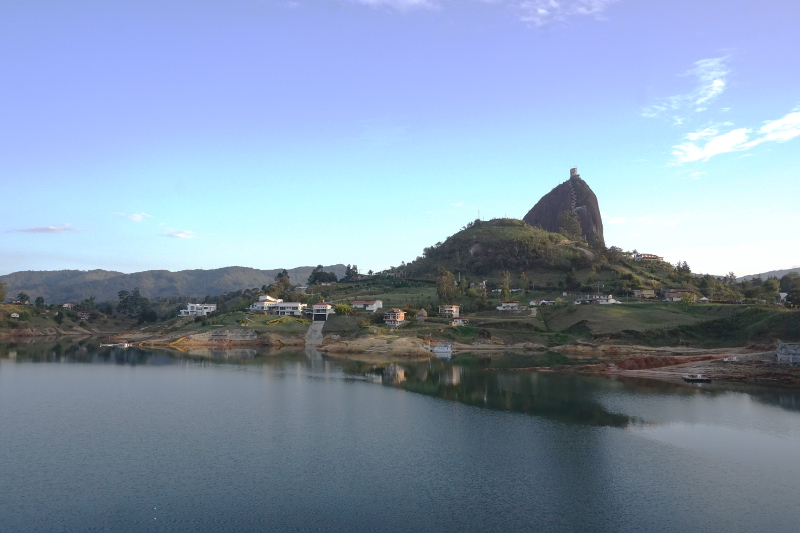 Lake
In the 60s, the Colombian Government dammed the river nearby creating a huge man-made reservoir lake. All the towns in the area were demolished and moved higher up on the hills around the lake.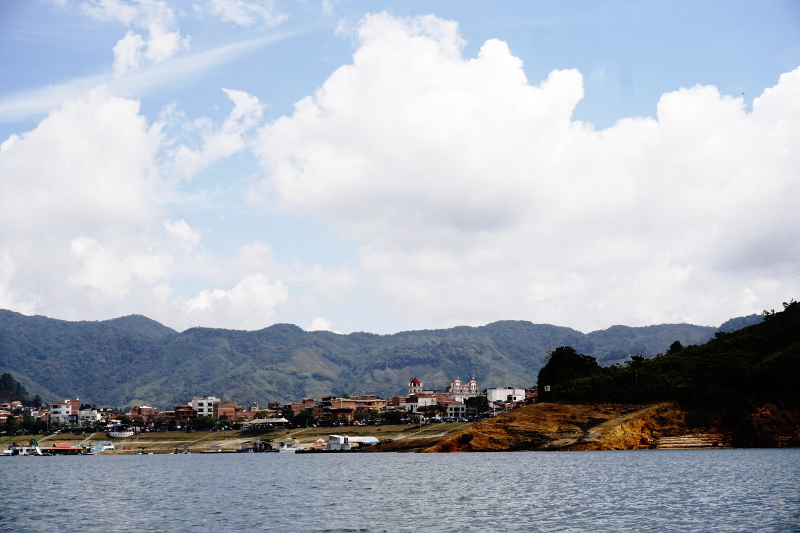 Along the lake shore one can hear "lancha" (boat) as you walk alongside the beach. Those are the boat owners willing to take you on a ride in the lake for a small cost. We took a shared boat or lancha on the lake with some Canadians and local tourists. We paid around 15,0000 pesos (USD 5) per person. It could have been cheaper with a bigger boat and more people but we got a good deal. We got our life jackets on and got in the boat for an incredible ride.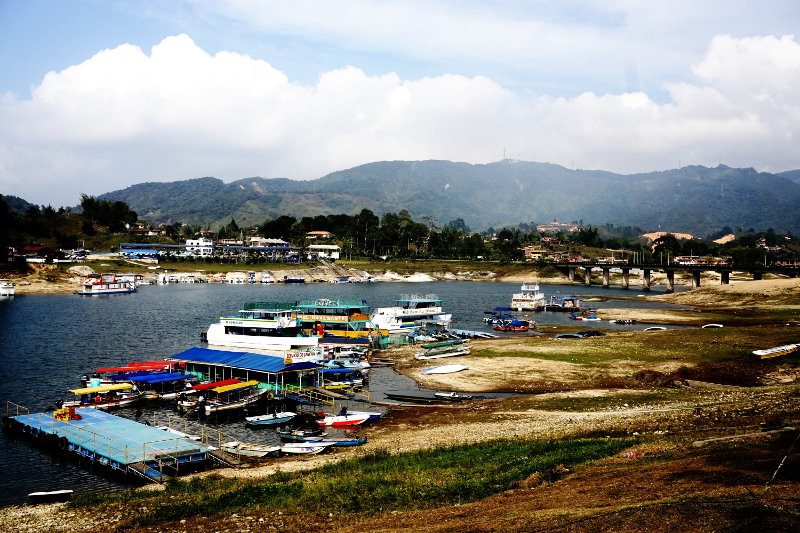 First of all, you get splashed by water as soon as the boat pulls out of Guatape and keep getting mildly splashed the rest of the time. You soon forget about that as the water gets deeper and the hills around get higher. The beauty of the area has to be seen to be believed. Behind us, a storm cloud was threatening the wooded mountain making the town and the lake look so different.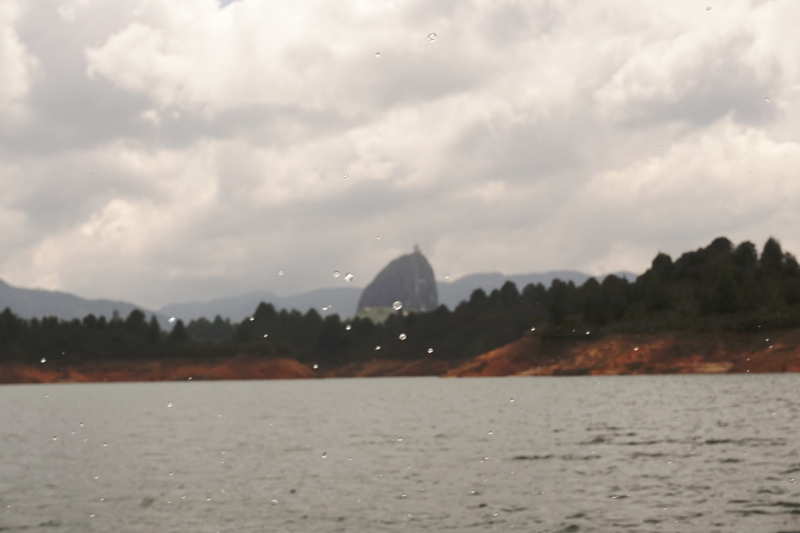 As the boat goes on, the captain stops at different sites. A government hotel, houses of models and football stars and finally in one area the houses of Pablo Escobar, his family and friends. At one time, Escobar had 400 farms on the lake. Now, his old home is burnt down and used for paintball by tourists.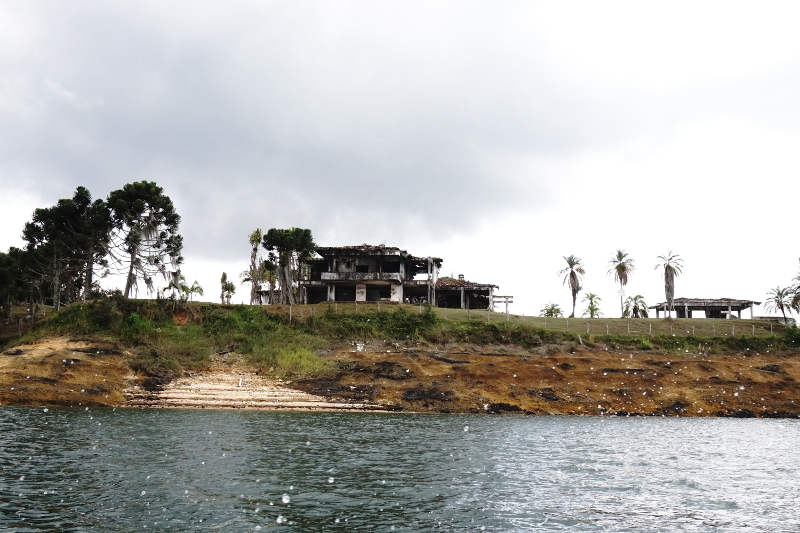 The final stop before returning is the site of the old El Peñol town which now lies underwater. A big cross on a brick pole marks the site of the church of town. There is a pit stop here for 15 mins to see the museum of the old town and the only house to survive the flooding of the area. The cost of the museum is 1,000 pesos.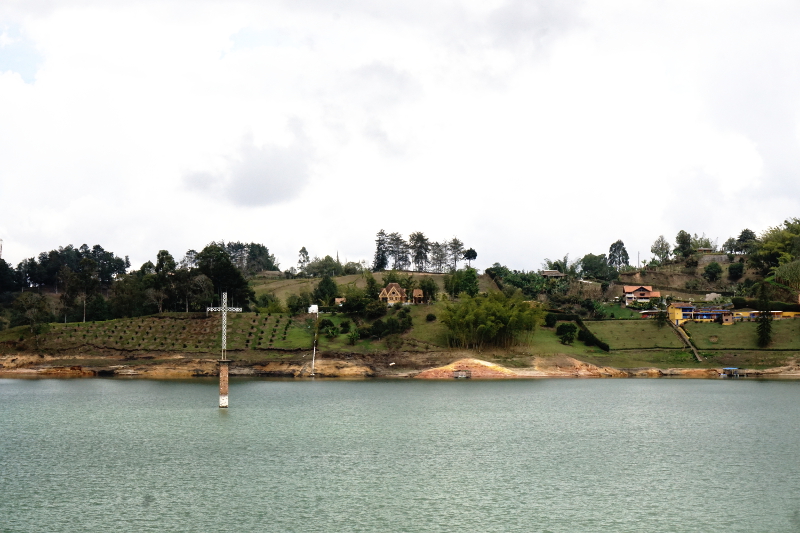 The site of the cross is perhaps the most beautiful on the lake with mountains all around sometimes being seen in the turquoise water. We left as quickly as we had arrived there and headed back for town. On the way, we saw a party boat with music blasting and drinks flowing. For once we were glad we were not on that. The silence around the lake was really peaceful. 15,000 pesos seemed a bargain for taking in some much beauty of the area. A must do in Guatape!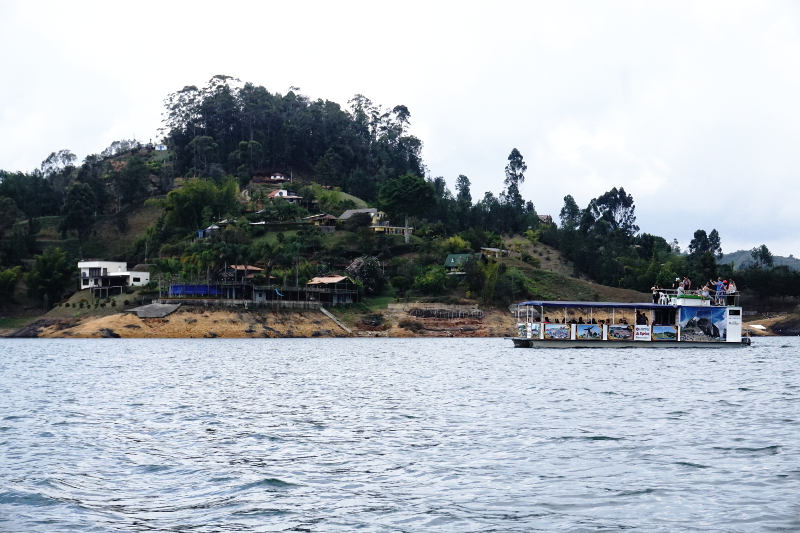 The Beautiful Town
We arrived in the town without knowing much about it at all. Our host in Taganga, Ingrid, had advised us to stay the night in Guatape. The town itself has only 5,000 people and is surrounded by hills on all sides. The lake shore makes for one of the main streets in town.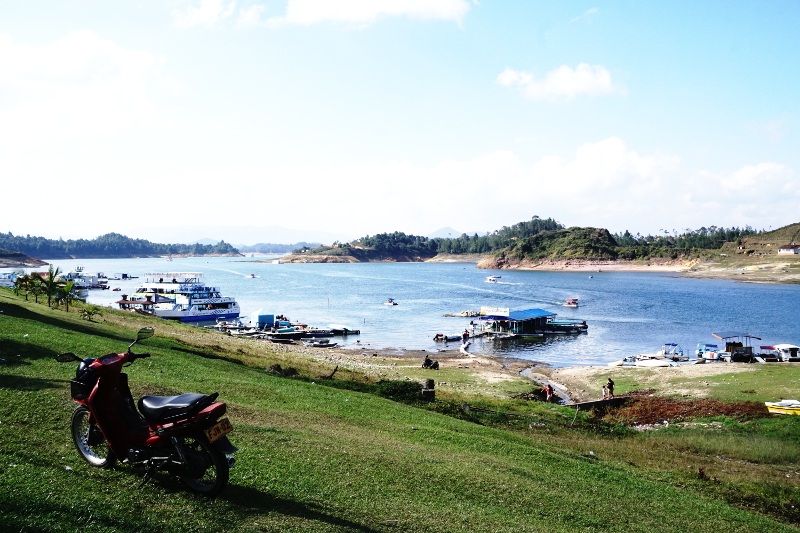 However, we only accidentally discovered the most distinctive qualities of this town. For one, each house in the town had an artwork made of plaster on the concrete wall about 2m high from the ground. In addition, each artwork outside each house was painted with vibrant colours. The artwork is called Zocalo and Guatape is known as the village of Zocalos.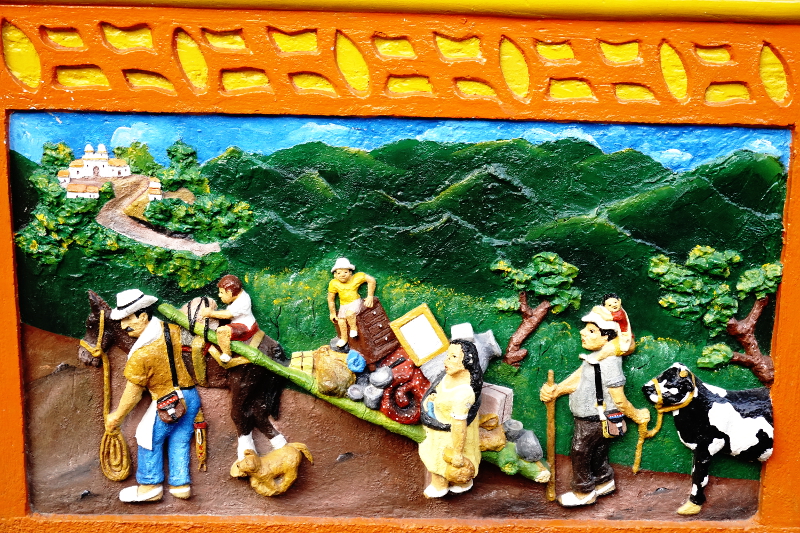 The next quality was even more unbelievable. We discovered the most colorful little plaza (Plaza De Los Zocalos) in the town, dedicated to the zocalos around the town. There were apartments, surrounded by shops and more apartments in this plaza. The unique thing was that each story of apartments had a different color and each step of stair was also colored differently. It looked like a real life doll house.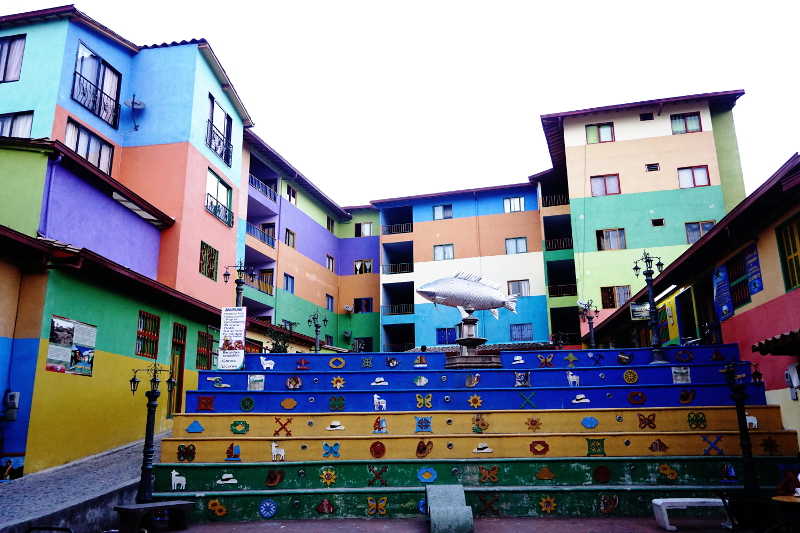 Here is a quick video tour of the Plaza De Los Zocalos.
Most zocalos are different with only a few similar ones around town. Someone may have sheep, horses, boats, scenery and The Rock too. As time progressed, people started putting entire stories in form of zocalos. The largest we saw took up 3 walls.
Moreover, we heard about Ignacio Suarez, the guy who has created and painted 80% of zocalos around the town. He may be called the Godfather of Zocalos. We promised ourselves that we would meet him before we left. As fate would have it, we found him working a corner away from our hostel and we had to say hi. He was a small, round, old and extremely humble. He looked a bit like the stereotypical Chinese Masters with their long mustaches. We communicated to him that we were honored to meet him. What a guy!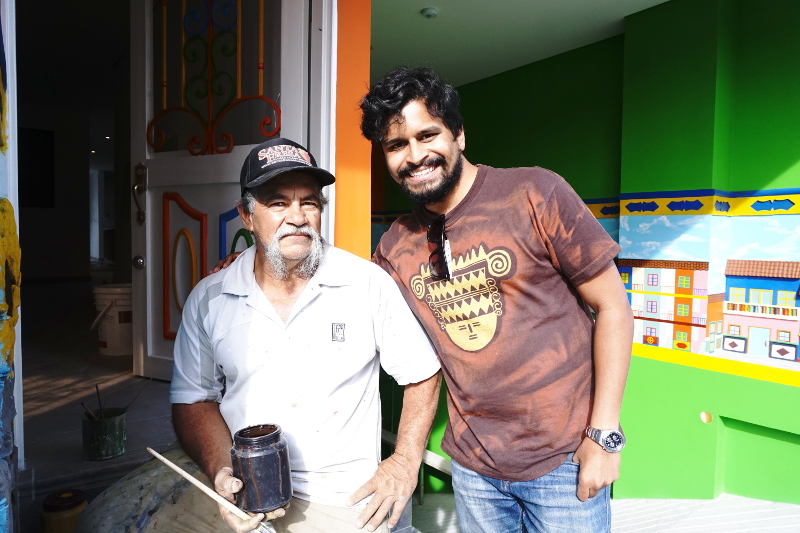 Make sure tou have at least 1.5 hours set aside for walking around the town. There are amazing colours and artwork and each time we walked the same streets, we discovered something new. Additionally, over the weekend the main square gets busy! All the pubs and clubs are open till late at night – the town transforms like Cinderella!
The people & the food
In the two weeks that we stayed in Guatape, the people were extremely nice to us. We met and got to know Camillo, the owner of the hostel, and Carolina, who looked after the hostel. Of course, we got to know Carolina a lot less as she only spoke Spanish, but one afternoon she offered to make pancakes for us!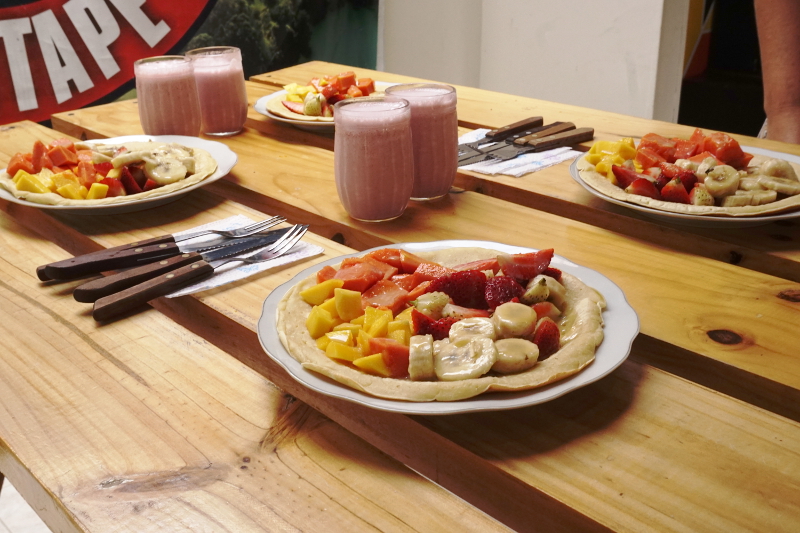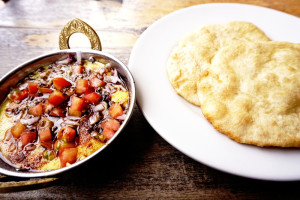 What surprised us the most was meeting Shekhar (Sam) who runs an Indian restaurant in the town. We walked into the restaurant, Don De Sam, not knowing it was an Indian restaurant. Once in, there was hindi music on and the menu sort of confused us a little. Within couple of minutes, Sam walked over and started talking to us in Hindi. We were really shocked and taken aback a bit. It was quite a bit for us to digest! After chatting to him for a while he suggested cooking aloo tikki and chole (fried potato with chickpeas), type of street food, which we hadn't had in months and in Shruti's case years. He sat down with us to enjoy the freshly cooked meal and told us his story. He arrived in Guatape for 3 days visit and never left. WOW!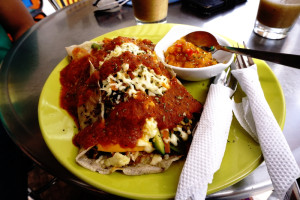 Another amazing person we met was Adriana, the one who runs a vegetarian cafe called Namaste. She cooked amazing lunches and we visited her a few times. We initially wanted to volunteer there but she already had all the volunteers she needed. In any case, the lunches at Namaste were incredible with a French, Indian and worldwide influence. The price for a meal is generally 13,000 pesos (USD 4) with a fresh juice which was a bargain!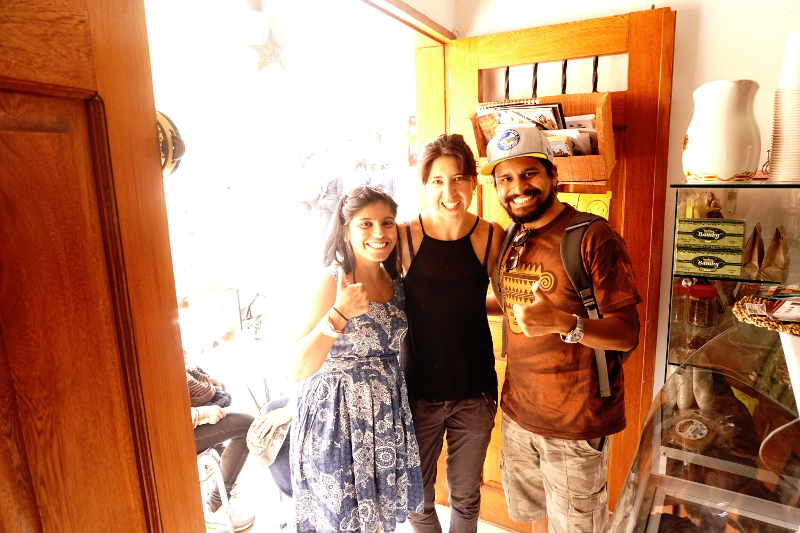 In addition, other than an auto driver who took us for a ride (repetitive pattern!), everyone in town was nice and helpful. Despite our limited skills of Spanish, people still conversed with us as if we were locals. A few times we felt we were getting tourist prices but it wasn't regular at all.
Exploring Around Guatape
We hired a scooter to ride around Guatape from Guatape Motos. James and his volunteers had set up the business a few months ago. Once we reached his shop, he handed us a bike, a map, a mobile phone and generally gave safety instructions. Once that was done, we were on our way to San Rafael.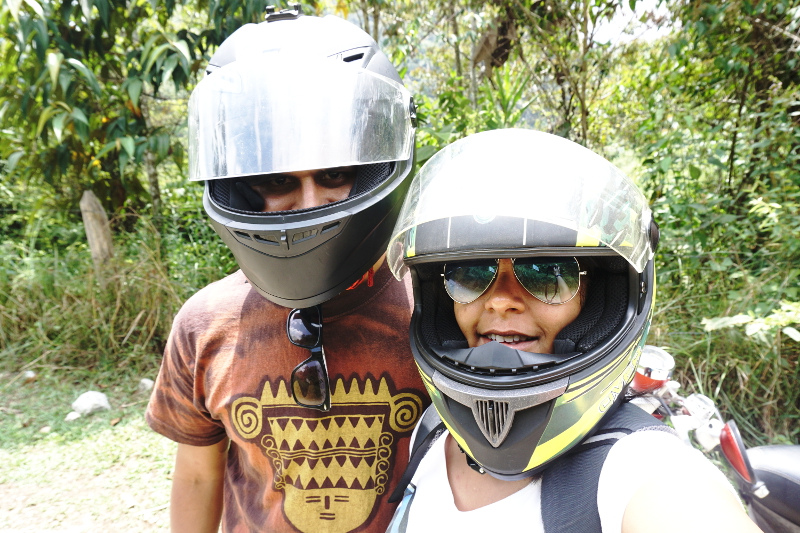 Despite being a sunny day, we were feeling cold due to the Andean winds in Guatape. However, that changed 10km out of Guatape as we descended towards San Rafael. San Rafael is 1000m below Guatape but the road descends gradually. This was good for our little scooter as it would not have handled hairpin turns.
The scenery is absolutely amazing as one really sees the height of the mountains around Guatape when going down to San Rafael. The mountains around have some amazing peaks and deep valleys. In short, the ride is simply stunning.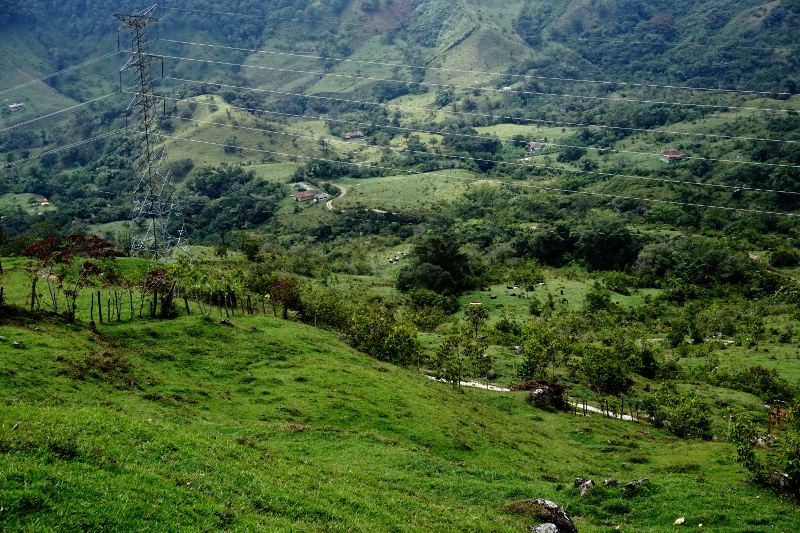 Our first stop was Bizcocha which is a sleepy riverbank. We looked around for a decent spot to bathe but decided against it mostly due to the direct sun. Apart from the heat, the view is incredible with mountains on all sides, a mountainous river and various small bridges over the river.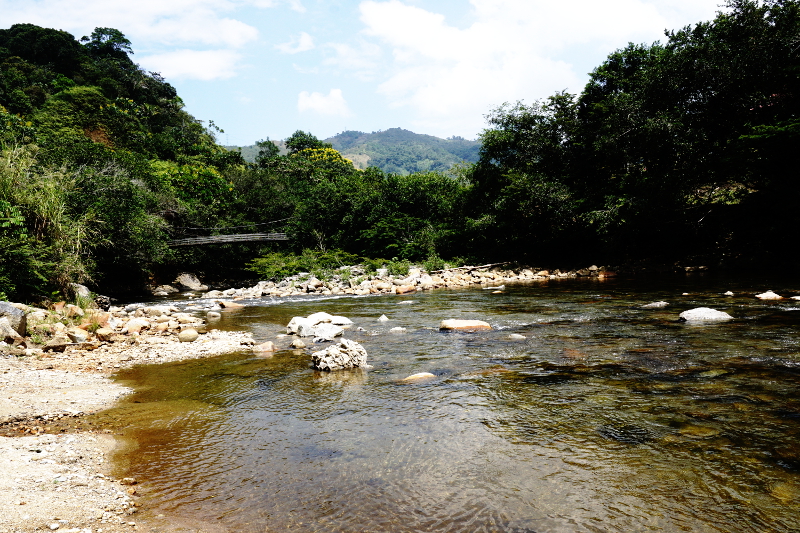 Our next stop was La Casuela, a waterfall which could only be accessed by foot as the path leading to it was not paved and the scooter was not fit to be ridden over it. We met 3 other backpackers from USA, Netherlands and Britain while looking for the path to the waterfall. We chatted about their travels as we walked for 30 minutes. That may have been painful but the bath in the waterfall was equally good because of it. We stayed there for an hour before heading back to San Rafael for lunch while our friends went back to Guatape.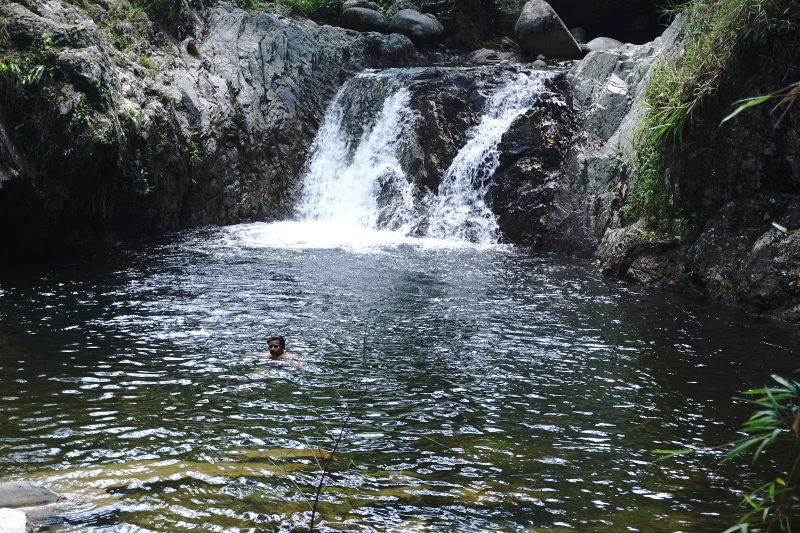 San Rafael was surprisingly big compared to Guatape. It had a large square, a beautiful church, bridge over the river and again an incredible view of the mountains around it. We tried to find vegetarian food for Shruti with no luck until we saw sign for avena on a bakery. We ordered avena and some fresh cheese bread. The avena was refreshing in the heat while the cheese bread was absolutely delicious. We were still a little hungry so decided to get a pizza.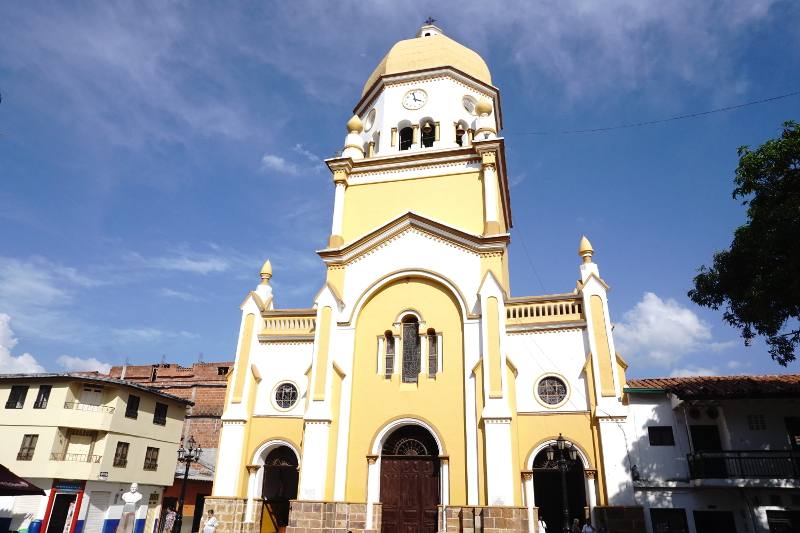 That was an experience again as the pizzeria didn't have a non-meat pizza available but the lady agreed to make one fresh for us. The fresh dough and fresh cheese with a slight sweetness gave the pizza an incredible taste which we will not forget for a while. We said goodbye to San Rafael and rode back to Guatape. The ride back was interesting as it was entirely uphill. I kept the acceleration high to be able to manage 30-40km per hour speed.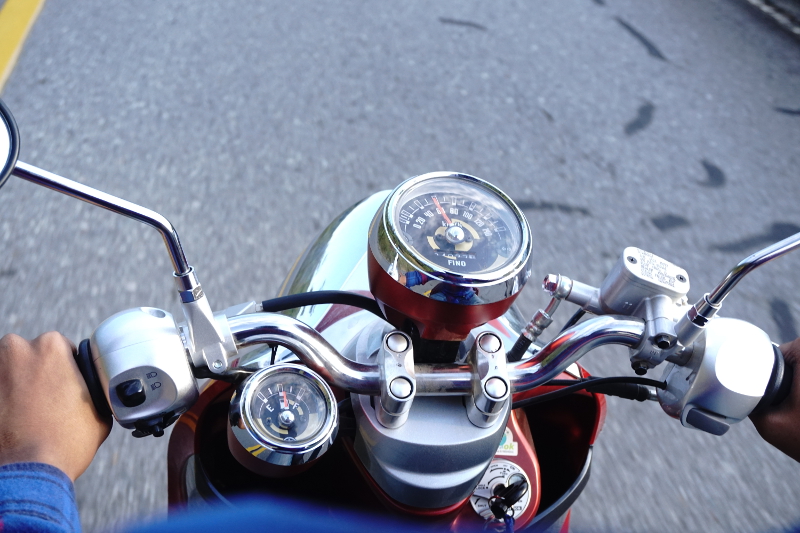 We still made it back to Guatape by 5:30 for a quick trip to La Piedra, The Rock, for some photos. A quick fuel stop later we returned the bike to James without any damage. Being a nice guy, he handed us a cold beer. Can a day get any better?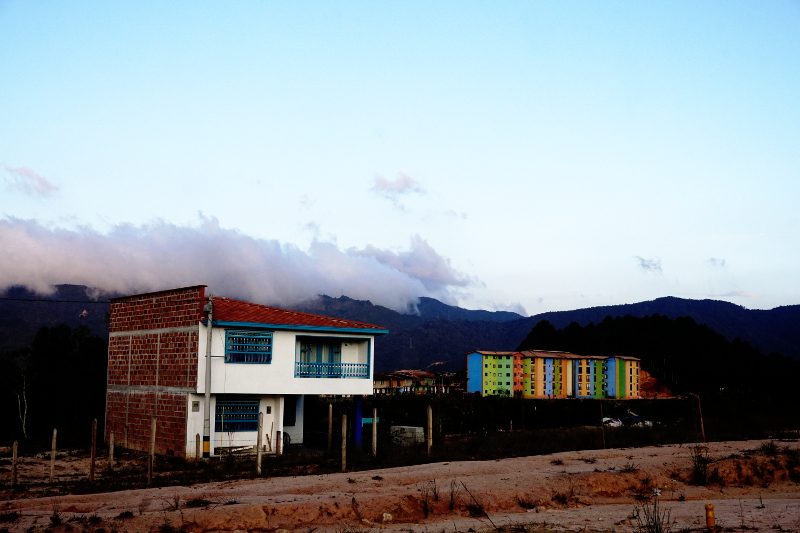 Tip: Guatape motos is on the main street of Guatape. The scooter cost was 110,000pesos($40USD) for 2 people from 9am-6pm.
Volunteering
We had wanted to stay longer than a few days in Guatape. However, that would not be possible without volunteering and saving on accommodation and food. We asked Camillo at Rock a Town hostel if he knew any volunteering opportunities around town. As it turned out, he was looking for volunteers himself. In the 2 weeks there, we had lots of chats with Camillo about Colombia, Ecobar and his history, Guatape, his time in Melbourne, his Indian friends there and of course, Indian food which he loves.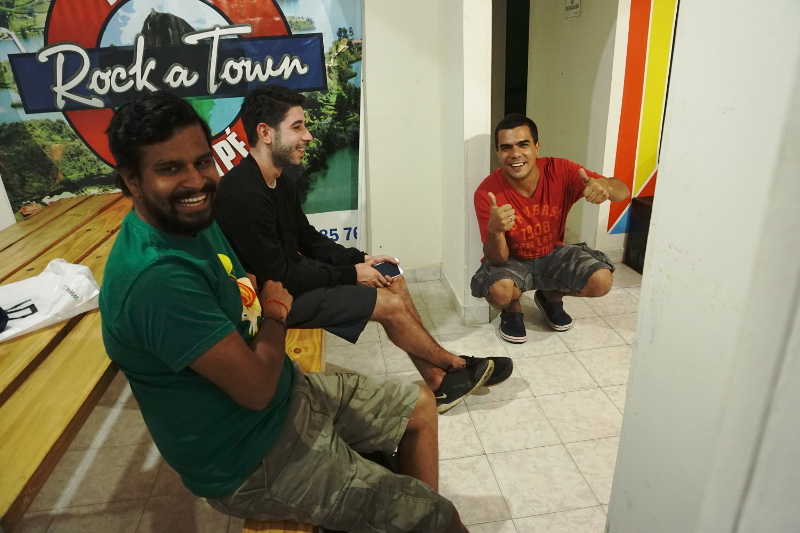 Our daily jobs included helping with changing beds, cleaning but mostly looking after the hostel from 6-10pm. It wasn't a lot of work but we got to understand how tough running a hostel can be. In addition, since we were mostly just "hanging around" the hostel, we were able to chat with a lot of travelers about their travels. Many people were on short-term travels and were in town for a day while others were there long-term spending their time reading and chilling in a hammock.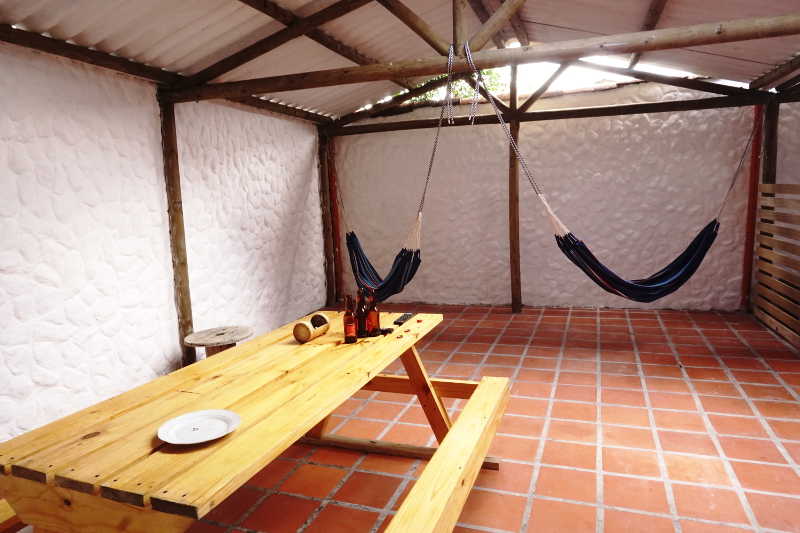 Moreover, though long-term travel sounds cool and relaxing, most of the time it is a lot of planning and running from on place to another. Volunteering at the hostel gave us a bit of chill for a while which we were grateful for. We ran through scenarios of further travel and life after travel. In short, it was a lot of fun, a little bit of work, hanging out with a great guy and memories of a life time. Thanks Camillo!