While we were in New York for 2 weeks, we made sure we visited a few famous spots around the city. Before getting straight into things to do in New York, do check out our posts about museums, exploring neighbourhoods and food in New York as well. And, we also have a short clip documenting our experience, what do you think?
Lastly, if you are planning on spending New Year Eve in the Big Apple, don't forget to read the post about our NYE 2016.
Brooklyn Bridge
Brooklyn Bridge was our first stop. The entry point of Brooklyn Bridge from Brooklyn side is at the corner of Tillary and Adams St.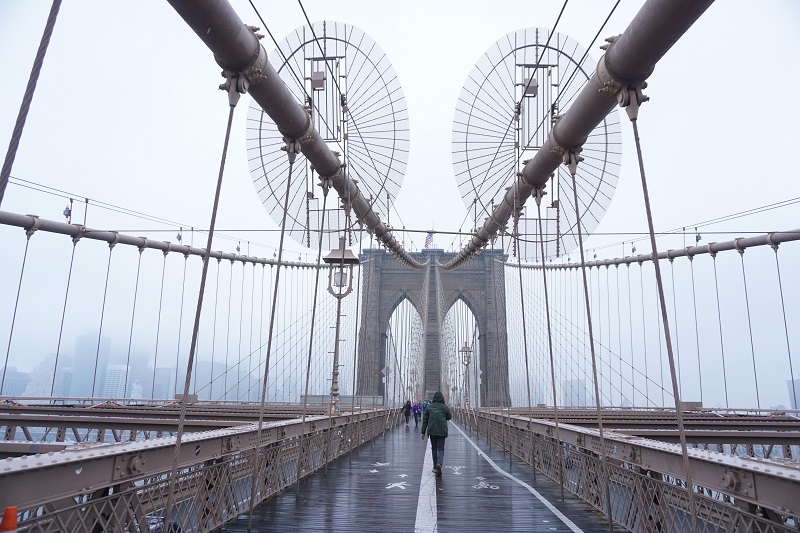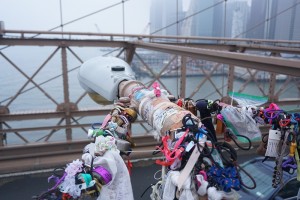 At first, there are no signs of the bridge as you walk from Brooklyn, but closer to get it appears as pretty as photographs even on a cloudy and rainy day. The walk takes approximately 45 minutes if you stroll casually looking at Manhattan and taking photos.
Sunway station: High St line A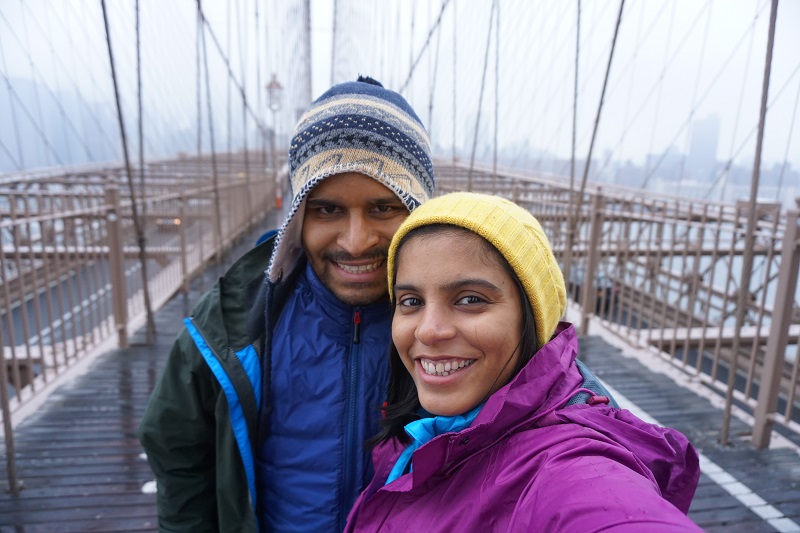 Manhattan Bridge
Manhattan bridge is very close to Brooklyn Bridge. We walked this bridge from Manhattan at night. The walkway entry from China Town is on the right side of the bridge. The left side is a cycleway. So make sure you don' get on the wrong side.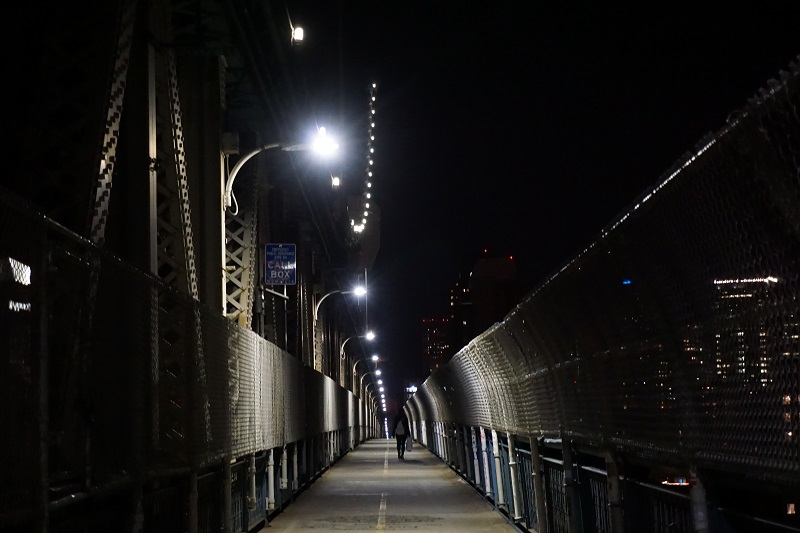 At night, the bridge provides a remarkable sight of the Manhattan skyline, Brooklyn Bridge and Brooklyn Bridge Park. It takes about 1 hour 15 minutes strolling across and stopping to take photos.
Subway station: East Broadway for Manhattan side and York St for Brooklyn side, both on line F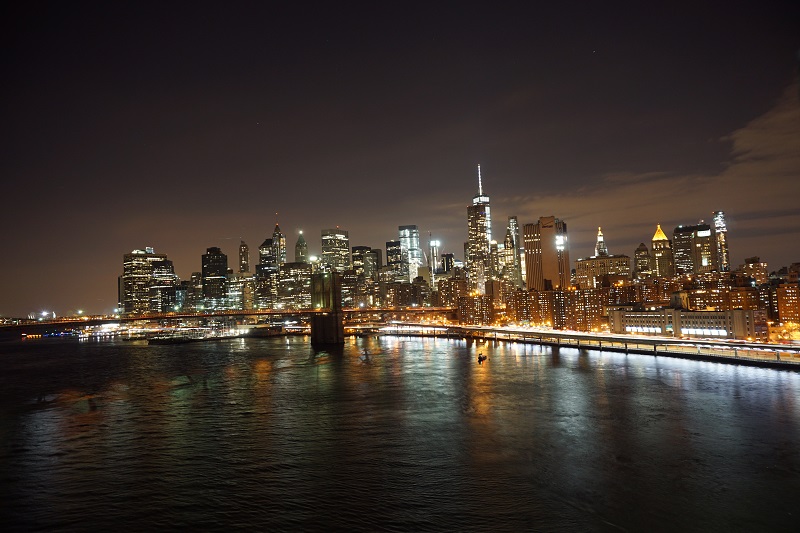 Brooklyn Bridge Park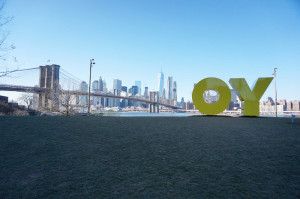 Brooklyn Bridge Park is a must visit. It provides a great view of both Brooklyn and Manhattan bridges. Walk around and explore the place becauae at a certain point, you can get both the bridges as well as Manhattan skyline in a single shot. The walk around DUMBO is also interesting if you are into architecture or photography. It can take 45 minutes to walk the park and stopping to take photos.
Subway station: York st on line F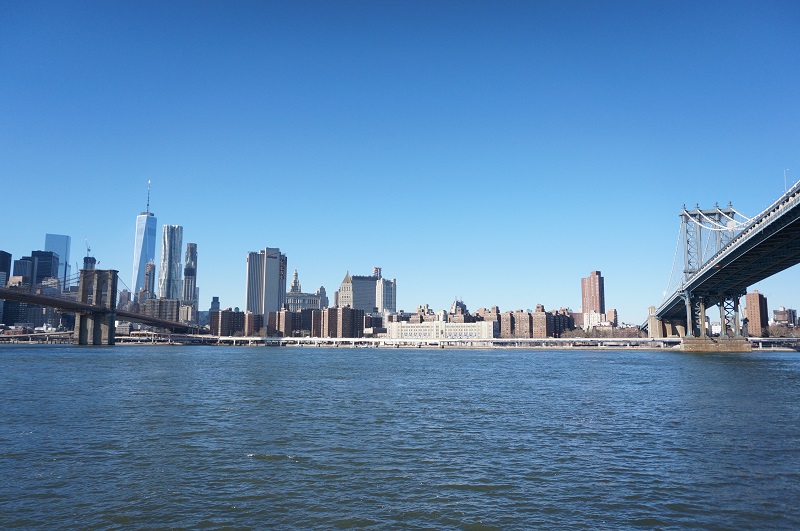 High Line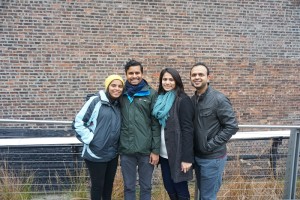 High Line was originally a train line going through the suburbs of West Manhattan. After the train was abandoned, some clever people decided to turn it into a park for the people. New York City agreed and now one can walk continously from 34th St right to 14th St. We walked the highline on a cold wet day with Shruti's friends, Richa and Nik. Although the greenery had weathered away for winter, we still enjoyed walking through old New York buildings and clicking some pictures. It can take 1 hour or more depending on your pace, interests or crowd.
Top of the Rock
Top of the Rock is the name for the viewing platform at the top of Rockerfeller building. The view from the top is incredible. It is not the tallest building in New York but it certainly provides an amazing view of the skyline. Pros on going up this building is, you can capture the Empire Estate Building as well. It gets really crowded so it is best to buy your tickets online. And make sure you plan you day well because the tickets are valid for a certain period of the day only.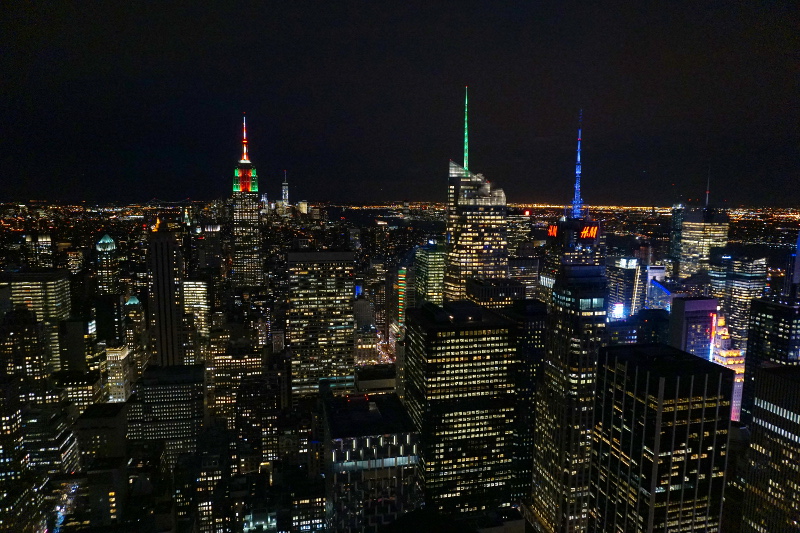 Times Square
New York experience isn't complete without at least one visit to Times Square. While we were there, we would had crossed the Times Sq Junction at least 3-4 times. There is just so much happening there. Lots of domestic and international tourists, street talents and people just standing around taking it all in. If you want to appear on the big screen, don't forget to stand right in front of the LOVE TV. You will be on air.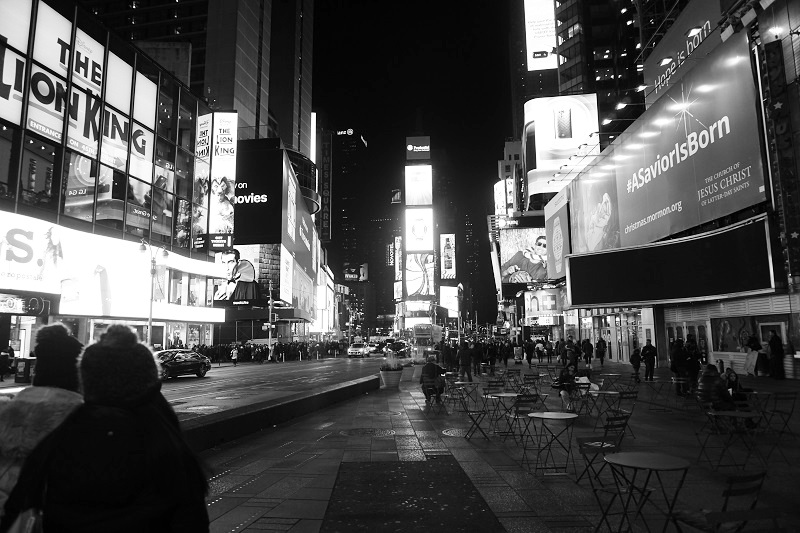 Gangster Tour
Once upon a time, I was quite into the Italian Mafia movies. The suits, the cars, the guns and the accents, I loved them all! Since we were in New York City, the home of the biggest mafia families in the world, we had to do the tour.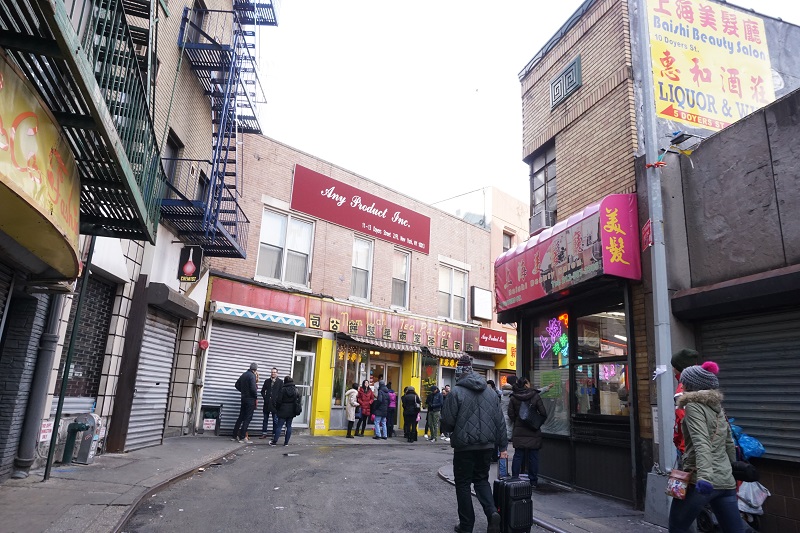 Tommy, the tour guide gave us the history of gangs in New York, the corrupt police and the slums. As we walked further into China Town and Little Italy, we learnt about Chinese Tongs, Italian Gangs and the Prohibition. If you're up for walking and history, it's certainly something to consider. Shruti was not even interested in gangs and insistes that she will be vored, but I think she probably enjoyed the tour more than me.
Cost – $25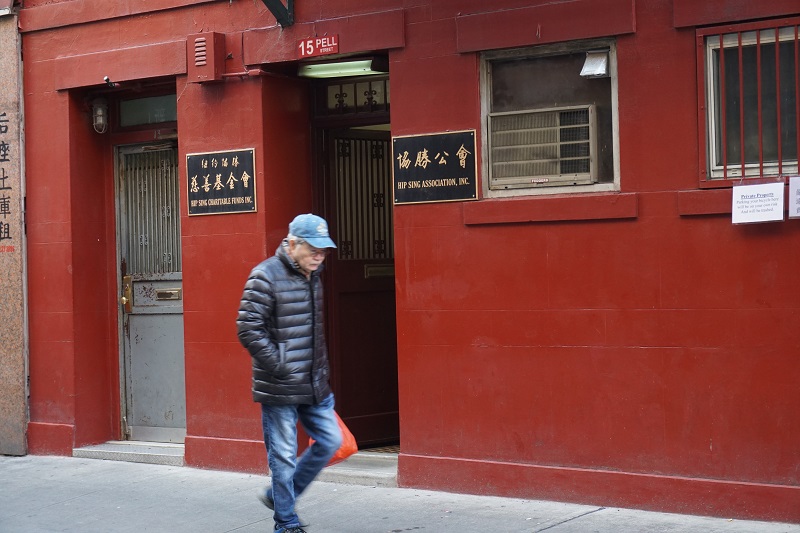 HIMYM
Both of us have been fans of HIMYM. By fans, I mean we've watched most of the show. We wanted to get to McGee's which is close to Central Park but for one reason or another, we were not able to go.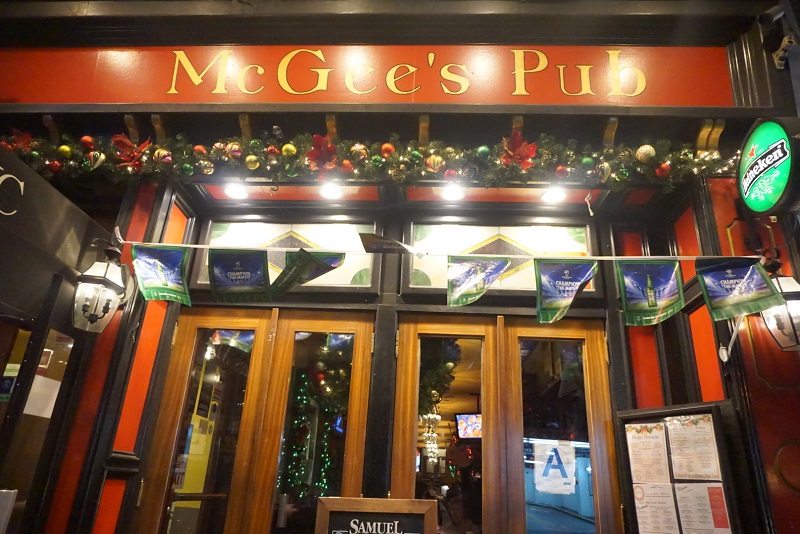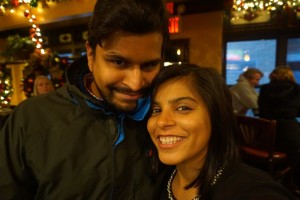 As luck would have it, on NYE, NYPD blocked all the entries to Time Sq except 59th st where McGee's is located. Once inside, we remenisced about the bar, the diner-style tables, the fireplace and saw the photos. We had a nice couple of drinks, chilled with a British couple and started our NYE. Its a must-go for any fan of the show!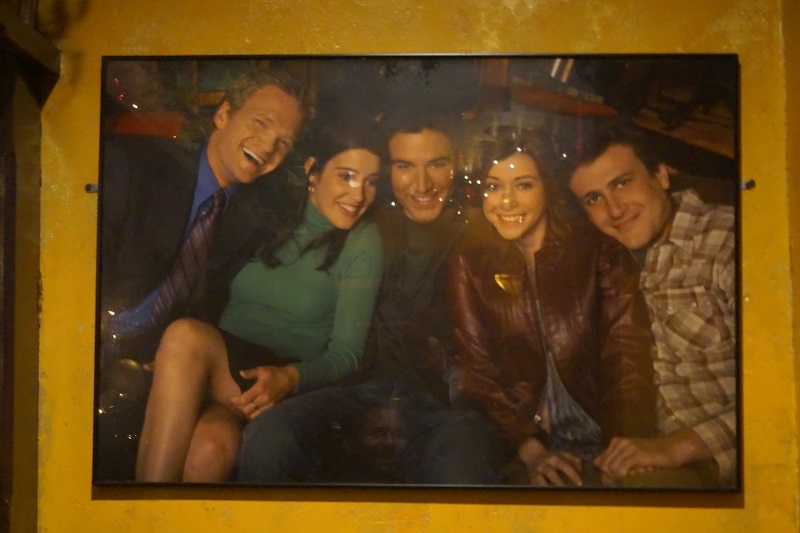 Statue of Liberty
The Liberty Lady represents New York and for many, even America. We had a few chances to see it early on in our stay but it just didn't work out. Locals advised us not to take the full tour but instead take the Staten Island ferry which goes right past it. Therefore, armed with our guidelines, we headed straight for the ferry while avoiding the ticket sellers for the official tour.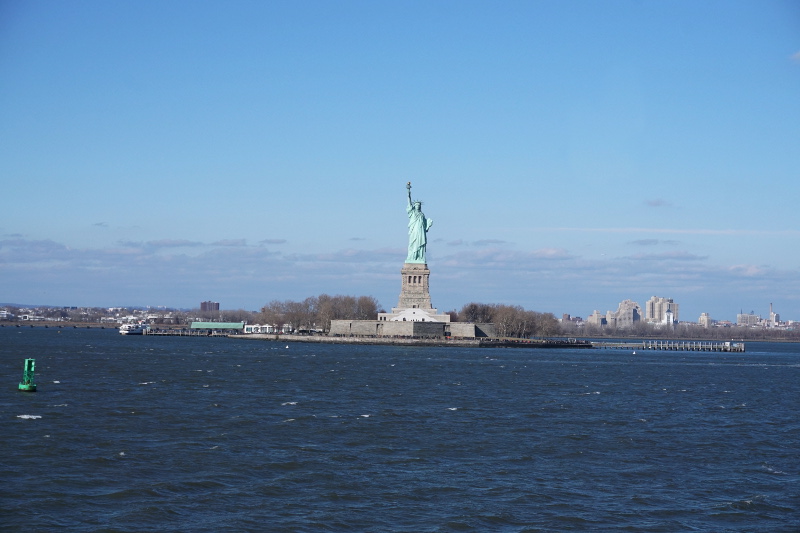 Staten Island ferry station could be a small airport. It had security, food outlets and gates for entry. We waited 5 mins before realizing that the ferry is free. Once the ferry arrived, the crowd ran straight for the right side. Sure enough, as the ferry moved out, it went straight past the Statue of Liberty. It was a beautiful sight with a blue sky, blue sea and a turquoise statue on a gray island full of people. Infact, I can say that the view from the Staten Island Ferry was better than standing right beneath it.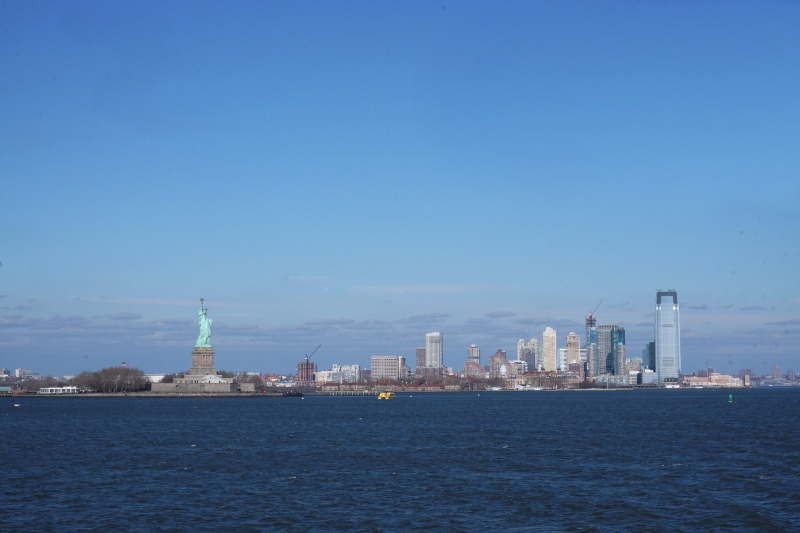 What happened next will remain with me for the rest of my life. As the ferry docked at Staten Island, the crowd deboarded, most walked straight and left and then bolted for the next ferry back to Manhattan. It was important for two reasons: First, we were not the only cheap tourists there. The crowd must have been in 100s and Second, no one gave a flying fornication about Staten Island itself!
NBA
Altough we aren't exactly into Basketball, we decided to attend a game in NY. Being at Madison Square Garden was a prize in itself. When we finally got there, we were quite impressed by it.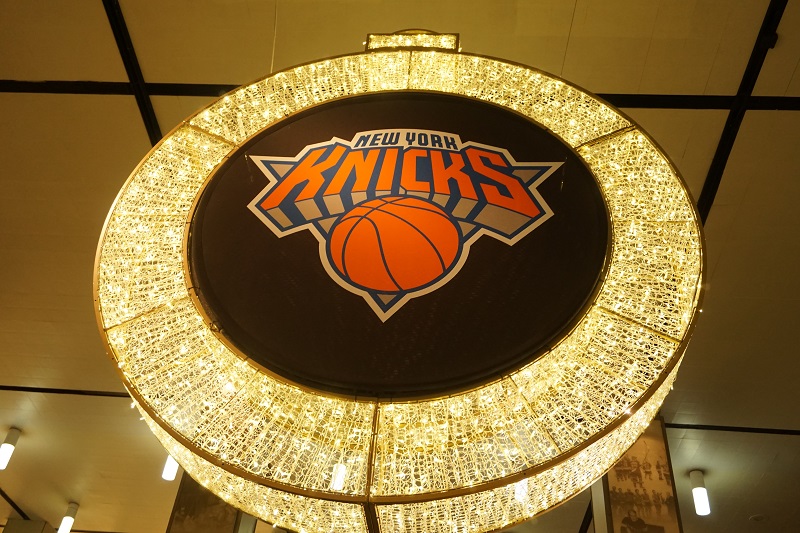 The facilities were amazing with plenty of bars and food options. The entertainment during the game was top-notch and a 100% above any Australian sporting event. Unfortunately, the basketball was average with no defence put by Atlanta and the Knicks romped home. Yay home team!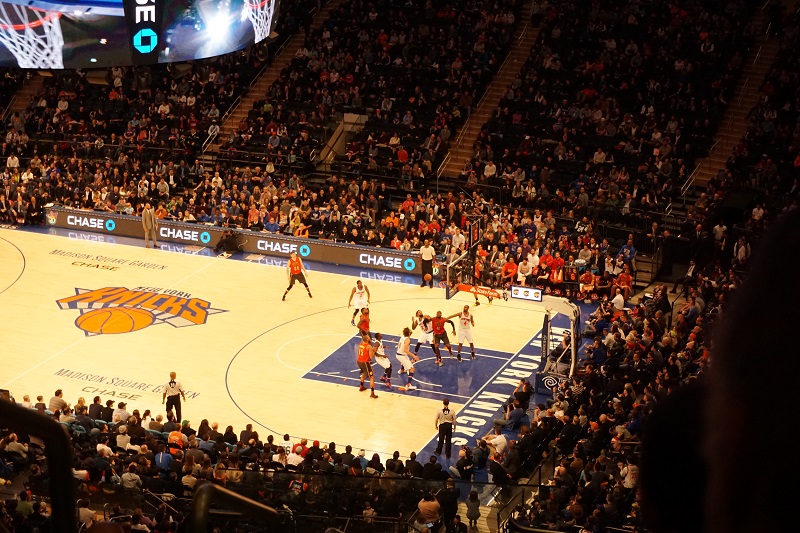 Tip: If planning on seeing a sporting event in NYC, get your tickets early as it can get very expensive.
Broadway
Theatre is big in New York and watching a Broadway almost a must. Sydney has a few theatres but New York has an entire road full of theatre. Well we couldn't say no to it but what to watch, the choice is endless.
After much consideration, we settled on China Doll with Al Pacino. It would be nice touch seeing one of the biggest stars live. It proved to be a good decision, Pacino was brilliant. Even at 60 something, he acted like it was Godfather or Scarface. Afterwards, he was generous enough to do selfies and autographs. It wasn't us but we still got a shot of him. Legend!
Getting Around
NYC is well connected with the subway, trains, buses and ferries. We managed to get around everywhere by subway. It is the best thing around and costs only $2.75 per trip! If you are there for fewer days and will be out and about more, you could get 3 day or 7 day passes that work out even cheaper.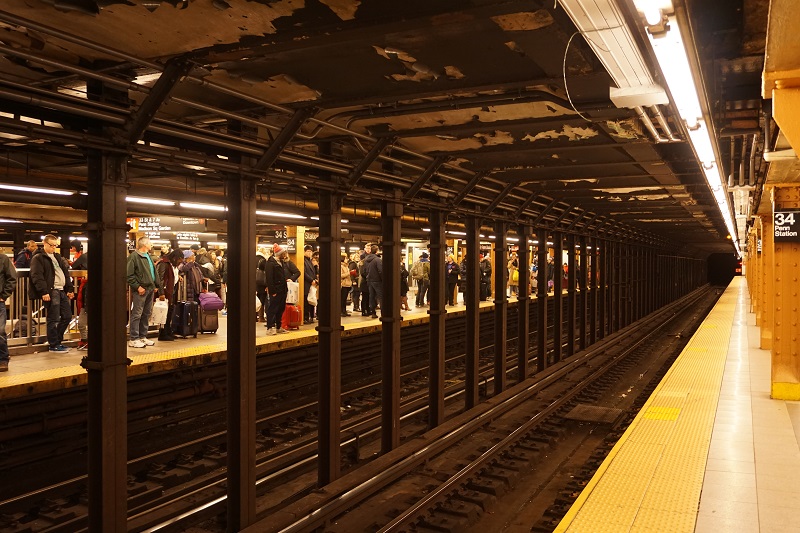 Make sure you know where you are going, look up the closest subway and off you go. We used NYC Subway app a lot (for Apple / for Android). It has the entire subway map available offline so it is pretty handy.
Also, walk as much as you can. Those small streets and little magical things are not visible from buses or taxis. We took a couple of wrong turns and came across amazing picture scenes.
There are plenty of Hop-On-Hop-Off buses. These are good if you have less time and want to see it all.
Lastly, there are lots of CitiBike racks around as well. So if you want to burn the pizza slice you had last night, hire one of those and cycle on!