Our previous posts were about museums and neighbourhoods in New York. Now, it is all about food! Food in New York is cheap, tasty and big. When you come here its best to come after a long month of good dieting.
Though we grabbed a bit at lots of places, in this post we focus on a few outlets that left a mark for us. Also, please remember that we are budget traveling, so you wouldn't be seeing any massive names or fine dine experiences.
Halal Guys
Halal Guys are an institution in New York. They started out as one food truck but now have four trucks on one corner and a take away restaurant. Their cuisine is Middle Eastern / Mediterranean and the meals come with meat / falafel, rice, vegetables and some amazing sauces.
Dalia and Ben took us there for dinner. The meal came in an aluminum container and was really big! In fact, it was so big that I believe if Shruti and I shared one, we both would be overeating. The biggest surprise is the price – $7 only.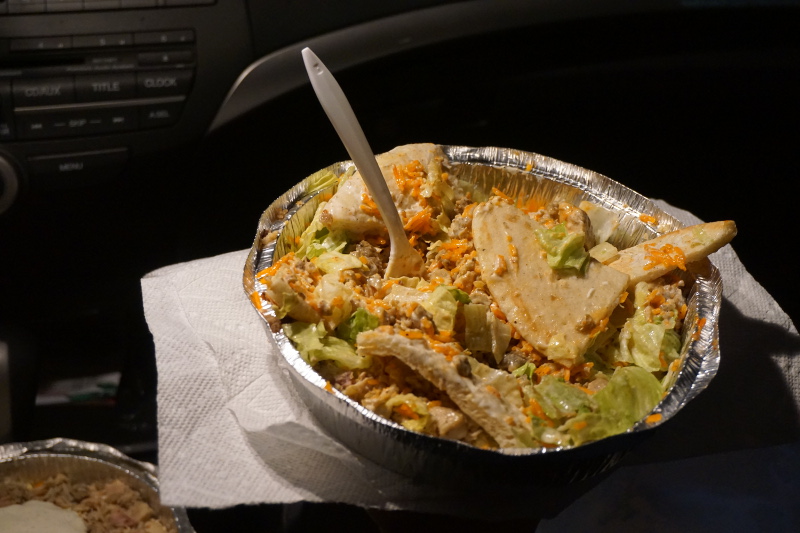 Massive Pizza Slices in Queens
Dali and Ben challenged us to try pizza slices in Queens. Although we were already full after dinner, but we decided to give me. Once we got the slices, we realized why was it a challenge.
The slices were huge (bigger than Shruti's head – see pic) though it was basically a Margarita / plain. However, they must have put some drugs in it because the taste was amazing. The freshness and the sauce combined made it so goood! And the cost, only $3 per slice.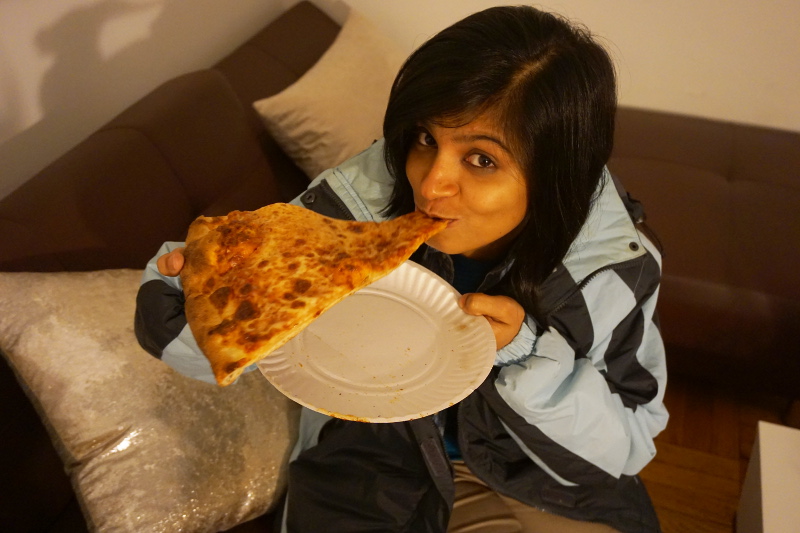 Drinks & Fried Chicken
While were we evening an evening with Richa and Nik in New York, Nik and I decided to have beers and hot wings for dinner. I have always loved this combination, though the boys and I ate Korean fried chicken in Sydney. Unfortunately, the wings were incredibly hot (tabasco hot maybe) and the quantity was too large. We could manage only 5 each before giving up.
Authentic Mexican
For Richa's birthday dinner, we headed to a Mexican Restaurant near Broadway. Over some Sangria (and couple of pre-drinks), we became a little adventurous. I ordered a grasshopper taco while Shruti requested for cactus taco.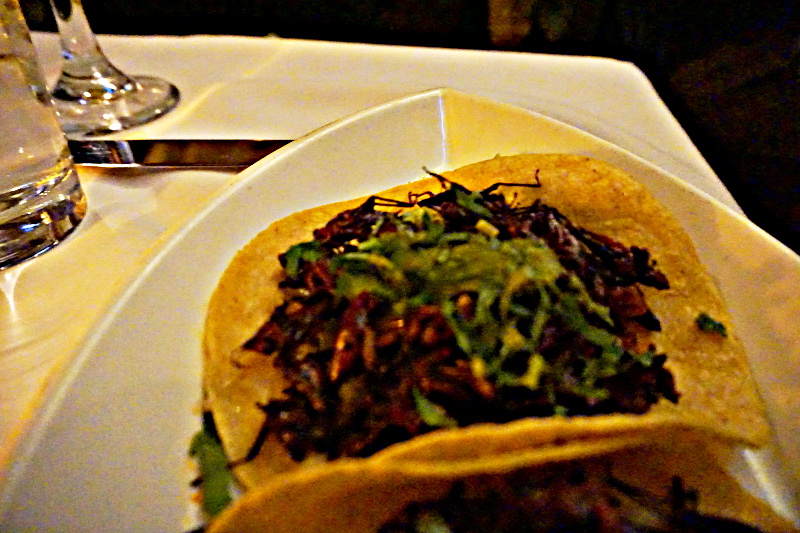 The grasshoppers were a little salty but tasted no different than any other crunchy snack as they were deep fried. Shruti's cactus taco had a sour slightly bitter taste. It wasn't the usual burrito or nachos. We loved the place though, afterall Richa got a birthday song sung by the staff.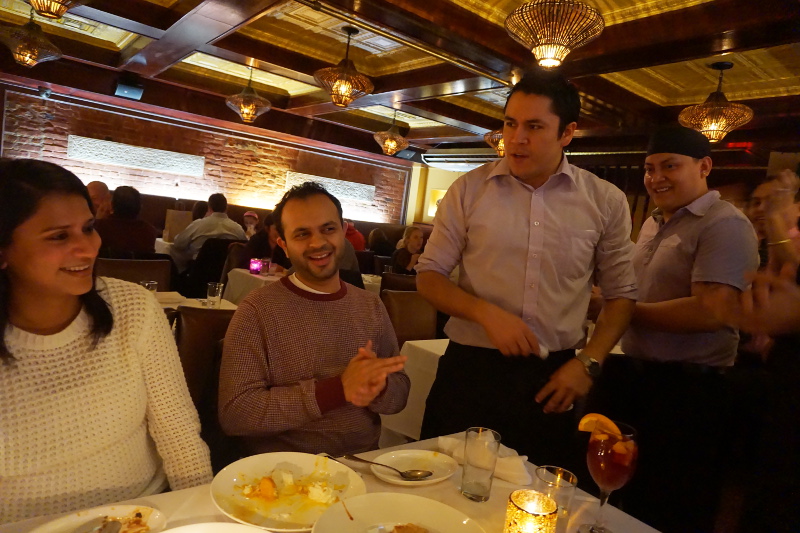 Australian
While in NYC, I got a little homesick. At the time, we were with Richa and Nik. As an excuse of showing them an Australian pub, I took everyone to The Australian Pub. The decor was all Aussie with Cricket, AFL and Rugby but there were only 2 Australian bottled beers: James Boag and Coopers Pale Ale. Dissapointing but I got my homesickness out!
Shake Shack
Shake Shack is a chain of fast food restaurants in the US. Shruti's best friend's husband recommended a mushroom burger to Shruti and we went to try it out. As expected, Shruti ordered the shroom burger and I had a chicken chilly dog with some fries and a jug of beer. The food quantity was less than the usual American Fast Food chain but then so was the price. All that for under $35!
Pub Burger
We wanted to try a pub burger in US but had not got the chance until we met Shruti's friends Ashwati and Neha. I ordered a Turkey burger as there seemed to be a shortage of chicken burgers here and Shruti had a mushroom burger. Both came with fries and cheese and it was pretty hard to finish it all. You don't get small food in the US that's for sure!
Little Italy
Once we finished the gangster tour, we realised we close to Little Italy area. So we decided to have some Italian for lunch. The entire strip of Little Italy is full of Italian restaurants, making it so hard to pick.
We walked into Casa Bella as it was the hangout of gangsters in the 70s. I ordered a fettuccine alfredo while Shruti went with some ravioli. It was full of carbs, full of cheese and it was tasty. The portion sizes could have been a bit larger but we didn't mind.
Afterwards, we had cannoli from an Italian lady outside the Most Precious Blood Church. It was like a thin waffle with a bit of cream in it. It was bellisimo!
Art Bar
After NYE, we decided to walk into a bar away from Times Sq and the crowds. Therefore, we found a bar in 14th St which was meant to be for backpackers. However, once we walked in there we realised, it was just the usual bar with a slight hipster crowd. In
any case, we had a few drinks and chatted to people about our trip and the fact that we were from Australia. I realised then that in America that is a great conversation starter! Australia is far away from America, and most Americans get quite excited and want to go over.
Kathi Rolls
We got told of Kathi Rolls by Shruti's friends. It has been Shruti's 4am food from the past and I had never tried it. So, we ended up grabbing going over to Kathi Roll Factory before an NBA game at Madison Sq Gardens. Shruti ordered an aaloo roll (potato) while I had a shami kebab roll (lamb) with chutney. It was damn tasty!
The paronthas were well done and the filling was equally flavourful and warm. In fact, we liked it so much that we had another one for the road.
Jake's Dilemma
After enjoying the NBA game, we looked up bars with happy hour. Turns out in NYC there are plenty of bars that have promotions through the week. We ended up at Jake's Dilemma for a few drinks and even though we had one too many, it did not hurt out wallet much. Everything was 1/2 price, YAY! And, they have beer pong tables. We played a couple of rounds and made some friends too.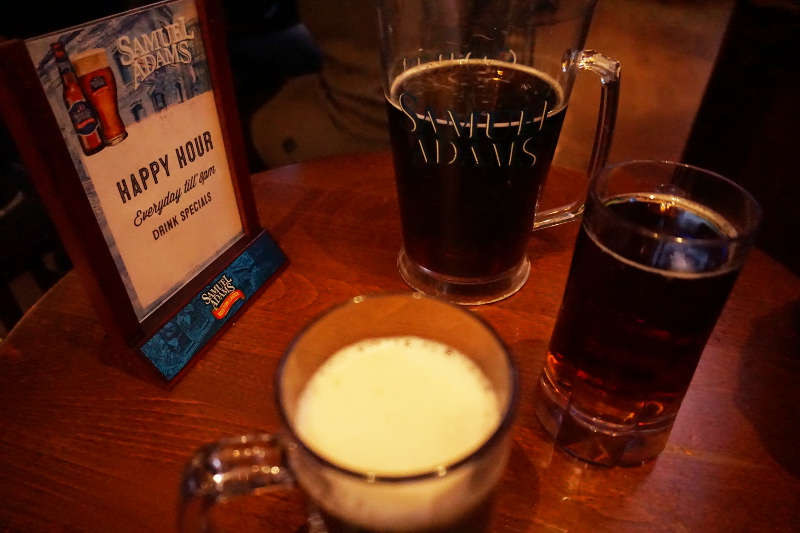 Cheap Food Around
Apart from the usual McDs and Burger Kings, there are plenty of cheap food options in NYC. Almost every second street corner has a food cart, either a halal guy cart (PS, don't confuse this to be The Halal Guys) or pretzels and roasted nuts. Plenty to give you the carbs and energy so you can continue exploring the city.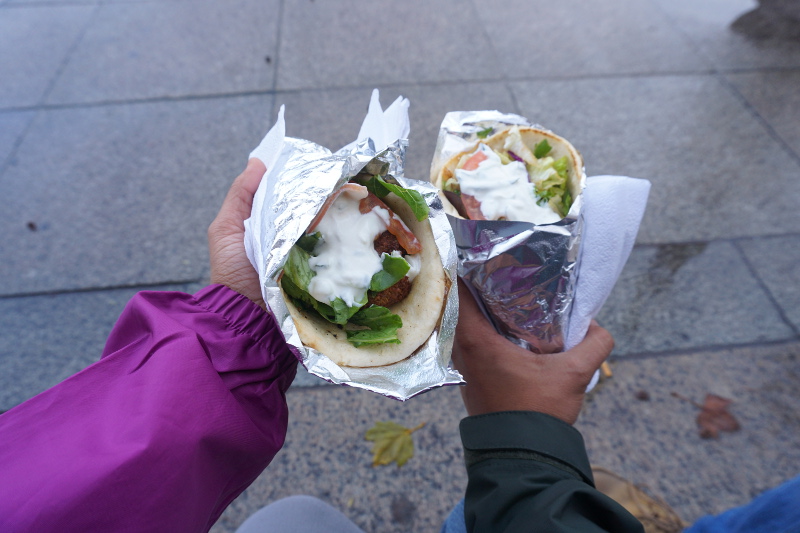 Additionally, there are lots of cheap pizza joints. The cheapest we came across was 99c, we tried it and loved it! In fact, if you go to the cheaper pizza joints, they are guaranteed to be fresh, though you will have very limited options. Mainly a plain pizza, i.e., margarita,  with the option to add additional toppings such as olives, pepperoni or more cheese.
Also, there are diners around as well. They serve breakfast and other items through the day for reasonable cost. And, their serving is usually massive with unlimited coffee refills. But, it is filter coffee, no milk, not the ones we are used to back home.
Summary
NYC caters for everyone. If you want to enjoy a nice fine dine dinner, you have it. And if you rather spend your money on other activities, finding cheap food is easy. So if you were us, good solid brekky at 10am and early dinner at 5:30pm could sort you out. Drinks and bar snacks are considered supper to us ;)