So if you have been following our blog or the insta gallery, you know we are in Big Apple. There is plenty to see and do and lots of our friends and families here as well. When we had a chance of spending Christmas with Shruti's family in New Jersey, we just could not say No! Although our wish to experience White Christmas went down the El Nino drain, we had the family trump card with us.
Christmas Eve
We were walking around Manhattan and googled events happening on Christmas eve. Turns out, there was a carols session taking place in Washington Park. We finished up with what we were doing and headed to the park.
We got there about 45 mins early only to realise we got there late. Most of the park benches were already taken.  We strolled around and snapped photos of the big Christmas tree by the park arch and massive colour patterns. It did look really pretty at dusk time. Btw, fun fact, Christmas trees in America are the real trees, the actual pine trees, not the plastic ones we pick up from a store back home.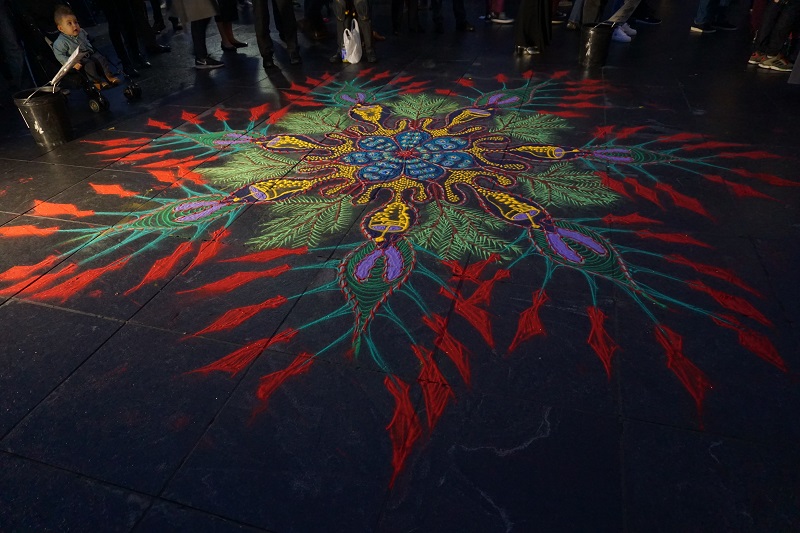 After waiting for about 20 mins or so, the choir lined up and started singing the carols. We didn't know this earlier, but this session was a 'sing-along', so the member of public were singing alongside the choir. Though at times the public missed the high pitch notes, it was all in Christmas spirit and laughed off.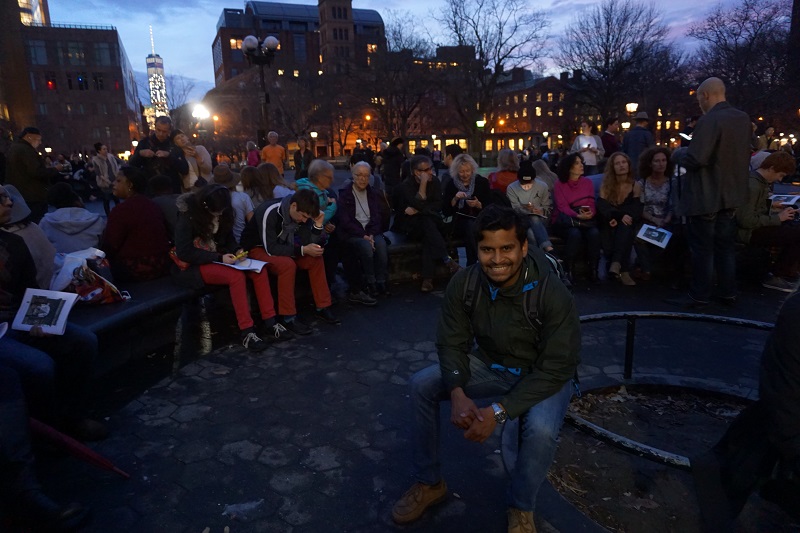 I very quickly realised that Shruti knew some of the carols and I suppose that came from here schooling in a Christian school. While she was singing bits and humming most of the time, I stood there smiling and taking in the first-time-experience. Next Christmas in Sydney, I will definitely be googling for it.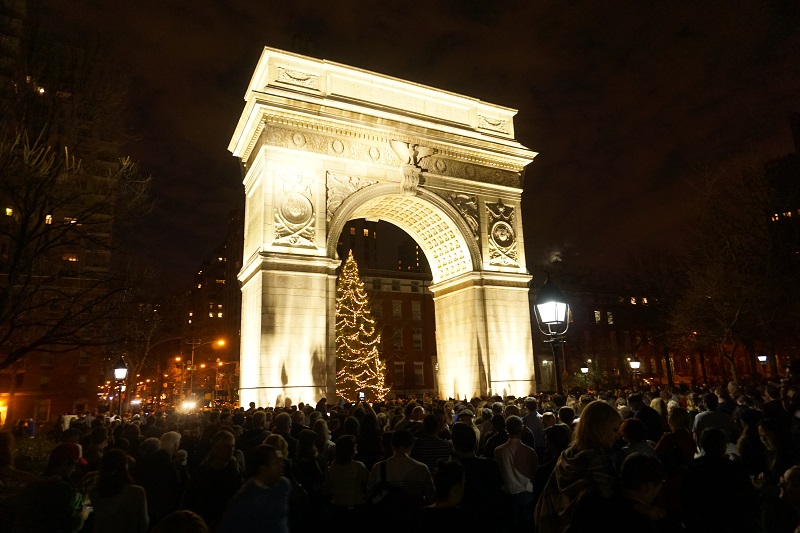 The Busy Bull
The travel from Brooklyn to New Jersey is more than an hour so we decided to knock off a tourist spot along the way, the Charging Bull!
Based on a report in 2014, over 50 million tourists visit New York every year. Unfortunately for us, a large number of those visiting during Christmas had the same idea as us. When we got there, we were almost shocked to see the massive crowd.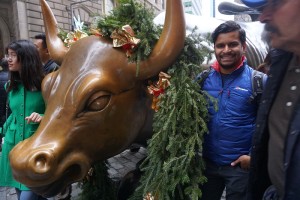 As it is considered lucky to touch the bull's head, there was a massive queue for it. We quickly realised that if we were to queue up, we would be standing around for 30 odd mins easy. So we decided to head to the backside of the bull. Turns out, we weren't the only ones thinking of it too. There was a queue to take pictures with the bull's bum and that wasn't short either.
We quickly gave up and tried taking shots from whichever angle we could. Any part of the bull was acceptable by us.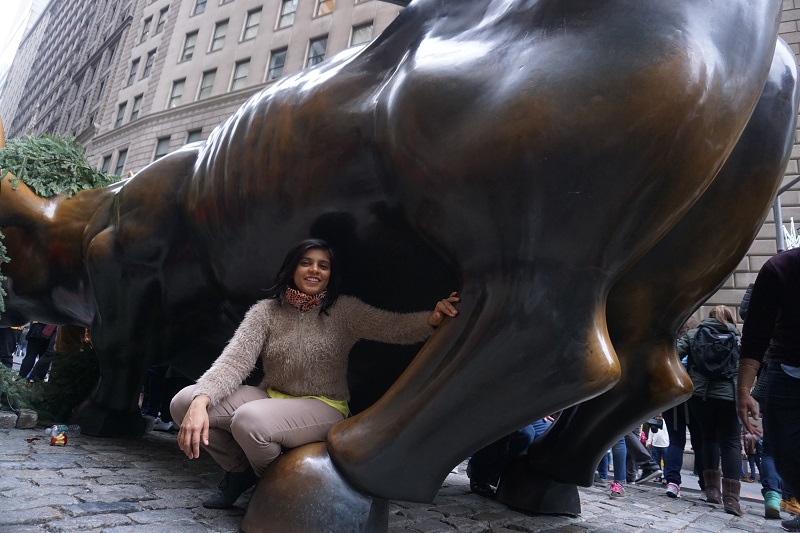 The Ride to Jersey
New Jersey is adjacent to New York City but is separated by Hudson River. There is a train link between the two called the PATH train. Shruti's cousin told us to get off at Exchange Place and he would pick us up from there. Turns out it is a great spot to admire the NYC skyline and the river.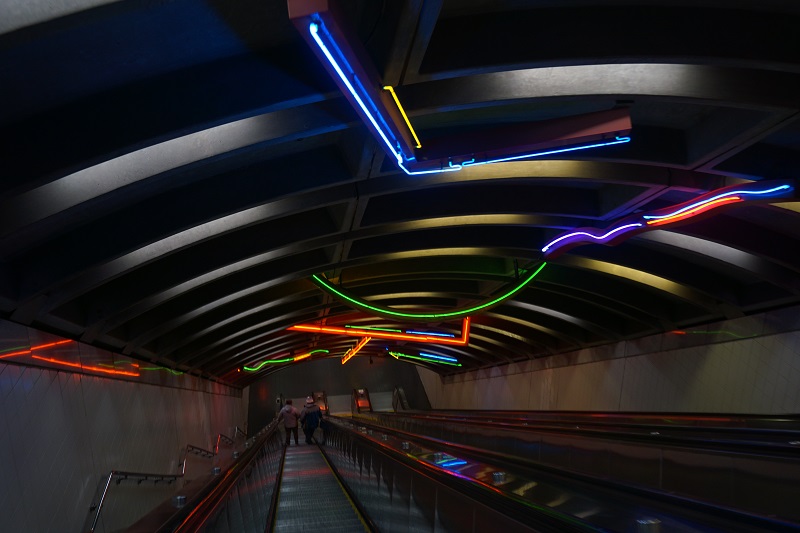 New Jersey is home to many Indian immigrants and this was proved by an ad for 'Comedy nights with Kapil', a highly successful Hindi comedy show, in the PATH train. Almost felt like India!
American Suburbia
Shruti's cousin, Nikhil bhaiyya picked us up Exchange Place in Jersey City. We drove through small towns of New Jersey which serve as the suburbs of NYC. Along the way, we saw the port of New Jersey. However, the best thing for me was seeing all the trees completely bare in winter. We don't see that back home.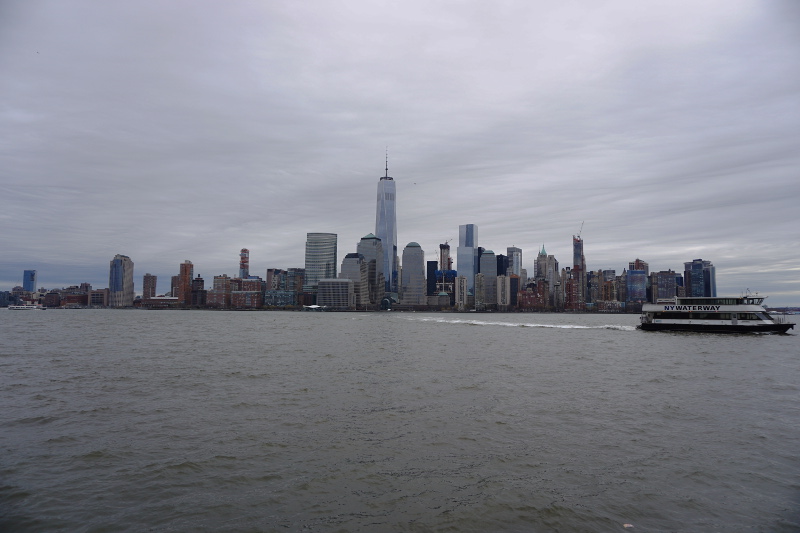 The suburb are home to huge houses, lots of trees and lots of cars. The distances make public transport less frequent and making cars an absolute necessity. On the way back, we saw American McMansions, huge houses built on big blocks of land. While we thought Australia has huge houses, American houses out do those easily. It is the land of big food and big houses!
The Christmas Lights
We reached Edison, suburb in New Jersey named after Thomas Edison, as the sun was going down and we realised the houses were all decorated for Christmas. Living in Brooklyn and moving around in Manhattan didn't really give us the full blown Christmas feel. Soon Nikhil bhaiyya realised that we were enjoying the lights so he decided to take a detour and show us more. Like back home, here Americans try and outdo one others. Some houses had the lights over including the the trees in the front yard.
We soon drove up to one particular house which was lit from roof to ground, leaving so spot unlit. I suppose that put all the neighbors in a weak spot as there was no other house lit up on that street! Talk about wiping out the competition.
Note: sorry we couldn't take any photos as we were driving along and it was raining.
Meeting the Extended Family
Nikhil bhaiyya's house was full of people Shruti and I had never met. Apart from his wife and twin girls Gauri and Shefali, there was his brother-in-law and cousin sister's family. His brother-in-law, his wife and two daughters had driven over for Christmas from Washington DC while the cousin sister, her husband and two kids had driven from Pennsylvania.
Apart from being wowed by meeting so many people, I was impressed by them following the American culture so religiously (pun intended). They drove across states every Christmas and Thanksgiving to see one another.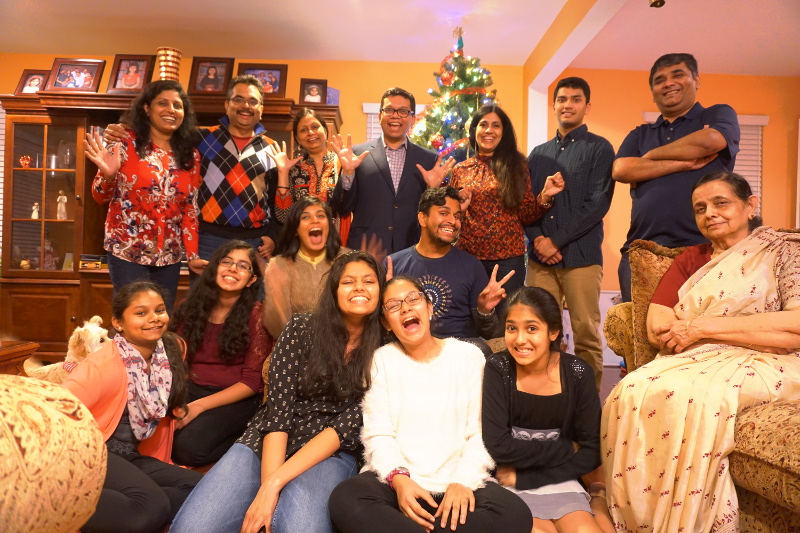 The American Life
Bhaiyya and his relatives are all immigrants to America. They migrated here over 20 years ago for better opportunities for themselves and their kids. We had long conversation about America, its governance, states, weather, its culture and the life in this country.
Contrasting it to Australia, it couldn't be more different. We have 6 states and 2 territories with little difference between some of them. USA has 50 states and most of them are vastly different to each other. The relatives were from 3 adjacent states next to each other but from their conversation they appeared to be vastly different.
While Jersey was close to New York, it's culture was remarkably different. Similarly, Virginia sat on the edge of Washington DC and Southern America making it a political melting pot. Pennsylvania was between the two but was still different and even had Amish communities which are against the use of technology for religious reasons.
The weather was another major difference. While Australia is mostly hot, it had mild temperature and lack of major destructive forces except fire. America though can be very cold and has several different types of natural disasters. While we whinge about a rainy day, America gets snow storms where everything shuts down. They told us stories of snow storms and frostbite which certainly scared us for Alaska.
Another interesting aspect of America is the politics. The contest in Democratic and Republican convention is heating up. Though almost everyone at the Christmas dinner were Democrat supporters, they had all been hit by the costs of Obama Care. On the other hand, almost everyone agreed that Trump was a douchebag. Guys we're all the same after all!
Indian American Ambitions
There were a few kids and teens at Bhaiyya's house as well as Siddhant, 'a grown up kid', who was in 3rd year at university. The conversations with them and their parents revealed the high aims in education and in life. Moreover, the teens were already thinking of university, sometimes 3-4 years before entry.
There seemed to be a culture of following each other to the pursuit of the American dream with importance placed on family, background and knowledge. Perhaps this is how it had been for Jewish, Irish, Chinese and Italian immigrant families. Not long to go till we rockstars, judges, academics and politicians with the Indian background.
Goodbyes
We were having so much fun enjoying the food and conversing with the family that we ended up staying the night in Edison. The next day, we said our goodbyes to everyone. A few hugs, feet touches and waves later, we were out and back on the way to NYC.
The Spirit of Christmas
It was unexpected but we ended up spending the "real" Christmas with family. Having lived with my parents and not have many relatives in Australia, I couldn't "go home" for Christmas. It was a similar case with Shruti. Surprisingly, a Christmas on the road ended up taking us "home for Christmas". While we had never met the family before, a "home" afterall is a warm place, with great food, good vibes and amazing conversations. And that's the spirit of Christmas!