We arrived in Bogota after a long layover in Atlanta. Our flight from Fairbanks got delayed, thus resulting in missing our connecting flights. We ended up with only less than 3 days in Bogota but they were certainly action packed. However, Bogota was a lot of fun and different to what we had read on forums.
Museo Del Oro
Our first stop in Bogota, like most travelers, was to the Museo del Oro or the Gold museum of Bogota. You may have heard of the term 'El Dorado', the land of Gold. That legend was primarily based on the Andes region of Colombia.
There are more than 50,000 pieces of gold jewelery and artwork in the museum. The natives of Colombia believed that gold was a gift from the Gods and wore it to celebrate the Gods instead of accumulating riches. There are displays of gold artwork from each region of Colombia and it can take upto 2.5 hours to see the entire display.
The sad part of the museum is that once the Spanish arrived they either traded the natives for the Gold with Cotton or simply conquered a tribe and took all its Gold by force. In addition to the Gold, there were some excellent videos about archaeology, Colombian Life in different regions and chanting of the natives.
One beautiful thing we found is that the natives of Colombia believed in something similar to rebirth and spirit staying in this world. They put the ashes of the dead in an urn which is really round at the bottom as the round shape represents a woman's body which is the path to come back to the world. Beautiful!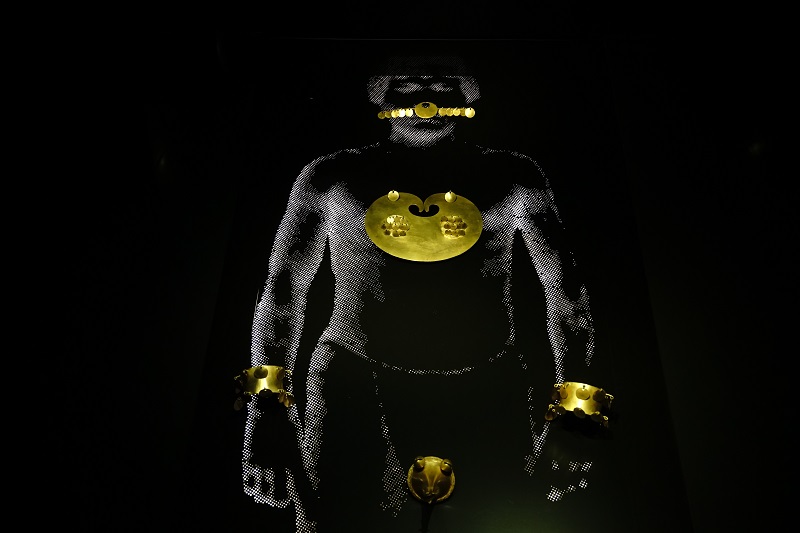 P.S – Museo Del Oro is the best value museum which we saw in our travels so far. It costs 3000 COP which is close to $1 USD. Bargain!
Carrera 7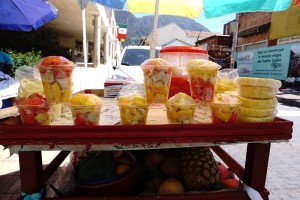 Carrera 7 is the cultural heart of Bogota. This street is strictly for walking, no motors at all. Bogotans love to walk with their families, dogs,veat in the shops, watch the street shows and buy things on sale on the road. From the 9am to 7:30pm there are hundreds of people on this street. There are street vendors selling exotic fruits with a recording which goes something like "Mil! Mil! Mil! Mangoes a la orden!". It means something like "A thousand pesos for mangoes. Buy it now!".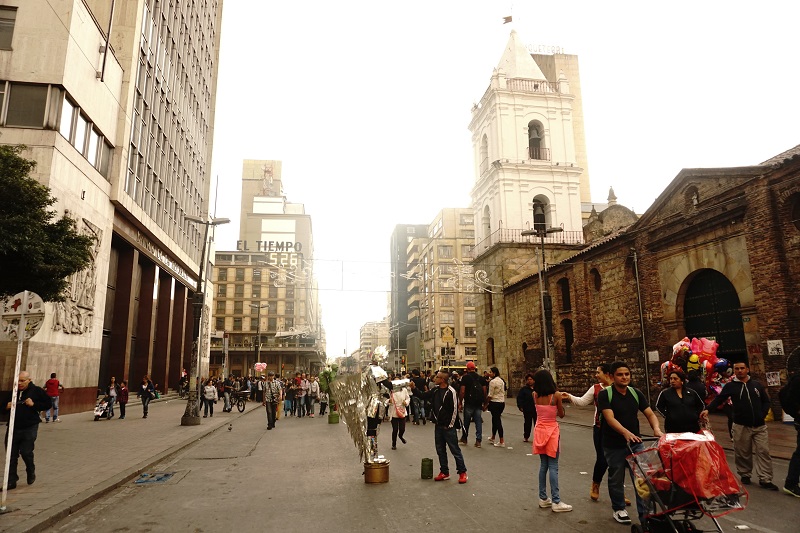 As a non-Spanish person, it is amazing to just see life go past as people whizz past you on roller blades, bikes and skateboards. Moreover, Colombians love to walk with their dogs and you can see dogs of all sizes following their owners with no leash on. We saw some people playing chess next to a band singing about beer where people were dancing. Welcome to Latin America!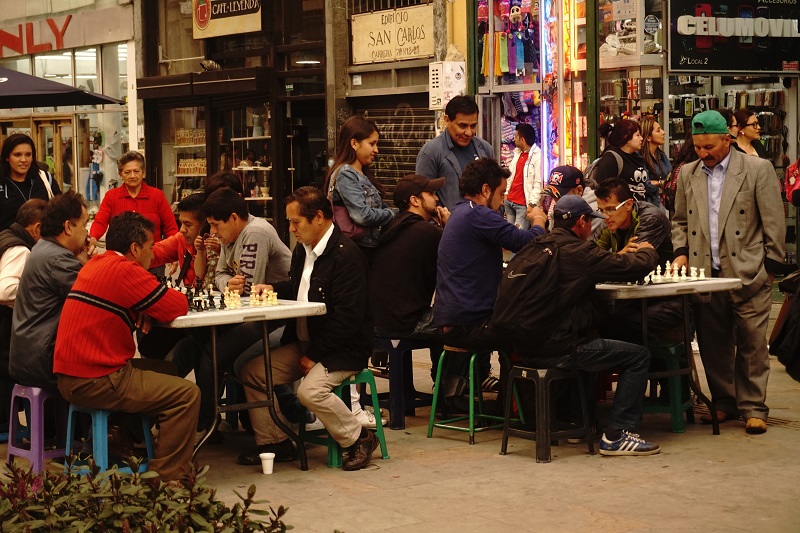 Plaza De Bolivar
Plaza De Bolivar is the historic square of Bogota named after its First President and the General who got freedom for Colombia and other countries in the region. The legislature, judiciary and the administrative arms of the Colombian Government are all around this square. Like any touristy place in the world, there are people selling postcards, photos and booklets about Bogota.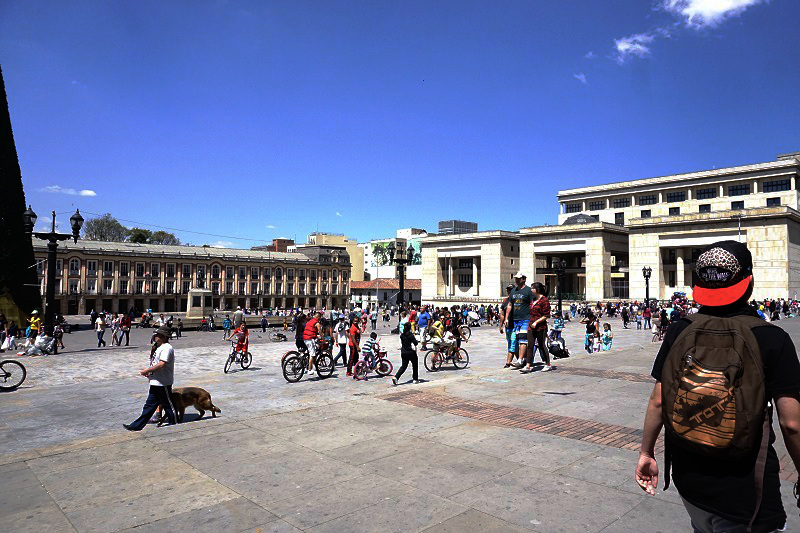 One unique thing we saw was Jukebox around on various streets and corners. Basically, it is like having a personal DJ in the middle of the a packed square.
On Sunday, the Cathedral is open and one can see the beauty of it from the inside though it looks amazing even from the outside. There are all sorts of museums within 5 minutes of this square and most of them are free on Sunday!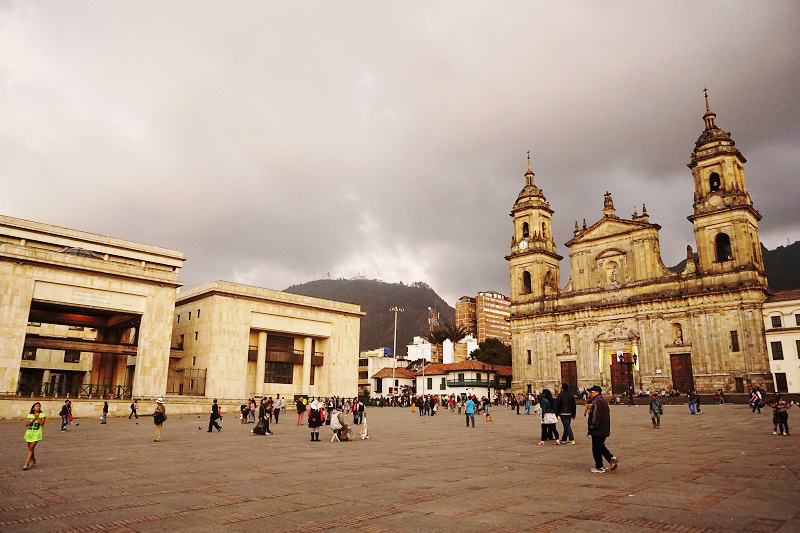 La Candelaria Walking Tour
We did a free walking tour of La Candelaria with Beyond Colombia. The walking tours of Bogota are usually free with tips. Daniel, our guide, told us the history of the native tribes, the Spanish looking for gold and setting up of Bogota itself. As we walked, we learnt of the contested sites of the beginning of Bogota and the people who fought to make Colombia free and modern.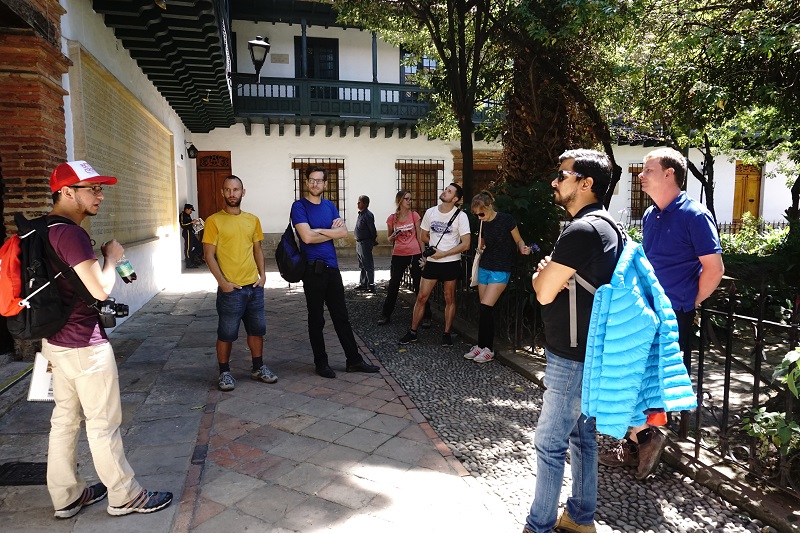 As we walked through the streets of La Candelaria, we visited a local cafe for an introduction to the local culture and drink, Chicha. It is made from fermenting rice or corn and sweetended with apple or sugarcane pulp. It was a nice introduction and we took the cups as souveneirs. Lets see if the Australian customs will let it in!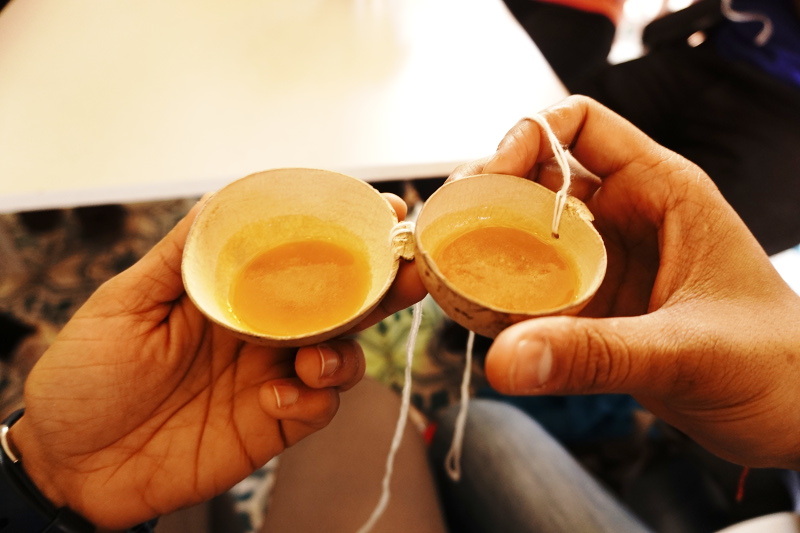 We learnt more of the history of Bogota especially Chorro de Quevedo. It is most likely to be the first Spanish settled area of the city. Funny thing is that we were living within 5 minutes of it without knowing it. The 12 original houses are now bars or restaurants and the Chapel still serves the local area.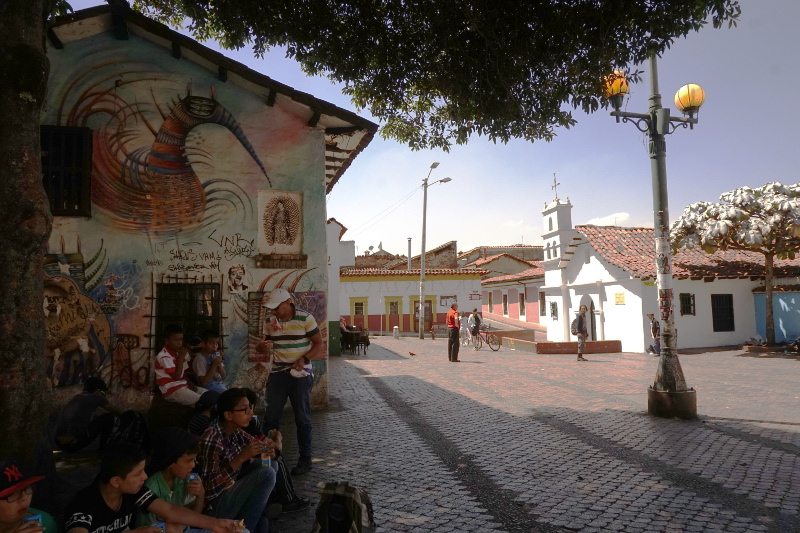 We ended up hanging out with Daniel, our guide, for lunch after the walking tour. He helped us pick traditional Colombian dishes, Gracias Daniel! The portions were huge and we had a great chat with Jonas from Sweden and Daniel while having a huge Colombian portion. Daniel's knowledge helped fill in the blanks of all the main buildings which we saw in La Candelaria. A great end to a great tour!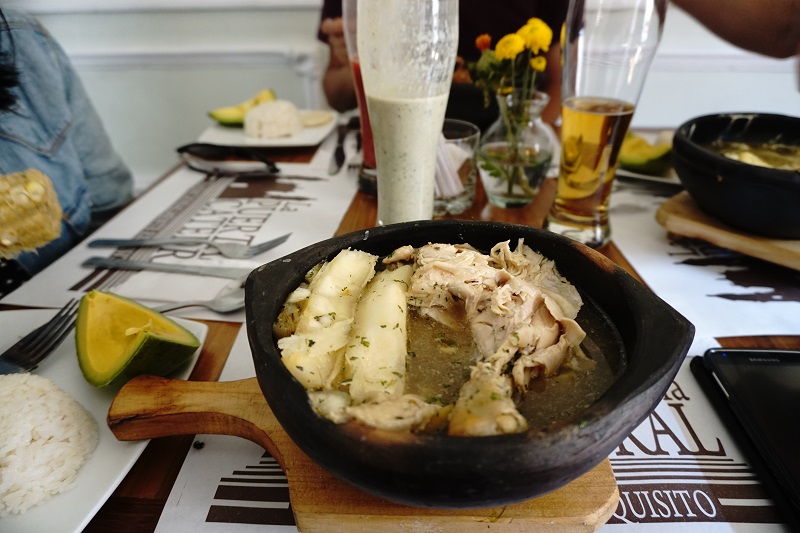 Tip: Please refrain from walking around La Candelaria on a Sunday night. As the area empties of Colombians, homeless people and drug addicts try to prey on tourists. Though they may only ask for money, it can quickly turn into a robbery.
Montserrate
As you get to Bogota and look above, you can see a mountain with a big white building on top. At night, the building glows blue and is an amazing sight. The white building is the Church of Montserrate which is a pilgrimage for many Bogotans as the Church watches over the city. We walked up to the colonial house which serves as the starting point for cable car and metro that goes to the top.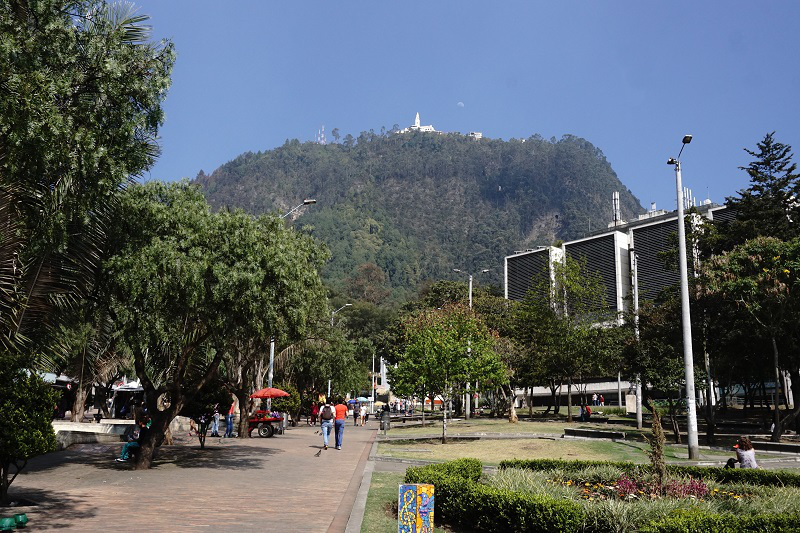 Since we were there on a Sunday, the crowds were huge and we spent 45 minutes in a line to get in the cable car which was made worse by the fact that we were in the wrong line. We started queueing for the train instead of the cable car.
The trolley of the cable car is like a bus and can easily fit 40 people in it. As we boarded, I could just get a little window space for video while Shruti got a couple of shots of the city as we ascended. Unfortunately, as with all big cities there is a pollution problem in Bogota and the haze was all over the city making it harder to see most things except the oldest parts. It was picturesque nonetheless!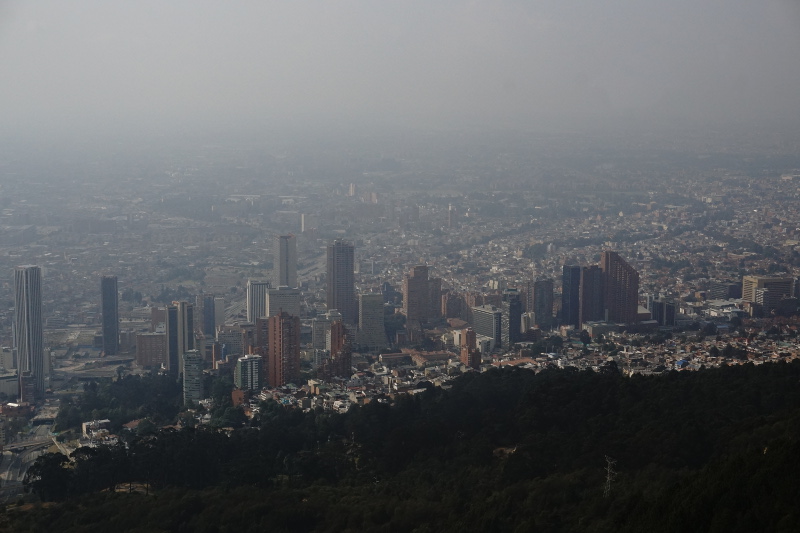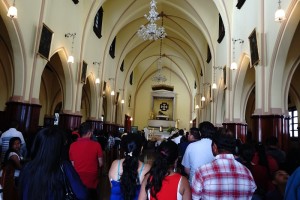 However, one has to admire the Church. The location is perfect and the Church itself is beautiful. The original was built in 17th Century but was replaced in its current form in 19th Century. As it was Sunday, we attended the mercado (market) next to the church. As backpackers, we don't have the space to buy anything but we like to view the market nonetheless.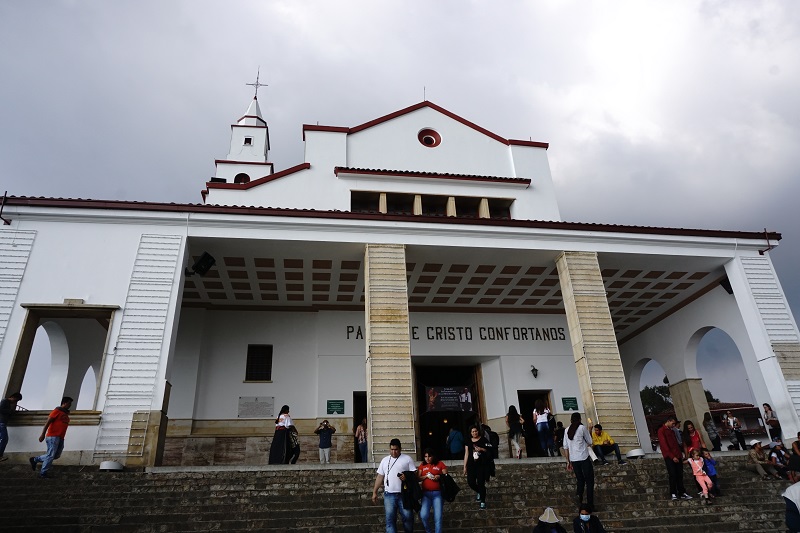 We saw some water bottles made out of cow's bone and that disgusted us to the core. However, we washed that down with an expensive coca leaves tea at a little tienda (shop). The tea was sweet with no taste of the coca but we were happy to do the touristy thing anyway. As a final hurrah to the place, I accidentally broke a chair while getting up. They didn't charge us and we all had a good laugh about it. Phew!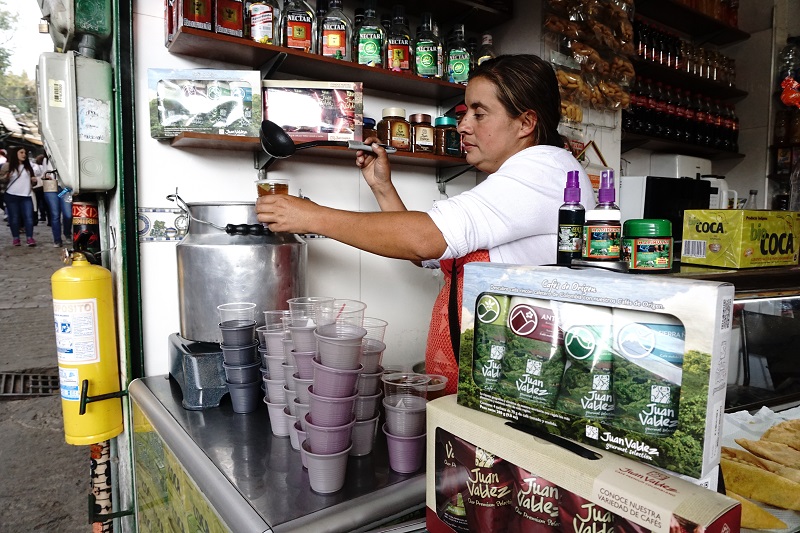 Botero, Banco Colonial and Casa Moneda Complex
This entire complex is only a block away from Plaza de Bolivar. As you follow the last street of Plaza de Bolivar up, you reach the complex. There are multiple musuems that are interconnected, have several doors and is a mish-mash of architectures. You can enter any of the museums mentioned and you will be able to see the entire collection. There is no charge and the museum is open all days even on Monday when the others are closed.
Botero is the richest artist in Colombia and his paintings are extremely different if not strange. All Colombians have an opinions about the paintings. However, the artist himself has a great rags to riches story in that he was an average artist who realised this fact and went back to study the circle shape. Hence, his paintings all have round people, round objects and round animals. It may be strange but it is kinda clever.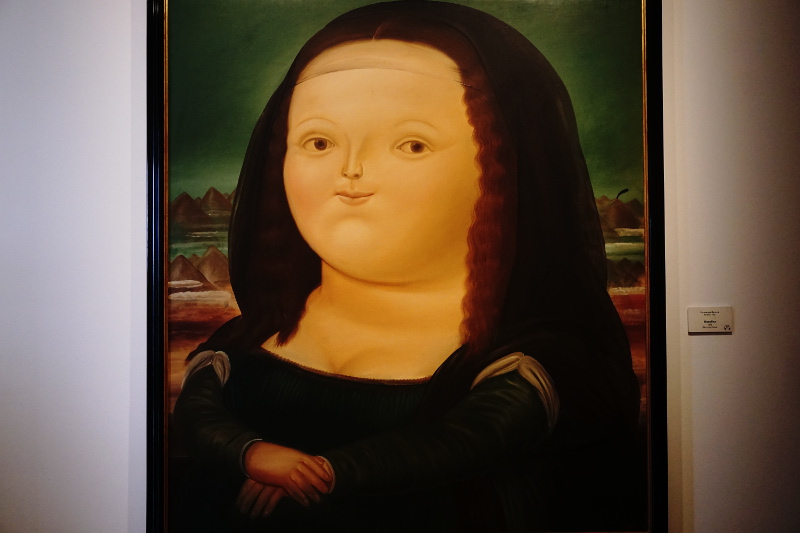 Banco Colonial, an art museum, has a large art collection from the abstract to modern to protest. As you walk through the museum, you question your inner artist and wonder what the hell was the artist of the painting thinking. Why did they get into naked bodies in the 60s Colombia? Am I high? In seriousness, the collection is huge and we definitely recommend seeing it.
Casa Moneda means the House of the Mint. Coins were minted here for Bogota and the surrounding regions for a long time. The entire history of natives mining the gold to the first mints of Bogota and the modern day reality is showcased in this complex and it is amazing.
Graffiti
Bogota seems to have gone through a graffiti movement. As we drove into the city late at night, we were surprised with the amount of art along the side walks. It was just so pretty and colourful.
Within the La Candelaria area as well, small alleys and side walks had drawings and messages on. We didn't have the time otherwise would have loved to do a walking graffiti tour as well.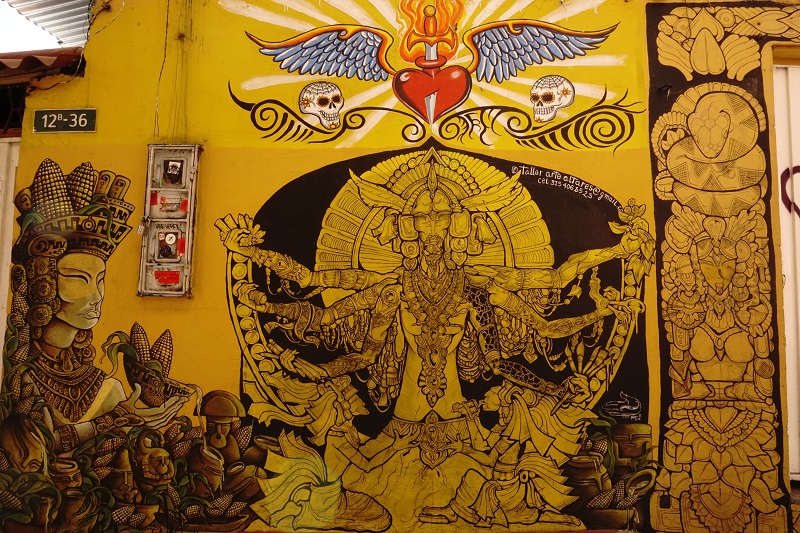 Local Drinks
We tried a few drinks while in Bogota with the best being Chicha. It is fermented corn alcohol mixed with apple pulp. It is made at home by the local women in La Candelaria and it tastes amazing. The alcohol content depends upon the place and it best to ask instead of being knocked out quickly.
I also tried a couple of beers, namely, Poker and Club Colombia Roja. Unfortunately, both had a mass produced average taste.
Fruits
Colombia is famous for fruits and somehow we never knew that. When we got to Bogota, we realised there are all sorts of fruit. Shruti tried the mango bought from a street seller mixed with salt and lemon and it was sour but tasty.
We tried the mora fruit juice. Mora is a fruit similar to black currant and it was sweet. Shruti also had maracuya and feijoa juices which were again amazing. It just amazed us that there are these fruits here which we have never heard of and they are sooooo goood!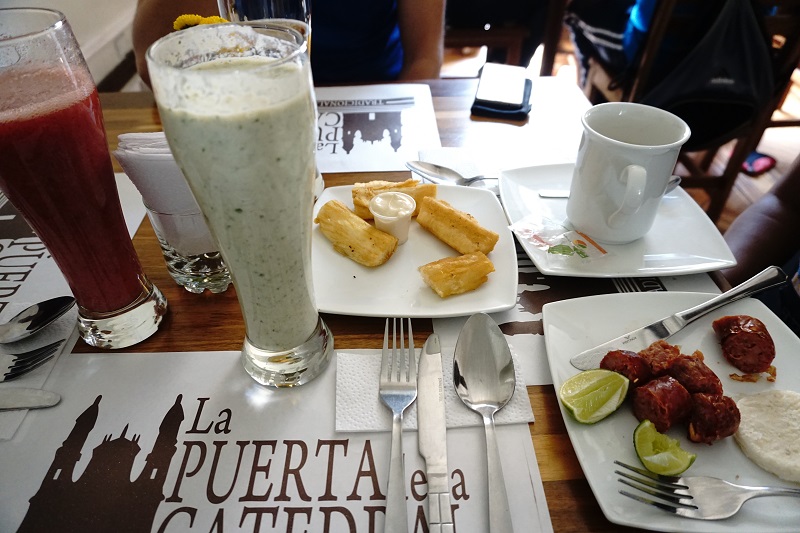 Bogota Breakfast
On our last day in Bogota, we thought we will try a Rolo breakfast. People from Bogota are also known as Rolo and their breakfast consists of 2 buns, 1 of which is buttered, hot chocolate and cream cheese.
One is supposed to cut the cheese in small pieces and put it in the hot chocolate. As they cheese melts, you can sip the hot choloate or eat the cheese with you spoon. Meanwhile. you can also dip the breads in the chocolate. It is a contrast of tastes, and definitely an acquired one, but the locals love it!