We are currently in Sri Lanka, enjoying the sun, water and air! If you are surprised about our change of plans, read find out why we aren't in Nepal.
I must say the last few days have been was AMAZING.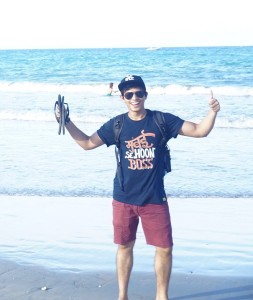 Before we get into the details, we want to thank Suyash, my brother, for organising the trip. Due to the last minute change, Manish and I were could not plan the trip. We basically booked our flights, arrived in Sri Lanka and followed Suyash's plan.
We landed in Colombo on 17th August, afternoon. The western part of the island gets monsoon at the same time as India so Suyash planned on taking a train to eastern town, Trincomalee, on the same night. We made our way to the railway station and bought train tickets. We then killed the next 5 hours grabbing dinner, checking out food eateries outside the station, playing Uno and just catching up.
Tip: The Colombo International Airport is outside the city. If you want to save some cash, there are shuttle buses available from the airport to the Central Bus Stand in Fort, Colombo, approx. every 30 mins, for about LKR 110. Otherwise you can get taxi service too for about LKR 2000.
Also, we weren't aware of the elections happening in the country. Most of the shops were shut and there weren't many people on the roads for the first two to three days we were here.
Btw, in the previous post we mentioned about claiming for Nepal flights and guess what, the Insurance guys are settling the bill :) Really great news for us considering we are on a budget.
Train Ride
Manish and I slept the previous night in the flight from Hong Kong and at the Kuala Lumpur airport. It wasn't very comfortable so we thought we will get First Class Berths on the way to Trincomalee, hoping to catch up on some sleep. We were wrong!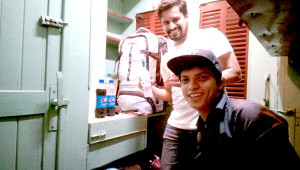 Being an Indian and having traveled in Indian trains a lot, I have to say – this train wasn't the most comfortable for the over night ride. It appeared to us as though the trains haven't been upgraded for decades. The train was an old style, appeared to be straight out of a 60s movie. On the bright side, we got a private cabin for 2, which definitely eased all our concerns about our and the luggage safety. Before we slept, we had a couple of drinks :)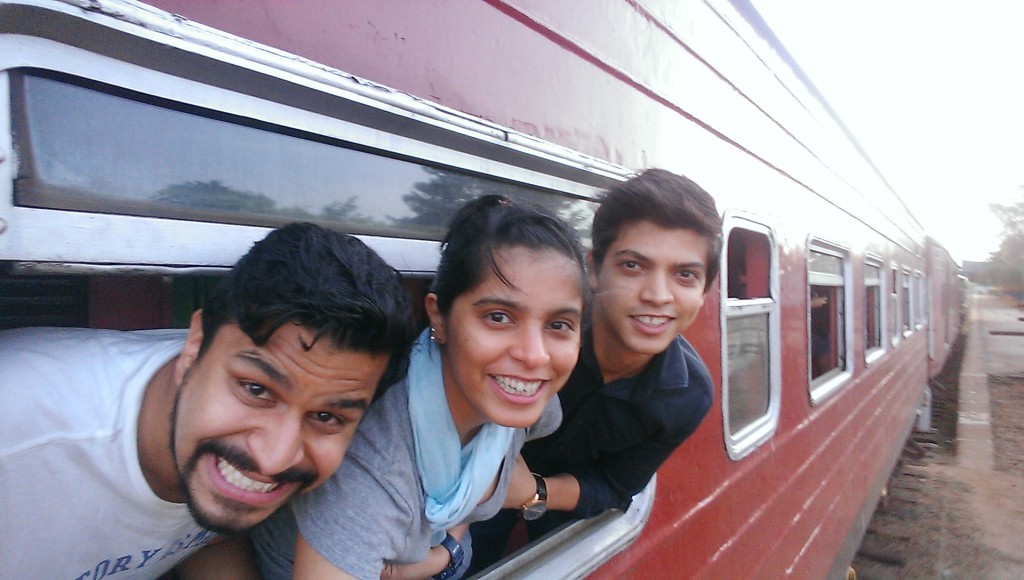 Day 1
Upon reaching Trincomalee train station at 6:30 in the morning, we negotiated with the tuk tuk driver for the ride to our hotel, which was in Uppuveli. The hotel was basically a big house converted for home stay accommodation. We showered and made our way to Nilaveli Diving Centre where Manish and Suyash were supposed to take their theory class. I sat through most of the session just refreshing my memory.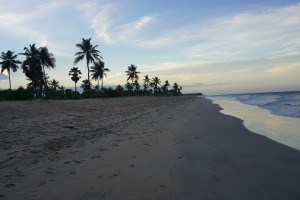 Once the boys were done, we headed to the Nilaveli Beach for a quick swim and walked towards to main center.
Upon reaching the main center, we realised it was pretty much a dead town due to the election. We grabbed Lion Lager at a beach resort and decided to head back. As we stepped out to find a tuk tuk, we came across a small local eatery. Turns out it was run by a Tamil family and we sat down to have some sappad (rice & curry meal).
Tip: sharpen your bargaining skills. The tourists are usually charged higher for tuk tuk rides so it is best to know what a local would pay for that ride and negotiate.
Day 2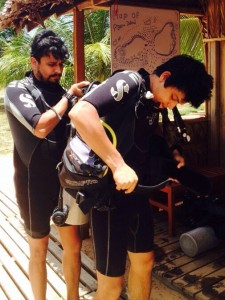 The boys were scheduled to do their confided dive. The dive master, Lakshaman, decided to take them out to the sea for their confided dive session instead of the swimming pool. I stayed back at the beach, swam, sun bathed, slept, blogged and took pictures along the beach.
After lunch the boys had to continue their theory class so we managed to wrap up the day around 6pm and headed out for dinner. We met Muhammad from Lebanon and Bernhad from Austria. They had just arrived in Trinco and were staying in the same hotel. We had a good time chatting and enjoyed dinner.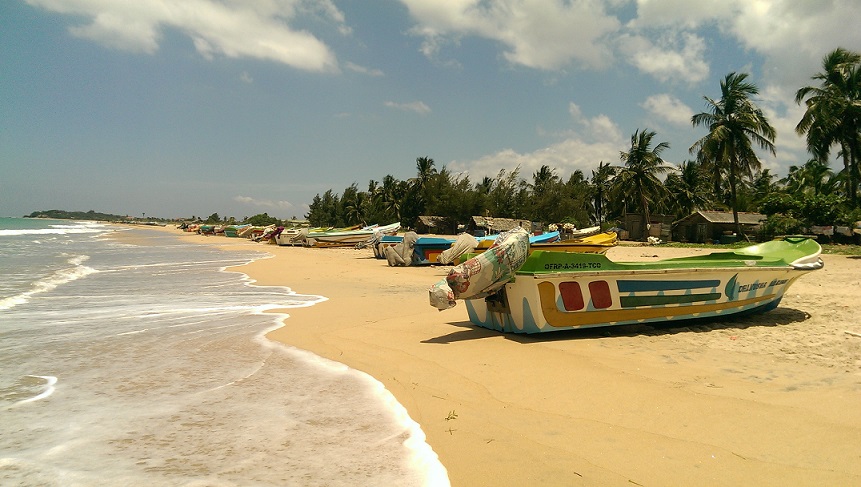 Day 3
We got up early and headed to the Diving Centre for our first dive together! We managed to dive twice, hit the depth of 16.5m. The sea was slightly choppy but that didn't affect us much underwater. The underwater world is so calm. The fish and corals living in harmony. We saw a massive sting ray, it was chilling on the sea bed. The boys also spotted two eels. We were definitely very happy and tired after the dives.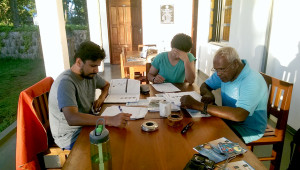 After grabbing some lunch we had to head back to the Diving Centre to complete the final section of theory class. The boys had to do a final exam of 50 questions. It was a laborious task considering we were tired and the sun was strong, but we managed to get through the day. We reached our hotel around 7pm, relaxed a little and then headed out for dinner with Muhammad and Beinhart. Muhammad is very talented – he translated an Arabic poetry and played the flute while we waited for our dinner to arrive.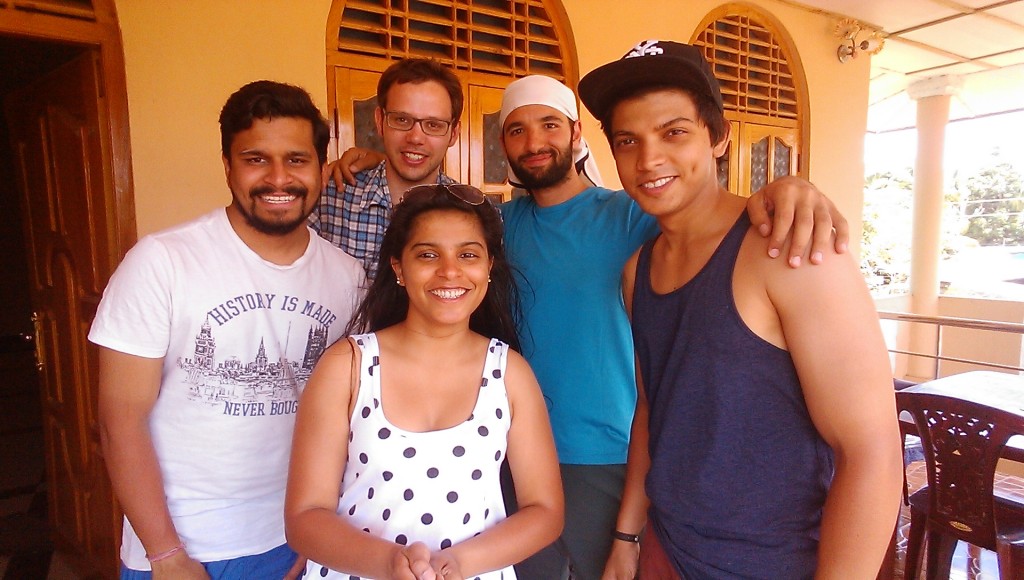 We called it a night after dinner and decided to wake up early for sun rise.
Day 4
Manish and I got up early to walk along the beach for sunrise and managed to click a few good photos as well. On our way back, we heard a tuk tuk playing 'mere sapno ki rani' tune on repeat. We were curious to find out what was he selling and turns out it was variety of fresh bread. We bought about 5 breads for LRK 120 (really cheap!) and enjoyed that for breakfast along with tea.
We then headed to Trinco city.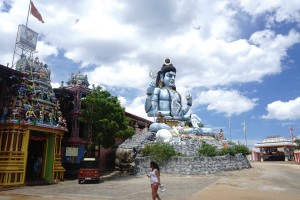 Our first stop was Koneswaram Temple. The temple is dedicated to Lord Shiva and it has his massive statue just at the entrance. The temple has a lot of history and some of the deities are from Chola Period, i.e., 2000 years old! The temple sits on a cliff overlooking the ocean a little away from the main city. The original temple was destroyed by the Portuguese in the 17th century. The new temple was reconstructed in the 20th century.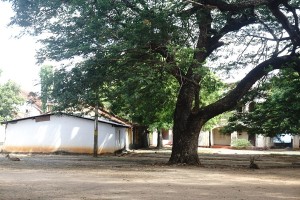 We then walked down the hill to Fort Fredrick. The area houses Gajaba Regiment of the Sri Lankan Army. It was amazing to walk casually among the midst of army. And, the area is a natural reserve for deer. They were randomly chilling around the fort. The area is surrounded by ocean on 2 sides and is very beautiful!
We then walked to the Trinco main street. Along the way there was a small community of fishermen.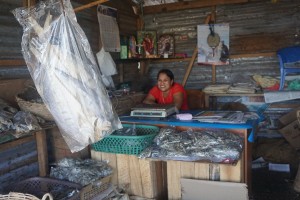 We interacted with the locals and clicked lots of photos of the people and deer (yes, deer here as well).
Finally, we decided to walk to Dutch Bank Cafe to grab some beer. It was a long walk but we enjoyed the clean roads, temples and churches along the way. We also passed a prison. We spent the next few hours chatting and enjoying our drinks till we were really hungry.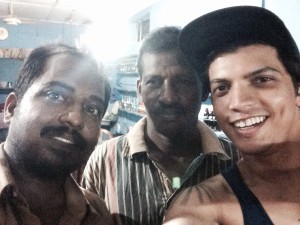 I remembered seeing a small restaurant, Om Akshjaya Bawan Saiba Hotel, on the way to the cafe so we decided to check it out. Turns out, they made fresh dosas! Being a South Indian food lover, we decided to sit down for dinner. And, OMG, the food was amazing. I am not sure if it was the beer or our hunger, but we thoroughly enjoyed the dinner.
The address is 182 Customs Road, Trincomalee.
On the way home, we bought the local liquor – Arrack. It tasted great with both water or sprite and we chilled out listening to music.
Day 5
Like the previous day, Manish and I headed out early to grab some local brekky. We picked up a couple of vadas, rolls and rotti. While we enjoyed the brekky in the balcony, we decided to head to Pigeon Island for snorkeling. We got on a boat from Uppuveli Beach. The boat ride is about 30 mins to the island.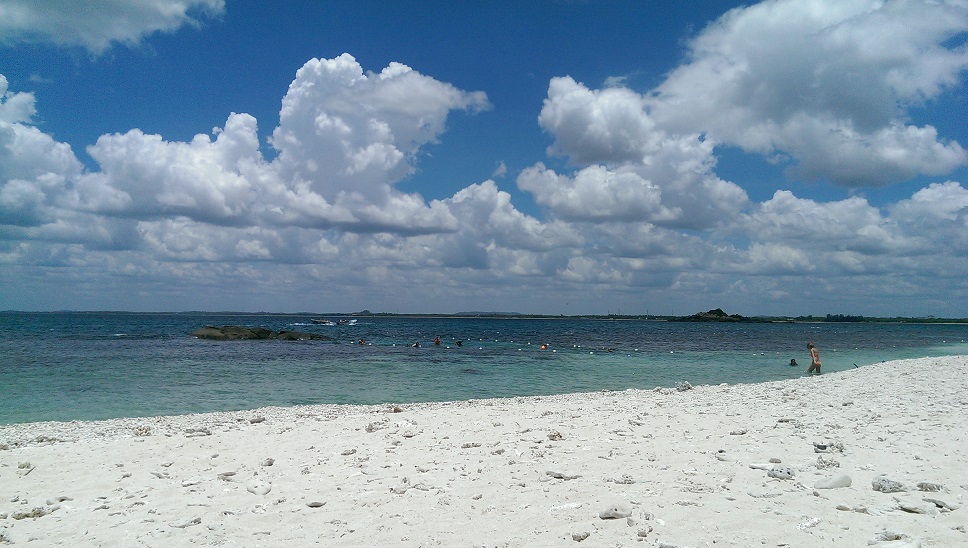 We were mesmerised by the island. The shore was full of dead white corals that looked really pretty but hurt our feet as we walked barefoot. The water was blue and transparent and the sky had occasional massive clouds that shaded us from the scorching sun. We snorkeled on either sides of the island and spotted boxy fish, eel, sword fish, 'fashion disaster fish' (I think it is called parrot fish) and lots of other pretty fish that ranged from really tiny to half meter. The island also houses black tip reef sharks. Among the three of us,  Manish was the lucky one to see it. We then headed back to Shiva Resort, grabbed some lunch and came back to our hotel for shower, rest and packing up.
In the evening, we made appointment for full body massage at Ayurvedic Center. The massage, with the ayurvedic oil was so relaxing. We walked out, had hoppers for dinner (finally!) and hit the sack as next morning we head to Kandy.
In Summary
Highlights – Uppuveli Beach, Nilaveli Beach, Pigeon Island, Koneswaram Temple, Fort Fedrick, local eateries
Transportation – Tuk tuks are very common in Sri Lanka. Tourists should bargain the price before boarding the vehicle. We didn't spent more than LKR 1000 daily on tuk tuk. This cost can be further reduced by chosing the right location for our resort.
The other option is renting scooters. They are available for LKR 1200 per day. Once again, if your resort is at the beach, you would need transport to the city only.
Weather – August is the perfect time to be in Trincomalee. We had great beach days everyday.
Accommodation – There are plenty of resorts available along the beach which are approx USD 65 per night. There are also cheaper home stay / hotels available along the main road, Nilaveli Road which cost between USD 35 – 50 per night.
Cost – Usually you are likely to spend LKR 1400 per day for lunch and dinner at any resort. If you eat at local joints, you are likely to spend around LKR 600 per day.
Recommendations – Pigeon Island, Hotel Trinco Huts for dinner (74 Nilaveli Road, Trincomalee), Om Akshjaya Bawan Saiba Hotel (182 Customs Road, Trincomalee)
Final Thoughts
Trincomalee is an untouched rural part of Sri Lanka. This region was affected by the war till 2007-2008 and so there haven't been much developments here. Usually the resorts can assist you with all your needs, such as activities, entertainment, etc, but I highly recommend stepping out and interacting with the locals. They are very welcoming. We ate at many local outlets and they were very friendly.
Trincomalee Gallery